NHL Trade Rumors: Tomas Kaberle to Bruins and 10 Trades to Drive Fans Nuts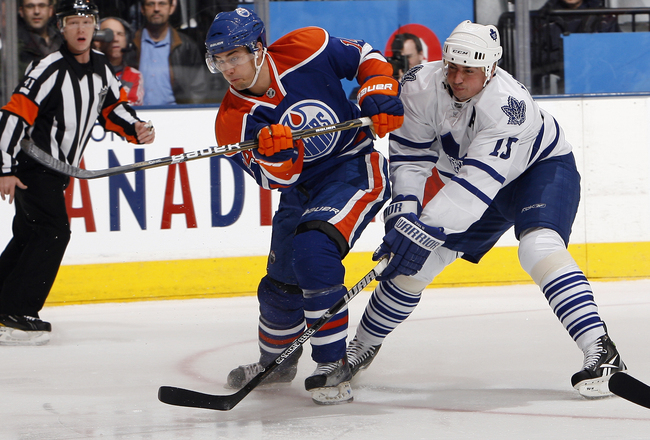 Abelimages/Getty Images
NHL trade rumors continue to circulate as the deadline inches ever closer.
As we get deeper into December, more and more names start to get thrown out into the fire as players who could be available for the right price. Most of those names and circumstances turn out to be nothing more than just rumor.
Surprisingly, a name that hasn't been thrown out into the market has been Tomas Kaberle. The will-or-won't-he-go dance has been a yearly affair recently in Toronto and there have been rumored deals at times, none of which ever came to fruition.
There were even rumors and reports this past summer that Toronto and Brian Burke had a deal in place to send Kaberle to Boston for center Marc Savard, though that never came through. But it would've been hard to justify Burke dealing inside his division again, especially since the Phil Kessel trade hasn't really worked out in the Leafs' favor yet.
With that, here are some other trades that would have fanbases pulling their hair out.
Kaberle to the Boston Bruins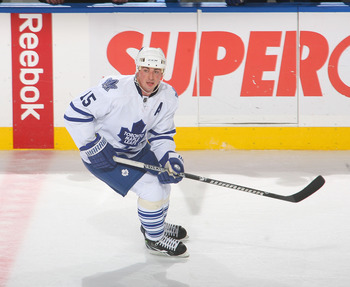 Rick Stewart/Getty Images
We'll start with this trade, because it's one that might have the most realistic possibility of happening.
The entire T.O. (localspeak for Toronto) region celebrated when GM Brian Burke landed Phil Kessel for the Leafs' 2010 and 2011 first-round picks in the draft and declared in front of reporters and cameras that the Leafs were going to the playoffs.
Well, Kessel did his part. Unfortunately, no one else could score, the goaltending was atrocious and Toronto fans had to watch from the rafters of the ACC as the Leafs missed the playoffs and the first-round pick in 2010 turned into the No. 2 overall pick and super-prospect Tyler Seguin.
So you'd imagine there would be trepidation and fear from the fanbase should a deal happen between the two again.
Kaberle to the Montreal Canadiens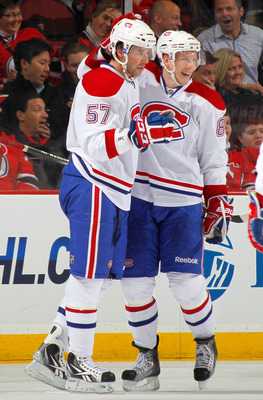 Paul Bereswill/Getty Images
This would almost amount to treason for Leafs Nation.
Montreal would be fit to add a puck-moving defenseman with Andrei Markov's future in doubt, at least for this season, with another knee injury. Kaberle would bring a veteran presence and jump-start a dormant and struggling power play.
But the fervent rivalry, plus the fact that the Maple Leafs will probably have a steep price for Kaberle if they decide to move him (and from published reports there's been nothing to suggest they will), would probably nip anything like that in the bud.
It's probably for the best, because the backlash from both fanbases would be severe, to say the least.
Jason Spezza to the Toronto Maple Leafs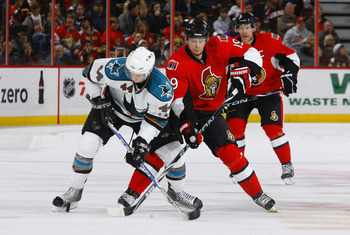 Phillip MacCallum/Getty Images
The Battle of Ontario might not be what it was earlier in the century, when the teams were meeting in the playoffs almost every season, but there's still a deep-rooted hatred between the teams. There was even a tongue-in-cheek article last week when the teams met about keeping Leafs fans out of Scotiabank Place.
That being said, Ottawa is having a season from hell. There's huge backlash from the fanbase that didn't even sell out the building to boo Dany Heatley last night, and reports are that the Sens will make a move, and soon. But don't expect Spezza, Ottawa's biggest trade chip, to go to its biggest rival—one that desperately needs a No. 1 center.
That just might drive the fanbase away even more.
Brad Richards to the Los Angeles Kings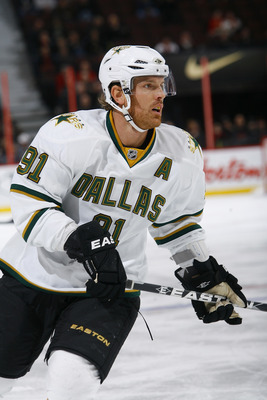 Phillip MacCallum/Getty Images
Dallas is another franchise where there are numerous problems. Attendance is slipping and the team is going through a sale.
Then there's the on-ice product, which has been good and would be a playoff team right now. But Brad Richards is in his contract year, and Dallas will have to decide to take a shot at the playoffs or get something for Richards.
The Los Angeles Kings desperately need a forward after the Marco Sturm trade fell apart. They've been linked to Richards and Dallas would get a lot of assets in return. One would have to wonder what kind of message trading one of its best players inside the division to a team that could be great for the next decade sends to the fans.
The fans might start to wonder if it's really worth it.
Tomas Vokoun to the Tampa Bay Lightning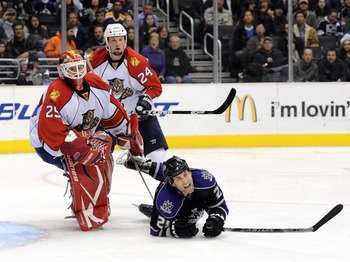 Harry How/Getty Images
Vokoun is one of the Panthers' best trade chips. Tampa Bay needs a goalie that can stop a beach ball, let alone a hockey puck right now.
It's a trade that should work out, considering the Lightning's cap room.
But Florida's already close to invisible in its own market. The Panthers might be the first team in professional sports to have the curtains that cover seats in their arena's upper deck sponsored.
Vokoun deserves to be with a winner and can be a great goalie on a good team. But a trade to the Panthers' biggest rival might be the last straw for whatever fans might be left.
If that happens, they may have to start curtaining off lower deck seats too. But at least they'll have a corporate sponsor for them.
Kevin Bieksa to the San Jose Sharks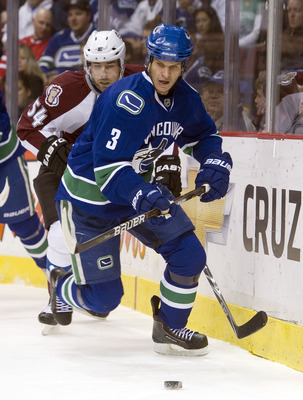 Rich Lam/Getty Images
Kevin Bieksa's not expected to be around next season, and he's been dangled in trade rumors (although there was a report that he's staying put for now). San Jose is expected to be in on a defenseman due to injuries and a lack of depth.
It's hard to believe the Sharks are fighting for a playoff spot in December. But it'd be even more for the Canucks' loyal fanbase to take if they are denied the Stanley Cup once again if the Sharks, rallied by Bieksa, take the Canucks out in the playoffs.
Jarome Iginla to the Edmonton Oilers
Dylan Lynch/Getty Images
Let me stress up front that this will NEVER happen.
The Flames front office has supposedly told Iginla he will not be traded...this year. The Oilers want to build with their young core and have their own contracts and baggage they want to unload. I'm guessing Steve Tambellini might just have a red phone that will ring if anyone calls up interested about Sheldon Souray.
But it's interesting to think, what would happen if the Flames sent Iginla north? What kind of reception would he get in his first game back wearing the hated oil drop? Would there be backlash at him or the organization? How would Oil Country respond to having Mr. Flame in the blue and orange?
It'll never happen, but it's interesting to think about the possibilities.
Andrew Cogliano to the Calgary Flames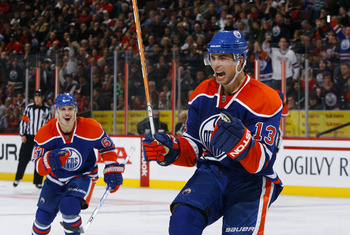 Phillip MacCallum/Getty Images
This still will never happen, but it's more likely than Iginla.
The Flames want young offense, and it's pretty obvious that there are a bunch of young players in Edmonton's future (Eberle, Hall, Paarjarvi), but the 23-year-old Cogliano isn't one of them. If it wasn't clear in the summer of 2009 when Dany Heatley was the latest big-name player to publicly belittle the city, Cogliano could be had.
For anyone wondering, the Flames have made a trade with the Oilers before. The key word there being "a." Calgary sent Aaron Johnson to Edmonton for Steve Staios last year.
But if it were to happen and Cogliano happened to reach his potential and be a star in Cowtown, would Tambellini ever be able to show his face in Edmonton again?
Michael Ryder to the Montreal Canadiens
Nick Laham/Getty Images
Boston desperately needs to unload salary. Montreal could use some help on offense. Ryder can be a good player with one of the better wrist shots in the league and spent his first few years wearing Le Bleu, Blanc et Rouge.
But if you know the history of Boston-Montreal, you know that no other team in professional sports has eliminated another team in the playoffs more than the Canadiens have done to the Bruins. So to say that Bruin fans might be livid and possibly scared out of their wits that their beloved B's helped the hated Canadiens might be an understatement.
But the way things ended between the Canadiens and Ryder in Montreal, the Habs fans might feel the same way.
Patrik Elias to the New York Rangers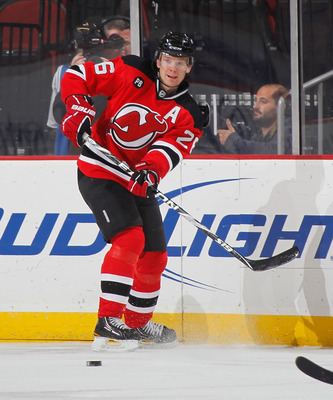 Paul Bereswill/Getty Images
I know a couple of New Jersey Devils fans. This would make them sick.
Elias' name has been thrown out in trade rumors, but he's never been linked to the Rangers. The Rangers haven't shown any interest either. They seem more intent in going all-out for Brad Richards. There's no indication this would ever happen.
But like with Iginla, it would be interesting to see what kind of response that would get from the fanbase and what kind of response one of the longest-tenured Devils (only Marty Brodeur's been around longer on the current team) would get wearing Broadway Blue.
Besides, the Rangers don't trade with the Devils. They instead wait until free agency and then offer the Devils' players massive contracts with no-trade clauses.
Keep Reading