Bobby Orr and The Rest: The 50 Greatest Goals in NHL History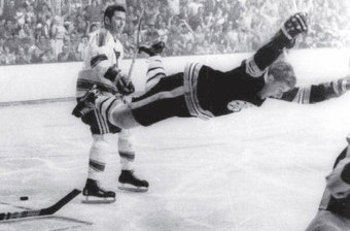 This was by far the hardest assignment I've ever taken on. Hours of labor intensive list making and video watching lead to what I believe are the three key components in great goals: The Awe Factor, Monumental Goals and Game Winners.
Awe Factor—These are the goals that are just too good to not be shown to the world. These goals exemplify the talent level of these athletes.
Monumental Goals—The greatest players of all time setting the greatest records in sports.
Game Winners—From five overtimes to Game 7 of the Stanley Cup Finals, I have compiled some of the greatest game winning goals ever.
Goals that mix them together are the cream of the crop. The descriptions are short because the videos do the talking. Enjoy the list and let me know what I missed and what you think!
50. Maxim Afinogenov Against Tampa Bay: 2003
Maxim Afinogenov scores an amazing 360 goal against Tampa Bay! He seems to lose the puck and do a spin and score. This is a great goal.
49. Vincent Lecavalier Wrap-Around Against the Flyers: 2007
As a Flyers fan, this hurts. This is the definition of wrap around by Vinny Lecavalier and watch the hit after the play. Great goal.
48. Steve Yzerman Scores Goal 400 on 11/13/1992
What a way to score your 400th goal. Steve Yzerman makes an amazing falling shot over the goalie.
47. Alexei Zhamnov Between the Legs- 12/29/1992
This was the Peter Forsberg goal before Forsberg was even attempting these shots. Alexei Zhamnov had some nice goals and the video shows two.
46. Brett Hull Goal from the 1999 Stanley Cup Finals
The controversial game-winning goal that clinched the 1999 Stanley Cup for the Dallas Stars. Brett Hull steals a championship! haha I just pissed off Dallas!
45. Brian Leetch's Spin Goal Against the New Jersey Devils– 1994
Brian Leetch scored this amazing goal in Game 7 of the 1994 Eastern Conference Finals. The Rangers went on to win the cup that year.
44. Jaromir Jagr Scores Overtime Winner Against New Jersey Devils- 1991
Over time winners are great but when you run through another team's defense single handedly and stuff it behind their goalie, the goal becomes one of the greatest.
43. Henrik Zetterberg Against Colorado Avalanche- 5/1/2008
Henrik Zetterberg is falling and facing the other direction. Whether luck or not, it is amazing.
42. Dion Phaneuf with Calgary Against Minnesota Wild- 3/22/2008
Dion Phaneuf runs end-to-end and stuffs it in between Wild goaltender Harding's blocker and leg pad. Who says defensemen can't score?
41. Darrin Shannon Goal on Andre Racicot 2/15/1991
Darrin Shannon breaks lose in the offensive zone, gets pulled to his knees and roofs it. Amazing!
40. Evgeni Malkin Goal Vs. New Jersey Devils- 10/24/2006
Martin Broduer had no chance. Just watch!
39. Jordan Staal Vs. the Philadelphia Flyers- 12/13/2006
It seems like Pittsburgh is good for highlight reel goals quite often anymore. Move over Mario!
38. Marian Hossa vs. Avalanche in 2007
There is no way a human can thread the needle so nice like that. That takes talent.
37. Keith Primeau Scores in 5 OT: 5/5/2000
Keith Primeau was a great player and his will to win was exemplified in this excruciatingly long game. Even being exhausted, he makes a gorgeous move to end it.
36. Steve Yzerman Goal Against Blackhawks: 2/26/1989
Steve Yzerman doing loops. He never gave up on the play and the Blackhawks did.
35. Guy Lefleur Goal from the Blue Line- 5/10/1979
The goal came with a minute left in the third period and the Canadians sniper Guy Lafleur put a beautiful shot on net. Enjoy!
34. Mike Krushelnyski Against the Flames- 4/14/1990
This is an epic goal! Slapping at the puck and the agony of the goalie, it's just great!
33. Claude Lemieux OT Goal in Game 7 of Adams Division Finals- 4/29/1986
I hate Claude Lemieux, but every dog has its day. His day was extra special. He scores the overtime winning goal in Game 7 of the Adams Division Finals.
32. Wayne Gretzky's 802nd Goal- 3/23/1994
Wayne Gretzky's beats Gordie Howe's goal record.
31. Sidney Crosby vs. Tampa Bay 1/7/2007
Sidney Crosby doing the Ovechkin!
30. Jason Arnott OT Winner To Clinch Cup-2000
Rifle shot from Jason Arnott to win the game in OT and win the 2000 Stanley Cup.
29. Steve Yzerman's Blast from the Point Against the Blues-1996
My favorite Yzerman goal and one of the most memorable overtime winners ever.
28. Ron Hextall First Goal Directly from a Goalies Stick -12/8/1987
Ron Hextall scoring a goal. Felt good to be a Flyer fan that day!
27. Peter Schaefer Tip in Against Dallas
Peter Schaefer makes a fantastic play flipping the puck and tipping it in!
26. Jonathan Toews Goal Against Detroit- 12/6/2008
A great Jonathan Toews back hand, fore hand move to make the goalie commit.
25. Owen Nolan Picks His Corner in 1997 All Star Game
The equivalent of Babe Ruth calling his home run shot. Well not really, but it was still pretty cool!
24. Teemu Selanne Sets NHL Rookie Record- 3/2/1993
The goal is exciting and the celebration is entertaining, but don't forget how amazing the record he is setting truly is! It will never happen again!
23. Pavel Bure Against the Bruins- 1997
The Russian Rocket scoring an amazing goal. In between elbows, he could really shoot!
22.Luc Robitaille Sliding Goal Against Calgary- 1986
Marcel Dionne sliding the puck to an also sliding Luc Robitaille. Offensive Magic in LA. LA needs great hockey.
21. Mario Lemieux Goal Against the Nordiques
The newest drinking game, we take a shot for every penalty that would've been called in the new NHL! Super Mario at work.
20. Jaromir Jagr Scores Against the Blackhawks in 1992 Stanley Cup Finals
Jaromir Jagr takes control and finishes the play himself!
19. Ryan Malone Against the Islanders- 3/24/2006
Ryan Malone getting lazy on the job! I told you every dog has its day.
18. Gretzky Sets Single Season Goal Record- 2/24/1982
Wayne Gretzky sets the single season record for goals. The great one!
17. Brett Hull's 50th goal in 49 games- 1992
One of the greatest hockey players of all time getting into one of the most exclusive clubs in hockey!
16. Bobby Clarke Scores in OT- 1974 Stanley Cup Finals
Bobby Clarke winning the game for the Flyers as he had done time and time before.
15. Jean Beliveau Scores a Goal in the 1965 Game 7 Finals
Jean Beliveau is one of the best hockey players of all time and this was one of his greatest goals.
14. Pavel Datsyuk Goal on Marty Turco and the Blackhawks 2006
Just a beautiful goal from Pavel Datsyuk. Poor Marty Turco!
13. Bill Barilko's Final Goal- 4/21/1951
An OT, Stanley Cup winning goal, no one knew it would be his last goal ever. Bill Barilko's goal is one of the saddest stories in hockey history.
12. Darren McCarty's Stanley Cup Clinching Goal Against the Flyers in 1997
I'm not saying a word! I hate the Red Wings!
11. Mike Bossy's 50th Goal in 50 Games- 1/24/1981
My favorite pure scorer ever putting his mark on the 50 goals in 50 games record and the running man celebration!
10. Steve Sullivan Against the Flyers- 1997
It's probably the best thing Steve Sullivan has ever done in hockey. A beautiful goal from a little man.
9. Rick Nash Goal vs. Coyotes- 1/17/2008
After taking a bad penalty, Rick Nash decides to beat the whole Coyotes team by himself.
8. Wayne Gretzky Gets His 50th Goal in 39 Games- 12/30/1981
As usual, it's Wayne Gretzky destroying any record you can find. He is taking over the 50 goals in 50 games record by a mile! There will never be another Gretzky!
7. Mario Lemieux's Goal Against North Stars 1991
This was Super Mario at his best. He had the speed, the size and as shown in the video his east-west stick handling ability.
6. Cam Neely Spin-O-Rama Goal Against the Senators in 1993
Cam Neely was a great scorer, but none of his other goals compared to this perfectly executed spin-o-rama move. He started his foundation for the goalie after he destroyed his career.
5. Maurice Richard's 50 Goals in 50 Games in 1944-45
If you don't know who Maurice "Rocket" Richard was or know why the goal scoring trophy was named after him, sit back and get educated!
4. Valeri Kamensky Flipping Goal- 1997
This was the most mind boggling to me because he chose to jump and flip—he wasn't forced. The fact that this goal worked is the reason he is as high as he is. Just amazing! Play it twice or more to fully understand the goal!
3. Denis Savard's Goal Against Edmonton
Watch the whole video! JR says it best!
2. Alexander Ovechkin Sliding on His Back Goal Against the Coyotes- 1/15/2006
Ovechkin sliding on his back putting the puck in a three inch place. Just amazing!
1. Bobby Orr's Overtime Winning Goal To Clinch the Stanley Cup in 1970
Bobby Orr, at only 22-years-old, scored the OT winning, Stanley Cup clinching goal for the Bruins in the 1970 Stanley Cup Finals. The subsequent photograph has become one of the best known pieces of hockey memorabilia. Look how mad the Blues defender is that hooks Orr's skate.
Keep Reading