Why Brian Burke Is Possibly The Worst (Most Overrated) GM In The NHL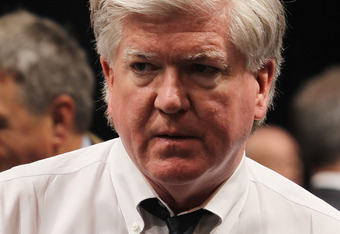 Bruce Bennett/Getty Images
Brian Burke.
He did wonders for the Vancouver Canucks. He drafted the Sedin twins after many thought it was impossible to draft both together. He revived the Canucks single-handedly with moves like this and I certainly applaud him for that. Without him, the Canucks would not be where they are today.
After working wonders for the Canucks, Brian Burke moved down south into Anaheim. He was the first GM after the whole Mighty Ducks of Anaheim/Disney fiasco. One of Burke's first moves was signing All-Star defenseman Scott Niedermayer. A team that was quickly losing its fine reputation came back hard as ever as Niedermayer was named captain soon after signing.
A few months later, Burke turned heads by trading the great Sergei Fedorov to the Columbus Blue Jackets for Francois Beauchemin. The move at the time made no sense. A veteran forward for an unproven, young defenseman? Luckily, Beauchemin emerged as a top-four defenseman for the Ducks scoring 34 points in 61 games that season. Later that season, the Ducks would ultimately lose to the dark horse pick, the Edmonton Oilers, in the Western Conference Finals.
Slowly, Burke was constructing a dynasty. After losing to the Oilers in the playoffs, Burke made the biggest trade in his career. He sent Joffrey Lupul, Ladislav Smid, and a first round pick to the Oilers for arguably the best defenseman in the game at the time, Chris Pronger. With Pronger in the lineup, many critics had the Ducks winning the Cup and praised Burke for his work with the franchise.
The critics were right. The Ducks won the cup in 2007. After only two years with the team, Burke brought the Cup to Anaheim. With a few smart trades and signings, Burke won his first Stanley Cup.
Fast forward a year and a half and Burke was on his way out of Anaheim. What had happened? Burke had lost control of the team. He put Ilya Bryzgalov, one of the keys to their Cup win, on waivers and was picked up by the Phoenix Coyotes. He signed veteran defenseman Matthew Schneider and the infamous Todd Bertuzzi to multi year contracts thinking they could replace fan favorites Teemu Selanne and Scott Niedermayer who were contemplating retirement.
Burke was wrong. He ended up buying out Bertuzzi's contract at the end of the season and trading Schneider to the Atlanta Thrashers. By now, many were giving the emerging young players on the Ducks (Getzlaf, Perry, etc.) most of the credit for the Ducks' championship. Even the Niedermayer signing was said to be influenced by Scott Niedermayer wanting to play with his brother in Anaheim and not Burke. Eventually, he stepped down as GM on November 12, 2008.
Just weeks later, the Toronto Maple Leafs hired Burke. At this point, he wasn't even close to being a household name in Canada. He was just the man behind the scenes in Vancouver and Anaheim. In Toronto, he would be under a microscope. And that is exactly what has happened.
In my opinion, Burke has been a terrible GM for the Toronto Maple Leafs. What has he done that deserves merit? Absolutely nothing. Maple Leafs fans were ecstatic to hear that he was going to be their team's next GM. Why? Because of his past reputation?
The problem was that the fans expected an almost immediate turn around, but what they did not realize was that the team needed a total rebuild. Brian Burke of the past would have probably ridden the wave. I mean he did do that with Vancouver and look where they are today.
Brian Burke of today did the exact opposite. He went all out looking for different ways to improve the team immediately. He did make a few good moves like signing Jonas Gustavsson, a promising young goalie, and Tyler Bozak, a hot forward out of college. However, the negatives weigh out the positives in this scenario.
Burke made the infamous Kessel trade last year to please his fans. The fans wanted scoring. Kessel has done that nicely thus far. However, he did not ride the wave and as a result, possibly ruined the future of the Maple Leafs organization.
Burke traded away two first round picks and a second round pick to the Boston Bruins for Kessel. The first first round pick happened to turn out to be Tyler Seguin, a potential superstar first line center. The second round pick turned out to be Jared Knight, a solid prospect who could turn out to be a first line center, but most probably a second line center.
This was Burke's big mistake. After Kessel's contract ends, what's next? Boston will be the next powerhouse and Toronto will be in the cellar of the standings for years once again.
Toronto has no promising prospects that could turn into franchise changing players. Boston now does. Burke does have one trading chip though. And that is Tomas Kaberle.
The whole Kaberle fiasco has been going on for years now and it has finally reached its climax. Kaberle's father has even come out saying that his son wants out. So what does Burke do? He entertains offers like any GM, but he takes too long deciding. After the news about Kaberle's father came out, Kaberle's stock dropped somewhat. Other teams now have the upper hand in trade negotiations. That's if he ever gets traded at all now. Actually time is up. Kaberle can't be traded.
News came out the other day saying that the GM of the Dallas Stars, Joe Nieuwyndyk, offered Mike Ribiero, a talented first line center, to the Maple Leafs for Kaberle straight up. Burke declined the trade. Burke wanted some promising young players like James Neal, a talented power forward who is coming into his own.
Sorry Burke, but other GMs are not going to make the same mistake you did. No one is going to offer promising young players for a veteran who will be retiring in a few years. Don't get me wrong, Kessel still has potential to be something great, but he does not have the superstar potential that Seguin has. Kessel could not even bring the Maple Leafs into the playoffs. That's how the Bruins got Seguin. The Maple Leafs finished second to last. Right behind the Edmonton Oilers.
Brian Burke. The man is past his prime. He declined a trade that would bring some offense and life into his lineup. The man is washed up. He traded away a team's future for one player. Brian Burke should just retire before he gets traded for a promising young GM.
This article is
What is the duplicate article?
Why is this article offensive?
Where is this article plagiarized from?
Why is this article poorly edited?

Toronto Maple Leafs: Like this team?