2010 NHL Draft: Team by Team Grades and Analysis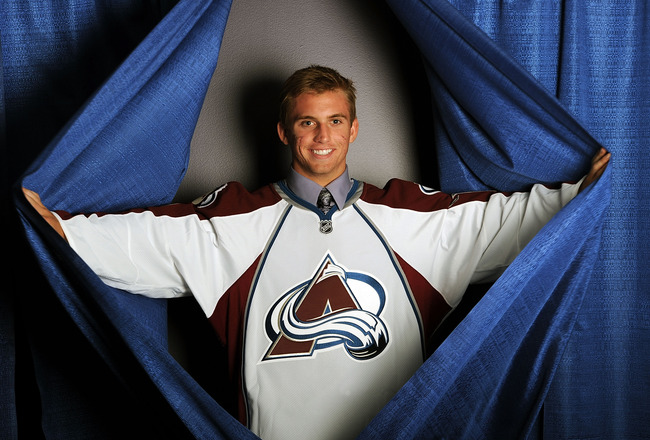 The 2010 NHL Draft came to a close on Saturday afternoon.
When it was all said and done, 30 NHL teams came out of it with anywhere from five to 13 new prospects for their systems.
Some of these players will be contributing to the NHL as soon as the 2010-2011 season. Others may go develop in college or junior hockey for a few more years. Some may go to the AHL.
No matter what path they take next season, a team's success at the draft is measured by the quality of prospects they took.
This slideshow will list the draft picks of all 30 NHL teams. Grades will be provided for each team's overall draft based on quality of picks and whether or not they filled all their team's needs.
Here we go...
Anaheim Ducks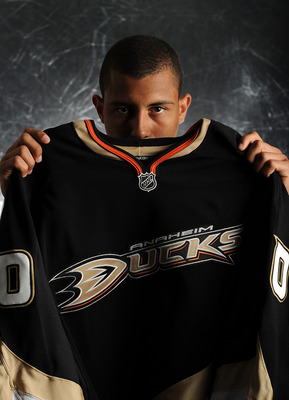 (Can I just say I love the draft portraits? Whoever came up with the ideas for them...kudos!) Anaheim came out of the 2010 draft with seven picks. They are: Cam Fowler (round one; 12th overall) Emerson Etem (round one; 29th overall) Devante Smith-Pelly (round two; 42nd overall) Christopher Wagner (round five; 122nd overall) Tim Heed (round five; 132nd overall) Andreas Dahlstrom (round six; 161st overall) Kevin Lind (round six; 177th overall) Brett Perlini (round seven; 192nd overall) Going into the draft, Anaheim had hopes of getting ready for a 2010-2011 season after missing the playoffs this past season. Their biggest weaknesses were with scoring forwards and backup goaltending. Bob Murray missed the mark on picking up a goaltender in this draft. But he did make a good move by picking up Cam Fowler, a steady offensive defenseman who can quarterback a power play. The Ducks also picked up the scoring power they needed by securing Smith-Pelley, but he is a few years away from being a contributor to the Ducks. He plans on finishing his junior career with the Mississauga St. Michael's Majors of the OHL. California native Emerson Etem was also a good power forward choice. He has great speed and had the WHL rookie goal scoring lead with 37 goals in 2009-2010. The Ducks did take some smaller players in Tim Heed and Andreas Dahlstrom. Dahlstrom does not quite have the mold of a power forward, while Heed is more of a steady defenseman. Lind is a nice sized defenseman who led defensemen on his team in scoring, but his numbers need some work. He will have to work harder to separate himself from the pack if he wants to make the NHL. Perlini was voted Michigan State's most improved player this season after scoring 12 points in 20 games, a significant improvement from his three points in 26 games in 2008-2009. If he stays committed, he has nowhere to go but up. The Ducks should have taken a goaltender with inexperienced prospects in their system, and with Curtis McElhinney not in the Ducks' long term plans. Murray made two good power forward choices in Etem and Smith-Pelley, but one or both of them probably won't join Anaheim right away. Fowler could be ready next season, but will the fact that he fell out of the top 10 hurt his progress, or will he be able to take it in stride? I think he has a good attitude, but you wonder how much stock to put in the draft rankings when many scouts had him predicted to go earlier than he did. Could there be some weaknesses we don't know about? GRADE: B
Atlanta Thrashers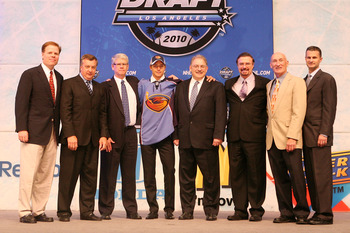 The Atlanta Thrashers finished the draft with nine picks:
Alexander Burmistrov (round one; eighth overall)
Julian Melchiori (round three; 87th overall)
Ivan Telegin (round four; 101st overall)
Fredrik Petersson-Wentzel (round five; 128th overall)
Yasin Cisse (round five; 150th overall)
Kendall McFaull (round six; 155th overall)
Tanner Lane (round six; 160th overall)
Sebastian Owuya (round six; 169th overall)
Peter Stoykewych (round seven; 199th overall)
Atlanta must love European players. But fortunately, it spreads the love to the rest of the world.
Atlanta has certainly had its struggles the last few years, and this year, they pretty much cleaned house and started looking towards a brighter future.
The Thrashers were in need of help at center and got two in Alexander Burmistrov and Tanner Lane.
Burmistrov has already been compared to former Thrasher Ilya Kovalchuk and superstar Alex Ovechkin. He seems very self aware, readily admits one of his weaknesses (not shooting the puck enough), and is eager to help the team.
Lane is only 17 years old, but he had 90 points in 26 games and also had 64 penalty minutes. He is a high-scoring forward with a bit of a physical edge.
Petersson-Wentzel is a great goalie for the Thrashers. This season, he had a 1.85 goals against average with six shutouts in 37 games. He was the second ranked goaltender in the draft among European goalies.
With Johan Hedberg and Ondrej Pavelec a solid goaltending duo in Atlanta, the Thrashers get better at this position by adding Petersson-Wentzel to the system.
Burmistrov and Lane both appear to be exciting, high scoring forwards when their time comes to join the NHL.
Overall, the Thrashers took some nice-sized players, but some still need time to get stronger. Burmistrov looks like he could start in the NHL right away, and with the comparisons to such talented players before he even plays a shift, the pressure is on.
GRADE: A-
Boston Bruins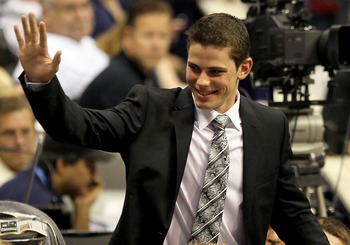 Boston also finished the draft with eight picks. They took three centers, two wingers, two defensemen, and one goaltender:
Tyler Seguin (round one; second overall)
Jared Knight (round two; 32nd)
Ryan Spooner (round two; 45th)
Craig Cunningham (round four; 97th)
Justin Florek (round five; 135th)
Zane Gothberg (round six; 165)
Maxim Chudinov (round seven; 195th)
Zach Trotman (round seven; 210th)
It was hard for the Bruins to start off the draft on the wrong foot. How do you not take Tyler Seguin?
Even though taking Seguin was a foolproof move, it seems kind of curious that Boston would draft two additional centers when they already took Seguin plus currently have David Krejci, Patrice Bergeron, and Nathan Horton.
Cunningham spent the 2009-2010 season with the Vancouver Giants of the WHL and put up 97 points in 72 games. His efforts earned him WHL All-Star First Team honors. He has also trained with Milan Lucic in the offseason and won a Memorial Cup in 2006-2007.
Gothberg played for Thief River Falls in Minnesota and had a 1.84 GAA, a .922 save percentage, and three shutouts in 25 games. He was named the state's top senior goalie this year and will attend University of North Dakota.
Chudinov and Trotman are both defensive defensemen who fit in well with the Bruins' depth at both sides of the size spectrum on defense.
The Bruins got scoring power, but it is unknown where goaltending fits in with their strengths and weaknesses. That said, picking Gothberg was definitely a good start.
Of the defensemen, Trotman appears to be the more physical player.
GRADE: B+
Buffalo Sabres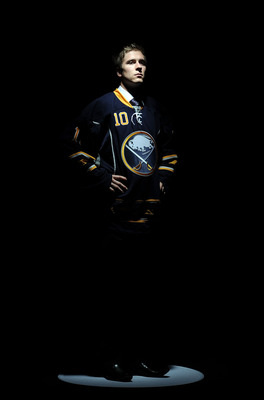 Buffalo finished the draft with nine picks:
Mark Pysyk (round one; 23rd)
Jerome Gauthier-Ludic (round three; 68th)
Kevin Sundher (round three; 75th)
Matt McKenzie (round three; 83rd)
Steven Shipley (round four; 98th)
Gregg Sutch (round five; 143)
Cedrick Henley (round six; 173)
Christian Isackson (round seven; 203rd)
Riley Boychuk (round seven; 208th)
The Sabres did not have any centers over 6'0" going into the draft, and this year, they picked up two in Kevin Sundher and Steven Shipley.
Sundher spent this season with the Chilliwack Bruins of the WHL, where he had 61 points and 101 penalty minutes in 72 games.
Shipley comes from the Owen Sound Attack of the OHL, where he had 63 points in 68 games this year. He is a strong scoring player, but needs to improve his defensive game, as he finished this season with a minus-18 rating.
Pysyk struggled on the Oil Kings this season. He had a minus-19 rating with 24 points in 48 games. However, he only played part of the season due to a broken foot suffered in February. He even played with that injury for a few games, a strong testament to his character and his ability to cope with adversity.
Sutch's productivity dropped from the 2008-2009 season to this year. He finished this season with only eight points in 43 games and a minus-11 rating.
Isackson is strong on both ends of the ice, but is not the fastest skater among the prospects. He will attend University of Minnesota next season.
Buffalo picked some nice sized players, but most of them have a lot of work to do. Some are shaky in their defensive games and it will take time to see if that was because of the quality of their junior teams, or if it is more of an individual weakness.
GRADE: C+
Calgary Flames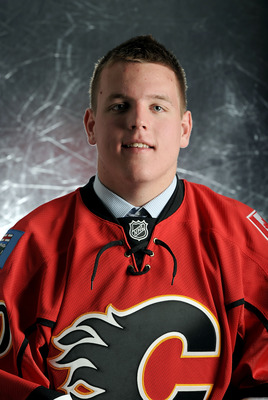 Calgary got one of the shorter ends of the stick this year, getting only six picks:
Maxwell Reinhart (round three; 64th)
Joey Leach (round three; 73rd)
John Ramage (round four; 103rd)
Bill Arnold (round four; 108th)
Michael Ferland (round five; 133rd)
Patrick Holland (round seven; 193rd)
The Flames did not get a pick until the third round and started off their selections with Reinhart, a center who had 51 points in 72 games. His father, Paul, played over 600 games in the NHL from 1979-1990.
Ramage is a strong defensive pick for the Flames. He can easily handle playing against opposing top lines and can handle almost any situation on the ice. Hockey also runs in his blood. His father Rob had a 15-year NHL career where he played over 1,000 games for eight teams.
Ferland did not get to play much when he initially joined the Brandon Wheat Kings, one of the more competitive teams in the WHL. However, this season he put up 28 points and a plus-16 rating. He has the potential to become a top six forward.
The Flames did a good job of drafting players who grew up around hockey and have an idea of what it takes to succeed in the NHL. However, outside of Ferland and Arnold, they did not have the ability to draft any elite players. They also do not have a lot of diversity in size among this year's picks.
GRADE: B
Carolina Hurricanes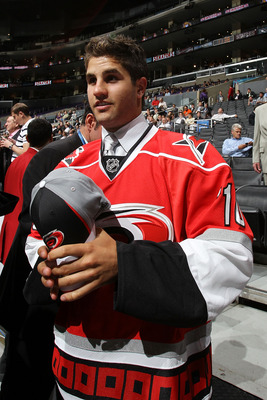 Carolina came into the draft with 11 picks, but finished with seven due to various trades.
Here is who they ended up with:
Jeff Skinner (round one; seventh)
Justin Faulk (round two; 37th)
Mark Alt (round 2; 53rd)
Danny Biega (round 3; 67th)
Austin Levi (round 3; 85th)
Justin Shugg (round 4; 105th)
Tyler Stahl (round 6; 167th)
Frederik Andersen (round 7; 187th)
Carolina, who was in need of defensemen, surprised by selecting center Jeff Skinner with their first pick at No. 7 in round one.
However, Skinner was just too good to pass up. Not only did he have 50 goals in the regular season, he also put up 20 goals in 20 playoff games; a rare feat for players at any level.
Canes GM Jim Rutherford admitted in an interview that he was tempted to take a top defenseman in Brandon Gormley or Cam Fowler, but his brass was confident in their decision to take Skinner.
Also coming out of the draft is goaltender Frederik Andersen. Andersen was the first goalie taken by the Canes since they drafted Mike Murphy in 2008. Andersen has been playing in Denmark the last few years, he sports a 2.24 GAA and a .929 save percentage.
The Canes fixed any problems they may have had on defense by taking five defensemen. Austin Levi, for example, is a responsible defenseman who can play a physical game but does not take a lot of penalties.
Mark Alt is a strong skater, but is still a little shaky and tends to be in places he shouldn't be on the ice.
Justin Shugg has spent his career in the shadow of top prospect Taylor Hall, but still posted 79 points in 67 games with the Windsor Spitfires. He will continue playing junior hockey next year and will get more ice time. He has been used in all situations and seems ready to handle the increased responsibilities.
The Canes picked up a lot of smart players in this year's draft. They also added the goaltending prospect they needed and have the talent ready to restock their farm system after several players look ready to make the Hurricanes roster.
GRADE: A-
Chicago Blackhawks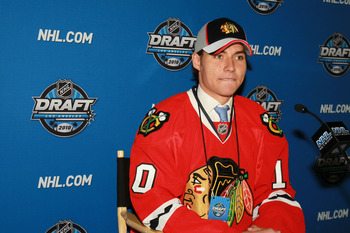 The Stanley Cup champions acquired 10 picks in this year's draft:
Kevin Hayes (round one; 24th)
Ludvig Rensfeldt (round two; 35th)
Justin Holl (round two; 54th)
Kent Simpson (round two; 58th)
Stephen Johns (round two; 60th)
Joakim Nordstrom (round three; 90th)
Rob Flick (round four; 120th)
Mirko Hoefflin (round six; 151st)
Nick Mattson (round six; 180th)
Macmillian Carruth (round seven; 191st)
Hayes played the 2009-2010 season with Noble and Greenough where he had 67 points in 28 games this year.
Rensfeldt was fourth in his Swedish league with 50 points in 39 games. He also ranked fourth in scoring at the World U-18 championships; tallying 12 points in the tournament.
Simpson was a good choice for the Hawks to add a strong goaltender to their system. He had a record of 22-9-1 and was second in the WHL in both GAA (2.25) and save percentage (.925)
Overall, the Blackhawks went with a lot of young talent. They can continue developing these players over the next few years. However, the closest thing they have to a power forward is Rensfeldt.
GRADE: B+
Colorado Avalanche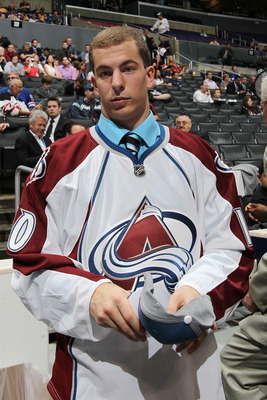 Colorado got seven new prospects in this draft:
Joey Hishon (round one; 17)
Calvin Pickard (round two; 49th)
Michael Bournival (round three; 71st)
Stephen Silas (round four; 95th)
Sami Aittokalio (round four; 107th)
Troy Rutkowski (round five; 137th)
Luke Walker (round five; 139th)
Luke Moffat (round seven; 197th)
The Avalanche's biggest needs were at left wing and goaltender.
Bournival was the only left winger the Avs picked up. He had 62 points in 58 games with Shawnigan of the QMJHL and also had four points in six postseason games.
Pickard was a good pickup in goal for the Avs. Despite playing on a weak Seattle team, he went 3-0-1 when facing more than 50 shots and faced more than 40 shots on at least 20 occasions last year. He also stood out as a rookie, leading all WHL rookie goalies with 26 wins.
Hishon had 40 points in 36 games despite missing time with two separate injuries. His injuries may be a concern, but the numbers are there.
The Avs also picked up Rutkowski and Silas on defense. Silas is not a true physical defenseman and has been described as more of a puck mover.
Meanwhile, Rutkowski is an offensive defenseman who had 43 points for Portland this season. He also had a plus-13 rating and his physical play is improving.
The Avalanche picked up some solid players, but they probably should have picked up more than one left winger. Rutkowski may be getting more physical, but he is not really in the mode of shutdown defenseman.
GRADE: B
Columbus Blue Jackets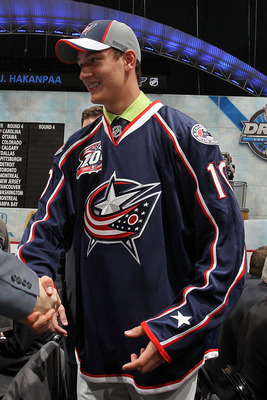 Columbus, a young team who has only made the playoffs once in its franchise history, picked up eight players: Ryan Johansen (round one; fourth) Dalton Smith (round two; 34th) Petr Straka (round two; 55th) Brandon Archibald (round four; 94th) Mathieu Corbeil-Theriault (round four; 102nd) Austin Madaisky (round five; 124th) Dalton Prout (round six; 154th) Martin Ouellette (round seven; 184th) The Blue Jackets were seeking a strong center, and Johansen was a good place to start. He had 69 points with Portland this season and led all WHL rookies in playoff scoring with 18 points in 13 games. They also filled their need for offensive defensemen by drafting Archibald and Madaisky. Archibald finished the season with 33 points and is a nice size at 6'3" and 200 pounds. Madaisky had 27 points this season and ranked third on his team in scoring among defensemen. The Jackets also got a potentially strong goaltender in Martin Ouellette. He earned a 1.61 GAA and a .925 save percentage in 27 games. The Jackets did a good job of filling their organizational needs, but Mathieu Corbeil was one of the weaker picks, as his latest statistics (3.83 GAA; .833 save percentage) reflect. GRADE: A-
Dallas Stars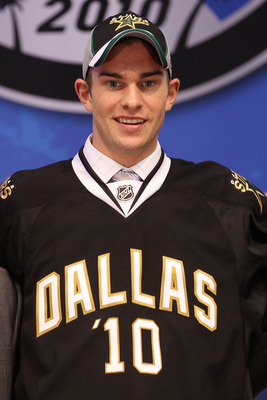 Dallas was another team who did not get to stockpile as much in the 2010 draft, taking five prospects:
Jack Campbell (round one; 11th)
Patrik Nemeth (round two; 41st)
Alexander Guptill (round three; 77th)
Alex Theriau (round four; 109th)
John Klingberg (round five; 131st)
Campbell has already proven to be a winner after leading Team USA to a gold medal after falling behind in the final game of the World U-18 Championships. He will make a great franchise goalie for Dallas someday.
The Stars needed to pick several defensemen in this draft, and they came through. They picked up Nemeth, a physical defenseman who is also a good leader.
Theriau was also added to the Stars' defensive corps. He believes his best strengths are his skating and puck moving and he also likes to contribute offensively. He will need to gain some muscle before being an NHL regular.
Guptill was the only forward the Stars drafted this year. Despite suffering a broken wrist, he still put up 37 points in 29 games played. He does not really have any weaknesses, but still needs to get more playing time and continue developing.
GRADE: B+
Detroit Red Wings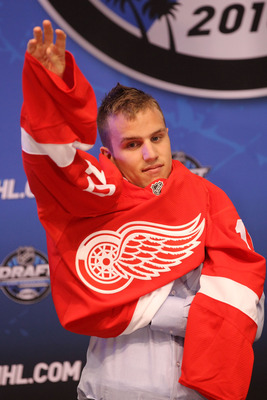 The Red Wings got seven new prospects out of the draft:
Riley Sheahan (round one; 21)
Calle Jarnkrok (round two; 51)
Louis-Marc Aubry (round three; 81)
Teemu Pulkkinen (round four; 111)
Petr Mrazek (round five; 141)
Brooks Macek (round six; 171)
Benjamin Marshall (round seven; 201)
Sheahan was the center the Wings were looking for this year. However, he is not of the power forward mold with only 17 points in 37 games this year. Regardless of his low point totals, they were still good enough for him to tie for the rookie lead in points.
Aubry, another center from the QMJHL, has had 51 points in 131 games over the last two years. It seems unlikely that Sheahan and Aubry could be top line players, but may be suitable for third or fourth line roles.
Marshall is a defenseman from Minnesota who posted 48 points in 23 games in high school hockey this past season. However, he lacks size and is weaker in his defensive game because he thinks more about his offensive game.
Mrazek is a weaker goaltender who needs improvement after posting a 3.00 GAA and a .905 save percentage.
The Wings got what they needed on center, but did not get a true physical presence on the blue line, and their pick of Mrazek will not help their struggling goaltending situation.
GRADE: C
Edmonton Oilers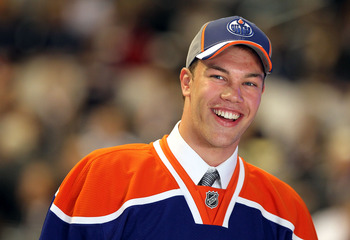 Edmonton, who has not made the playoffs since losing in the Stanley Cup Finals in 2006, picked up 10 prospects:
Taylor Hall (round one; first overall)
Tyler Pitlick (round two; 31st overall)
Martin Marincin (round two; 46th overall)
Curtis Hamilton (round two; 48th overall)
Ryan Martindale (round three; 61st overall)
Jeremie Blain (round four; 91st overall)
Tyler Bunz (round five; 121st overall)
Brandon Davidson (round six; 162nd overall)
Drew Czerwonka (round six; 166th overall)
Kristians Pelss (round seven; 181 overall)
Edmonton had the first overall pick, and there was no way they were going to pass on Taylor Hall. He will almost certainly be on the Oilers next year as the team starts rebuilding.
The Oilers picked up three defensemen in this draft in Marincin, Blain, and Davidson. Marincin is a nice size at 6'4" and the Oilers snatched him up when they were surprised that a player of his size who played in World Juniors was still on the board. In addition to his build, he also has good skating ability and vision.
Edmonton did very well with picking well-sized players, even with 5'9" Kellen Jones, who has a lot of upside.
Tyler Pitlick, a center who had 19 points in 38 games, looks to improve on his offense with Medicine Hat of the WHL next season.
GRADE: A
Florida Panthers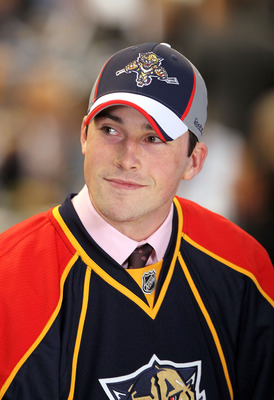 Florida made out like bandits at the 2010 draft as they head out of L.A. with 13 new prospects:
Erik Gudbranson (round one; third)
Nick Bjugstad (round one; 19th)
Quinton Howden (round one; 25th)
John McFarland (round two; 33rd)
Alexander Petrovic (round two; 36th)
Connor Brickley (round two; 50th)
Joe Basaraba (round three; 69th)
Sam Brittain (round four; 92nd)
Benjamin Gallacher (round four; 93rd)
Joonas Donskoi (round four; 99th)
Zach Hyman (round five; 123rd)
Corey Durocher (round six; 153rd)
Ronald Boyd (round seven; 183rd)
Florida got the draft off to a strong start by taking defenseman Erik Gudbranson. Although he only played 41 games this season because of injury, he still put up 23 points and a plus-11 rating. He is not afraid to be physical and has been compared to Chris Pronger.
The Panthers got another steal by landing winger John McFarland, who surprised many by still being available on day two of the draft. He was second in scoring on the Sudbury Wolves of the OHL, with 50 points in 64 games.
Not only is McFarland a good scoring winger, he also has a mean, physical side. He is always looking to be the best on the ice and creates action in both zones.
Howden and Bjugstad are centers who have true NHL potential. Howden making it to the draft is a miracle after he suffered a biking accident as a child and was told he may never play sports again. Howden's best assets are the penalty kill and his speed.
Bjugstad has been described as a blue collar player and is already better in some areas of his game than established NHL-ers. He has a great wrist shot and good hockey vision.
The Panthers got some unbelievable steals this draft, and these players will be a great start to helping the struggling Panthers.
GRADE: A+
Los Angeles Kings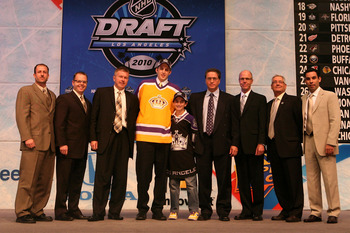 The host Kings got five picks this year:
Derek Forbort (round one; 15th)
Tyler Toffoli (round two; 47th)
Jordan Weal (round three; 70th)
Kevin Gravel (round five; 148th)
Maxim Kitsyn (round six; 158th)
The Kings started off the draft by taking defenseman Derek Forbort from the US Development Program. He had 25 points in 56 games with the camp. He is always improving his game and is a good two-way player.
Kevin Gravel was the second defenseman drafted by the Kings organization. He had six points in 56 games and was a part of the 2010 USHL All-Star Game.
Center Jordan Weal is a good prospect for the elite center the Kings wanted. He had 102 points in 72 games and was the first 17 year old to have more than 100 points in a season in 10 years.
Maxim Kitsyn was the only winger drafted by the hosts. However, he only put up two points in 12 games this year. He was a part of the Russian team at the 2010 World Junior Championship and had three assists in six games.
The Kings got two strong centers, but did not pick up an offensive defenseman, which was one of their weaker areas coming into the draft. Kitsyn needs to be more consistent and produce more offense before he can make a case to contribute to the NHL.
GRADE: B-
Minnesota Wild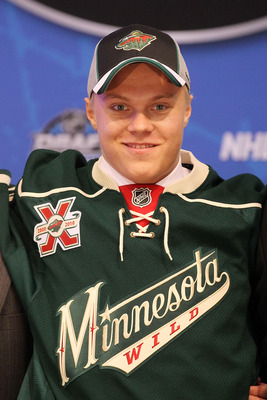 Minnesota acquired six new prospects this year:
Mikael Granlund (round one; ninth)
Brett Bulmer (round two; 39th)
Johan Larsson (round two; 56th)
Jason Zucker (round two; 59th)
Johan Gustafsson (round six; 159th)
Dylen McKinlay (round seven; 189th)
The Wild started things off by picking up Mikael Granlund, a versatile player who can be used on both the center and the wing. Granlund had 40 points in 43 games and had six points in six postseason games. He is a smaller player, but plays bigger than his size.
Minnesota picked up two more right wingers in Brett Bulmer and Dylen McKinlay. Bulmer started the season slow, but finished with 50 points in 65 games. McKinlay, a smaller forward, put up 42 points in 72 games.
The Wild also added to their depth at goaltender by taking Swedish goalie Johan Gustafsson. He played in the U-18 World Championships, where he finished the tournament with a 3-1-0 record and a 2.02 GAA. He is a good size at 6'2" and 202 pounds.
Minnesota got a lot of smaller players who need improvement, but all of them hold promise.
GRADE: B+
Montreal Canadiens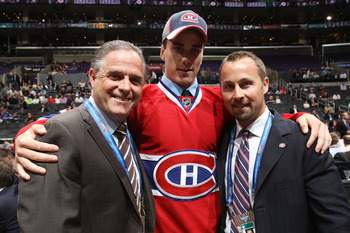 The Canadiens, who had a Cinderella run this season, picked up five new prospects:
Jarred Tinordi (round one; 22nd)
Mark MacMillan (round four; 113th)
Morgan Ellis (round four; 117th)
Brendan Gallagher (round five; 147th)
John Westin (round seven; 207th)
Montreal was short on size, but quickly began to solve that problem in round one by picking up Tinordi, who stands at 6'6" and 205 pounds. Tinordi is a good leader and is a solid defenseman. He could grow into a top four defensive defenseman.
The Canadiens picked up three forwards in Mark MacMillan, Brendan Gallagher, and John Westin. However, these are all smaller players.
Defenseman Morgan Ellis, who was captain of the Cape Breton Screaming Eagles this year, had 29 points in 60 games. He knows he still has hard work ahead of him to make the NHL.
The Canadiens had a need at goaltending, with Jarsolav Halak traded and Carey Price not doing a lot to prove himself as a legitimate starting goaltender. However, they failed to pick one up this year.
GRADE: B-
Nashville Predators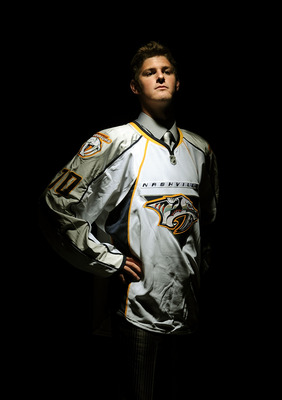 Nashville's six new prospects are:
Austin Watson (round one; 18th)
Taylor Aronson (round three; 78th)
Patrik Cehlin (round five; 126th)
Anthony Bitetto (round six; 168th)
David Elsner (round seven; 194th)
Joonas Rask (round seven; 198th)
Nashville came into the draft with one of the strongest prospect systems in the NHL. However, they did have a few needs: mainly scoring wingers and defensive defensemen.
Austin Watson was traded from Windsor to Peterborough midway through the OHL season. Despite an ankle injury, he still picked up 20 points in 10 games. He does not have any glaring weaknesses and is a good leader.
Patrik Cehlin was drafted from the same Swedish team that Predator Patric Hornqvist played with. He is a good puck mover but needs more consistent production on offense, as he only had 11 points in 54 regular season games.
The Predators drafted defensemen Taylor Aronson and Anthony Bitetto, but neither seems to fit the mold of shut down defensemen the Predators were lacking in their system.
Nashville started off strong with drafting Watson, but didn't find anyone else who has potential to stand out.
GRADE: C+
New Jersey Devils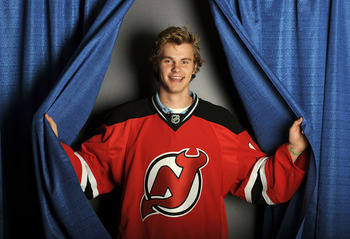 This year, the Devils did not draft until the second round. They leave L.A. with five new prospects:
Jonathon Merrill (round two; 38th)
Scott Wedgewood (round three; 84th)
Joe Faust (round four; 114th)
Maxime Clermont (round six; 174th)
Mauro Jorg (round seven; 204th)
Merrill describes himself as a steady and reliable defenseman, and coaches and scouts agree. He is known to make good decisions on the ice and knows where he needs to be.
New Jersey also had goaltending needs to address and picked up Scott Wedgewood and Maxime Clermont.
Wedgewood has struggled with the Plymouth Whalers, posting a 3.26 GAA and .909 save percentage in 18 games.
Clermont, on the other hand, is gradually improving and finished the 2009-2010 regular season with a record of 24-31-0. His GAA (2.81) and save percentage (.897) were improved over his 2008-2009 totals. However, he has a hard time seeing the puck.
The Devils finished up by picking Mauro Jorg, a Czech right winger. Jorg had eight points and a plus-2 rating in 44 games. He is another player who is improving, but it may be a slow rise to the top.
GRADE: C+
New York Islanders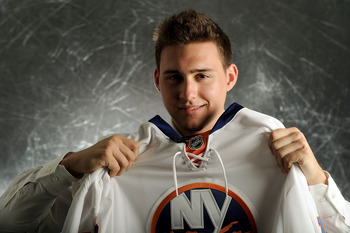 The Islanders continue their rebuilding with six new prospects:
Nino Niederrieter (round one; fifth)
Brock Nelson (round one; 30th)
Kirill Kabanov (round three; 65th)
Jason Clark (round three; 82nd)
Tony Dehart (round five; 125th)
Cody Rosen (round seven; 185th)
The Islanders took two strong forwards in round one in Nino Niederrieter and Brock Nelson.
Niederrieter had a successful rookie season with Portland of the WHL, scoring 60 points in 65 games and taking the team scoring lead. He is described as a strong-sized power forward.
Nelson played for Warroad in Minnesota and had nearly three points per game this past season, finishing the year with 73 points in 25 games. He is another power forward and has unique talents that allow him to do things on the ice others can never pull off.
Cody Rosen was the Islanders' selection to start help solving their problems in goal. He attends Clarkson College and although he only played in one game this past season, his statistics from the Ontario Junior A League are a 2.90 GAA with a winning record of 14-3-1.
The Islanders drafted players who will almost certainly help their team not far down the road, but also picked some players whose futures are in question and have more to prove.
GRADE: A-
New York Rangers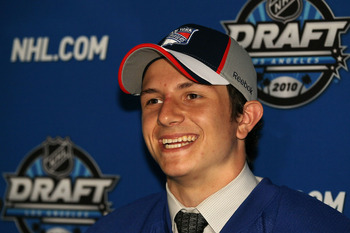 The Rangers picked up six new prospects this year:
Dylan McIlrath (round one; 10th)
Christian Thomas (round two; 40th)
Andrew Yogan (round four; 100th)
Jason Wilson (round five; 130th)
Jesper Fasth (round six; 157th)
Randy McNaught (round seven; 190th)
McIlrath was a good first round choice for the Rangers. In addition to his 24 points this year, he also had 19 fighting majors and 169 penalty minutes. He went higher than he was predicted to in many mock drafts and will be a player that opponents want no part of dealing with.
Yogan brings good statistics to the Rangers after putting up 55 points in 63 games. However, he still has maturing to do both on the ice and off the ice.
Thomas is a strong goal-scoring winger who had 41 goals in 64 games with the Oshawa Generals. He is a small forward, but makes up for it with his skating speed.
Wilson and McNaught do not put up the points that Yogan and Thomas do, but they are both physical players who may surprise people in the future.
The Rangers did have a weakness in goal. Although Henrik Lundqvist should be around for awhile, it is unknown whether any of their current prospects can grow into the No. 1 role if he leaves after the 2013-2014 season. New York did not draft a goalie, though, so this is an issue that remains.
GRADE: A-
Ottawa Senators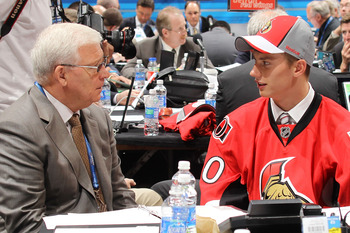 After trading their first round pick, which they could live to regret, Ottawa finished with one of the smallest draft classes of the 30 teams, picking up just four prospects.
Jakub Culek (round three; 76th)
Markus Sorensen (round four; 106th)
Mark Stone (round six; 178th)
Bryce Aneloski (round seven; 196th)
Culek is a center who is known for his playmaking abilities. He is a good player at both ends of the ice, but his offense and skating need work.
Sorensen, a defenseman out of Sweden, has a lot of work to do before he will join Ottawa. He has good character and gets into good battles on the ice, but he needs to add muscle and is still raw.
Ottawa failed to address their needs in goal and did not take any players who could make an impact right away.
GRADE: C
Philadelphia Flyers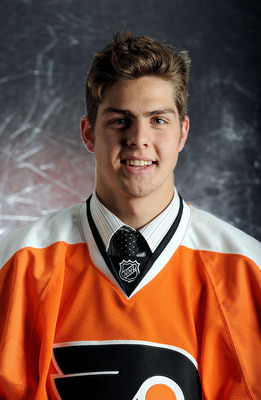 The Stanley Cup runners-up drafted six prospects this year:
Michael Chaput (round three; 89th)
Tye McGinn (round four; 119th)
Michael Parks (round five; 149th)
Nicholas Luukko (round six; 179th)
Ricard Blidstrand (round seven; 206th)
Brendan Ranford (round seven; 209th)
Chaput had 55 points in 68 games this year. He is not the most physical player, but is excellent in the faceoff circle and won 51 percent of them with the Lewiston MAINEiacs this year. He sees himself as a potential third line player for the Flyers.
The Flyers drafted three wingers in Tye McGinn, Brendan Ranford, and Michael Parks.
Ranford and McGinn have both improved their point statistics from year to year in junior hockey. Ranford also adds a physical edge to his game.
The Flyers got the scoring power they were seeking, but did not address their needs at the goalie position.
GRADE: B+
Phoenix Coyotes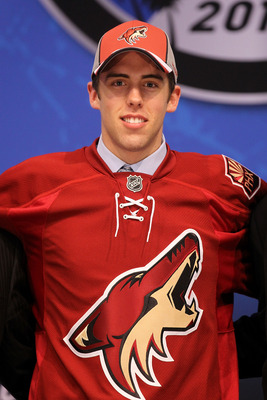 The Coyotes took five prospects this year:
Brandon Gormley (round one; 13th)
Mark Visentin (round one; 27th)
Phillip Lane (round two; 52nd)
Oscar Lindberg (round two; 57th)
Louis Domingue (round five; 138th)
Phoenix used their 13th pick for Brandon Gormley despite the fact that they have plenty of defensemen in their system. He finished with 43 points and a +31 rating in 58 games with the Moncton Wildcats. He is a safe defenseman who is also successful on the power play and in the offensive end.
Visentin improved his 2010 totals from the 2008-2009 season, tallying a 2.99 GAA and .911 save percentage with the Niagra Ice Dogs. He still needs to improve his post to post play and his hockey sense.
Domingue, another goalie who could fill Phoenix's needs in net, has potential to do well in the NHL but has trouble focusing during games. He can play the puck well, but makes mistakes when he overdoes it.
Oscar Lindberg and Phillip Lane were the forwards the Coyotes selected. Lane's statistics dropped off from 2008-2009 as he only put up 32 points this season; whereas he had 42 points in 08-09. Lindberg had 37 points this year, but that doesn't really set him apart from many of the forwards available.
GRADE: C
Pittsburgh Penguins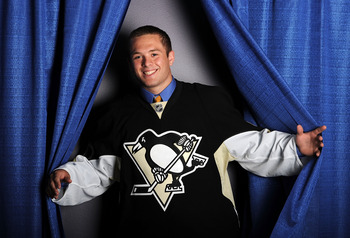 Pittsburgh got six picks in this year's draft:
Beau Bennett (round one; 20th)
Bryan Rust (round three; 80th)
Tom Kuehnhackl (round four; 110th)
Kenneth Agostino (round five; 140th)
Joe Rogalski (round six; 152nd)
Reid McNeill (round six; 170th)
The Penguins immediately addressed their needs for scoring wingers by taking four of them in a row.
Kenneth Agostino is the second strongest scoring winger the Pens took. He had 83 points in 27 games this season. He needs to develop his skating speed, but he is very talented overall.
Beau Bennett was also a good pick after he had a 120 point season with Penticon of the British Columbia Junior Hockey League.
Both of the defensemen the Penguins took are very raw, but can be easily worked with. They are similar in size but neither may be big enough to be a shutdown defenseman.
GRADE: A
St. Louis Blues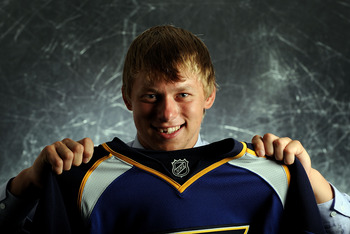 St. Louis took seven prospects in this year's draft: Jaden Schwartz (round one; 14th) Vladimir Tarasenko (round one; 16th) Sebastian Wannstrom (round two; 44th) Max Gardiner (round three; 74th) Jani Hakanpaa (round four; 104th) Cody Beach (round five; 134th) Stephen MacAulay (round six; 164th) The Blues had needs at all positions and got off to a strong start by drafting Schwartz and Tarasenko. Schwartz had 83 points in 60 games for Tri-City in the USHL and broke Thomas Vanek's point total from the 2001-2002 season. Tarasenko had 10 goals and seven assists in 28 games and also led Team Russia with four goals at the World Junior Championships. He also finished second overall in tournament scoring with 15 points. The Blues were thin at left wing and added Stephen Macaulay. This past season, he played with the Saint John Sea Dogs of the QMJHL where he had 21 points in 56 games. St. Louis did not address their goaltending needs and Macaulay may not have been the best choice on left wing. GRADE: B
San Jose Sharks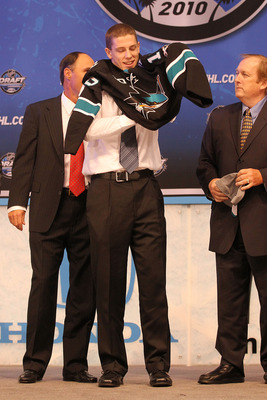 San Jose, who has had trouble finding playoff success in recent years, made eight picks in this year's draft:
Charlie Coyle (round one; 28th)
Max Gaede (round three; 88th)
Cody Ferriero (round five; 127th)
Freddie Hamilton (round five; 129th)
Isaac MacLeod (round five; 136th)
Konrad Abletshauser (round six; 163rd)
Lee Moffie (round seven; 188th)
Christopher Crane (round seven; 200th)
Coyle, a versatile forward, was a smart selection for the Sharks with their 28th pick. He was the EJHL Rookie of the Year after posting 63 points in 42 games with South Shore.
Cody Ferriero is another versatile forward who, like Coyle, can play center and right wing. He had 40 points in 27 games for Governor's Academy in Massachusetts and also brought a physical edge, adding 112 penalty minutes to his statistics.
The Sharks also chose two strong defensemen in Isaac McLeod (6'4", 205 pounds) and Konrad Abeltshauser (6'5" and 190 pounds).
San Jose finished the draft with a nice mix of high scoring and physical players and didn't leave any holes unpatched.
GRADE: A+
Tampa Bay Lightning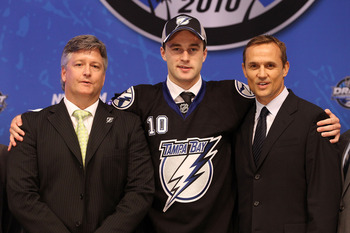 Steve Yzerman completed his first draft as Lightning General Manager by taking eight prospects:
Brett Connolly (round one; sixth)
Brock Beukeboom (round three; 63rd)
Radko Gudas (round three; 66th)
Adam Janoski (round three; 72nd)
Geoffrey Schemitsch (round four; 96th)
James Mullin (round four; 118th)
Brendan O'Donnell (round six; 156th)
Teigan Zahn (round seven; 186th)
Connolly missed significant time in the 2009-2010 season because of a hip injury. Before getting hurt, he put up 19 points in 16 games. He returned for the playoffs and posted two assists in four games. He is a pure goal scorer as well as a playmaker, but may not be ready to handle the NHL.
Brock Beukeboom was a good choice for the Lightning defense. He had 26 points in 66 games and is primarily a defensive defenseman who can score points when necessary.
Gudas was finally drafted after not being picked up in 2008 or 2009. He played with the Everett Silvertips this year and had 37 points along with a team high plus-45 rating. He can play in almost any situations, so hopefully his lower rank and the fact that he was undrafted for so long does not affect his career.
Yzerman picked up a lot of talent this year and took risks on players that other teams would not. For that, he deserves to be commended.
GRADE: A-
Toronto Maple Leafs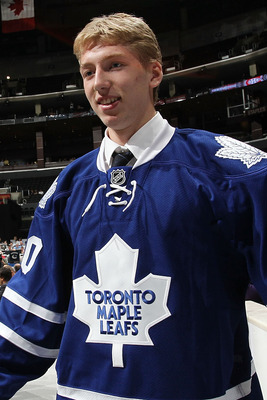 Toronto got seven picks in this year's draft:
Bradley Ross (round two; 43rd)
Greg McKegg (round three; 62nd)
Sondre Olden (round three; 79th)
Petter Granberg (round four; 116th)
Sam Carrick (round five; 144th)
Daniel Brodin (round five; 146th)
Josh Nicholls (round seven; 182nd)
Ross is an imposing left wing who finished his second season with Portland with 68 points and 203 penalty minutes. Despite his high penalty minute total, he does not take a lot of irresponsible minutes and is consistently working hard to take his game to the next level.
McKegg, a center, was voted the Erie Otters Most Improved Player after finishing the 2009-2010 season with 85 points in 67 games. He is a skilled goal scorer who also shares the puck with his teammates.
Granberg is the loan defenseman of Toronto's draft class this year. He had nine points in 40 games and is one of the youngest prospects in this year's class.
Granberg may not quite the fit the mold of offensive defenseman the Leafs needed. However, they got some forwards that could prove to be a good fit for the future.
GRADE: A-
Vancouver Canucks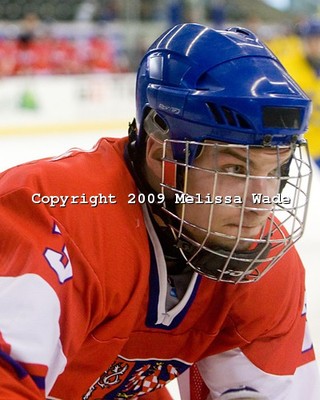 Vancouver, who did not get a pick until round four, picked up five new prospects:
Patrick McNally (round four; 115th)
Adam Polasek (round five; 145th)
Alex Friesen (round six; 172nd)
Jonathan Ilahti (round six; 175th)
Sawyer Hannay (round seven; 205th)
Friesen, a center, is the only forward the Canucks picked up this year. He had a peak season with the Niagra Ice Dogs this year, picking up 60 points in in 60 games.
Iilahti did not make the midterm draft rankings, but finished sixth in the year end rankings issued by the Central Scouting Bureau. He spent this season with the Espoo Blues in Finland where he had a 2.49 GAA and .917 save percentage. Although he was a backup goalie, his performance attracted a lot of attention and some clubs wanted to take him as high as the third round.
Vancouver finished off their draft by taking two offensive defensemen in McNally and Polasek and a force to be reckoned with in Hannay. Hannay had only one goal this year, but got 18 fighting majors and had 158 penalty minutes in 54 games.
GRADE: A+
Washington Capitals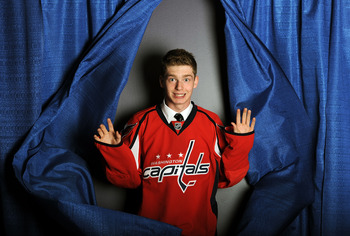 Washington continued to favor Europeans in this year's draft, as three out of their five prospects they picked up came from there:
Evgeny Kuznetsov (round one; 26th)
Stanislav Galiev (round three; 86th)
Philipp Grubauer (round four; 112th)
Caleb Herbet (round five; 142nd)
Samuel Carrier (round six; 176th)
Carrier is more of an offensive defenseman who put up 42 points in 66 games with Lewiston this season. He is good size at 6'1" and 186 pounds.
Kuznetsov had nine points in 35 games with Traktor Chelyabinsk of the KHL. In seven games at the U-18 Championships, he put up 12 goals.
Galiev had 60 points in 67 games this year after joining the Saint John Sea Dogs of the QMJHL. He has good puck handling skills and can play physical, but still needs to gain more muscle.
After struggling with the Belleville Bulls, Grubauer was traded to the Windsor Spitfires, where he posted a 2.37 GAA and a .906 save percentage. He was also a part of the Spitfires playoff run and has been described as a "technically sound, calm goaltender".
The Capitals failed to pick up any toughness this year, an area of the organization where they are lacking players who can make an impact. Kuznetsov and Galiev are good forwards, but don't really bring anything that is not already in the Capitals' system.
GRADE: C+
Keep Reading