Chicago Blackhawks Prospect Profile: Jeremy Morin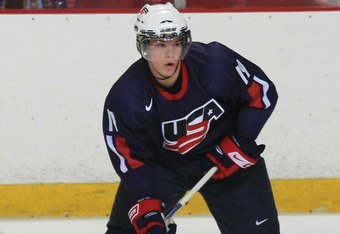 Bruce Bennett/Getty Images
Since the start of the 2009-2010 year Chicago Blackhawks fans were anticipating that their team would need to move a massive amount of salary at the end of the season.
Wednesday was the beginning of the Blackhawks salary movement as the 'Hawks shipped off fan favorite and playoff hero Dustin Byfuglien to the Atlanta Thrashers.
Also included in the trade were Brent Sopel the shot blocking machine, Ben Eager, and slowly developing prospect Akim Aliu.
In return the Blackhawks received the 24th overall pick in the 2010 draft as well as a 2nd round pick in 2010, AHLer Joey Crabb and Atlanta's second round pick in 2009, Jeremy Morin.
Yes the Blackhawks get a second first round pick in 2010 and get yet another second round pick the real prize of this trade, in my mind, is center Jeremy Morin.
Morin was drafted 45th overall in the 2009 NHL entry draft by the Atlanta Thrashers out of United States development program and was regarded as one of the premier snipers of the 2009 draft class.
After being drafted Morin went on to play last season in the Ontario Hockey League where he laced them up with the Kitchener Rangers and had one heck of a season tallying 47 goals and 83 points.
Although it was know that Morin is one heck of an offensive talent there were some question marks surrounding him and might have been the reason for his slip to the middle of the second round.
One slighty minor knock on Morin is his skating ability and that it seems as though he has a difficult time getting his motor going when he doesn't have the puck.
The bigger red flag when it comes to Morin is his presumed lack of passion when he is on the ice and his lack of passion might be one of the major causes of his slow skating without the puck.
Now Morin might fall victim to lack of passion or laziness on the ice but there is no questioning that he has the talent to play and succeed at the NHL level.
Lets face it even if Morin does fall victim to some occasional lazy spells on the ice the kid was still able come in fourth in goal scoring in the OHL so I'm not sure I'd put too much weight on his "lack of passion" as scouts put it.
I was having a difficult time pinpointing which player Morin exactly reminded me of already playing in the NHL, until fellow featured columnist Tab Bamford gave me the combination of Kris Versteeg and Troy Brouwer.
I think Morin has the offensive prowess of Versteeg and has the ability to do great things when the puck is on his stick but is not good enough defensively to kill penalties effectively.
Morin has similar size and ability to find the open ice as Brouwer but on the downside also has similar skating ability as Brouwer .
Now the question that arises, when will Morin be ready for full time NHL duty?
My guess is that Morin will likely be back in junior next season to continue to work on his game and depending how he performs in his second year of junior will determine if he makes the 'Hawks in 2011 or will be in the minors.
Now I know Blackhawks fans are disappointed at the departure of Big Buff but we must all keep in perspective that it was a necessary move and a move that can help rebuild the 'Hawks NHL pipeline.
Again thank you for everything you did Buff and best of luck in Atlanta. And to Jeremy Morin, welcome to the Blackhawks organization, I and many 'Hawks fans will be waiting for you NHL debut not too far down the road.
This article is
What is the duplicate article?
Why is this article offensive?
Where is this article plagiarized from?
Why is this article poorly edited?

Chicago Blackhawks: Like this team?