2010 NHL Mock Draft: Hall or Seguin? And Who Will Your Team Take?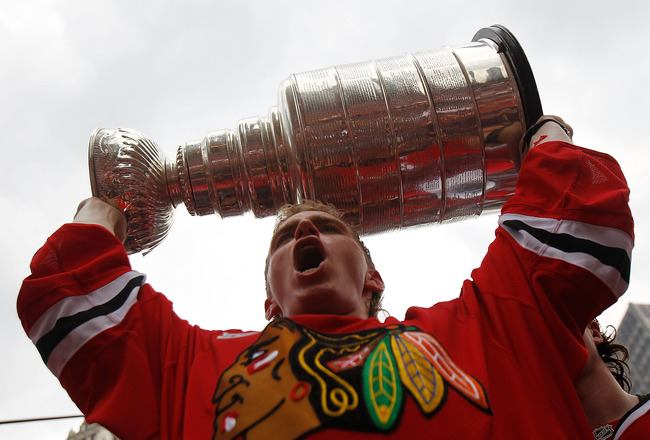 The NHL and its constant power shifts in terms of victories and championships in recent years seems to come from drafting great talent.
Sure, some would say that free agents are the ones that bring the titles, but when it is examined, the draftees are the steak and potatoes, while the free agent signings are simply the dessert.
Since the year 2000, the first overall selections have made immediate impacts in the league. These players have gone on to win multiple playoff series, Stanley Cup glory, Olympic greatness, and superstar rankings.
Players like Crosby, Ovechkin, Nash, Kovalchuk, Stamkos, and Kane have established themselves as faces of the game. Last year's pick, John Tavaras, looked impressive, and very well could join this list. The two goalies that have gone No. 1 overall have been Marc Andre Fleury, who was in net for the Penguins title win in 2009, and Rick DiPietro, who was brilliant in the first few years, but is looking to regain the magic after getting his breathtaking contract.
Erik Johnson has also been a solid player. He is a mainstay and a valuable piece of the Blues' efforts.
But the first overall pick is not the only place that a team can obviously become great. Players in the league like Drew Doughty, Evgeni Malkin, Duncan Keith, The Sedins, and Jonathan Toews were not taken No. 1.
This year, the draft comes to Los Angeles for the first time, and it looks to be a turning point for the teams at the top of the draft. Many decisions will be made that will give teams a new-found sense of identity and promise for future seasons.
In other cases, the picks in the middle of the draft may be made to solidify a position or need that may put a team over the hump to reach the late rounds of the playoffs.
For the teams near the end, the picks are usually a way to ensure the future as the salary cap continues to go down and talent is harder to keep on one club.
Regardless of the team and situation, the first two selections will be greatly anticipated, as there are two extremely talented young hockey players in Tyler Seguin and Taylor Hall.
Who do you think the once-proud Edmonton Oilers should take?
Edmonton Oilers, No. 1, LW Taylor Hall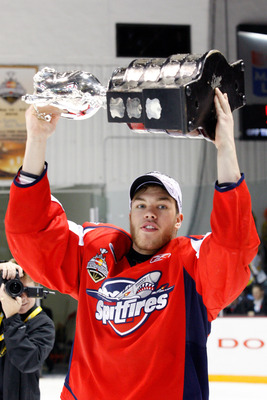 This is a decision that will be quite difficult for the Oilers to make come draft day. The two future star players bring much of the same qualities to the table. They tied for the points race in the OHL with 106.
But, Hall won the playoff MVP award in 2009, which ironically, for Oilers fans, is called the "Wayne Gretzky 99 Award."
Hall would be a player that could help the struggling Oilers right away as he will produce offensive numbers out of the gate. He also has a winning pedigree as he has been an integral part of the Memorial Cup champion Windsor Spitfires the last two seasons.
Playing with talent early will add to Hall's success, and Shawn Horcoff and Ales Hemsky could be players that will help develop Hall into being dynamic offensive threat, which he no doubt should become.
Hall would bring excitement to the Oilers and perhaps be one of the key pieces that will restore them to the dominance that was seen throughout the 1980s.
Boston Bruins, No. 2, C Tyler Seguin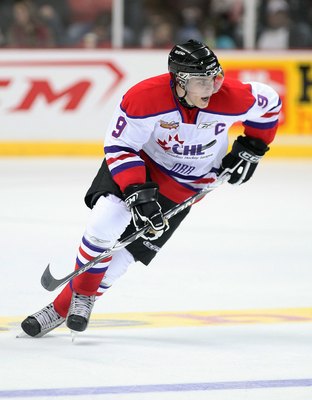 The Bruins are not exactly a team that is in a dire need to acquire a pick at this position in the draft. But no team would ever pass up on the chance to add a player that will be a leader for years to come. This is what Boston will gain if they are given the opportunity to draft Tyler Seguin.
Seguin is a player that will add tons to a team that was on the brink of being in the final two of their conference this last season. Though Zdeno Chara is the captain, and one of the best defensemen in the league, it would not shock anyone to see Seguin earn this spot as captain early into his career in Boston much like Sidney Crosby and Jonathan Toews did for their respective teams.
He has been compared to Steve Yzerman by many and is known for his outstanding attitude and leadership.
These are comparisons and attributes that cannot be taught and are a rarity to find.
Florida Panthers, No. 3, D Cam Fowler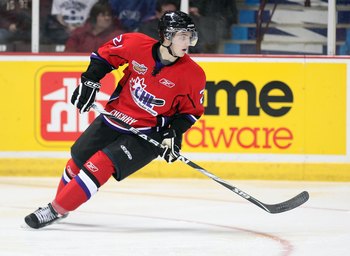 The Florida Panthers have some choices of defensemen to select with the third pick in this year's draft. They currently have a proven talented veteran in Bryan McCabe and another in Keith Ballard at the blue line. However, I feel that they will still select one of these game-controlling d-men for the future.
Their new general manager Dale Tallon, who is known for largely building the newly-anointed champion Blackhawks, will look to most likely build this organization like he did the Hawks. He did this by building around the team's picks of Brent Seabrook and Duncan Keith.
Drafting Windsor Spitfire defenseman Cam Fowler is the first step in setting-up a bright future in sunny Ft. Lauderdale.
Cam Fowler is the most talented at his position, and his mobility and skills in controlling the puck are something to covet. G Tomas Vokoun should be very happy if his team gets Cam Fowler because he should contribute greatly both offensively and on defense.
Columbus Blue Jackets, No. 4, D Erik Gudbranson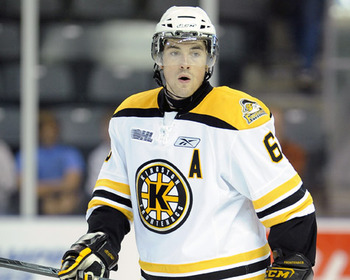 The Jackets are a team that needs a defenseman in the worst way. Erik Gudbranson will give them a solid rock to be the anchor of their first line going forward.
He has been compared to Chris Pronger and Dion Pheneuf. These are lofty comparisons to live up to, but his size (6-foot-3, 201 pounds) is something to take into account.
I think he has perennial all-star talent if he can improve his offensive prowess and continue to put on muscle. I do not expect him to fall much lower than this pick.
Photo Courtesy of: Ontario Hockey League
New York Islanders, No. 5, D Brandon Gormley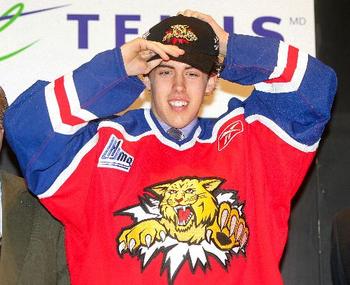 The Quebec League Top Professional Prospect was Brandon Gormley. The name of the award is named after legendary Islander Mike Bossy.
Is it fate? Or is it simply a pleasant coincidence for the Long Island faithful?
Gormley is as talented as he is very good at moving the puck. He should fall to the fifth pick, as he does not have the game-changing potential that can be seen in Gudbranson and Fowler.
It will take time for Gormley to progress, but Islander fans should not be a hurry, as this is team that will take time to build.
Photo Courtesy of: The Guardian
Tampa Bay Lightning, No. 6, LW Brett Connolly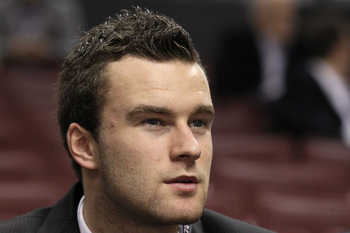 Brett Connolly could be higher on the draft list, but this is a spot that would benefit him and the team the best.
Steve Yzerman, in his first draft as the boss in Tampa, would find it difficult to pass up on the chance to add a talented player who has the potential to play under the leadership of players like Vincent Lecavalier, Martin St. Louis, and emerging superstar Steven Stamkos.
The Lightning offense is pretty tough to stop with all these players, but adding a left-winger like Connolly would help them climb the ranks in the Eastern Conference.
Carolina Hurricanes, No. 7, C Ryan Johansen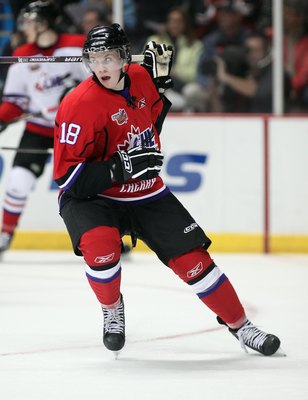 Certain players fly up the rankings in these drafts more than others.
Ryan Johansen is a guy who has quickly moved into a possible top-10 pick, and I have him becoming a Carolina Hurricane at No. 7.
He has good size for a center his age and has good two-way ability at this point. He has the playmaking ability to perhaps join a line in the future with star LW Eric Staal, which could be very formidable.
Johansen should be taken early, but if he falls in the first round, a good playoff team will add a good player.
Atlanta Thrashers, No. 8, LW Nino Niedermeiter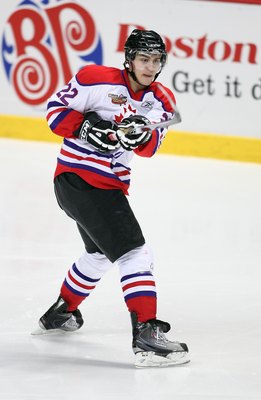 "El Nino," as he is known as in some hockey circles, has been a very prodigious scorer in the WHL for the Portland Winterhawks.
If there was a list of five players that I believe will be making an impact five years from now in the NHL, Niederreiter would make that list.
He is a relentless offensive winger who has a knack for scoring. At this point in time, the Thrashers are looking for a scorer that can light the lamp, and El Nino can blow by many a goalie.
Minnesota Wild, No. 9, LW Mikael Granlund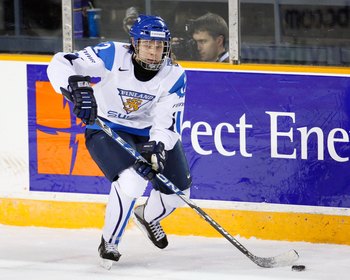 The passionate Minnesota fans in the Xcel Center would be very pleased with the results they would see if they drafted Mikael Granlund.
His size may be seen as an issue by some, but his offensive production for his Finnish team shows he can compete with those who are larger than him.
Foreign Wild players like Marty Havlat and Mikko Koivu would be beneficial for Granlund's on-ice progression if he were to be drafted there.
New York Rangers, No. 10, C Jeff Skinner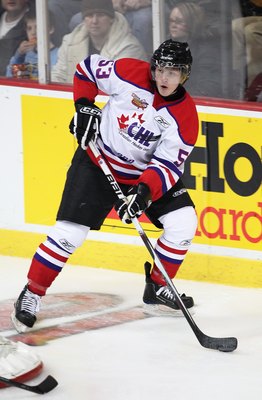 The Rangers would be picking-up a fierce scoring machine at No. 10 with Jeff Skinner.
This is a player that scored 50 goals in 64 games and was second in the OHL in goals during the season.
His abilities around the net are steadily improving, which is scary for his young age. In fact all aspects of his game are getting vastly better, which could indicate a fast rise to the NHL.
Dallas Stars, No. 11, C Alex Burmistrov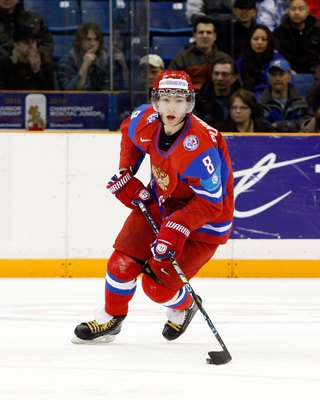 Alex Burmistrov is a talented Russian player who would give the Stars a lot in the future.
I do not see him any going farther than Ottawa's pick at No. 16, but No. 11 would be a fine place for him to go. His style of play would be very difficult to stop on a quick power play line, as his finesse would be something that would be very hard for defenders to stop.
He will need to bulk-up and become more muscular before joining the professional ranks, but this is something I expect to not hinder in his progression.
Anaheim Ducks, No. 12, D Derek Forbort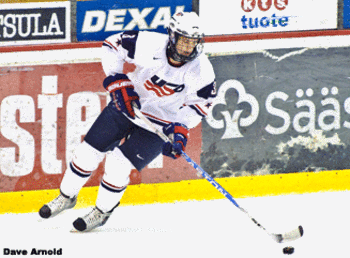 Anaheim could be getting a steal pick at No. 12 with Derek Forbort.
Despite three defensemen being taken ahead of him in the first round, Forbort may end up being the best professional of them all. He has both the moves on the ice and the size, unlike some of the defensemen that are ranked higher than him on the list.
Whether he is taken early or goes in the middle of the first round, the team that drafts Forbort will see the return on their investment sooner rather than later.
Photo Courtesy of: USA Hockey
Phoenix Coyotes, No. 13, G Jack Campbell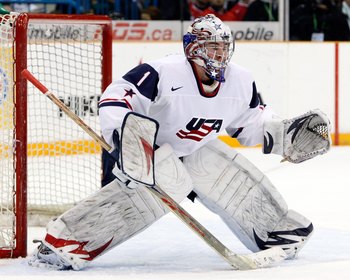 Phoenix may have one of the best, if not the best goaltender in the world right now—but nothing lasts forever.
Jack Campbell is only 18 years old, and by the time he is ready to be "the man" for the Coyotes (or Jets, if that's what they're called by then), Bryzgalov may not be what he is today (Hart Trophy and Vezina Finalist).
Campbell won the gold with the US Junior team and showed in the tournament that he has what it takes in the pressure situations. He also has good size and drive to be a NHL starting goalie.
St. Louis Blues, No.14, D Dylan Mcilrath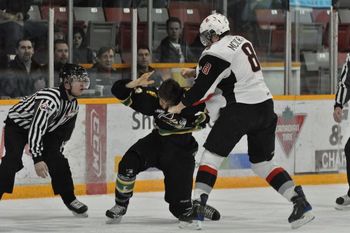 This former volleyball player has the size and strength to match up with former Blues great defensemen Al McInnis and Chris Pronger.
Unfair comparison, yes, but the 6-foot-5, 215-pound Dylan McIlrath is someone that should be looked at very carefully when thinking about adding to a young and formidable St. Louis hockey club.
Photo Courtesy of: PA Herald
Boston Bruins, No. 15, D Mark Pysyk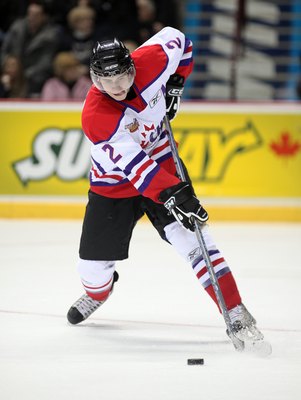 Boston would get a defensemen who has great skating ability and a hard shot. Team that with my projected first pick for the Bruins, Tyler Seguin, and that makes for an outstanding day in Beantown.
Pysyk would be best-suited on a team that is already good, and he would get that in the Boston Bruins.
He may go earlier than this position in the draft, but with the top-heavy abundance of defensemen, I think he can be had at this point.
Ottawa Senators, No. 16, RW Austin Watson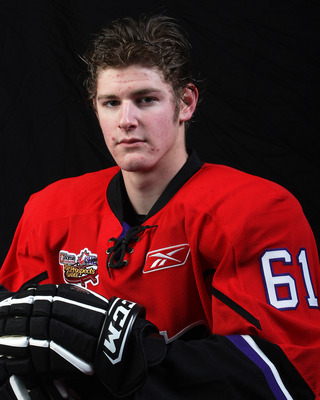 Austin Watson could go anywhere in the middle of the first round. The Ottawa Senators would be a fine home for the Michigan native.
His style of play reminds me of a young Ryan Getlaf, as he is skilled in many facets of play on the ice. I am most impressed with his hustle and passion as a defensive forward, which not many young hockey prospects are inclined to be.
He also has the ability to score the puck in the net, which could be used in Ottawa.
If Ottawa has the chance to take Watson and they decide not to, then I suspect any number of teams after them will choose to add him to their team.
Colorado Avalanche, No. 17, G Calvin Pickard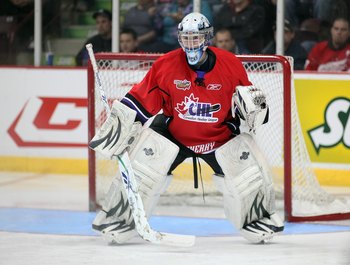 The Avs are an up-and-coming team that I expect big things from in the coming seasons.
They just need one huge thing: A shutdown, No. 1 goaltender.
Despite some people's illogical beliefs, Craig Anderson and Peter Budaj are not championship netminders.
Calvin Pickard, in many experts' summations, is the top goalie prospect entering this season's draft. He has been perhaps the best goalie in his league (WHL) the last two seasons, and has shown that with development, he can be a starting goaltender in the National Hockey League.
Despite making the most saves and having the most minutes in his league last season, I think hockey fans have only seen the tip of the iceberg in terms of Pickard's overall talent in net.
Nashville Predators, No. 18, LW Nick Bjugstad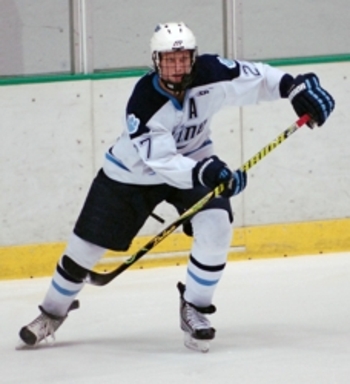 The Nashville Predators found out first-hand what having a dominant power forward in front of the net can give a team this year in the first round of the playoffs against Dustin Byfuglien. They can get a player of "Big Buff's" coat in Nick Bjugstad, who hails from the same state, Minnesota.
"Mr. Hockey" of Minnesota, Bjugstad is a player that could get in front of the net and let blue line all-star Shea Weber unleash his rifling shot.
Something to dread if you're playing against the Preds.
Photo Courtesy of: MN Hockey Hub
Los Angeles Kings, No. 19, C Emerson Etem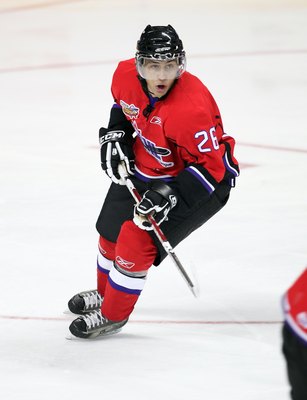 A feel-good moment at the draft could occur, as the kid from Long Beach who grew up a Kings fan could become a King himself.
This could be a real possibility, as the Kings should like the on-ice intelligence and sniper-like skills of Etem around the net.
He needs to vastly improve his defense before making it to the bigs, but that is something that he should be able to improve. He also produced very good numbers while playing in the WHL (Medicine Hat).
Pittsburgh Penguins, No. 20, LW John McFarland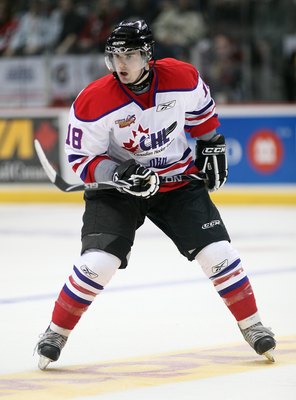 John McFarland would be a good pick for the Pens at this position in the draft as a safety pick.
McFarland is a well-rounded player, as he is very fast with and without the puck. He has the versatility to play both center and forward, and he is also a tough player (70 penalty minutes last season for Sudbury).
His draft location will most likely be anywhere from No. 15 to No. 30, but I think going at No. 20 to the Penguins makes the most sense.
Detroit Red Wings, No. 21, LW Quinton Howden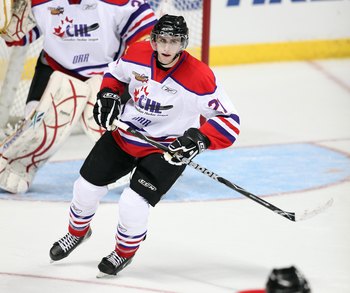 Howden is a relentless player that will never give up on a loose puck in any situation. He is young, tough, and talented, which is a great combo for this young hockey player going forward into his professional career.
The Red Wings, despite their successes, are getting older, and a hard-working forward like Howden might be a positive. It may take time, but I see Howden getting into the pros within three seasons.
He will most likely be taken between the No. 10 and No. 25 picks.
Phoenix Coyotes, No. 22, LW Vladimir Tarasenko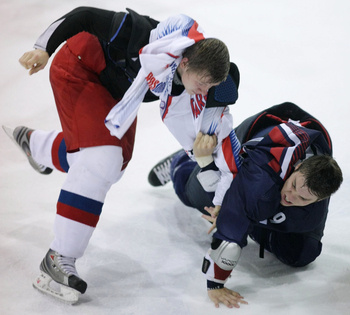 There is a great deal of buzz surrounding the possibility of Tarasenko coming to the NHL. He is currently one of the youngest players playing in Russia (KHL), and is also one of the league's brightest young stars.
He has already had success in that league, which is professional, and I believe he could transition well into the NHL.
He has lightning-quick hands, and from what I have seen, has no glaring weaknesses in his game. He is also one of the best skaters in this draft, perhaps the best.
Buffalo Sabres, No. 23, C Charlie Coyle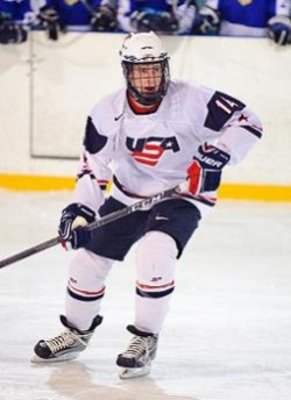 Some may not have Charlie Coyle as high as this position, but come draft day in Los Angeles, I believe he will be.
His cousin is former NHL All-Star Tony Amonte, and like his cousin, he played hockey at Boston University, which is known for producing great hockey players.
He is a player with many gifts, including his size, which he uses to his advantage.
Though he's a reach, I think the Sabres would be getting a fine prospect in Charlie Coyle.
Photo Courtesy of: Hockey Journal
Atlanta Thrashers, No. 24, D Jarred Tinordi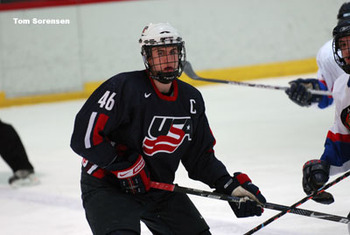 Jarred Tinordi would be a defensive pickup that would make for a superb first round of selections for the Atlanta Thrashers if my picks were to come to fruition.
He is young player who has a good deal of skating ability at this point in his career, and he is also a player that does not get pushed around.
College hockey will serve him best in making him a more sound defensemen before he enters the NHL, but I expect him to eventually get there.
Photo Courtesy of: USA Hockey
Vancouver Canucks, No. 25, C Evgeni Kutznetsov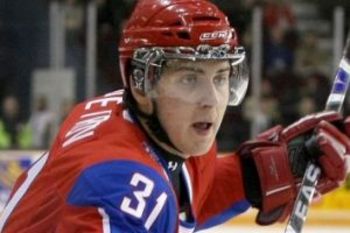 I see this pick as being a developmental selection for the Canucks. Evgeni Kutznetsov is a player that could be a NHL-caliber player in a few seasons.
I believe the Canucks are going to have a very busy offseason, as they are going to make every move possible to finally reach the Stanley Cup Finals, and are not trying to rebuild.
That is why a player such as Kutznetsov would have time to develop, and eventually take the place of the established players of today as they decline in the coming years.
Photo Courtesy of: Russian Hockey Fans
Washington Capitals, No. 26, D Jon Merrill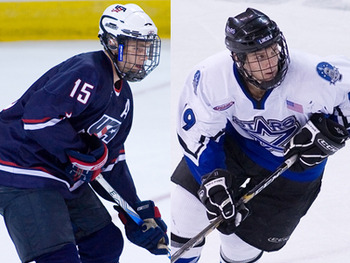 Jon Merrill is a American player, among a few others, that will be taken in the first round of the draft. He would be an excellent compliment to Mike Green on the blue line if he progresses as a defensemen.
His offensive abilities are not fully developed yet, but his hard-hitting playing style on defense and overall size are the prototype any team would want (6-foot-3, 200 pounds).
Merrill has a good chance of being taken earlier than this selection, and would most likely make the big club faster if he is on a less talented team, but Washington could make him a championship-type player.
Photo Courtesy of: USHL
Montreal Canadiens, No. 27, RW Stanislav Galiev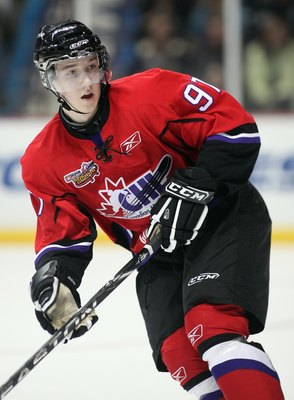 For some reason, Galiev has a name that sounds like he will be a mainstay in the NHL for season to come.
In going to the Habs, he can use his playmaking ability to awe the loud hockey fanatics in Montreal.
There is also a lack of talented right wing players, and although he may be a player to take in the second round, I see Montreal scooping him up at this pick.
San Jose Sharks, No. 28, C Riley Sheahan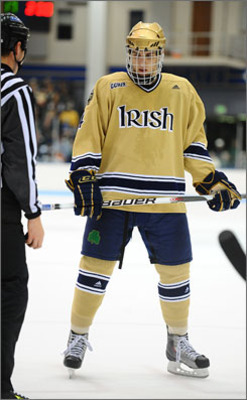 The Sharks, at this point in the draft, go with the Fighting Irish center Riley Sheahan.
Sheahan has stated that, compared to any NHL player, his game most resembles that of Rick Nash.
That is a pretty high mark to try to measure up to, but his lack of glaring weaknesses for a player his age is something that makes general managers around the league want to give this kid a contract.
Photo Courtesy of: USA Today
Anaheim Ducks, No. 29, W Teemu Pulkkinen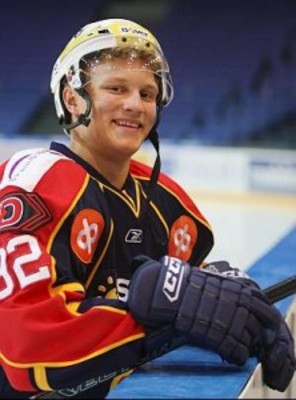 As one Teemu most likely leaves the Ducks, a new one joins
Teemu Pulkkinen will probably not have the Hall of Fame career that "The Finnish Flash" Teemu Selanne did, but I believe he will have a positive impact for Anaheim if he goes there.
Photo Courtesy of: HF Boards
Chicago Blackhawks, No. 30, C Tyler Pitlick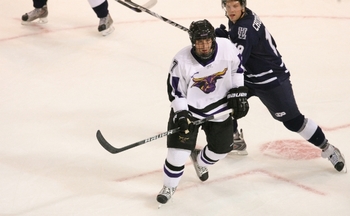 The defending Stanley Cup champions will have many changes and holes to fix and fill this offseason. With a surplus of talent and large contracts, the Hawks are going to have to rely on some help from their minor league system to fill these positions.
For this year's draft, I see them taking Minnesota State center Tyler Pitlick.
He is a reliable player with a good on-ice presence. His speed with and without the puck have been called into question, but I believe this is not a large issue in Pitlick's game.
He also seems to win a lot of faceoffs, which is a very important quality for moving up the totem pole in any organization as a center.
Photo Courtesy of: MSU Mavericks
Keep Reading