2010 NHL Playoffs: The March to the Final Four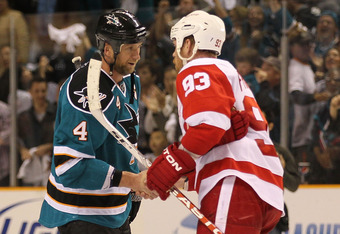 Jed Jacobsohn/Getty Images
One team has punched their ticket for the Final Four, the San Jose Sharks, but there are three more spots out there.
Two more can be sewed up Monday as the defending cup champion Penguins look to dispatch the "Cinderella" Canadiens in Montreal, while the No. 6 seed Bruins try to not take a page out of the Blackhawks playbook (losing Game Five at home when up 3-1) and instead send the Flyers to the golf courses Monday in Beantown.
So three more spots is perfect for this week's "Pucking Awesome Hat Trick," or the top three things I am looking forward to this week.
No. 6 Seed Magic
In the Eastern Conference, for two straight playoffs, the No. 6 seed has made it to the Eastern Conference Finals.
In 2008, the Philadelphia Flyers upset the No. 3 seed Washington Capitals and No. 1 seed Montreal Canadiens on their way to the Eastern Conference Finals.
While last season, the Carolina Hurricanes dispatched of the No. 3 seed Devils and No. 1 seed Bruins on their way to the Eastern Conference Finals.
Both teams eventually succumbed to the Pittsburgh Penguins, and this week I will be watching for history to repeat itself again, as the No.6 seed Boston Bruins are one game away from facing the Pittsburgh Penguins in the Eastern Conference Finals.
So for all those NHL fans that do not have a team still playing, root for your team to finish No. 6 next season.
Comeback City:
The 1942 Toronto Maple Leafs and 1975 New York Islanders are the last two teams to come back from a 3-0 hole in a NHL playoff series.
Both of those team's records will be tested this week as the Flyers aim to put their lure up there with the ranks of those miraculous teams.
But another comeback is in the works The Canucks took a giant leap towards coming back from a 3-1 deficit when they defeated the Blackhawks in Chicago on Sunday with a score of 4-1.
The scene now shifts to Vancouver for a historic Game Six.
One would think the momentum is on the side of Vancouver who will be playing at home, and that the Blackhawks will need to find someone other than Jonathan Toews to score goals (11 points in this series).
In the Eastern Conference, the Bruins have been ravaged by injuries in their quest for one more win, but have still been getting contributions from older and wiser heroes.
Mark Recchi, 42 years young, has three goals in this series. While 35-year-old Miroslav Satan also has three goals in this series, including the game-winner in the pivotal Game Three.
As the Bruins IR list grows, they will need to keep depending on these unlikely heroes and good goal tending if they don't want to be on the opposite side of what Boston's own Red Sox did to the Yankees in 2004.
Calling All Americans
I know most of the hockey world does not pay attention to the World Championships considering it is played during the most important time for the NHL, but come on America! LETS GO!
The Americans, fresh off their Silver Medal showing in this year's Olympics, have now dropped to 0-2 in the 2010 IIHF World Championships.
They lost to the host Germany in overtime, 2-1, in front of a record 77,803 crowd to open the tournament, and now they lost again, 2-1, in overtime to Denmark!
This team has Scott Clemmensen in net instead of Ryan Miller, and offensively, they are led by Kyle Okposo and Brandon Dubinsky.
I am looking forward to this week as this team tries to salvage the preliminary round versus Finland, and continue their march towards medaling.
Read more at www.puckingawesome.com
This article is
What is the duplicate article?
Why is this article offensive?
Where is this article plagiarized from?
Why is this article poorly edited?

Boston Bruins: Like this team?