Farewell, Jamal Lewis: Cleveland Browns Cut Diminishing Running Back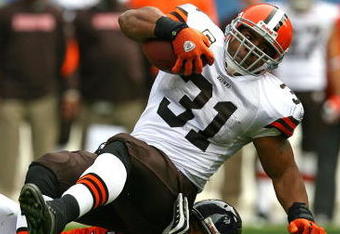 Jonathan Daniel/Getty Images
After a promising first year, an average second, and injury-riddled third, the Cleveland Browns have cut ties with former starter Jamal Lewis.
Lewis was a tremendous running back with the Baltimore Ravens and in 2007 during his first season with the Browns. Don't let this article fool you into thinking this is a hateful piece directed at Lewis, but his skills are nowhere close to what they once were.
In 2009, Lewis was injured for one game early on and backup Jerome Harrison filled in admirably, rushing for more than 100 yards against a good Cincinnati Bengals defense.
What happened next?
The Browns pull Harrison and go back to the aging back in Lewis who was never able to hit the holes in the line hard enough.
He also had trouble making quick decisions on where to run the ball, often looking like a tap dancer behind the line of scrimmage before falling forward for a one or two-yard gain.
His speed was a concern because this journalist remembers the Jamal Lewis that would smoke the Browns defense twice a year. In 2003, when he eclipsed the 2,000-yard rushing mark, Lewis ran for 295 and 205 in each respective meeting against the Browns.
Now Lewis would be lucky to get away from a linebacker.
Still, his heart was in it in 2007 when the Browns signed him to a one-year deal to prove he still had juice left in the tank.
Boy did he ever.
Lewis helped the Browns become the Cinderella story that season with a 10-6 record, rushing for 1,300-plus yards and nine touchdowns.
Sadly, the Browns rewarded Lewis before signs of aging and fatigue slowly set in throughout the following years.
Lewis has also been the center of controversy after saying his defense gave up following a game against the Broncos in 2008, and again the following year when he accused new head coach Eric Mangini of running the team too hard in practices.
Did any other players complain?
Nope.
Lewis slowly became a locker room issue, causing disorder until he was placed on the injured reserve list.
Once he was out for the season, the team turned it around to the tune of winning their last four games of the season. These wins came on the shoulders of Jerome Harrison, who the Browns should have relied on more during the season.
Before the 2009 season began, there was a moment when rumors circulated about the Browns cutting Lewis.
They should have when they had the chance, but they've still resolved any future issues by cutting him now, even though he said he planned on retiring during the middle of the 2009 season.
Since no official announcement has been made, the Browns would just rather move on without him, and not allow him the chance to pull a "Brett Favre."
Lewis is now free to tiptoe back to Baltimore in hopes that the Ravens will sign him as a backup, given that NBC Sports recently reported that Lewis is being sued in a $25 million civil suit. If that ends up being the final settlement amount, we can definitely expect to see Lewis in an NFL uniform.
Looks like the Browns escaped this drama at the perfect time.
This article is
What is the duplicate article?
Why is this article offensive?
Where is this article plagiarized from?
Why is this article poorly edited?

Cleveland Browns: Like this team?