Kobe Bryant: From Good, to Great, to Legendary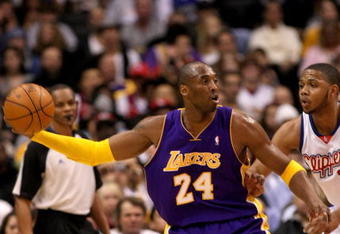 Stephen Dunn/Getty Images
Kobe Bryant entered the NBA young, stupid, and in over his head. Though he entered the NBA as a prodigy, many believed after his young struggles, he wouldn't be capable of delivering on the prediction.
Then, the Lakers and their rising star began winning after the acquisition of head coach Phil Jackson and super center Shaquille O'Neil. Still in his youth, Bryant was still one of the few being mentioned in the same category as Michael Jordan.
The hot-headed Bryant won three consecutive titles being Jackson's go-to guard and Shaq's wing man.
Though the end of the Lakers run at the top of the NBA has been blamed on Bryant, he has risen above it and in spectacular fashion.
He wanted the spotlight and not only did he get it, he has harnessed it and become one of the most dominant players in the league.
Bryant started his career as a good player, then after the loss to the Detroit Pistons in the 2003-2004 NBA Finals, the young and arrogant Bryant evolved into a great player.
Bryant become the league's premier scorer. He also became one of the most hated players in the game because of his attitude. However, the beginning of his bad attitude began with poor judgement.
In the summer of 2003 Bryant was arrested in Colorado after being accused of rape. Though Bryant was not convicted, he continued to perform to an even higher standard than anyone thought was possible while being stuck in a legal controversy.
He played with reckless abandon. The Lakers were Bryant's team, and his alone. He became loved by many for his passion and hated by more for his "one-man show" presence.
Bryant then exploded, his offense game seemed to push the limits of reality during the 05-06 season, averaging more than 35 points.
After the end of that season, however, Bryant made a change that many have questioned since. He changed jersey numbers, from 8 to 24.
Fans and journalists have all been trying to figure out why he changed his number, in reality one reason could be placed right in front of all of us.
His horrifically riddled past was played under number 8. Bryant needed a new face and a new beginning, by changing to 24, he got exactly what he needed.
Since the swap, Bryant has become a completely different player, oriented more around his teammates than his own ego.
He's also become more of a winner, reaching two NBA Finals since the swap and winning one of them. He also managed to win the league MVP award and the NBA Finals MVP award in 2009.
Bryant's jersey swap revitalized the player, the image, and the man that Bryant is. Turning him from just a great player, into a modern-day legend.
His game became clutch, his passion became extraordinary, and his hunger became inspirational. Bryant became one of the most feared players in the league, because he played his heart out, every possession, every minute, and every second.
He's both hated and loved by so many around the world. The cheers engulf him, the jeers and taunting inspire him to prove them wrong.
Bryant is a player who rivals the greats: Jordan, West, Erving, Magic, and Wilkins. Is he better than these players? To an extent yes and no, he can score like Jordan, though he will never be Jordan.
Everyone else, however, Bryant can be compared in every instinct, he's a leader alongside the likes of West and Magic. He's an artist like Erving, and explosive like Wilkins.
In the end, however, the name Kobe Bryant will stand alone among the league's historic players. The elite of the elite, he will join the company of a group of athletes who have changed the game.
By the end of his career, Bryant will retire as much more than your ordinary modern-day great player, but as a man who changed the game entirely. He'll retire a legend.
This article is
What is the duplicate article?
Why is this article offensive?
Where is this article plagiarized from?
Why is this article poorly edited?

Los Angeles Lakers: Like this team?