August 9, 2009
There's a funny smell pervading the air around Major League Baseball. It had begun when the news broke that David Ortiz and Manny Ramirez were on the infamous 2003 list of steroid users, the same list that had outed Alex Rodriguez a few months prior.
While Manny had been suspended earlier in the year, making his appearance on the list unsurprising, Ortiz was thrust into a spotlight he didn't want to be in.

The stage was set: Ortiz, a known steroids opponent, had been guilty not only of "cheating," but of hypocrisy. What was he going to do now?

Well, the answer to that question came yesterday, when Ortiz finally broke his silence on the topic, having collected his thoughts over a few days.
Ortiz held a press conference before his team's game against the Yankees, and he brought a pal with him: MLBA Union Chief Michael Wiener.

With Wiener at his side, Ortiz flatly denied steroid use, saying he'd purchased over the counter "supplements" that may have triggered the positive test, but never bought or used the illegal stuff.
Wiener backed Ortiz up, saying the list was faulty, that not all the names on the list were confirmed positives, and that those who tested positive may still not have taken steroids at all.

And I, a humble blogger from New Jersey, declare shenanigans on this press conference.

When Roger Clemens was named in the Mitchell Report a few years ago, he too denied steroid use, despite the mounds of evidence against him.
But even though his accuser, Brian McNamee, was a shady fellow himself, Clemens was blasted and vilified across America, as everyone turned against a one-time hero.

Clemens looked idiotic. He was inconsistent in his claims, and he dug himself into more holes every time he opened his mouth. And so, he received no support. Despite his legendary status, fans edged away from Clemens during his rampage.

But Ortiz is now doing the exact same thing. With his name on a list of players who tested positive for steroids, Ortiz is playing the Clemens game by vehemently denying he did anything wrong. Except no one is giving him grief for it.

Perhaps it's because the MLBPA is coming out to support him, but I believe it's simply because he's David Ortiz, and baseball fans don't want to give up on him. It was easy to turn on Clemens, a hot head who was known for throwing at opposing players and chucking a broken bat at Mike Piazza. And A-Rod is one of the most easily hated players in baseball, with his personal life often clouding his excellent ability on the field.

But Ortiz isn't like that. Sure, Yankees fans like myself hate him, but to others, he's a big teddy bear. Sure, he might only be a small teddy bear if not for some artificial help, but the point remains: fans don't want to see his legacy tainted.

But it doesn't matter what the fans want. We'd love to live in utopia, but sometimes the truth hurts. David Ortiz took steroids, and no matter what people try to cover it with, it's not going away.

It's really quite obvious. In 2002, Ortiz was playing for the Twins, and had a career-high of 20 home runs and .500 slugging percentage. One year later, Ortiz was on the Red Sox, and his entire career has changed. Upon changing teams, Ortiz immediately had his first 30-homer year, and has never hit under that amount since, save last year's injury-shortened season, in which he hit 23 in only 109 games. His slugging percentage jumped 92 points that year, and last year marked the first time he slugged under .600 since then.

That doesn't happen to hitters overnight. Ortiz had spent six seasons with the Twins, but was a regular starter for only two of those seasons. He wasn't even a starter with the Red Sox until they traded Shea Hillenbrand for Byung-Hyun Kim during that 2003 season. But despite this, he suddenly hit a stride at age 27 without any warning. He also blew up like a hot-air balloon, as his now-infamous baseball card (below) attests.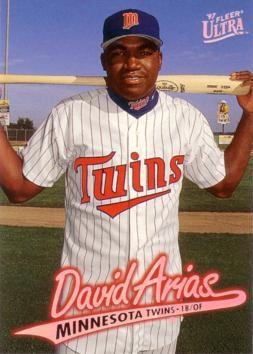 Ortiz's instant stat inflation occurred in 2003, his first year with the Red Sox, the same year he tested positive for steroids. That's a rather interesting coincidence. It's also interesting that his teammate, Manny Ramirez, was busted as well, and had continued to take steroids through this season.

But Manny isn't the only Red Sox player to be involved. Then-Red Sox pitcher Bronson Arroyo admitted his name may pop up on that list, although he did claim he did not intentionally take steroids. And former Red Sox player Lou Merloni stated that team doctors instructed players on proper steroid use.

I don't mean to insinuate that the Red Sox have more players on PEDs than any other team. But these details indicate that steroid use was in fact taking place in the Red Sox clubhouse in 2003. Ortiz was suddenly placed in this environment, and blossomed overnight.

You don't need to be a genius to see where this is going. A mediocre player changes teams, bulks up overnight, and suddenly reaches unfathomable heights in terms of batting production. His career has taken a serious downturn now at age 33, a little young for a player whose talent comes naturally.

And now his name has appeared on a list of steroid users during that very same year that his career upswing began. This is not testimony from a shifty steroids dealer who was under pressure from federal investigators. This is an MLB-administered steroids test, and his name was on the list, case closed.

Like Clemens, the evidence is all pointed against Ortiz. And like Clemens, Ortiz is denying it. But while Clemens received no support, Ortiz seems to be okay. He's even got the MLBPA on his side. And I simply don't get it.

I honestly don't care what Michael Wiener has to say, and I simply do not believe the list is a faulty as he claims it is. If that were truly the case, Wiener could have opened his mouth a long time ago, when Rodriguez was implicated. Instead, A-Rod took it like a man (how often do you hear that?) and admitted that the reports were true. But now that Ortiz needs someone to hide his massive body behind, Wiener is there to help him out.

It makes no sense. If you're there for damage control, you should have done it months ago. To now say the list is faulty is pointless. You could have saved a different star a long time ago, but you didn't. So why, Mr. Wiener, should I believe you now?

And why, exactly, did David Ortiz need an entire week to deny that he ever took steroids? He could have made a comment at any point in time. Instead, he fumbled his words at the news of the report, looking visibly flustered, and took a week to get help from the MLBPA. I don't buy his words for a second. If he never used, he should have said so immediately, rather than wait for his buddy to save his skin a week later.

The entire story reeks of Ortiz-love. Even the Players' Association is in love with the man, and they're willing to pull out the stops to come to his side. And despite Ortiz's Clemens-esque actions, no one seems to be jumping all over him.

Keep in mind that no further evidence has been brought to the table. Despite what Wiener said, there were no examples given of false positives on the list, and no other player has been exonerated. For that matter, even Ortiz hasn't been exonerated: while Wiener says the list is faulty, he did not say that it was certain that Ortiz was one of the false positives.

But Ortiz will walk away from this mess unscathed. Alex Rodriguez will want to know why he couldn't get this kind of help, and Roger Clemens will continue to wonder why no one believes him. All the while, Ortiz fans across the country will happily accept this drivel and continue to cheer for him. It's a blatant double standard, and this favoritism is unacceptable.

References:
USA Today
Boston. com Red Sox Blog
Like the new article format? Send us feedback!