An action-packed, high-scoring edition of the NHL Stadium Series saw the New York Rangers use a four-goal second period to help defeat the New Jersey Devils 7-3 on Sunday, Jan. 26, at Yankee Stadium.
The @NYRangers trailed early but completed their snowy #NYRally with a 7-3 win in game one of #StadiumSeries NY. pic.twitter.com/cZlJBgvL8n

— NHL (@NHL) January 26, 2014
The renowned baseball venue hadn't played host to hockey since its opening in 2009, so breaking out the ice for two of the most storied local hockey franchises was an appropriate way to ring things in.
SportsCenter's official Twitter account captured the drastic transformation from baseball diamond to hockey rink:
Yankee Stadium has been transformed into a hockey rink ahead of Devils-Rangers Stadium Series match-up. » pic.twitter.com/nazbXRfafO

— SportsCenter (@SportsCenter) January 25, 2014
But the unique outdoor action took a bit longer than anticipated to get underway due to glare from the sun coming off the ice, per The Record's Andrew Gross:
Just announced start of this game will be delayed, no ETA on start time. It's sun glare on the ice.

— Andrew Gross (@AGrossRecord) January 26, 2014
Once the puck did drop, Devils veteran star Patrik Elias commenced the offensive onslaught just 5:36 into the contest.
The 37-year-old raced out of the penalty box following an early four-on-four situation, took a lengthy pass from Ryane Clowe and beat star Rangers goaltender Henrik Lundqvist on the stick side to give New Jersey an early 1-0 lead.
Elias added another goal when future Hall of Famer Jaromir Jagr found him on a beautiful feed, putting the Devils back on top 11 minutes into the opening period after Dominic Moore scored for New York to pull the Rangers even.
MMQB.com's Peter King was tuning in and couldn't help but marvel at Jagr's distributing prowess:
Jaromir Jagr is one of the greatest players in any sport. Still. What an assist he just had for Elias.

— Peter King (@SI_PeterKing) January 26, 2014
When Jagr set up Travis Zajac for his eighth goal of the season to spot the Devils a 3-1 advantage, it appeared a victory was within reach.
Unfortunately for New Jersey, that was the last glimmer of hope the Rangers offered before going on an unanswered six-goal rampage, which began not a minute later from an unlikely source.
Defenseman Marc Staal fired a shot from the left wing through traffic that beat legendary goalie Martin Brodeur to help New York cut the deficit to 3-2 entering the first intermission.
From there, it was all Rangers. Right winger Mats Zuccarello scored goals at 2:48 and 12:44 into the second, assisted in part on both by Derick Brassard. Another tally by Carl Hagelin just a little more than a minute later gave New York insurance, but Rick Nash's goal was the clincher.
Nash built on his recent strong form, scoring his seventh goal in five games in a three-on-one breakaway. His goal made it 6-3 with just 29 seconds before the second period ended—a demoralizing blow to the Devils.
NBC announcer Mike Emrick noted how New York had scored three goals on as many shots in the period, flying past the Devils defense and befuddling Brodeur, per NBC Sports PR:
"Three goals on the last three shots... The Rangers now have six." - Emrick on goal by @NYRangers Rick Nash #StadiumSeries Rangers6-Devils3

— NBCSportsPR (@NBCSportsPR) January 26, 2014
That ended Brodeur's nightmarish outing. Cory Schneider played better in relief, but was still beaten on a penalty shot by Derek Stepan to cap off the scoring.
Following the game, Brodeur talked about his outing and the venue (via Stephen C. Lorenzo of the New York Daily News:
Brodeur: "everything was great, except for the hockey game" NJDevils

— Stephen (@StephenCLorenzo) January 26, 2014
The total of 10 goals was the most in NHL history for an outdoor game, and it was a historic performance for the Rangers, per ESPN Stats & Info:
The 7 goals scored by the Rangers are the most by a team in an outdoor game #NYR

— ESPN Stats & Info (@ESPNStatsInfo) January 26, 2014
Here is a look at some player grades for the top performers in this contest, along with a brief look ahead to what's next for each club.
Grades
Mats Zuccarello, RW, New York Rangers: A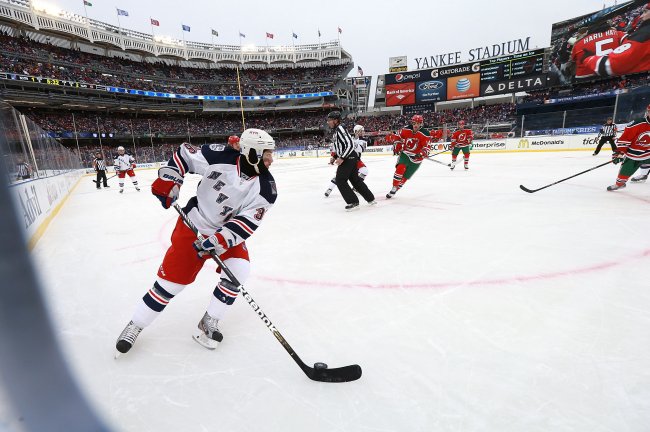 Dave Sandford/Getty Images
Notching two goals in any game is an impressive feat, and the fact that Zuccarello scored both the equalizer and the game-winner should earn him top-star honors.
Zuccarello may only be 5'7" and 179 pounds, but he makes up for it with outstanding control, speed and grace on the ice. For a club that was 23rd in the league in scoring entering this one, getting a big effort from him was key to the team's outlook moving forward.
Patrik Elias, LW, New Jersey Devils: A-
The only reason Elias gets a minus in his grade is because he is an underrated, gritty defender who is a better two-way player than he showed on Sunday.
Elias could have helped make Brodeur's job easier as he faced an all-out assault from the Rangers' talented cast of scorers, but it wasn't to be found. Nevertheless, it was Elias' two goals toward the beginning that gave the Devils hope of pulling this one out.
Marc Staal, D, New York Rangers: A
Having notched just two goals and four assists for the entire season entering this contest, the Rangers welcomed the immense aid Staal provided on offense.
Staal's pivotal goal toward the end of the first 20-minute act was a big momentum changer and gave New York new life after a rather listless-looking performance up to then. The 27-year-old's play on the back end also kept the Devils from finding the net for the rest of the game after their three-goal outburst in the first.
Martin Brodeur, G, New Jersey Devils: D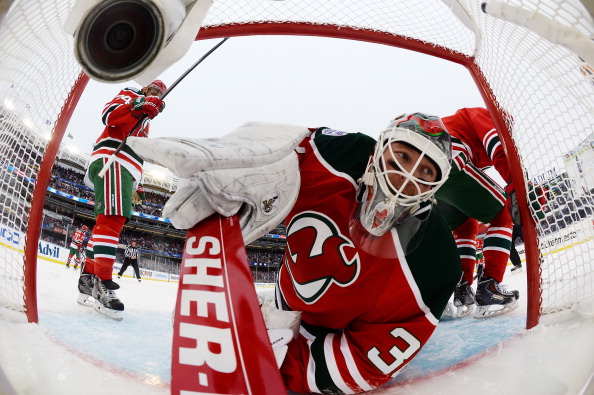 Brian Babineau/Getty Images
Blame the defense in part for putrid play, but yielding six goals on 21 shots is inexcusable for a player of Brodeur's caliber. At age 41, he still managed a 2.36 GAA entering this game, but his recent form has been discouraging.
Today is Martin Brodeur's 100th regular season start against the @NYRangers. First time he has allowed 6 goals!

— Kenny Albert (@KennyAlbert) January 26, 2014
This marks the fourth time in five appearances Brodeur has given up at least three goals, and he'd never given up six to the Rangers before. By his high standards, this was a well below-average effort.
What's Next?
In the jam-packed Eastern Conference, the Rangers moved into a tie with the Montreal Canadiens for fifth place, preventing New Jersey from climbing into the current playoff picture. New York will battle the in-state rival Islanders on Wednesday—once again in Yankee Stadium.
Six teams are separated by five points in the Metropolitan Division, so New Jersey should still remain in the thick of things. The Devils will seek to bounce back on the road against the St. Louis Blues on Tuesday.