Michael Wacha's Poise, Maturity Will Lead to World Series Stardom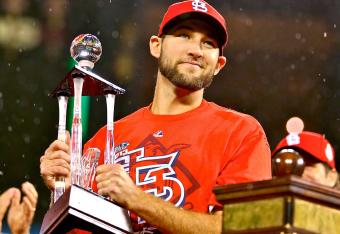 On Friday night, Michael Wacha became part of baseball history.
Starting Game 6 of the NLCS in St. Louis, the 22-year-old rookie shut out the Dodgers for the second time in the past week, allowing only two hits and a walk with five strikeouts over seven stellar innings.
More importantly, Wacha helped extend the Cardinals season once again, as they ultimately won the game 9-0 and punched a ticket to their third World Series in the last eight years.
Between both starts in the series, Wacha was 2-0 with 13 strikeouts in 13.2 scoreless innings. Needless to say, it didn't come as a surprise when he was named as the NLCS MVP, becoming the second rookie pitcher in baseball history to win the award.
Mature Beyond His Years
When talking about Wacha in his press conference following Game 2 of the NLCS, St. Louis Cardinals manager Mike Matheny couldn't help but show excitement when discussing his performance this postseason.
"The way this kid has gone about it has been—it's really hard to describe," Matheny said, via MLB.com. "I don't want to keep describing it, because I'd like to watch it happen a few more times."
Though vague, Matheny's explanation of what makes Wacha so impressive is spot-on: The kid has "it."
"It," of course, is unquantifiable. However, the word is typically used to describe a pitcher who exhibits outstanding poise and moxie on the mound. It describes a pitcher who goes out there and competes with a veteran-like confidence, thriving in the most pressure-filled situations.
Believe it or not, the above description of "it" wasn't derived from watching Wacha pitch this October—he just fits the mold perfectly.
Though he reached the major leagues for the first time in late May, Wacha didn't join the Cardinals' starting rotation until September. Pitching in the heat of a playoff race roughly one year after the Cardinals made him the No. 19 overall pick in the 2012 draft, the right-hander was 2-1 with a 1.72 ERA, .198 opponent batting average and 28/10 strikeout-to-walk ratio in 31.1 innings (five starts) over the final month of the season.
However, it wasn't until his final regular-season start that Wacha captured the attention of a national audience. Taking the mound against the Washington Nationals on Sept. 24, Wacha came within one out of a no-hitter before allowing an infield single to Ryan Zimmerman. As a result of his late-season success, he was named to the Cardinals' postseason starting rotation.
The brilliance Wacha showcased against the Nationals carried over into his start against the Pirates in Game 4 of the NLDS, with the Cardinals trailing 2-1 in the series and facing potential elimination. Suffice to say, Wacha stepped up in a big way, as he allowed one run on one hit and two walks with nine strikeouts over 7.1 impressive frames. He carried a no-hit bid into the eighth inning before surrendering a solo home run to Pedro Alvarez with one out.
In the wake of his domination of the Pirates in the most important game of his life, Matheny named Wacha as the Cardinals' Game 2 starter for the NLCS, meaning he'd also start Game 6 should it be necessary.
While Wacha's combination of electric pure stuff and advanced command certainly has played a part in his success during this postseason, it's the "it" factor that has made him a star.
Prior to Wacha's start in Game 4 of the NLDS, Matheny raved about his starter's makeup to Joey Nowak of MLB.com:
As you spend a little bit of time around him, you can see that he's mature beyond his years and beyond his experience. We put him to the test, pitching late in the season. Watching him take a no-hitter into the ninth inning and kind of watching how he's handled every step along the way, we learned that early about him in Spring Training.
Matheny hasn't been the only one in the Cardinals dugout to notice Wacha has something special about him.
Veteran starter Chris Carpenter was quick to praise the youngster as well, via MLB.com's Adam McCalvy:
He has the ability to block everything out. You watch the excitement of what he's doing, the poise. His talent is there, and you watch the mound presence during the game. He's been fantastic.
And like the rest of us, Jake Westbrook has grown increasingly impressed with Wacha over the course of the season, via McCalvy:
Just with the spring he had and how he came in as a 21-year-old at the time and the poise he showed ... as a 21-year-old going into a big league camp, you don't know what to expect no matter how good your stuff is. You don't know what you're going to see. He stepped up and acted like he had been there for a while. That was impressive from the get-go.
Third-string catcher Rob Johnson was even more complimentary, via MLB.com's Steve Gilbert:
I've never experienced his temperament with his kind of stuff. The guy is amazing. He's obviously very confident in his stuff, but his ability to stay focused and stay humble and continue to learn and process the stuff other guys are teaching him and then go out to the field and execute it, is quite amazing.
Next Up: World Series
Wacha's maturity and polish were on full display in both starts against the Dodgers in the NLCS. However, while the video-game numbers highlight his overall excellence, they don't completely convey what made him so successful in the series.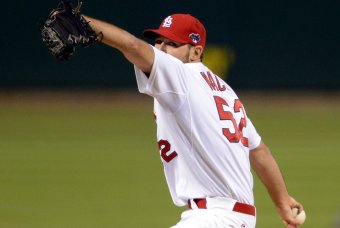 Pool Photo-USA TODAY Sports
He did an outstanding job of preventing the Dodgers from putting together a productive, game-changing inning, as he retired the side in order eight times. Along those same lines, on the rare occasion in which Wacha did allow a Dodgers hitter to reach base, only one of them was able to reach third.
However, Wacha's greatest accomplishment in the series was undoubtedly his utter domination of the Dodgers' 3-4-5 hitters, a group that collectively failed to get a hit against him in 28 at-bats.
.@MichaelWacha began 2013 in the Minor Leagues. He has now outdueled Clayton Kershaw twice in the #NLCS. pic.twitter.com/c3H1OagyhT

— MLB (@MLB) October 19, 2013
After shutting down two of baseball's better offenses in the first two rounds of the playoffs, Wacha will get the chance to add to his already impressive postseason résumé when he takes the mound in the World Series. Matheny has time to decide on a starting rotation, but it's likely the rookie will be tabbed as the team's Game 2 starter, therefore giving him a chance to start two games in the series.
And though the Cardinals' World Series opponent is yet to be determined, whoever they wind up playing should once again be a non-issue with Wacha on the mound.
This article is
What is the duplicate article?
Why is this article offensive?
Where is this article plagiarized from?
Why is this article poorly edited?