New York Islanders Most Likely to Be Traded in 2013-14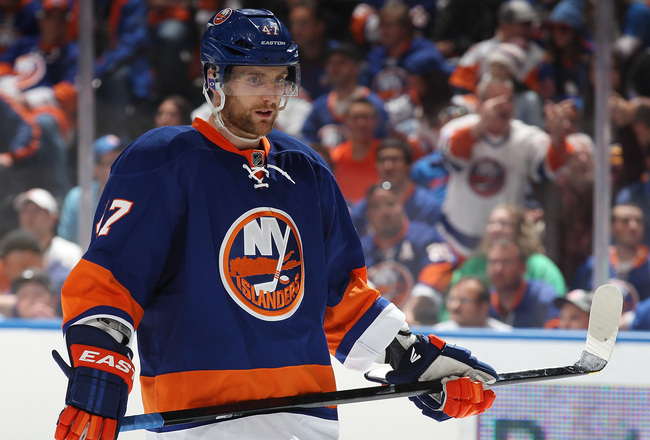 Mike Stobe/Getty Images
As a usually conservative team in terms of spending, the New York Islanders have not made a huge splash on the trade market in recent history.
This season likely won't be the year that changes, but there are a few players that could be sent out for their own respective reasons.
With a move to Brooklyn on the horizon—and their young core beginning to hit their prime—don't be surprised if the Isles look to unload a few players entering contract years.
Two players you won't see on this list: Kyle Okposo and Josh Bailey.
The two have struggled at times, but that won't mean the Islanders are ready to give up on them quite yet. They'll likely at least get the full season to try and prove themselves as formidable top-six NHL forwards.
Pierre-Marc Bouchard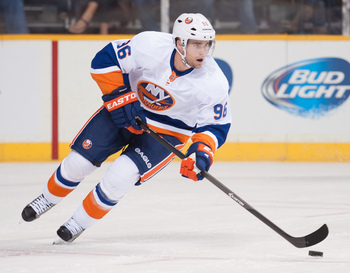 Joshua Lindsey-USA TODAY Sports
Pierre-Marc Bouchard may have just gotten to Long Island.
But on a one-year deal with $2 million, if the Islanders aren't in good position to make a playoff run at the trade deadline, Bouchard could be attractive to teams looking for a rental.
The free-agent acquisition for the Islanders could spend a lot of time with John Tavares. He skated with him for part of the preseason and is likely to see some power-play time with the Hart Trophy finalist, too.
The hope for the Islanders is that Bouchard rediscovers his ability to effectively serve as a playmaker on the man advantage. In his prime, Bouchard had 19 or more assists on the powerplay in three straight seasons, also contributing five-plus goals in each of those seasons.
If he can avoid suffering any more concussions, he should at least put himself on pace for 40 points. If that's the case, there's no reason for the Islanders, who are well-stocked at forward in their system, to not trade him and make room for a youngster if they're out of contention.
Even if they remain in contention, if Ryan Strome, Brock Nelson, Anders Lee and Johan Sundstrom play well in the AHL, and the Isles get consistently good performances from Kyle Okposo, Josh Bailey and Frans Nielsen, Bouchard could still be expendable.
Andrew MacDonald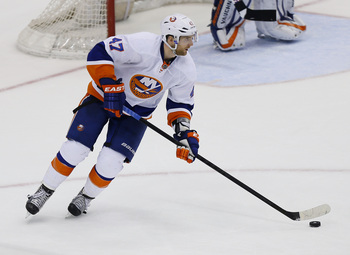 John E. Sokolowski-USA TODAY Spo
The Islanders may finally have defensemen who resemble an at-the-least adequate top pairing, and Andrew MacDonald may not be a part of it.
He was split from his regular partner Travis Hamonic and demoted from the top pairing as a result last season. Until the end of preseason, it appeared he would not reunite with Hamonic this year either.
However, Jack Capuano decided against keeping the two apart, and the pairing will likely begin the season together.
How long he can hold off Brian Strait and retain those minutes is all about how well he plays. He could see decreased power-play time with rookies Matt Donovan and Griffin Reinhart making the team out of camp, too.
With all of the organizational depth that the Islanders possess, they would be foolish not to at least hear teams out when they inquire about the soon-to-be unrestricted free agent. At a bargain cap hit of $550,000, and at only 27 years old, MacDonald could have good return if the team on the other end feels good about their chances of re-signing him.
Hamonic, Reinhart, Donovan, Strait, Hickey, Carkner and Lubomir Visnovsky are all signed through 2014-15, as is 2013 first-round draft pick Ryan Pulock, so the chances of MacDonald being an Islander next season should be very slim.
Evgeni Nabokov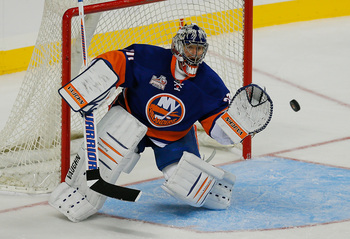 Mike Stobe/Getty Images
The Islanders probably won't trade Evgeni Nabokov unless they've already acquired another goaltender. Odds are they'd need to retain him—if for no other reason than to remain above the salary-cap floor.
However, if they go to the trade market and bring in someone like Ryan Miller of Buffalo or Jaroslav Halak or Brian Elliott of St. Louis, the Islanders could look to shed the 38-year-old Nabokov's salary and get some sort of return.
Teams aren't likely to be lining up for the aging goalie, but if a team gets in a bind with injuries and needs an experienced backup, the deal would make sense for both sides.
Anders Nilsson and Kevin Poulin are both due to be restricted free agents after this season, so it may be time for the team to figure out if either of these younger goaltenders have a future with the organization. Keeping Nabokov on as a backup just wouldn't allow for that.
On a one-year, $3.25 million deal, he could serve as an emergency rental for another team if the Islanders put themselves in a position to trade him.
No matter what happens, this should be Nabby's last season in orange and blue.
Keep Reading

New York Islanders: Like this team?