Rookie, Undrafted Free Agent Watch for Arizona Cardinals' Training Camp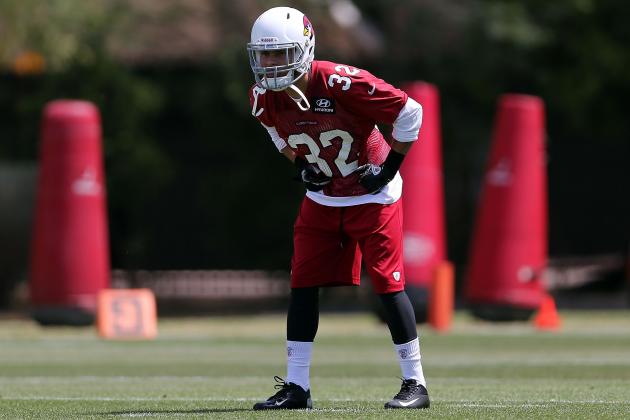 Christian Petersen/Getty Images
Third-round pick Tyrann Mathieu
The Arizona Cardinals made out with a solid take at the 2013 NFL draft, addressing positions of need while keeping to the "best player available" strategy with which they have drafted the last few years.
Seventh-overall pick Jonathan Cooper will start at left guard, forcing veteran Daryn Colledge to move over to the right side. As the team's best interior lineman, it makes sense to have Cooper protect new quarterback Carson Palmer's blind side.
What other rookies can make an impact on the 2013 Cardinals? Find out right here as we highlight some of them heading into training camp.
Begin Slideshow

»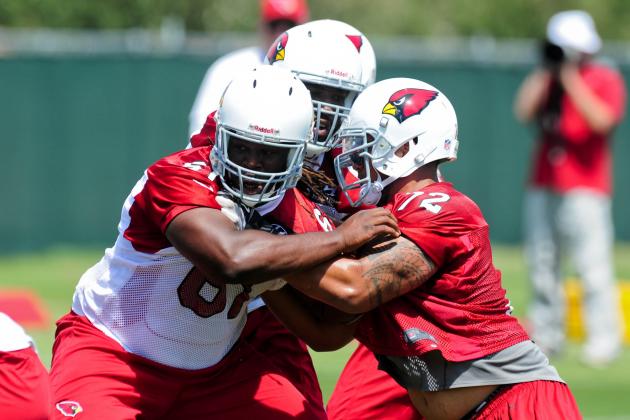 Matt Kartozian-USA TODAY Sports

College: North Carolina
Draft Status: Round 1
Height: 6'2"
Weight: 311
College Production: 2012 Consensus First-team All-American, Outland Trophy finalist, First-team All-ACC, ACC Jacobs Blocking Trophy winner; 2010 and 2011 Second-team All-ACC; started 48 games; to have jersey honored at Kenan Stadium (UNC football stadium)
Analysis: Cooper was one of the best interior linemen in the country for his final two college seasons. He was part of an offensive line that finished No. 9 in the FBS with only 11 sacks allowed the entire 2012 season.
The Cardinals are getting a decade-long starter at left guard. He is as athletic and his footwork is as good as any guard in the league, and he should have no problem making half a dozen Pro-Bowl and All-Pro teams.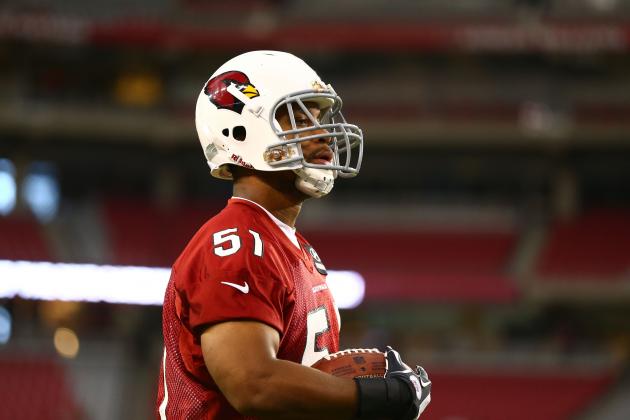 Mark J. Rebilas-USA TODAY Sports

College: Louisiana State
Draft Status: Round 2
Height: 6'0"
Weight: 246
College Production: 2012 Second-team All-American, First-team All-SEC, Butkus Award finalist, National Defensive Player of the Week for Texas A&M game (12 total tackles, 1 sack, 1 tackle for loss, 1 INT, 2 passes defended); 206 total tackles in three-year career, including 130 in his final season; 15.0 tackles for loss in final season
Analysis: Kevin Minter is a hard-hitting inside linebacker with good range and good instincts. He is a smart player who will attack a ball-carrier behind the line of scrimmage rather than waiting to meet him in the hole.
The Cardinals need someone to step in right away to help fill in while Daryl Washington serves his four-game suspension. Minter could be called upon early to start games, and if he does, he may not ever leave the starting lineup. Washington will start once he returns, but both he and Minter can play outside as well. Moving them around in different packages seems the way to go.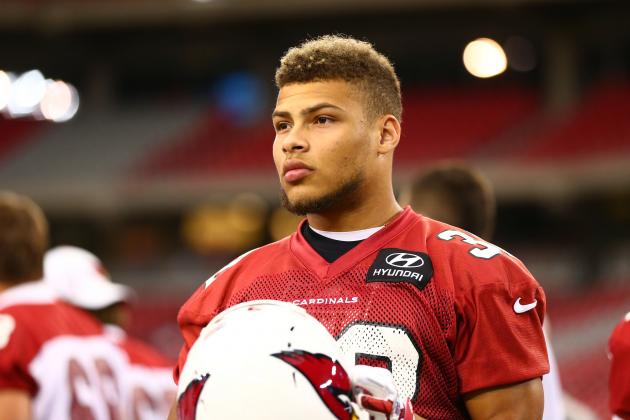 Mark J. Rebilas-USA TODAY Sports

College: Louisiana State
Draft Status: Round 3
Height: 5'9"
Weight: 186
College Production: 2011 Consensus All-American at cornerback, Bednarik Award winner (best defensive player), Walter Camp National Player of the Year finalist, Consensus First-team All-American as Return Specialist; 133 total tackles in two-year career, 16.0 tackles for loss, 6.0 sacks, 4 INT, 19 passes defended, 11 forced fumbles, 6 fumble recoveries, 4 total touchdowns (2 returns, 2 fumbles)
Analysis: Clearly, Tyrann Mathieu was a dynamic cornerback in college. He became the first Heisman finalist on defense since former Michigan cornerback/wide receiver/return specialist Charles Woodson won the award in 1997.
The Cards are in need of immediate help at safety, and Mathieu gives them the athleticism and instincts back there they lost when they released free safety Kerry Rhodes. Mathieu is another who could step in and start immediately if called upon to do so—and do so well.
The major question, unfortunately, will continue to be whether he can stay clean and off drugs. If he can, Arizona has a real playmaker on its hands.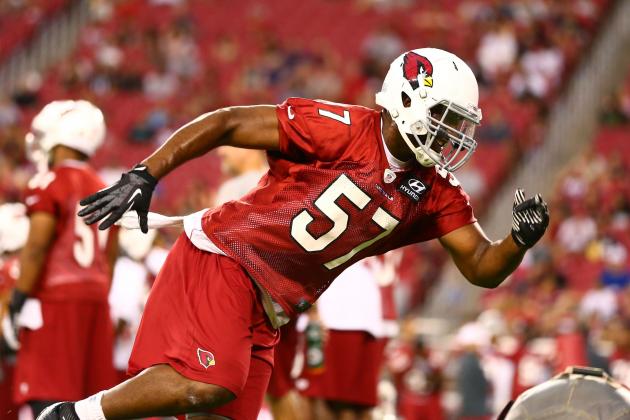 Mark J. Rebilas-USA TODAY Sports

College: Texas
Draft Status: Round 4
Height: 6'4"
Weight: 264
College Production: 2011 and 2012 First-team All-Big 12, Defensive MVP of the Alamo Bowl after record 4.5 sacks; 150 total tackles in four-year career, 34.0 tackles for loss and 23.0 sacks (including 12.5 as a senior)
Analysis: Fourth-round pick Alex Okafor is making the switch from 4-3 defensive end to 3-4 outside linebacker. Just like former Texas teammate Sam Acho had to do, Okafor must learn quickly about his new position because that's where the team needs help.
The Cardinals made the right call turning Okafor into an outside linebacker, but it would be better if the OLBs were going to rush as much as the last two seasons. They will have plenty of opportunities, but with the defensive line becoming more prominent in the pass rush, OLBs will be leaned on more as coverage guys.
Okafor is a pure pass-rusher, and dropping into coverage could take time to learn.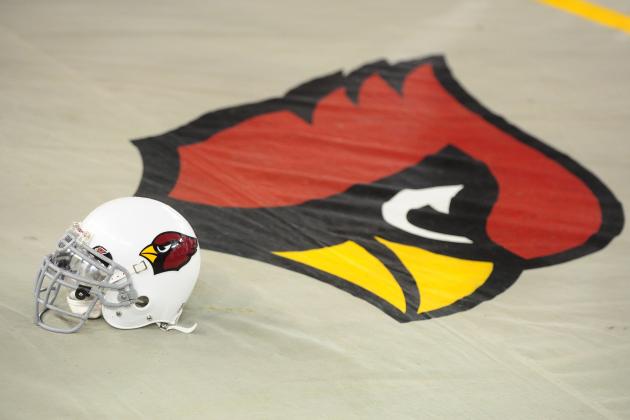 Mark J. Rebilas-USA TODAY Sports

College: James Madison
Draft Status: Round 4
Height: 6'3"
Weight: 300
College Production: 2011 First-team All-CAA; started 26 games in four-year career
Analysis: Earl Watford was a standout player at James Madison. That led to him becoming the third-highest drafted player ever out of JMU, behind running back Curtis Keaton and former All-Pro OLB/DE Charles Haley.
The Cardinals took Watford with their extra fourth-round pick as a project and future companion to Cooper. He is like Cooper in that he is athletic and moves well in space. The zone-blocking scheme is a good fit for both, and Watford could develop into a solid starter.
How much time it takes him is all up to him.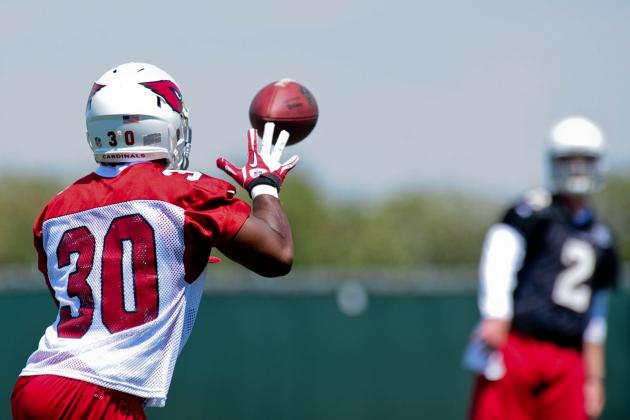 Matt Kartozian-USA TODAY Sports

College: Stanford
Draft Status: Round 5
Height: 5'9"
Weight: 214
College Production: 2012 Second-team All-Pac-12, Doak Walker Award semifinalist (nation's best running back); school-record 4,300 career rushing yards on school-record 843 carries, second in Stanford history with 40 rushing touchdowns, first with 45 total touchdowns
Analysis: Stepfan Taylor is the first Stanford running back with three seasons of at least 1,000 rushing yards. He was the definition of consistency while in Palo Alto, averaging near 5.0 yards per carry all four seasons and 5.1 YPC for his career.
The Cardinals get a potential three-down back in Taylor. If given the chance, he can contribute early in more ways than rushing the ball. He may be the best pass-blocking back from the 2013 draft, and that will help him earn playing time early.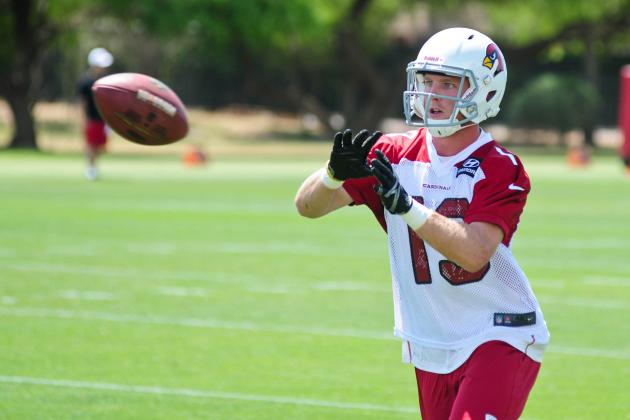 Matt Kartozian-USA TODAY Sports

College: Texas A&M
Draft Status: Round 6
Height: 6'0"
Weight: 205
College Production: 252 career receptions (sixth in NCAA since 2009) for 3,117 yards (14th) and 24 TD (20th)
Analysis: Ryan Swope was obviously productive while at TAMU. One thing that has some worried, however—including head coach Bruce Arians—are the four concussions he suffered in college.
The Cardinals took Swope in the sixth round to be a slot-type deep-threat receiver in Arians' vertical attacking offense. But he has missed far more of offseason workouts than Coach would have liked, and he told NFL Network Swope was the only player he was worried about recently.
Being only a sixth-round pick, it wouldn't be a disaster not to have Swope around for the start of the season. But getting him back and healthy certainly would help the passing game.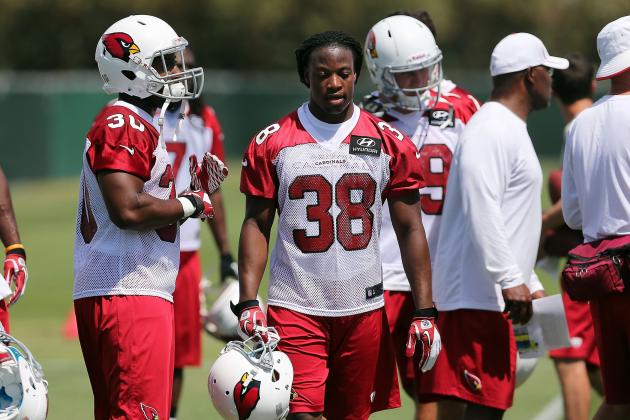 Christian Petersen/Getty Images
Andre Ellington (No. 38)
College: Clemson
Draft Status: Round 6
Height: 5'9"
Weight: 199
College Production: 33 starts at running back, 33 rushing touchdowns in four years (3rd in school history), 4,586 all-purpose yards (3rd), 12 100-yards rushing games (3rd), 3,436 rushing yards (4th), 5.33 yards per carry (6th)
Analysis: Andre Ellington provided Clemson with a home-run threat every time he touched the ball. Though he did not show well at the NFL combine, running a 4.61 40-yard dash, he plays much faster and has a one-cut explosion to rival any back from the draft.
The Cardinals probably went with their top player available with an extra sixth-round pick here. Ellington is a unique talent, and he can be a versatile weapon for Arians at some point. Whether that is out of the backfield or as a quick slot receiver remains to be seen, but he could be important to the offense at some point.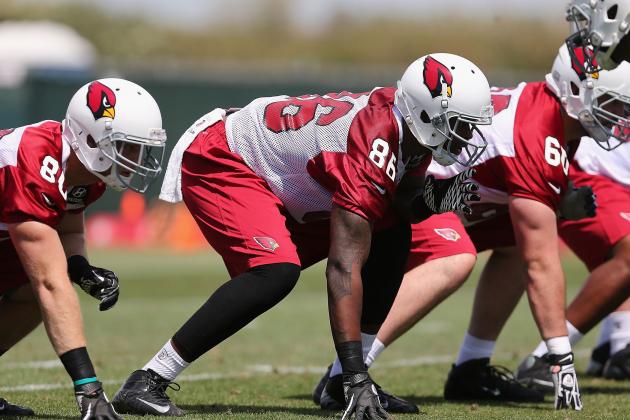 Christian Petersen/Getty Images
D.C. Jefferson (No. 86)
College: Rutgers
Draft Status: Round 7
Height: 6'6"
Weight: 255
College Production: 26 career games, at least one reception in all but one game, 47 career receptions for 560 yards and two touchdowns
Analysis: Seventh-round pick and tight end D.C. Jefferson is a developmental receiver and above-average blocker. He has a big body and long arms, and he uses them both well when getting into a defender on run plays.
The Cardinals took Jefferson with their final pick as an extra weapon for Arians to utilize. For now, Jefferson could see the field in limited action as a goal-line blocker and very part-time receiver, but he could turn into a decent No. 2 tight end option down the road.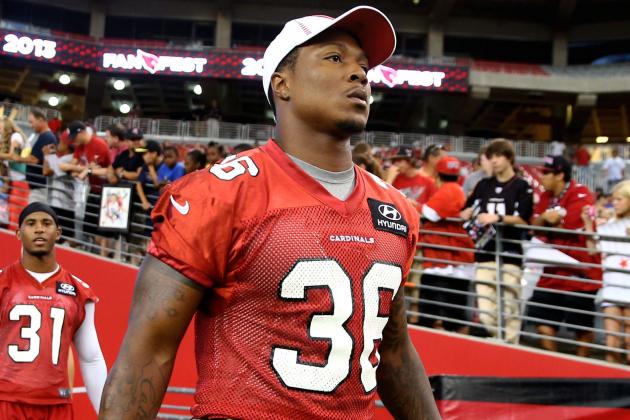 Mark J. Rebilas-USA TODAY Sports
Tony Jefferson (No. 36)
Undrafted free-agent list (courtesy of NFL.com):
Clemson WR Juron Brown; Arizona WR Dan Buckner; Colorado State OT Joe Caprioglio; Michigan LB Kenny Demens; Cincinnati DE Dan Giordano; Oklahoma S Javon Harris; California CB Josh Hill; Wyoming LB Korey James; Oklahoma S Tony Jefferson; Alabama A&M OT Jamaal Johnson-Webb; Louisiana Lafayette WR Javone Lawson; California OT Matt Summers-Gavin; Tennessee CB/S Prentiss Waggner; San Jose State DB Ronnie Yell; Marist WR Michael Rios; Florida A&M NT Padric Scott; Northwest Missouri State WR Tyler Shaw
Analysis: Two of these players have stood out early on and could end up on the 53-man roster come September. They are Florida A&M nose tackle Padric Scott and Oklahoma safety Tony Jefferson.
Jefferson (5'11", 213) is a solid-bodied, athletic safety who was seen on film flying around and making plays in the defensive backfield. He recorded 258 total tackles in three seasons in Norman with 18.0 for a loss, 7.0 sacks, eight interceptions and 21 passes defended.
Then, while watching Jefferson tape, I came across a big nose tackle wreaking havoc in Oklahoma's offensive backfield. It was Scott, from little old Florida A&M. He now has a chance to make the roster along with Jefferson, and provide depth to the defensive line.