Ranking the GMs on the Hot Seat as 2013 NHL Trade Deadline Looms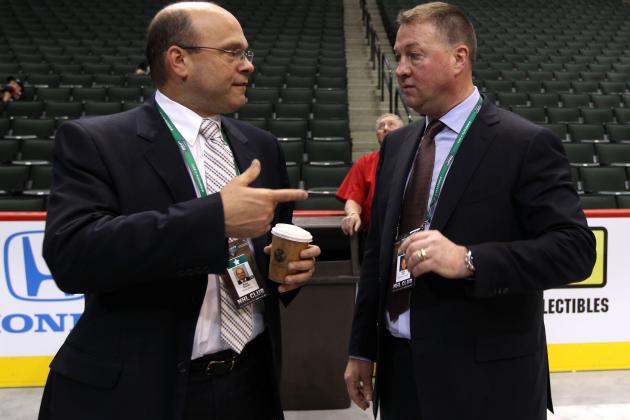 Bruce Bennett/Getty Images

The NHL trade deadline is Wednesday and a lot of general managers are under immense pressure to make a trade or two to improve their roster for this season or the future.
We have not seen too many trades this season, and the high amount of teams still in the playoff race has a lot to with this. Very few general managers want to give up on the season and become sellers when just a couple wins could get their team back into the playoff picture.
Even if they are small and don't include any star players, moves made at the deadline can have a tremendous impact on who wins the Stanley Cup. The Boston Bruins and Los Angeles Kings, who are the last two Stanley Cup champions, both made trade deadline moves that greatly affected their playoff success.
Let's look at the seven general managers who are facing the most pressure to make the correct moves at the deadline.
Note: Hot Seat refers to general managers under a lot of pressure to make a move(s) for playoffs, as well as GMs who need a good deadline to prevent the possibility of being fired in the offseason.
Begin Slideshow

»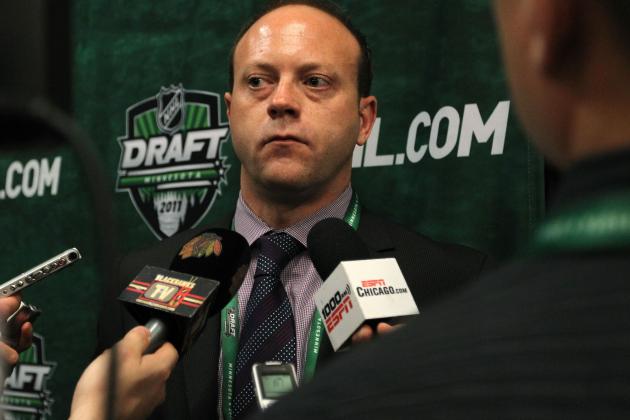 Bruce Bennett/Getty Images

The Chicago Blackhawks have a great roster with a lot of depth and talent at every position, but injuries have created the need for general manager Stan Bowman to add another forward to his roster before the trade deadline.
Top-six forwards Marian Hossa and Patrick Sharp have missed a combined 14 games this season. Hossa has missed the last four games, while Sharp has missed nine straight games with an injury.
Bowman needs to add a winger for more scoring depth so his team doesn't have to rely on Jonathan Toews and Patrick Kane to dominate offensively in the playoffs. Bowman should also consider adding a second line center like Derek Roy of the Dallas Stars for more playmaking and defensive skill in his top-six forward group.
The Blackhawks are the favorites to win the Western Conference this season, but without a healthy roster, they would have a difficult time reaching the Stanley Cup Final.
After two straight first round playoff losses, there is a lot of pressure on the Blackhawks to make a deep postseason run in 2013.
If Bowman fails to improve the team and it exits from the playoffs early, it wouldn't be surprising if he was fired in the summer. This is an important deadline for Chicago because it has a golden chance to win another championship.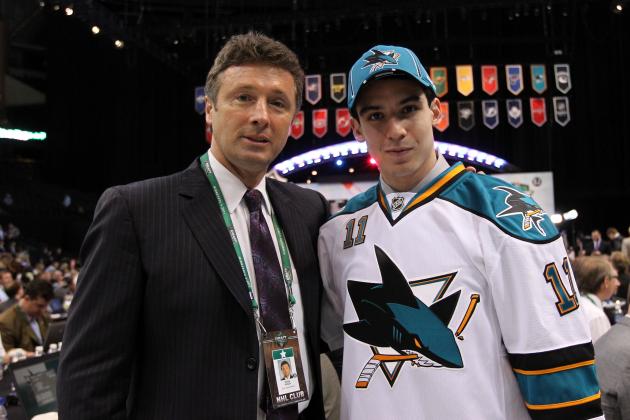 Bruce Bennett/Getty Images

The San Jose Sharks are in the unenviable position of being a playoff contender that has no chance to win the Stanley Cup and doesn't have a good prospect pool.
San Jose is holding onto the sixth seed in the Western Conference, but the team has a mediocre 17-11-6 record. However, the Sharks have won four straight games and might be coming out of their slump.
Doug Wilson has just a few days to determine if his team's recent success is an indication that they will be competitive in the playoffs. If not, then he has to entertain the idea of trading some veterans for top prospects.
He has already traded defenseman Douglas Murray to the Pittsburgh Penguins for two second round picks, which was a fantastic deal for the Sharks.
Veteran offensive defenseman Dan Boyle and top-six winger Patrick Marleau could also be traded before the deadline if the Sharks become sellers. If they are moved, Wilson has to get full value for these players because each of them still has term left on their contracts and the Sharks have very few top-tier prospects. Upcoming UFA forward Ryane Clowe is another veteran who Wilson could trade for a draft pick and/or a prospect.
No general manager in the league will have a tougher decision to make on whether or not to become a buyer or seller at the deadline than Wilson.
If he chooses to keep his veteran stars and make another Stanley Cup run, it will delay the team's rebuild and possibly cost him a chance at getting maximum value in return for players like Boyle and Marleau when they are upcoming UFAs in 2013-14.
Bruce Bennett/Getty Images

The Buffalo Sabres have been awful this season and their lack of success has already cost long-time head coach Lindy Ruff his job. Failing to have a good trade deadline could result in general manager Darcy Regier joining his former coach on the unemployment list.
Almost all of the Sabres' top-six forwards are unrestricted free agents at the end of the 2013-14 season, and star goaltender Ryan Miller is also a UFA after next year. Regier has a lot of difficult decisions to make with these players, and he also needs to determine the future of upcoming UFA defenseman Robyn Regehr.
Buffalo is only three points out of a playoff spot in the East, but trading draft picks and/or young prospects to compete this season could prolong a potential rebuild over the next few years.
Regier has been given a lot of money to spend in free agency over the last two summers and it has not resulted in the Sabres being competitive. Not many GMs in the league have made more bad signings since the end of the 2010-11 season than Regier. Tyler Myers (seven years, $38.5 million), Christian Ehrhoff (10 years, $40 million) and Ville Leino (six years, $27 million) are three example of terrible contracts that Regier has signed since July 1, 2011.
The Sabres have missed the playoffs in six of the last 10 years and could miss the postseason in back-to-back seasons. Buffalo finished third in the Northeast Division last season and will likely end this year in last place. There's a strong chance that Buffalo could be the only Northeast team that fails to make the playoffs in 2013.
Unless he has a great deadline, Regier could be fired in the summer if ownership decides to go in a different direction after the team has woefully underachieved since the 2006-07 season. Reigier has failed to make the Sabres a legitimate contender in the East since Terry Pegula took over as owner in 2010.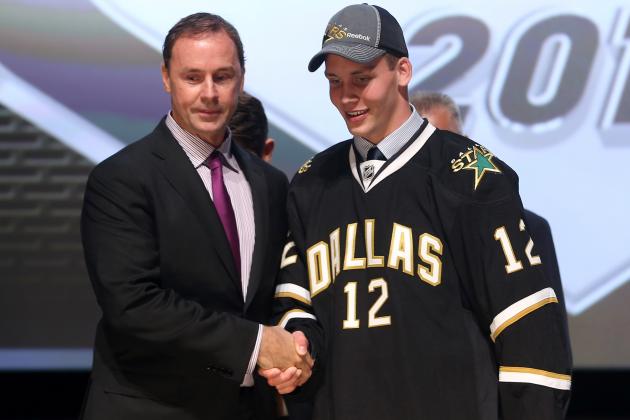 Bruce Bennett/Getty Images

The Dallas Stars are in an interesting position at this year's deadline because they are so close to the playoffs but also have a lot of aging veterans and upcoming unrestricted free agents who playoff contenders will want to acquire.
Dallas is one point out behind the St. Louis for the eighth and final playoff spot in the Western Conference, but top-six forwards Jaromir Jagr and Derek Roy could leave the team in the summer for nothing if they hit the free agent market, and that's not a situation the Stars want to find themselves in with a mediocre prospect pool.
Jagr is 41 years old and leads the team in scoring with 26 points (14 goals, 12 assists) in 33 games. He's been a positive influence on the team's young stars such as Jamie Benn, but signing him to a contract extension is a risk because of his age.
Roy is a good two-way forward who would be a great addition to any Stanley Cup contender that needs a second line center, such as the Chicago Blackhawks and Vancouver Canucks. Since the center depth in the 2013 UFA class is weak, Roy could make a lot of money as a free agent in the summer, which makes it unlikely that he will re-sign in Dallas before the July. If that's the case, the Stars have to trade him because they cannot afford to lose a player this talented for nothing.
Nieuwendyk became the Stars' general manager following the 2008-09 season, and the team has failed to make the playoffs in each year of his tenure. If Nieuwendyk decides to trade his upcoming UFAs, he needs to get a lot of value in return, including established NHL talent because the Stars don't have many top prospects that are NHL-ready right now.
Nieuwendyk has signed and traded for a lot of veteran players since the end of last season with the goal of ending the team's playoff drought in 2013. With that said, if the Stars have a poor deadline and miss the playoffs again, Nieuwendyk and head coach Glen Gulutzan's jobs might not be safe in the summer.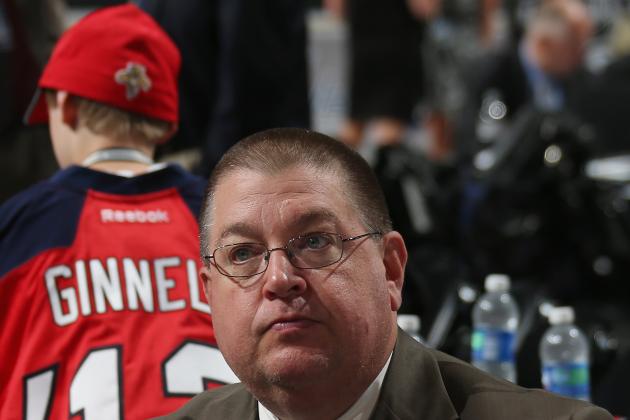 Bruce Bennett/Getty Images

The Jarome Iginla trade was a total failure for the Calgary Flames because they didn't have much control over where he went because of his no-movement clause. The result was a return package of two mediocre NCAA prospects who project to be third or fourth line NHL players and a 2013 first round pick from the Pittsburgh Penguins
This means that the Flames must hit a home run if they trade their other valuable trade assets before the deadline, such as defensemen Jay Bouwmeester and Mark Giordano, top-six winger Mike Cammalleri, and No. 1 goaltender Miikka Kiprusoff.
Calgary doesn't have a deep prospect pool with very few blue-chip players. Without any first-line caliber prospects or top-tier defensemen, the Flames cannot afford to trade their best assets without getting as close to full value as possible, especially when the team is headed for a full rebuild over the next few seasons.
Feaster has made a lot of big free agent signings and controversial trades since taking over as Flames GM in December of 2010, and Calgary has zero playoff appearances during his tenure.
Unless Feaster does a great job at the deadline and builds up his team's prospect pool with good young talent, ownership might decide to hire a new general manager to oversee the team's rebuild.
Bruce Bennett/Getty Images

No general manager on a Stanley Cup contender is under more pressure to make a significant trade at the deadline than Peter Chiarelli of the Boston Bruins.
His team thought they were getting Jarome Iginla from the Calgary Flames on Thursday, but the deal collapsed and he was dealt to the Penguins. He also lost out on Dallas Stars winger Brenden Morrow, who was acquired by the Penguins four days earlier.
Chiarelli talked about the deadline during a press conference on Thursday.
There's players out there, and we're in on players...There's always other players. The circumstances change, as far as, from the [salary] cap perspective for next year. It's going down, so you have to look – it makes rentals a little bit more valuable this year to a group of team, including ourselves...I'd like to add [a forward and a defenseman], and that's kind of been my position from the beginning.
The Bruins' disappointing 3-1 loss to the 14th-place Philadelphia Flyers on Saturday afternoon highlighted the team's problems offensively. Boston had 67 total shot attempts against Philadelphia, but only scored one goal, which proves that Chiarelli needs to add a top-six forward to his roster who can bury these scoring chances.
Over their last eight games, the Bruins have scored more than two goals just one time. The team's power-play has also converted on only one of its last 16 opportunities. Top-six wingers Milan Lucic and Brad Marchand have combined for just three goals in the last 10 games.
Unless the Bruins add another reliable top-six forward before the deadline, we could see a repeat scenario of last year's playoffs when Boston did not have enough goal scoring to make it past the first round. Good defense and goaltending will only take a team so far in the postseason, you need to be able to score goals consistently to win the Stanley Cup.
Since the rental market is weak right now with Iginla and Morrow unavailable, Chiarelli will have to pursue players who don't have expiring contracts if he's to upgrade his team in a major way.
The asking prices for these players are normally higher than what teams want in return for rentals, and it will be interesting to see if the usually-conservative Chiarelli makes a bold move to bolster his team's chances of winning the Stanley Cup.
If Chiarelli doesn't make a move to counter Pittsburgh's acquisitions of Iginla and Morrow, the Bruins will not have the scoring depth needed to beat the Penguins in a seven-game playoff series.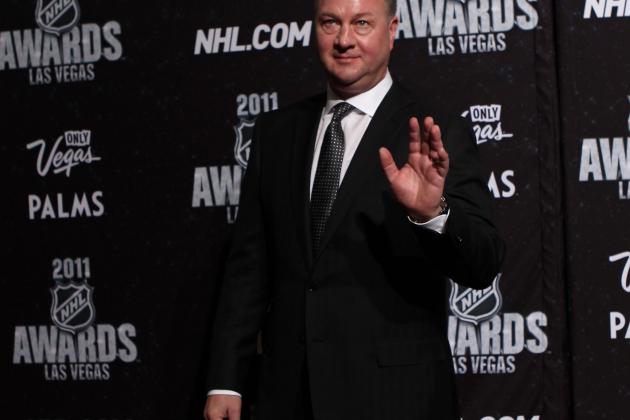 Bruce Bennett/Getty Images

Mike Gillis has the hardest task at the deadline of any general manager, and that is to move star goaltender Roberto Luongo and his massive contract that has nine years remaining with a $5.33 million salary cap hit.
Finding a team willing to acquire Luongo before the deadline could be difficult because the two teams who were rumored to be potential landing spots for him before the season (Toronto Maple Leafs and Florida Panthers) no longer need to upgrade at the goalie position right now or would be better off letting a young prospect take over the No. 1 job.
If Gillis is unable to trade Luongo, he could go into the summer with $9.33 million of the $64.3 million salary cap for 2013-14 tied up in two goaltenders, which would not be an ideal situation for a team that has 11 players with cap hits of at least $4 million next season.
Failing to trade Luongo might force the Canucks to use one of their two compliance buyouts to get rid of his cap hit, but that would result in the team's ownership signing a massive check to make a bad contract that Gills signed go away.
Aside from Luongo, the Canucks also need a second line center and more grit for the playoffs, because this is a soft team whose championship window is rapidly closing. Gillis will have to decide if mortgaging some of his team's future by trading top prospects and draft picks to acquire rental player for a Stanley Cup run is worth the risk.
Gillis made the worst trade deadline deal of the 2011-12 season when he acquired overrated forward Zack Kassian from the Buffalo Sabres in exchange for future top-six center Cody Hodgson. If he has another terrible deadline, Gillis' job might not be safe in the summer.
Nicholas Goss is an NHL Lead Writer at Bleacher Report. Follow him on Twitter. He was a credentialed reporter at the 2011 Stanley Cup Final and 2012 NHL playoffs in Boston. All salary information courtesy of CapGeek.