NHL Power Rankings: Have the Dallas Stars and Tampa Bay Lightning Mailed It In?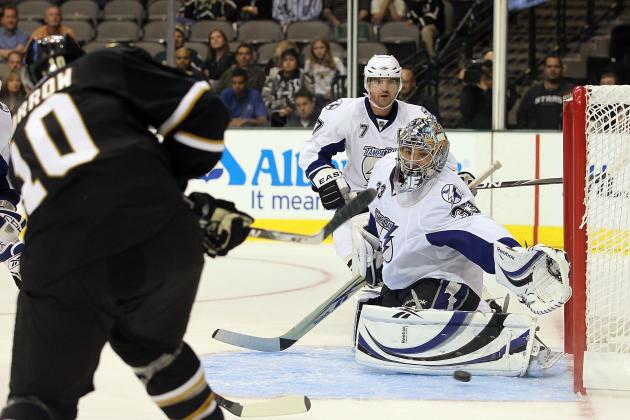 Ronald Martinez/Getty Images

Have the Dallas Stars and Tampa Bay Lightning given up on making the playoffs already?
It seems absurd, given that the Stars are actually in the playoff picture in the Western Conference and the Lightning are only six points away from the threshold out East and play in the league's weakest division, but Dallas has traded away its captain and Tampa has fired its coach this week.
The Stars traded Brenden Morrow, the heart and soul of their club, to Pittsburgh over the weekend. He is 34 years old and the Stars got a defensive prospect and fifth-round pick in return, meaning that the move should pay off in time, but that's just the point: It appears that they're already looking to the future.
I know that this team has been ravaged by a bankruptcy and is having trouble selling tickets, but it seems like it is too early to mail it in this season.
Even though the Stars are the eighth seed right now, there is a bubble of teams reaching down to No. 12 in the West that all have the same amount of points. San Jose, Nashville, Columbus and Phoenix are all in that mix. The Sharks are the most talented club of the bunch, and perhaps the Stars have come to the realization that they have to hedge their bets in case the team misses the playoffs…again.
As for the Lightning, this is a team that I felt should win the Southeast Division at the beginning of the season. They have some of the greatest players in the league: Steven Stamkos, Martin St. Louis, Vincent Lecavalier and Victor Hedman. Not only that, but they picked up Anders Lindback and Matt Carle in the offseason and have a budding star in Cory Conacher.
But this team could never figure things out this year—especially on defense.
Guy Boucher was considered a hockey mastermind when he took over the Lightning coaching job three years ago. His meteoric rise through the major junior and American league ranks was driven by his trap philosophy, which got figured out at the game's highest level.
Tampa Bay went to the Eastern Conference Finals in the first year under his direction, but missed them last year and dropped to the league cellar this season.
There are two ways to look at each situation: Either these teams are making a move to shake things up and make a playoff push, or they have one eye on the future while keeping another one on the road ahead.
If I'm a fan of either the Stars or Lightning, I'm a bit worried about my team right now. Both Dallas and Tampa need to show their supporters that they are still interested in winning this year if they expect anyone to show up to games down the homestretch. The moves they've made this week indicate that they are focused on building toward a brighter future at the expense of winning right now.
Begin Slideshow

»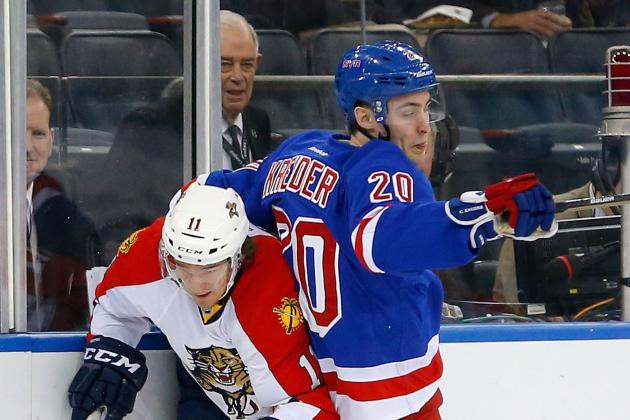 Paul Bereswill/Getty Images

Last week: 30
Record: 9-18-6 (2-7-1)
How do you start a road trip by beating the Canes and Rangers silly and then lose to the Devils and Islanders?
I think the Panthers just realize they are playing spoiler and know that the Hurricanes, a possible division winner, and the Rangers, a stacked team, have a lot to lose.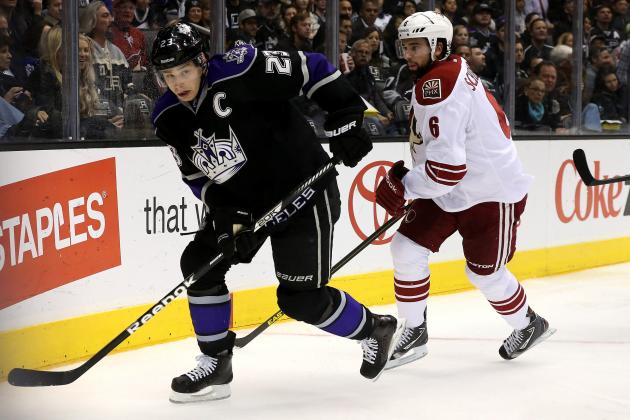 Stephen Dunn/Getty Images

Last week: 21
Record: 13-14-4 (3-6-1)
The Coyotes are in a free-fall.
This team has not won a game since beating the Kings 5-2 on March 12.
Then again, at least they're not as bad as the Panthers…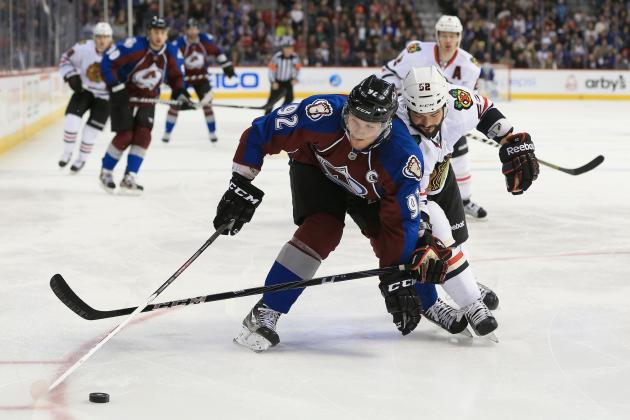 Doug Pensinger/Getty Images

Last week: 25
Record: 11-16-4 (3-7-0)
The momentum from the Blackhawks' win really didn't carry over, huh?
The Avs have only two wins since ending Chicago's streak: against San Jose and Dallas, two fringe playoff teams in the West.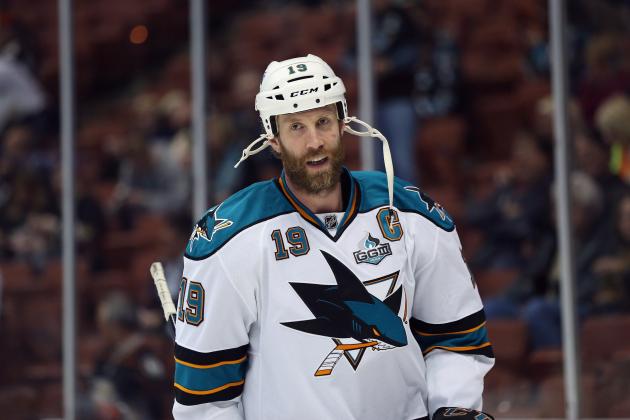 Jeff Gross/Getty Images

Last week: 18
Record: 13-11-6 (3-5-2)
All I'm going to say is Ducks games are always a big matchup for the Sharks, but these next two games are huge for San Jose.
Anaheim has a chance to make things really, really difficult for the Sharkies if they take these two contests, which will take place on Monday and Wednesday.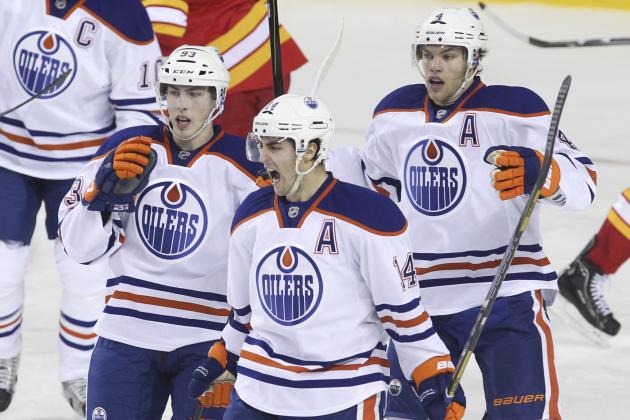 Mike Ridewood/Getty Images

Last week: 24
Record: 11-12-7 (3-4-3)
One day the little Diaper Dandies will grow up to be big, strong hockey players.
Trust me.
In the meantime, these guys are going to be beat like a drum by those big meanies on the other hockey teams.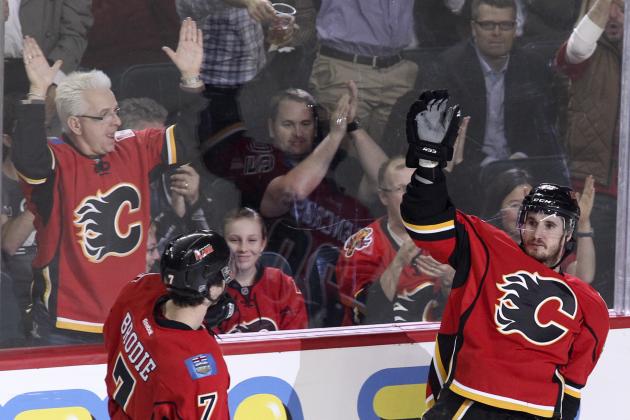 Mike Ridewood/Getty Images

Last week: 23
Record: 12-14-4 (4-6-0)
There is something special about the Saddledome.
The Flames have beaten Vancouver, San Jose, Detroit, Nashville and St. Louis there this month.
It is easy to see how they would lose to Anaheim and L.A. out in SoCal, but losing to Dallas, Nashville and Columbus before that win over the Blues? Wow. That's not supposed to happen.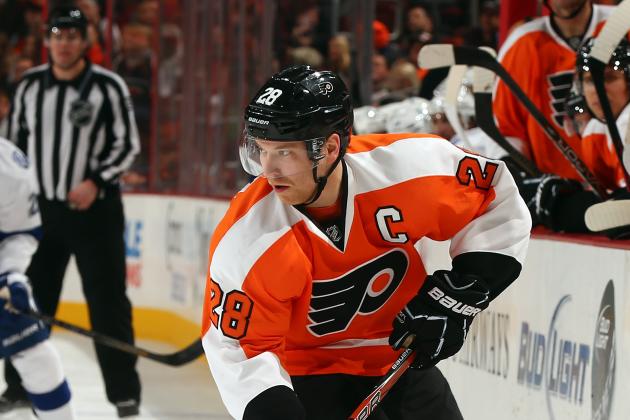 Elsa/Getty Images

Last week: 22
Record: 13-16-2 (4-5-1)
That loss in Tampa tells you all you need to know.
First of all, that used to be an entertaining "quasi-rivalry" (at least on the Philly side) and, more importantly, a loss to the reeling Bolts indicates the Flyers are all but done this season.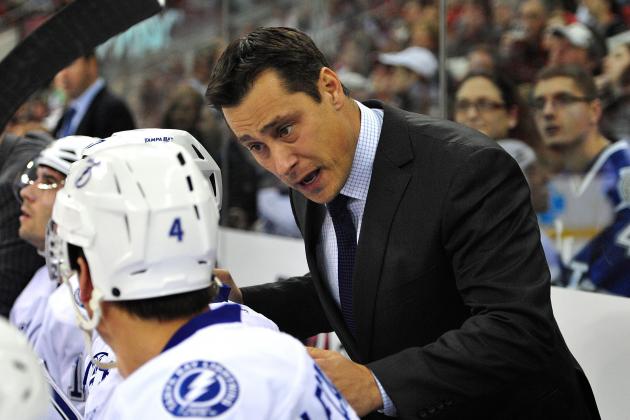 Grant Halverson/Getty Images

Last week: 28
Record: 13-18-1 (4-6-0)
Oh Tampa, how you disappoint me…
I thought your offense was so good that the defensive lapses wouldn't matter. I thought your coach was too smart to lose. I thought your division was going to be a two-team race between you guys and the Canes.
But it turns out that everyone has to play defense. The league's brightest minds would figure out Boucher and Winnipeg (Winnipeg!) would dominate a division it shouldn't even be in.
Oh Tampa, a team as talented as yours shouldn't be this bad…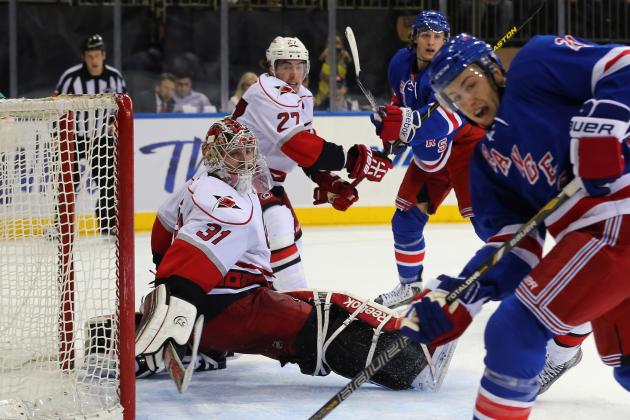 Bruce Bennett/Getty Images

Last week: 11
Record: 15-13-2 (4-5-1)
Just when you start to believe in the Hurricanes, they lose five straight.
Worse yet: The Caps, Bolts, Rangers, Panthers could all miss the playoffs this year.
It was a missed opportunity to create some separation in a weak division for sure.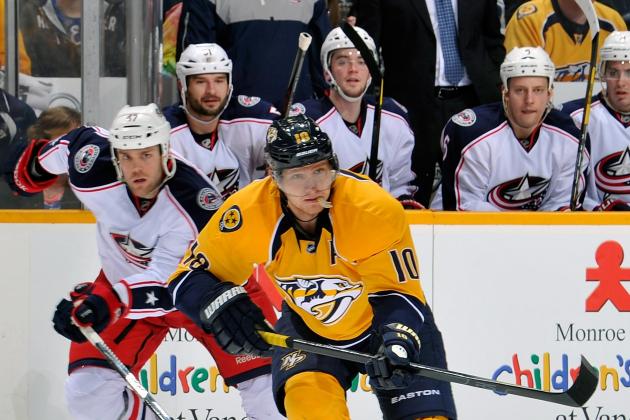 Frederick Breedon/Getty Images

Last week: 29
Record: 13-13-6 (4-5-1)
Nashville loves playing at home; that much we know.
They lose in Columbus and Edmonton, but when the Flames and Oil come to the Music City, they get absolutely annihilated.
It's going to be a dogfight to the end for that eighth seed in the West, but if the Preds can hold serve at home they'll have a fighting chance.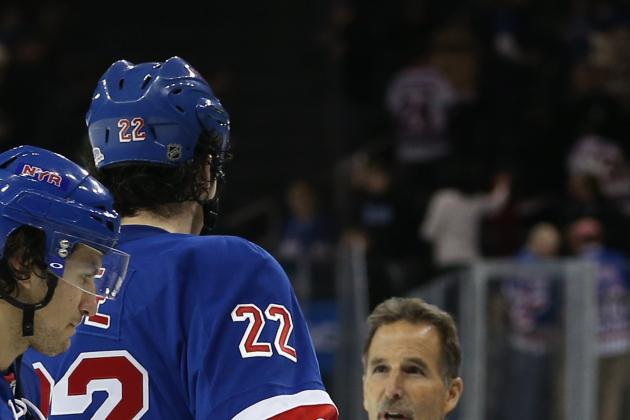 Bruce Bennett/Getty Images

Last week: 15
Record: 15-13-3 (4-5-1)
Are the Rangers ever going to put it together?
This team gets Florida and Washington at home, essentially wins on a silver platter, and they drop them like an inexperienced waiter in a fancy restaurant.
Do you think management in the Big Apple has the nuts to fire John Tortorella? Imagine being the person that has to tell him the news.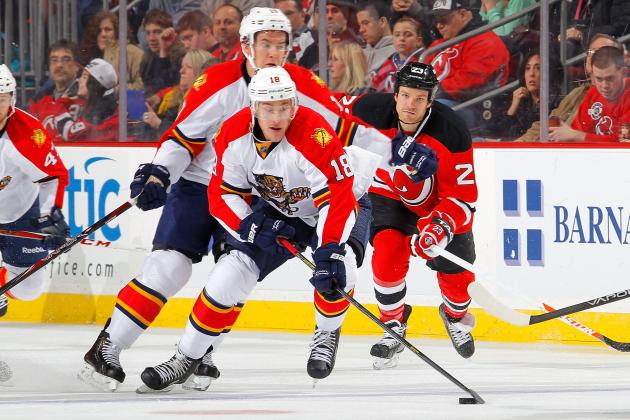 Jim McIsaac/Getty Images

Last week: 20
Record: 15-11-6 (4-5-1)
The Devils have recent wins over Carolina and Florida, two struggling teams, but those losses to Philadelphia, Montreal and the Rangers bring them perilously close to relinquishing a playoff spot in the Eastern Conference.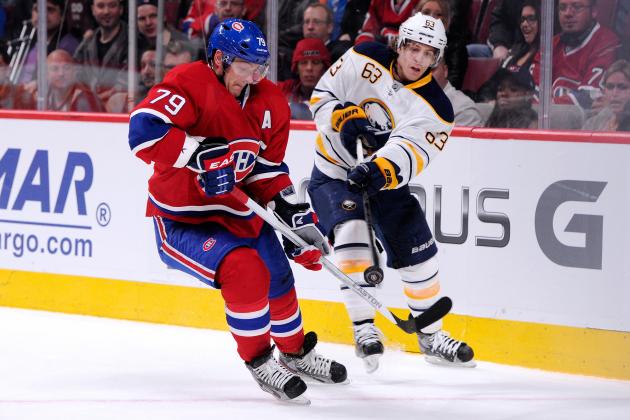 Richard Wolowicz/Getty Images

Last week: 27
Record: 13-15-4 (4-3-3)
The Sabres kill me.
They really do.
How does a team that has struggled this much suddenly beat Montreal, one of the best teams in the East, on the road twice?
That is absolutely befuddling.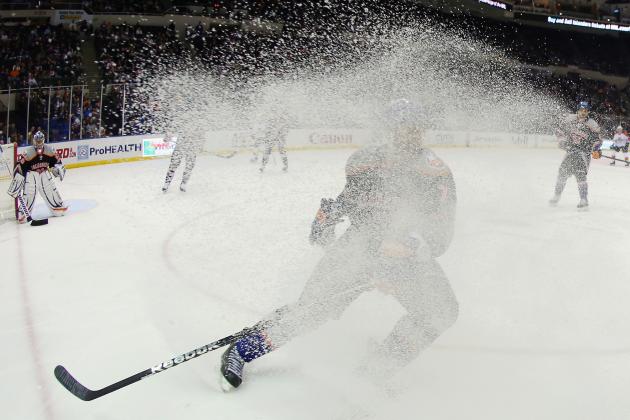 Bruce Bennett/Getty Images

Last week: 16
Record: 14-15-3 (5-4-1)
Thank god for the Panthers, right?
The Islanders picked up wins over Florida in two of their last five games, but lost the three other contests.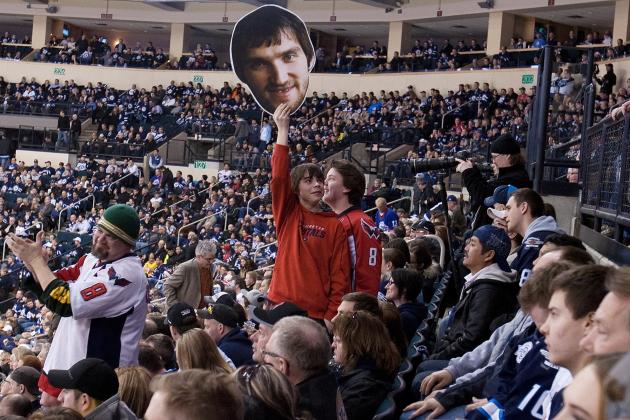 Marianne Helm/Getty Images

Last week: 17
Record: 15-16-1 (5-5-0)
Just when you think the Capitals are dead in the water, Washington beats Southeast Division-leading Winnipeg and the Rangers on the road.
The Caps live on to see another day.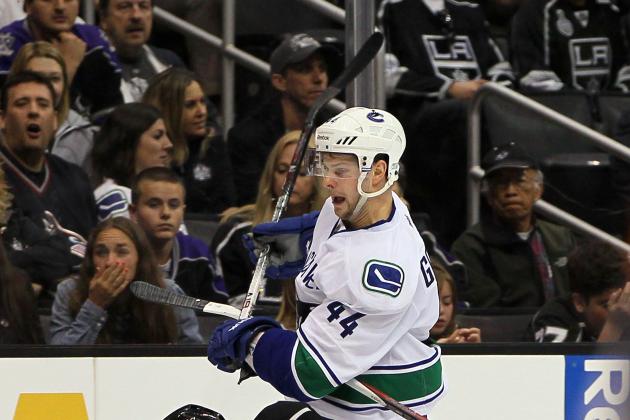 Victor Decolongon/Getty Images

Last week: 9
Record: 17-12-2 (5-5-0)
Someone tell me how a team as talented as Los Angeles can't manage to score one measly goal against Dallas and Vancouver. One. Damn. Goal.
That's no way to end a homestand and, gulp, they go on a road trip that will send them to Chicago, St. Louis and Minnesota.
Uh oh…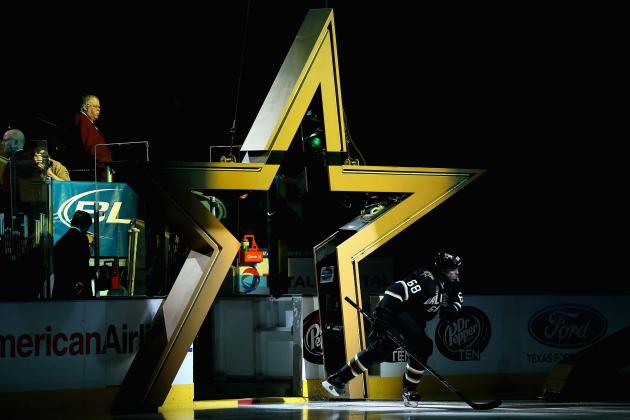 Ronald Martinez/Getty Images

Last week: 26
Record: 15-13-3 (5-4-1)
You've heard the phrase familiarity breeds contempt, right?
Well, the Stars will play four teams—Colorado, Los Angeles, Minnesota and Anaheim—in nine straight games.
Expect to see a little rough play in the upcoming week. This team's response will tell us how much fight is left in this club.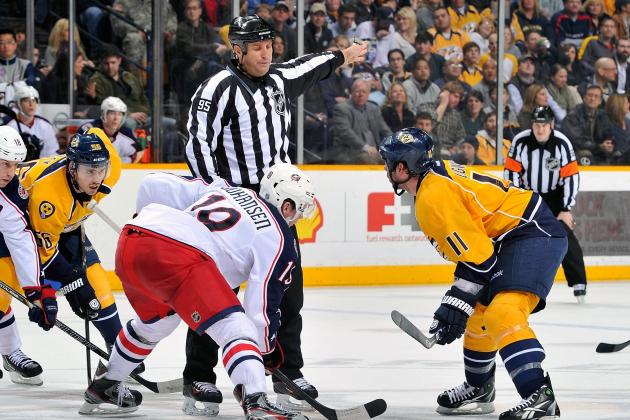 Frederick Breedon/Getty Images

Last week: 13
Record: 13-13-6 (7-1-2)
You kind of feel yourself pulling for Columbus, right?
It doesn't matter if you've never set foot in Ohio or can even name three players on their team, you just want to see if they can make it.
I hate to be the bearer of bad news, but it's hard to see them making it after they got routed 5-2 by Nashville…a team that has had trouble scoring all season long.
Rich Lam/Getty Images

Last week: 14
Record: 16-11-5 (6-3-1)
Just when you think you can shove a fork in these bad boys, they roll over the Canucks in Vancouver and stomp on the Ducks in Orange County.
You can never, ever sleep on the ol' Red Wings.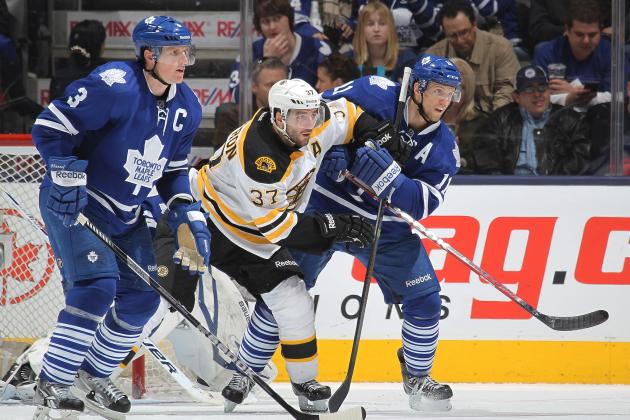 Claus Andersen/Getty Images

Last week: 12
Record: 17-12-3 (4-3-3)
Okay, I won't say anything about the Maple Leafs making the playoffs, but I've noticed that things are a little different this year: The team is looking a little plump, they are starting to feel a little nauseous and they have a sudden craving for oranges—but I won't tell anyone.
There is nothing certain when it comes to a playoff berth, especially when you've been trying for a while.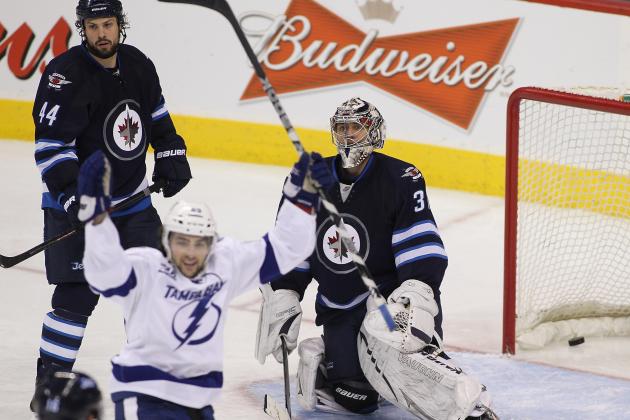 Marianne Helm/Getty Images

Last week: 10
Record: 17-14-2 (6-3-1)
I was ready to buy into the Jets big-time. I really was.
And then they lost to Washington. Twice. By a combined score of 10-1. At home.
Winnipeg, oh Winnipeg, how can this be?
Jana Chytilova/Freestyle Photo/Getty Images

Last week: 8
Record: 17-9-6 (5-2-3)
The Senators are beating the teams they are supposed to beat, but cannot win games against the best in the East like Boston and Montreal.
That may prove troublesome come playoff time.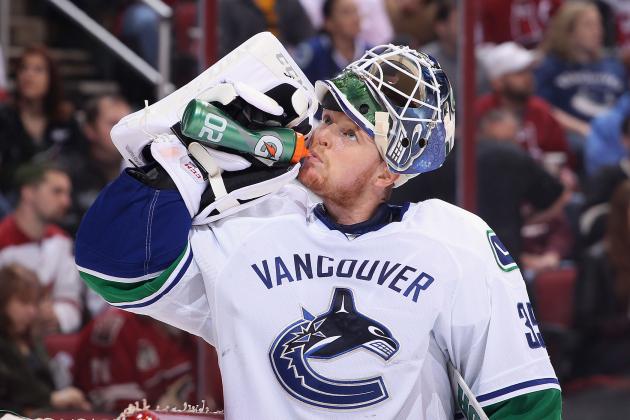 Christian Petersen/Getty Images

Last week: 19
Record: 17-9-6 (6-3-1)
All of a sudden, just when you think this team is going to let the Wild take the Northwest Division, the Canucks reel off four straight.
And it can't go unnoticed that Cory Schneider was in net for all of those wins.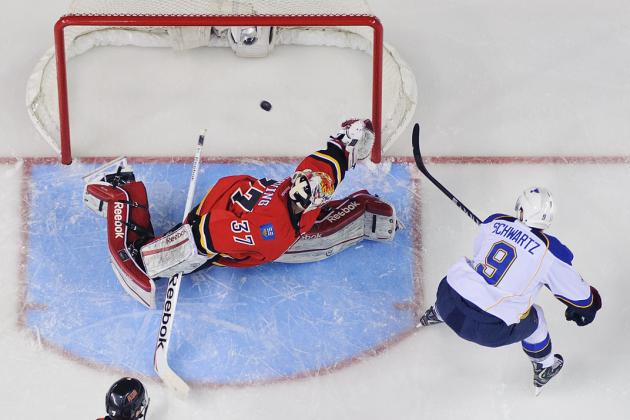 Derek Leung/Getty Images

Last week: 7
Record: 17-12-2 (6-4-0)
Just when I was about to say a whole bunch of nice things about the Blues, a team I was very high on in the beginning of the season, they lose to Calgary.
St. Louis should make the playoffs, but they can't fall to teams like the Stars and Flames down the stretch if they want to get a favorable seeding in the playoffs.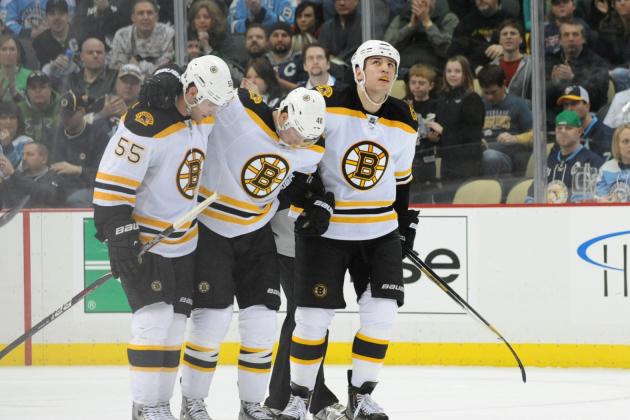 Vincent Pugliese/Getty Images

Last week: 5
Record: 20-7-3 (6-4-0)
Life on the road is tough and nobody knows that more than the Boston Bruins.
Pittsburgh, Winnipeg and Toronto all beat them in regulation. All three are good teams; they all could make the playoffs, but if the Bruins want to be considered the best in the East they need to win those games…or at least take them into overtime.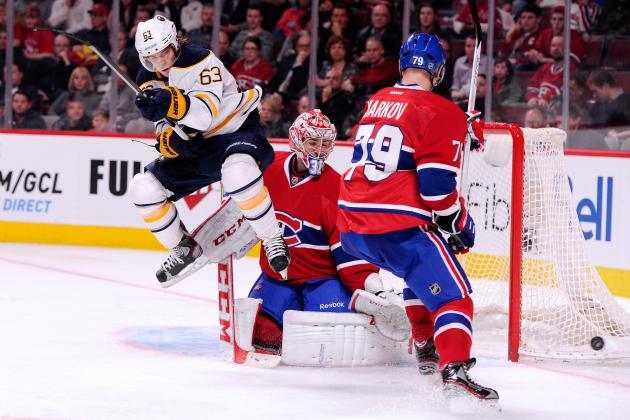 Richard Wolowicz/Getty Images

Last week: 4
Record: 20-6-5 (7-2-1)
Here is the scary thing for Habs fans: This club really hasn't faced anyone this month.
They started March off with games against Pittsburgh and Boston, but then faced the Islanders (twice), Carolina, Tampa, Florida, Ottawa and New Jersey.
Some of those are playoff teams, some are not, but none are really cream of the crop out East so it's hard to really tell where this team is at right now.
Those dual losses to Buffalo are a reminder of that.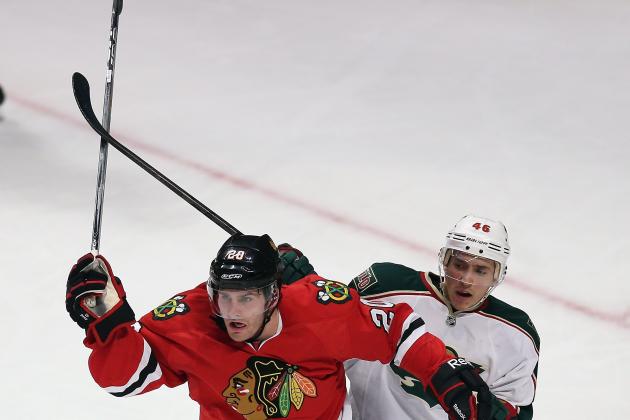 Jonathan Daniel/Getty Images

Last week: 7
Record: 18-10-2 (8-2-0)
The Wild only have three losses this month. As exciting as that is, those losses came to Anaheim (twice) and Chicago, two teams they will probably have to go through if they want to go on a serious playoff run.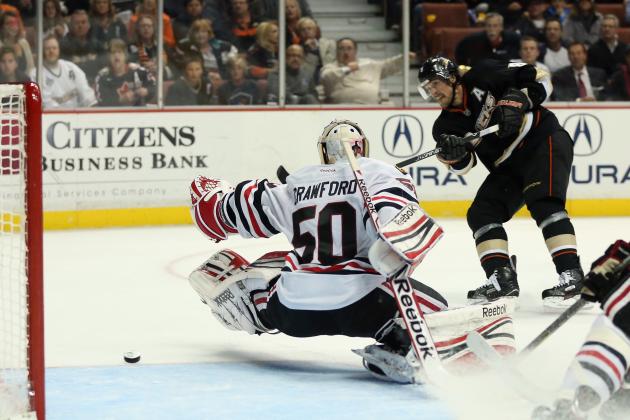 Jeff Gross/Getty Images

Last week: 2
Record: 24-3-3 (7-3-0)
We can forgive the Hawks for losing to Anaheim…right?
The Ducks are a bona fide contender in the West and are capable of giving the Hawks a run for their money.
And, hey, Chicago has a chance to get even when Anaheim comes to the Windy City on Friday.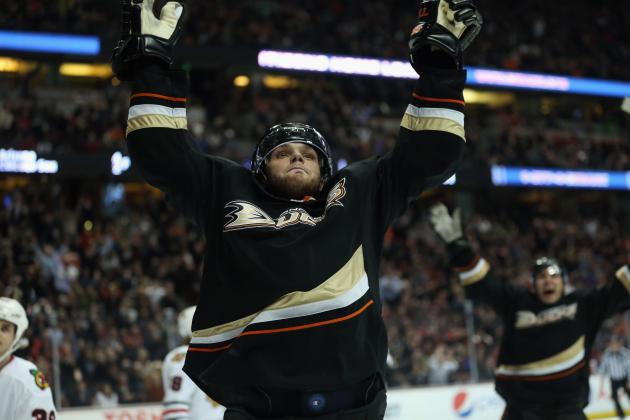 Jeff Gross/Getty Images

Last week: 3
Record: 22-5-4 (7-2-1)
That sweep by Detroit is puzzling. Anaheim is slowly creeping closer to the Blackhawks in the standings and just beat Chicago 4-2.
Then they lose back-to-back games to the Red Wings by a combined score of 7-2?
To be fair, the Wings are one of the most erratic teams in the league…but c'mon, just when you start to believe in the Ducks, they give you a reason to question them.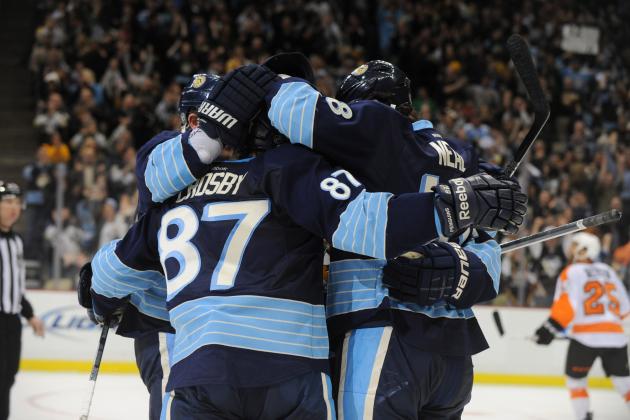 Vincent Pugliese/Getty Images