Barcelona 5-0 Cordoba: David Villa Is Back and Other Talking Points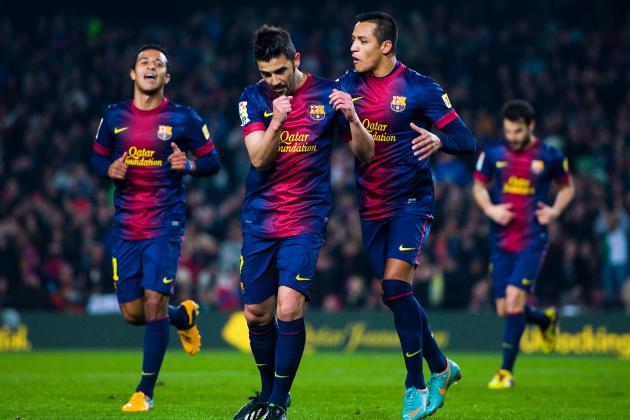 David Ramos/Getty Images

Barcelona played host to Cordoba in the second leg of Copa del Rey action late Sunday night. With an aggregate score of 2-0 in Barca's favor entering the game, the tie already looked determined.
Without Leo Messi, Xavi and others, Barcelona began with a squad made up of mostly reserves looking to fight for their place in the first team.
Barcelona began the game just as they finished their last one against Espanyol, with utter brilliance.
Thiago scored first after stealing a ball outside the box. David Villa added two beautiful strikes to signal his return. Alexis Sanchez also scored a brace, though his night was nowhere near brilliant.
All around, the entire Barcelona team was phenomenal. Every player put in a performance to be remembered, including some of the rising stars from the club.
With a final score of 5-0 Barcelona have now advanced on a 7-0 aggregate score and will face Malaga in the next round of the Copa del Rey.
With that being said, we will now take a look at some of biggest talking points from the beautiful Blaugrana victory.
Begin Slideshow

»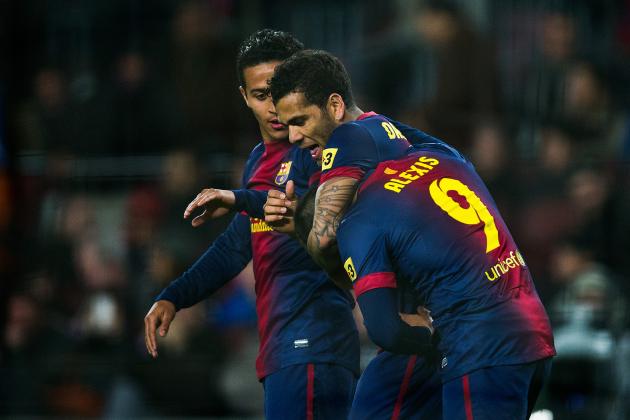 David Ramos/Getty Images

Barcelona started 2013 in phenomenal fashion. In two games so far, La Blaugrana has shown the best form of the entire season.
Nine goals and two clean sheets in two games is an amazing feat. It shows that not only is the offense performing, but the defense is finally settled after a rough start to the season.
Granted the games were against relatively weak opponents—Espanyol and Cordoba— the play has been brilliant nonetheless.
Everyone is pulling his weight as each player looks to be hitting stride at the right moment. The incredible form is coming at a great time as Champions League play resumes in February.
Fans will be hoping that the Catalans can continue the remarkable play for the rest of the year, but it is clear that every member of the squad can be trusted to perform.
The strength of every team is the depth it contains. That being said, this Barcelona club is showing why they are the best in the world.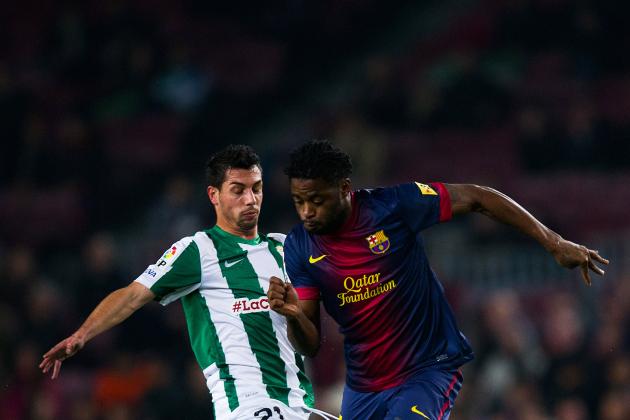 David Ramos/Getty Images

Since joining Barcelona this summer from Arsenal, Alex Song has not played his best football.
The Cameroon international has featured as both a defender and defensive midfielder this season, but the club looks like it has determined his best position. He has performed best in the midfield, which was to be expected.
But Song has yet to show why the Catalan club splashed the money to bring him over.
He has often looked lost when on the pitch, most likely due Barcelona's style of play, but against Cordoba, Alex Song finally showed what he can offer.
The strong midfielder constantly broke up play and made the day for the defense quite easy. The physicality of Song was much needed as he ran the midfield for La Blaugrana.
However, it was the decision making of the Cameroon international that deserves praise.
Song rarely made a mistake against Cordoba and showed glimpses of his attacking ability that was so prevalent in his Arsenal career.
Song will not take the starting role from Sergio Busquets, but his performance against Cordoba showed that he is a more than capable of filling in.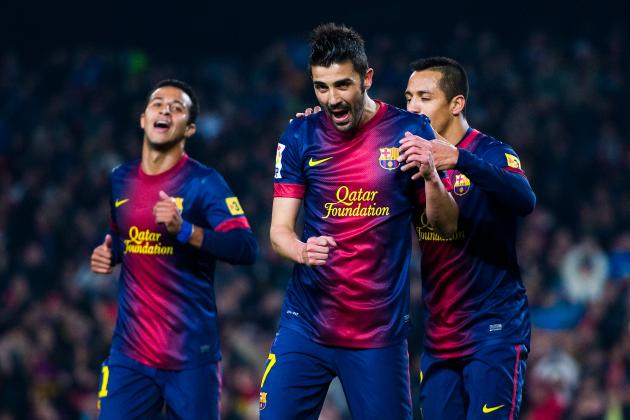 David Ramos/Getty Images

David Villa entered the game against Cordoba with many questions surrounding him. Will he leave this January or this summer? Will the Spaniard ever regain the form he showed before he broke his leg?
Yet it was Villa who finally made his first true appearance of the season.
The 31-year-old scored two amazing goals, including an astonishing finish after dribbling passed a defender in the box. Both goals showed the class that many have begun to doubt.
In my preview of the Cordoba match I stated that this would be the game that decides David Villa's future. Well, the Spanish striker certainly answered the call and may have finally taken back his rightful place as a starter for the club.
It was not only goals that proved the comeback of Villa, his passing and positioning seemed to have returned as well.
Now with both Pedro and Villa finding their best form this season, Barcelona looks set for a run at the treble in what could be the best season in club history.
Allow me to be the first to welcome back David Villa, Cules have missed you.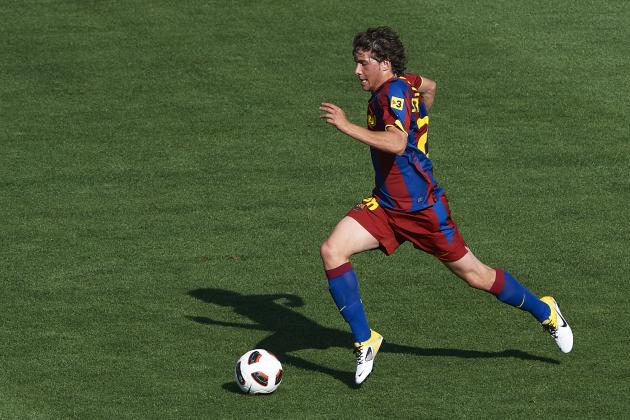 Manuel Queimadelos Alonso/Getty Images

Sergi Roberto has not received much notice at Barcelona B with the likes of Deulofeu and Dongou in the team. Yet the Catalan midfielder proved that he has a future at the club from his play against Cordoba.
The performance put in by the 20-year-old was similar to that of Iniesta.
Roberto was constantly dribbling around multiple defenders and playing wonderful passes in the rhythm of the game. While he has not seen many minutes for La Blaugrana, it is clear that he is comfortable in the first team.
The B team player does have a lot to improve on however. With time he could soon earn promotion to the first team. The highlight of his night was a wonderful assist for David Villa's second goal.
Sadly, Sergi Roberto was forced to leave the game early in the second half as he came up injured. The club released on their official website that Roberto will miss four weeks due a torn hamstring.
Special mention must also go to Thiago and Jonathan Dos Santos.
Thiago opened the scoring after dispossessing an opponent and firing on goal. He clearly showed why he is the next Xavi in his vision and control of the game.
Jonathan Dos Santos played his best football since joining the first team. He fit in with the difficult system and looked very bright in getting forward. The young Mexican may have a future yet.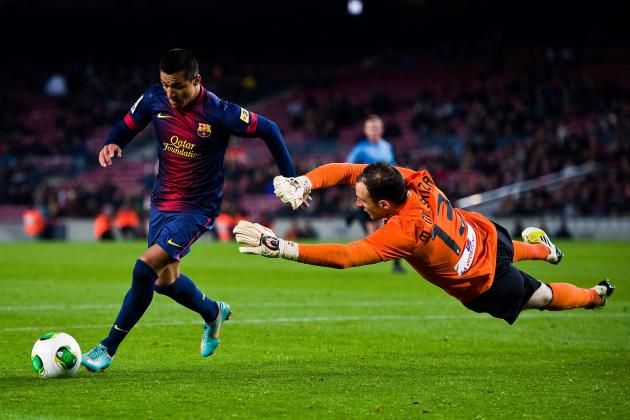 David Ramos/Getty Images
Sanchez beat the keeper, but no goal.
Alexis Sanchez has not had a good start to the season. The Chilean has scored only one goal and increasingly looks like he may be a bust at Barcelona.
When looking at the scoreline, fans may get excited to see that Alexis scored twice in the win against Cordoba. But do not be fooled, his night was far from stellar.
As crazy as it sounds, the Chilean should have had six goals on the night.
Alexis was through with only the keeper to beat four times, yet finished none. Two attempts were saved. He rounded the keeper only to make humorous mistakes.
Alexis missed an open goal at first, but also slipped after beating the keeper. The slip was a sad moment as the turf looked to give way, and Alexis was not to blame. But it just shows that Sanchez is not finding life easy at Barcelona.
He did have a brilliant header from a Thiago corner kick, but a goal should have come sooner. The second goal was a rebound saved from a shot from Cristian Tello that bounced off Alexis.
To be honest, Alexis did not score a single goal that he should have. Although two goals were scored, neither showed high hopes for his future at Barcelona.
Perhaps Alexis may now have the confidence needed to turn around his dismal season.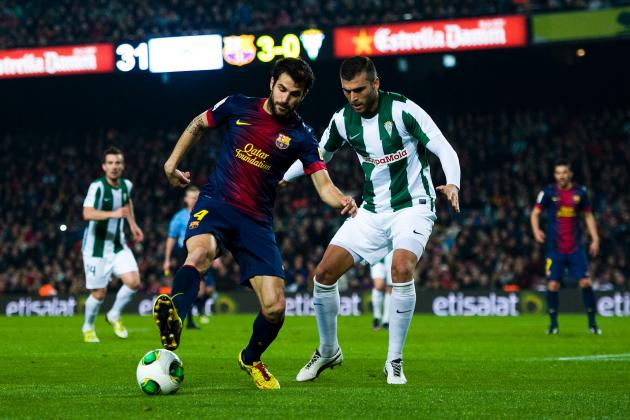 David Ramos/Getty Images

With this round of Copa del Rey action completed for Barcelona, they will turn their attention to soaring side Malaga.
Malaga is not only Barcelona's opponent for the next round, the two clubs are also set to face off on Sunday in La Liga action.
With Barcelona playing Malaga in three of the next four games, La Blaugrana will be tested. Malaga has proven that they are not to be taken lightly. Luckily, Sunday's match will be in Barcelona's favor after resting so many stars against Cordoba.
But for now, Cules should enjoy the beautiful victory Barcelona secured against Cordoba. It gave hope for the future and glimpses of why this could be the best team ever.
What did you think of Barcelona's easy victory? Is David Villa finally back? What of Alexis Sanchez's night? Don't forget to leave your thoughts and comments below.
Tre' Atkinson, The Catalan Blood of Bleacher Report. Follow @TreAtkinson
Check out my latest articles here.
Barcelona vs Cordoba Complete Preview