NHL Free Agency 2013: 3 Teams Still in Desperate Need of Physicality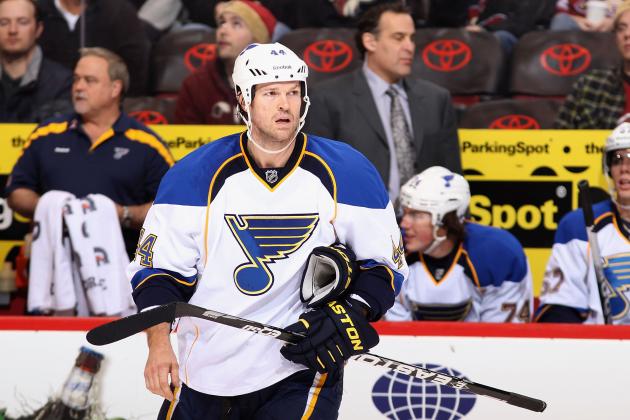 Christian Petersen/Getty Images
Jason Arnott is one of the few free agents left that brings a physical presence to the game.
While the initial rush of NHL free agency occurred in July, the uncertainty brought upon by the lockout means several veteran players remain without jobs. Teams with holes to fill are left in limbo while the two sides continue to argue about who's greedier. So which of these teams desperately need to add some physicality to their rosters?
You'll find all types of opinions on what constitutes a "physical" player. It doesn't necessarily mean the guy has to drop the gloves all the time.
However, it does mean he'll stick up for his teammates. He's also someone you can trust to win a battle in the corner or in front of the net, which is a lot of the time the difference between winning and losing.
We're going to look at three different teams that are lacking in those areas, and pair each one of them up with a current unrestricted free agent that fits what they need.
Begin Slideshow

»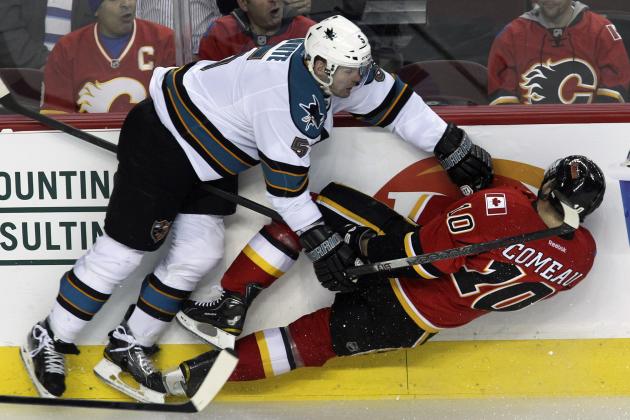 Mike Ridewood/Getty Images
White has made a career out of being a physical, stay-at-home defenseman.
It's tough to criticize a team and an organization that's made the playoffs in 21 consecutive seasons. The Detroit Red Wings are a team with few weaknesses.
They're gifted offensively, yet responsible in their own zone.
But gone are the days when they had gritty character guys like Darren McCarty, Kirk Maltby, Tomas Holmstrom and Kris Draper to complement their stars.
The free-agent signing of RW Jordin Tootoo was an indication GM Ken Holland knew they had to get tougher.
And although, at 35, Colin White isn't the top-four defenseman he was for more than a decade with the New Jersey Devils, he's still a serviceable sixth or seventh blueliner who would bring some much-needed physical play to the Wings' back end.
All eyes will be on Niklas Kronwall this season with the retirement of Nicklas Lidstrom. White could help ease the physical burden No. 55 is expected to shoulder.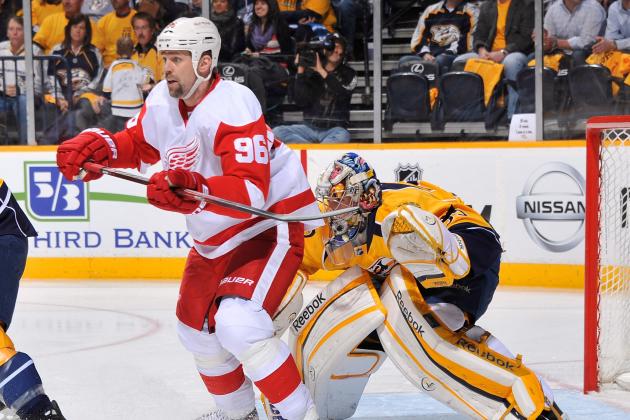 Frederick Breedon/Getty Images
Holmstrom could still chip in 15 to 20 goals on the Penguins.
If ever there was a team and a player that seemed perfect for each other for one year, it's Tomas Holmstrom and the Pittsburgh Penguins.
With that said, there's no certainty the opportunity to sign Holmstrom will be there for the Pens once the lockout is over.
According to Helene St. James of the Detroit Free Press, the 39-year-old Swede has yet to decide whether or not he's playing this season. He's also indicated Detroit is the only team he'd play for if he does return.
However, the allure of playing with Sidney Crosby and Evgeni Malkin as well as taking one more run at a Cup may be enough to convince Holmstrom otherwise. If Pittsburgh comes calling, he'd be foolish not to at least listen.
The 15-year veteran is still capable of planting himself in front of opposing goalies on the PP. And with the Pens' talent, he could certainly come close to the 20-goal plateau again for the sixth time in his career.
Pittsburgh is another team lacking those gritty, physical guys that help win championships, so adding Holmstrom makes sense for a team that bowed out in the first round last year.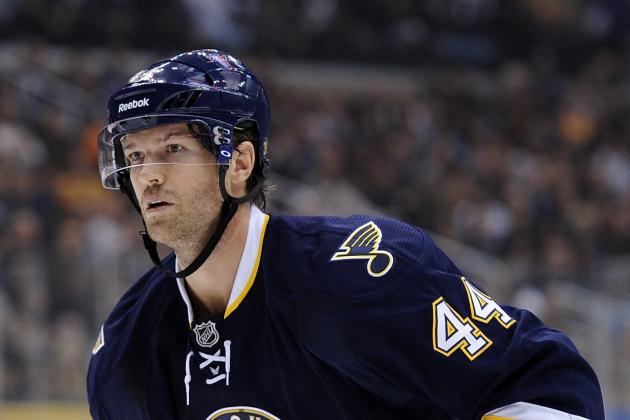 Harry How/Getty Images
Arnott has been a model of consistency throughout his career.
Out of the remaining unrestricted free agents, Jason Arnott is the most accomplished.
Although the 38-year-old is not a top-six forward anymore, you'd be hard-pressed to find a better option as a third-line center.
He's always had a well-rounded game, and the Ducks are pretty thin up the middle. After Ryan Getzlaf and Saku Koivu, there's no incumbent player on Anaheim's roster who offers as much as Arnott does.
Plus, the departure of George Parros leaves a pretty-gaping hole as far as team physicality goes. That's something the 6'5" veteran would make up for as well.
Coming off a 17-goal season with the offensively challenged St. Louis Blues, his scoring ability hasn't completely disappeared either.
Having a center with size who can hit, win faceoffs and still has a bullet shot is a rarity in today's NHL—not to mention, one with 400 career goals whose scored a Stanley Cup-clinching, OT winner (with the New Jersey Devils in 2000).
If the price is right, Anaheim could do a lot for their playoff hopes by signing Arnott. Then again, so could 90 percent of the rest of the league.