The 25 Most Infuriating Players in the NHL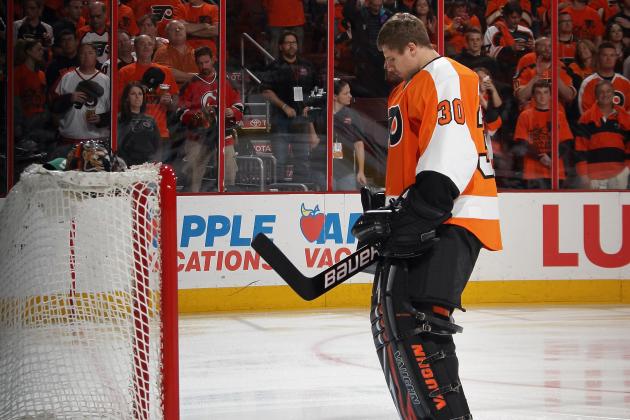 Bruce Bennett/Getty Images

As a hockey fan, the balance of emotions between what you love and hate can often times be maddening. We cheer for our favorite team with optimism and enthusiasm hoping for victory. Meanwhile the darker side of our persona roots against certain teams and certain players.
It's not that we wish ill will upon them (in most cases), but we see what they get away with and pray for some type of justice. Some players and teams are despised because of their success. Certain players are reviled for their particular style of play. It's not a coincidence that the last collective bargaining agreement had specific language addressing the "repeat offender" with regard to reckless play.
The following list includes 25 players who absolutely infuriate us. They might even be players on your own team. Some of these guys will make you say "you would want him on your team", and others you absolutely wouldn't.
The best case scenario for any antagonist is to score a game-winning or game-tying goal, particularly on the road. The villain's hat can truly be worn when the opponents most hated player sticks a dagger into your collective heart.
These guys certainly fit the bill when it comes to frustration. I would say enjoy now, but it's legitimately hard to enjoy some of these guys.
Begin Slideshow

»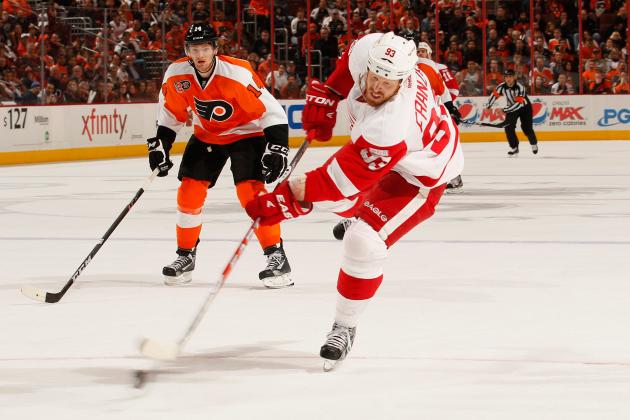 Rob Carr/Getty Images

How can a team's leading goal scorer infuriate fans? Johan Franzen is a super talented power forward for the Detroit Red Wings. In his last three full seasons, he has averaged over 30 goals per year. However, given his size (6'3", 220 pounds) and incredibly gifted hands, he should actually be more productive.
During Detroit's two Stanley Cup Final runs from 2008-2009, Franzen poured in 25 goals in only 39 games. In the last two playoff seasons, Franzen had three goals in 13 games. He seems like he wants to be a dangler in a power forward's body. Johan, your nickname is "Mule." For the love of Gerard Gallant, play like a power forward.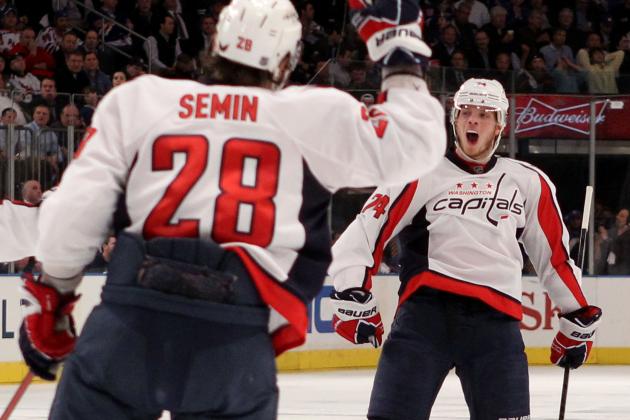 Bruce Bennett/Getty Images

The Washington Capitals may live to regret letting Alexander Semin walk out the door, but they clearly had enough of the inconsistent play that had been Semin's calling card the past two seasons. Statistically, Semin's production has him ranked among the highest goal scorers over the past few seasons.
That number is trending downward though, and there was no way the Capitals were going to even approach the type of money Carolina threw at him for a one-year deal ($7 million). The infuriating thing about Semin is that he doesn't seem to put forth a consistent effort. With his level of talent, he should be on the scoresheet with far more regularity.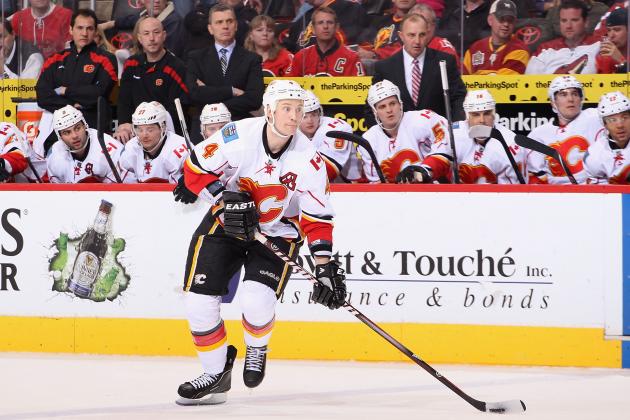 Christian Petersen/Getty Images

Jay Bouwmeester might be a surprise to some of you since his name kept showing up in trade rumors with almost every team. I include him because of how far below his potential he has played since entering the league. Bouwmeester still possesses the skill set to be an elite defender, but he can't seem to elevate his game to the next level.
Since he arrived in Calgary with a contract that pays him just under $7 million annually, he has failed to score more than 30 points, with 12 goals total and a collective minus-27.
Bruce Bennett/Getty Images

Fans across the NHL can agree that Ilya Bryzgalov is an eccentric character and a hell of an interview. However, Flyers fans were treated to a roller coaster of inconsistency last year from the man who was supposed to address the Philadelphia goaltending concerns.
From a statistical standpoint, Bryzgalov's year wasn't atrocious, but the timing and quality of some of his goals allowed had some Broad Street faithful yearning for Brian Boucher or Michael Leighton. Okay, that might be a stretch. Bryzgalov seemed to find his groove right before the playoffs, then turned into a beer-league goalie again. His GAA ballooned while his save percentage fell.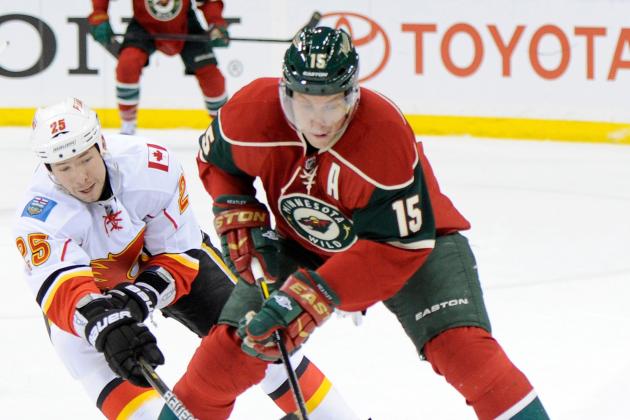 Hannah Foslien/Getty Images

Dany Heatley infuriates people because he has a wealth of talent and likes people to know it. He has shown that he can be an elite scorer, but he can also be moody and temperamental. Though he is only 31, Heatley's production has fallen off over the past three years.
He is also playing for his fourth team in a 10-year career. Draw any conclusions you want from that fact, but players who are this talented typically shouldn't change addresses that often.
Treading the line between what is acceptable contact and what is illegal will be a common theme on this list, and Niklas Kronwall should be right in the middle. What irritates some people about Kronwall is that he doesn't fight anyone after delivering a big hit. If you think that makes him a coward, then I can't help you.
If you want to dislike Kronwall, do so because he flattens players on your team and sometimes catches people high. That said, I would consider him to be one of the players who most people would want on their team.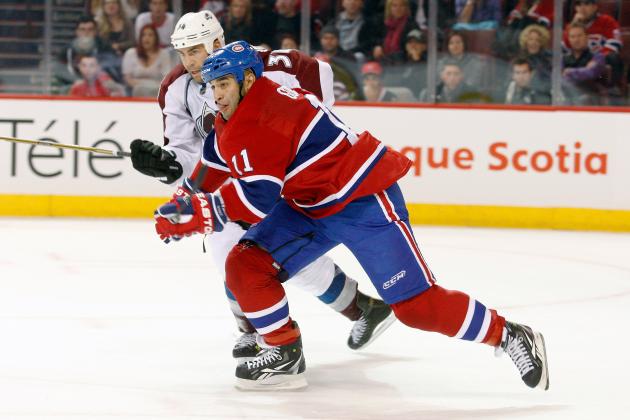 Richard Wolowicz/Getty Images

While it's impossible to dislike Scott Gomez, it's not unreasonable to be furious with his complete lack of production. The man signed an enormous contract to play with a storied franchise, had one solid year in Montreal and then basically forgot how to play hockey.
This is a player who put up 84 points in New Jersey. The good news for Montreal is that by the time the NHL lockout is settled, the three years remaining on his contract at $7.35 million might be up.
When your nickname is "Car Bomb," that doesn't bode well for opponents. I'm sure that most folks thought of "karma" when Carcillo ended his own season with this dangerous hit on Edmonton's Tom Gilbert.
Matt Cooke was the picture of rehabilitation last season after a year of illegal hits and suspensions in 2010-11. Cooke finds himself on this list because of his reputation, but he seems to have turned the corner on his infamous dirty play of the past.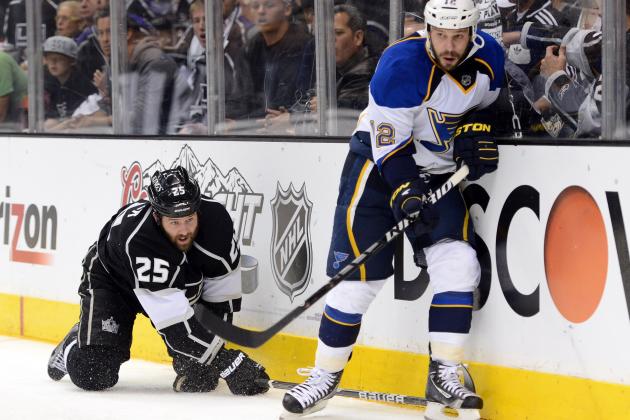 Harry How/Getty Images

Matt Cooke's role model might be Scott Nichol, who makes this list, like Cooke, on reputation more than on anything he might have done recently. Nichol was a frequent visitor to the league office for some ill-advised hits and reckless play in the past.
He seems to have cleaned up his act over the past couple of years, but he still likes to throw his body around and be disruptive.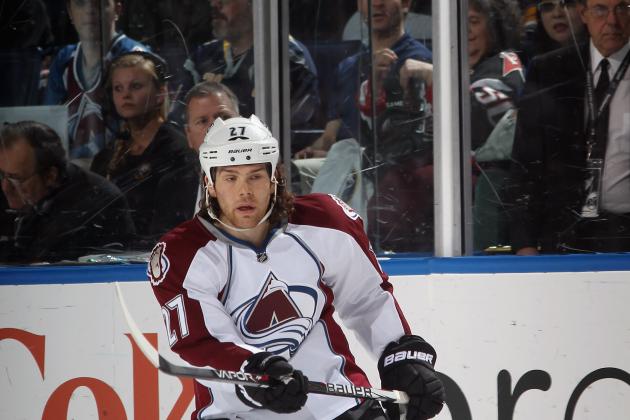 Bruce Bennett/Getty Images

Playing with hustle and determination can spark your team and fire up a crowd. Steve Downie is the prototypical "energy guy" when he takes the ice. With a fair bit of offensive talent, Downie can be an offensive threat too, but his main role is to hit and annoy.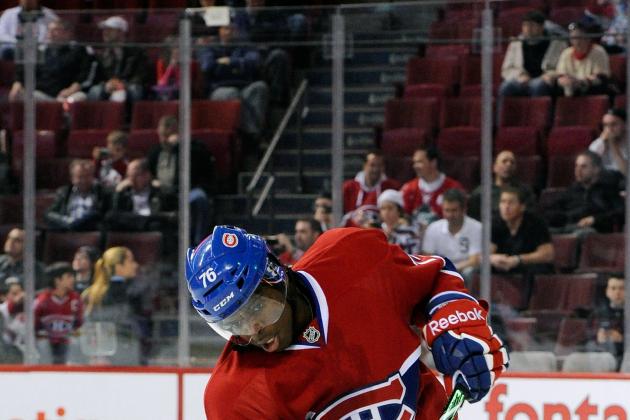 Richard Wolowicz/Getty Images

He may turn into one of the top defensemen in the NHL one day, but P.K. Subban drives opponents and sometimes his own fans crazy. Never shy about chirping or carrying the puck, Subban turned the puck over far too often last year for the vocal Montreal fans.
Subban is a firecracker though, and plays with great energy and enthusiasm. If he can control his aggression and make better decisions in his own zone, Subban will win the hearts of Canadiens fans everywhere.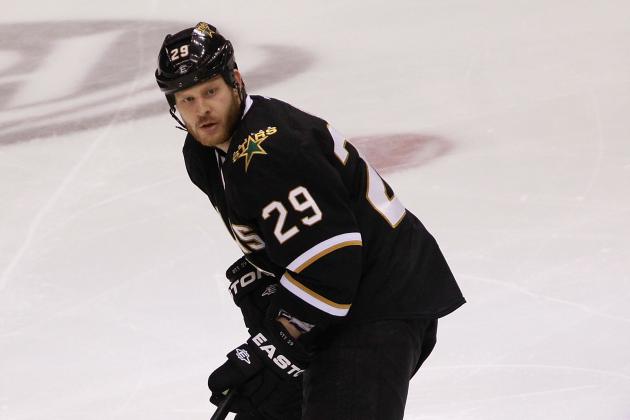 Ronald Martinez/Getty Images

Steve Ott made a living in Dallas hitting everything that moved and being as disruptive as possible to other teams. It was that style of play that had Buffalo itching to trade for him. His aggressive style and competitive spirit were sorely lacking in Buffalo. Look for Ott to enrage the entire bench of rivals in Buffalo's Northeast Division.
One of the biggest agitators in the league, Max Lapierre makes his living by getting under the skin of opponents. He loves to hit, chirp on the ice and be a general nuisance. Canucks fans love him. Everyone else does not.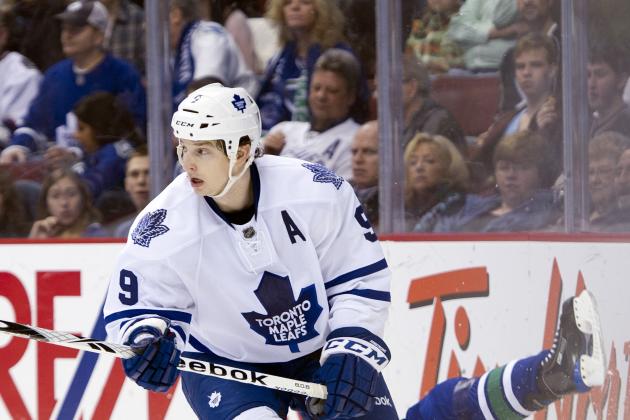 Rich Lam/Getty Images

Colby Armstrong loves to muck it up in the corners and play a physical style of hockey. He gets the goals that aren't so pretty and doesn't mind getting his nose dirty in front of the net. Armstrong will take his irritating style to Montreal (eventually) and generate even more hate in Toronto as the Maple Leafs will pay him $1 million the next two seasons as part of a buyout agreement.
Patrick Kaleta is regarded by some as one of the dirtiest players in hockey. This head-butting incident while Kaleta was with Buffalo earned him a four-game suspension and put him on the map for league discipline. What the pesky Buffalo winger lacks in size, he makes up for with his grinding, often chippy style of play.
His fans will describe him as the ultimate power forward, while his detractors will call him a cheap-shot bully. There's no doubt that "Looch" is a menace while he patrols the Bruins left wing. He has enough talent to be a scoring threat, but opponents always have to be aware of where he is on the ice to avoid the big hit or a cheap shot.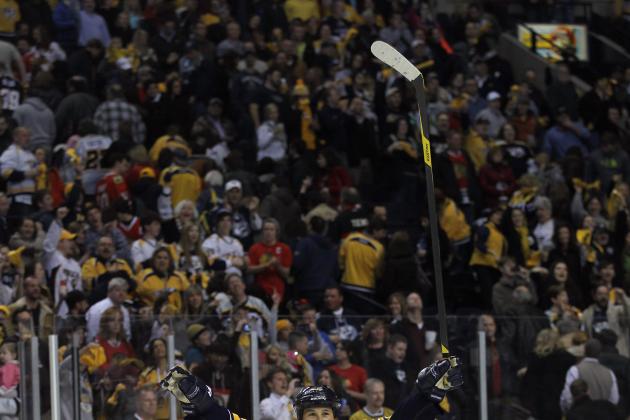 Bruce Bennett/Getty Images

Jordin Tootoo is an agitator, and he knows it. The career high in points last season might make him appear to be more than a one-dimensional player, but the Detroit Red Wings signed him to make opponents bristle.
Generously listed at 5'9", Tootoo is the consummate honey badger, going after anyone near the puck with an absolute disregard for his own well-being.
Todd Bertuzzi's rugged days might be behind him for the most part, but not many people can forget or forgive his assault on Steve Moore. The attack was a retaliation for Moore's hit on Vancouver center Markus Naslund, but Bertuzzi went about getting retribution the absolute wrong way.
Physical play has always been a part of hockey and always will be. The league has cracked down on head shots by sending out strong suspensions for hits that are of an illegal nature. Raffi Torres set the bar pretty high with his blindside of Chicago's Marian Hossa, receiving a 25-game suspension for his cheap shot.
Torres' style of play has typically been aggressive, but he clearly crossed the line here.
The Ottawa Senators love having Chris Neil around. Most other teams and fans do not. Neil's rambunctious play has him near the top of the league in hits and penalty minutes.
The surly right winger can also get the timely goal for Ottawa, but his primary role is to wreck people with his shoulders or fists.
Alexandre Burrows relishes his spot on Vancouver's top lines and has parlayed that into a productive offensive career so far. His most notorious moment to date was the biting incident in the 2011 Stanley Cup Final when he bit Patrice Bergeron's finger while receiving a face-wash.
The video above shows Burrows snapping Detroit's home win streak on a shootout-winning goal. He then proceeds to "snap" his stick across his leg to win even more fans in Detroit.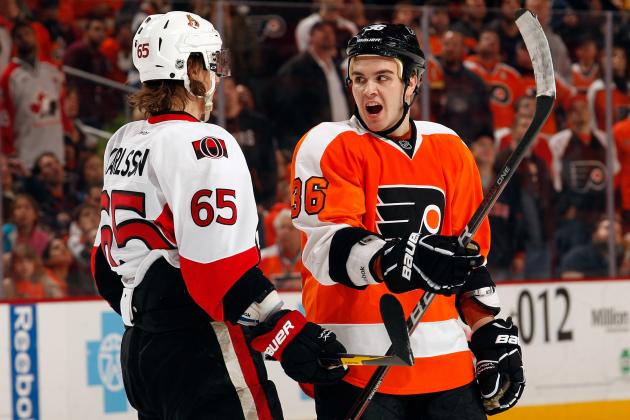 Rob Carr/Getty Images

I hope you're sitting down. Zac Rinaldo will not be contending for the Art Ross trophy. The Philadelphia Flyers' spunky, undersized center loves to crash into people. He can drop the gloves anytime, but he is on the ice to fire up his teammates and the crowd.
Brad Marchand has embraced his role on the Boston Bruins roster as a scoring, grinding pest designed to irritate. His 28 goals last season were right behind Tyler Seguin for second on the team, but he might be more remembered for the low hit on Sami Salo that got him suspended for five games.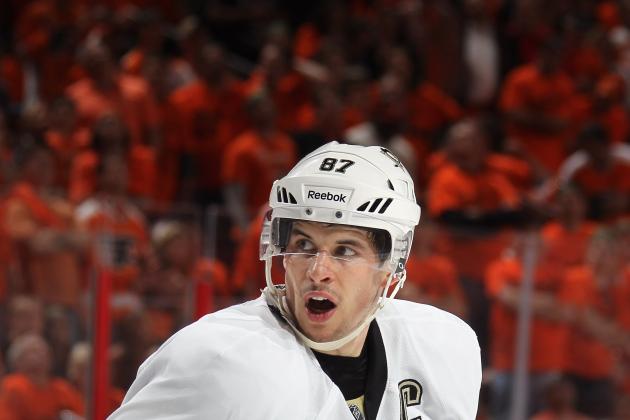 Bruce Bennett/Getty Images

Love him or hate him, Sidney Crosby is one of the most polarizing figures in the NHL. Most of the hate for Crosby comes from fans who have been burned by Crosby and the Penguins. Some immaturity from Crosby lately has only added to the resentment of one of hockey's great talents.