Vancouver Canucks: Re-Signing Alex Burrows More Than Makes Up for Shane Doan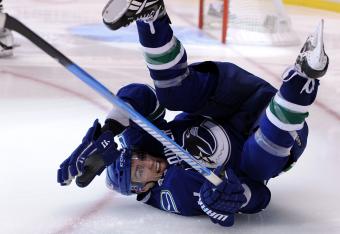 Harry How/Getty Images
In the final hours before the Collective Bargaining Agreement expired on September 15, the Vancouver Canucks signed winger Alex Burrows to a four-year, $18 million contract extension.
The Canucks may not have been able to lure Shane Doan away from Phoenix, but in this story I explain why that's not such a bad thing.
Burrows has been an important part of the Canucks' success and deserves to be rewarded for his commitment to the team and his evolution as a player.
Undrafted out of junior, Burrows' pro hockey career began in 2002 with the Greenville Grrrowl and the Baton Rouge Kingfish of the East Coast Hockey League. He worked his way up to the AHL's Manitoba Moose and spent the lockout season of 2004-05 playing alongside the likes of Kevin Bieksa and Ryan Kesler.
After the lockout ended, Burrows eventually signed a free agent contract with the Canucks. In 2005-06, he played 43 games with the big squad. Acting primarily as an agitator, he recorded 12 points and 61 penalty minutes.
Over the next couple of seasons, Burrows established himself as a strong defensive forward for the Canucks, playing primarily with Ryan Kesler. His skating and his tenacity appeared to be his best assets.
In the second half of the 2008-09 season, Burrows was moved up to the first line to play with Daniel and Henrik Sedin. While many of their previous wingers had enjoyed scoring success thanks to the Sedins' cycling style of play, Burrows has been the best fit to date.
After just ten games with the twins, the Canucks signed Burrows to a four-year contract extension at $2 million a season, as reported by Brad Ziemer of the Vancouver Sun. At the time, some fans were concerned that Burrows wouldn't live up to the level of his contract.
In fact, he surpassed it.
Burrows finished the 2008-2009 season with 28 goals and potted more than 25 in each of the next three years. He has continued to be a fixture on the penalty kill and has also added power-play time to his arsenal.
Most importantly, Burrows has shown the ability to score big goals at important moments.
None was bigger than his OT-winner against Chicago in Game 7 of Round 1 of the 2011 playoffs. After the Canucks were ousted by the Hawks in the previous two seasons, Burrows was able to change his team's fortunes and send them on a ride to the Stanley Cup Finals with the flick of his wrist.
Shane Doan may carry a reputation as a strong leader, but Burrows is an important part of the emotional core of the Canucks.
As he has received more quality ice time, his penalty numbers have dropped, but earlier in his career he was known for chirping on the ice and for embellishing penalties. This drew the ire of the opposition and even the officials. After a 2009 loss to Nashville, Burrows ignited a firestorm when he accused referee Stephane Auger of having a personal vendetta against him.
Ultimately, Burrows was slapped on the wrist with a $2,500 fine for his outburst, while Auger retired from the NHL during the summer of 2012. David Shoalts of The Globe and Mail reported that he may have been pushed out by the NHL due to his poor track record.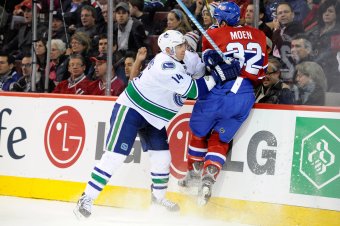 Richard Wolowicz/Getty Images
Burrows' heart-on-his-sleeve attitude was never more apparent than when Canucks defenseman Luc Bourdon was killed in a motorcycle accident in the summer of 2008. Burrows spoke often about their relationship, was a pillar of strength for Bourdon's girlfriend Charlene and adopted Bourdon's bow-and-arrow celebration after scoring big goals as a tribute to his best friend on the team.
According to capgeek.com, Burrows' current contract is comparable to those of players like Chris Neil of Ottawa or Vernon Fiddler of Dallas. Clearly, Burrows' production had him in line for a raise.
When negotiations for the contract extension started this summer, Brad Ziemer of the Vancouver Sun suggested that true comparables would be players like Wayne Simmonds of Philadelphia, Johan Franzen of Detroit or Ryan Callahan of the New York Rangers, who were in the $4 million range.
Under the terms of the old CBA, not signing Doan left the Canucks with enough budget to ink Burrows to a deal with a cap hit of $4.5 million a season, so it appears he received full value for his efforts and was not forced to take the 'hometown discount'.
Burrows is five years younger than Doan, so there's every reason to think that he still has a few good years ahead.
As the CBA talks drag on, there's no way yet of knowing whether or not Burrows will receive all the funds that the Canucks committed to him when the deal was signed.
But fans know that he's an important part of the Vancouver team, and when play resumes they'll be happy to see him riding shotgun alongside the Sedins once again.
Thanks for reading. Follow me on Twitter:
This article is
What is the duplicate article?
Why is this article offensive?
Where is this article plagiarized from?
Why is this article poorly edited?

Vancouver Canucks: Like this team?