Barcelona vs. Real Madrid: Predicting the Barca Starting XI for the 1st Leg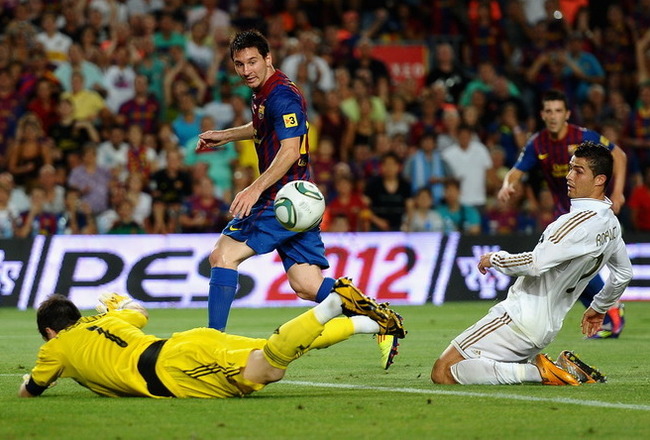 Photo courtesy of delbarca.com

El Clásico is upon us.
FC Barcelona will look to win their first title in the 2012-13 season as they take on Real Madrid in the Spanish Super Cup. Tito Vilanova will also be looking to win his first title as manager.
And what better way to try and win a title by having to beat Jose Mourinho, the same infamous Mou who—like a punk—poked Tito in the eye in last year's Super Cup.
Tito's revenge may be upon Mou.
Of course, we will hear the Lionel Messi vs. Cristiano Ronaldo storylines as well.
And why not?
Messi vs. CR7 is already one of the greatest individual rivalries in football history.
This first leg means more to Barça, of course, as they are at home. For me, a tie is essentially a loss.
And a loss is always trouble.
A Barcelona win is necessary, and it's going to take everything they have to fight off the powerful forwards of Karim Benzema, Angel Di Maria, Gonzalo Higuain and, of course, CR7.
Oh yeah, goals are always a must.
Today, I'll be predicting Barcelona's starting lineup against Real Madrid in the Spanish Super Cup. Some of these names are obvious, but to help break things down more, I also included a bit of information on what the player needs to do in the game.
Without further ado, here is my prediction for the Barcelona starting lineup against Real Madrid for the 2012 Spanish Super Cup.
Goalkeeper and Defense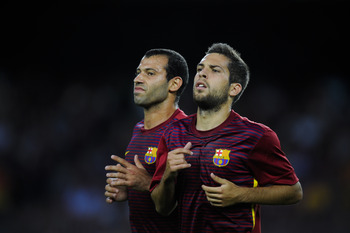 Masch and Alba
David Ramos/Getty Images
Goalkeeper: Victor Valdes
Is there any question Victor Valdes will be the starting goalkeeper for this game?
No.
RB: Dani Alves
Dani looked pretty good in the 5-1 victory against Real Sociedad. It is important that the Brazilian read the Real attack carefully, as Ronaldo, Benzema and the rest of the Real forwards will look to counterattack. Dani needs to resist going up on offense and play it a bit safe.
CB: Gerard Pique and Javier Mascherano
Gerard will be more than ready to play in the Supercopa, as he did not play a full game last Sunday. Pique played a bit under 40 minutes against Sociedad, so he has his game legs ready.
Unlike Shakira's boyfriend, Javier Mascherano did play the entire game against Real Sociedad. But with Carles Puyol lacking speed and still not being able to play a full game, as well as Marc Bartra still too inexperienced in playing big games, Tito's best option is to go to el jefecito to start.
LB: Jordi Alba
These are the games FC Barcelona got Jordi Alba for—to go out and be the difference-maker.
Alba played a good game against Sociedad and will be looking to challenge both the Real offense and defense with his dynamic game.
One matchup all fans are looking forward to watching is Jordi vs. Angel Di Maria. It's speed vs speed.
Like Dani Alves, Jordi Alba also must be careful when coming up to play offense. Alba needs to worry about the counterattack first before focusing on helping the offense. I'm not saying Jordi should not come up to help on offense in this game; I'm just saying Alba needs to be careful and not come too far up, or else Real could expose Barcelona with another counterattack.
Midfielders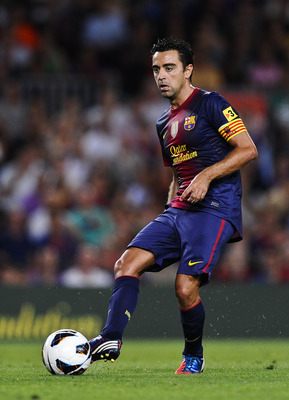 Xavi
David Ramos/Getty Images
CDM: Sergio Busquets
It's no surprise that Busi gets the start in this game. Busquets will not only have the responsibility that he usually has of being the backbone of the Barcelona midfield, but Sergio will also be called upon to help the defense on a regular basis. We all know what Benzema and Mesut Ozil can do on offense, and Busi will have to be the fifth defender and break up Madrid's plays.
RM: Xavi
The architect had a quiet game against Real Sociedad, but Barcelona cannot afford to see him have another quiet game against Real Madrid. Xavi needs to make his presence felt from the beginning.
One player Xavi must help facilitate with passes a bit more than others is Alexis Sanchez.
In last year's 2-1 loss to Real at the Camp Nou, as well as the 2-2 Copa Del Rey tie against Madrid, Xavi was outshined by Mesut Ozil as the better midfielder. Ozil is a tremendous player, but Xavi cannot allow that to happen again. Xavi needs to dictate the game and come out the better playmaking midfielder on the night.
LM: Andres Iniesta
All Culés held their collective breath in the final minutes of the Sociedad game, as Andres went down with an injury. Luckily for Barça, it was not a serious injury, and Iniesta should start in the Super Cup.
Andres did not play a full 90 minutes against Sociedad, so he is plenty rested to potentially play a full 90 minutes against Real Madrid. Look for Iniesta to team up with Jordi Alba on the left side of the pitch.
Don't be surprised to see Cesc Fabregas or even Thiago come into the game to replace Iniesta in the game, as Tito will want to rest Andres as well.
Forwards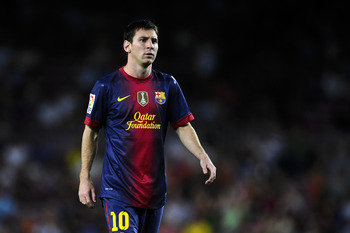 King Leo
David Ramos/Getty Images
LW: Cristian Tello
Tello had a fantastic game against Real Sociedad.
So why not start him again?
I say yes.
Barcelona cannot afford a tie, let alone a loss, in the first leg of this Super Cup since they are at home. They need to score goals, and plenty of them. For me, I believe Tello give Barcelona the best shot at creating more scoring opportunities than Pedro; thus, I'd pick Cristian over Pedro to start the game.
FYI: David Villa is very unlikely to start, as Tito wants to slowly bring Villa back into rhythm, not to mention Villa played in the Gamper Trophy game against Sampdoria.
RW: Alexis Sanchez
El niño maravilla did not play in last weekend's game. Alexis played a friendly with Chile a few days before; plus, I'm sure Tito Vilanova wanted him to rest up for his Super Cup.
Alexis needs to help Lionel Messi in the goal-scoring category. Tello will help create goal-scoring opportunities, but Tello is not a pure goal scorer. Sanchez needs to be aggressive in looking for goals against a Real Madrid defense that looks like will be without Pepe.
CF: Lionel Messi
Lionel Messi needs to have a big game, to say the least.
And by big game, I say at least two goals and an assist.
With the first leg being at the Camp Nou, Barcelona cannot afford a tie, and of course, a loss. This Real Madrid team is capable of scoring many goals, and Leo will need to bring out both the best out of him and out of his teammates.
Messi was criticized for his performance in last April's Clásico, as Crisitano Ronaldo outperformed him and got the game winner as CR7 and Real Madrid essentially won La Liga at the Camp Nou.
Don't get me wrong, this Spanish Super Cup is not all about Messi vs. Ronaldo.
But Lionel Messi is one of the most competitive athletes in the world. He's not as verbal or visual about it, but Leo wants to crush his opponents at all times—especially Real Madrid. Leo also knows he needs to perform better than Ronaldo at all times—not even in Clásicos (Pichichi, trophies, etc.).
Messi was outclassed by Ronaldo and Real Madrid in their last meeting.
It's now time for Messi to lead his FC Barcelona and return the favor.
Prediction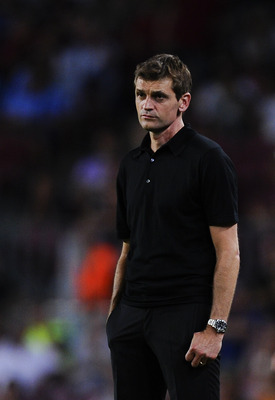 Tito
David Ramos/Getty Images
Pep Guardiola always managed Clásicos the same: slow, control the ball with the tiki-taka and set up the goal.
I see Tito Vilanova switching things up.
Look for Tito to order his men to be more aggressive in the opening minutes, as getting the early lead would change Jose Mourinho's game plan early.
And that's what Tito wants.
As mentioned, Dani Alves and Jordi Alba will have to be very cautious about coming up to play offense, as the Real counterattack is one of the best in the world.
As much as the Barça defense has to worry about Cristiano Ronaldo, the Real player Barcelona needs to be careful of is Karim Benzema. Iker Casillas will have great saves as well.
This game will not be as intense as the second leg will be next week. In the end, I see Xavi being the difference-maker in the game, as he will have a big game facilitating the ball to his teammates.
In the end, I see FC Barcelona pulling out the win at the Camp Nou with a 2-1 win.
El Clásico is back!
Will Tito get his revenge on Mou?
Will Messi redeem himself and lead his team past CR7 and Madrid in this first leg?
Act I of this two-act Spanish Super Cup is upon us.
Let the curtain rise and the drama begin.
Xoel, The Voice of FC Barcelona on Bleacher Report.
Don't forget to check out my other columns:
Barcelona vs. Real Sociedad: Grading the Barca Players in Their Liga Opener

FC Barcelona vs Real Sociedad: 6 Things Barca Fans Want to See at the Camp Nou
Keep Reading

FC Barcelona: Like this team?