NHL Free Agency: The 10 Biggest Bargains to Date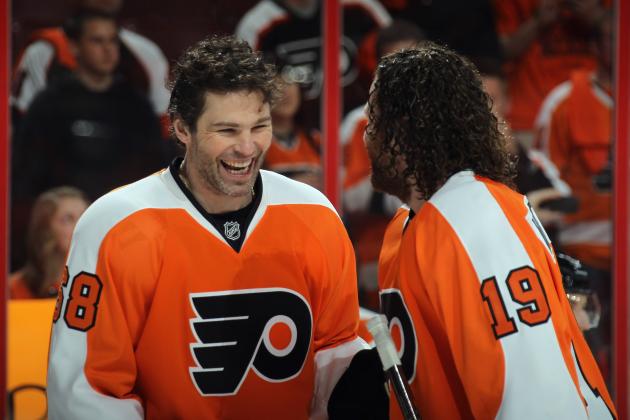 Bruce Bennett/Getty Images

NHL free agency has wound down, so we can start to look back on what happened.
While there were plenty of big-name signings, many teams opted to look in the bargain bin to fill out their roster.
Some big names were found for cheap, while plenty of lesser-known players will help teams make the playoffs.
Who were some of the best free agent bargains? Here's my list.
Begin Slideshow

»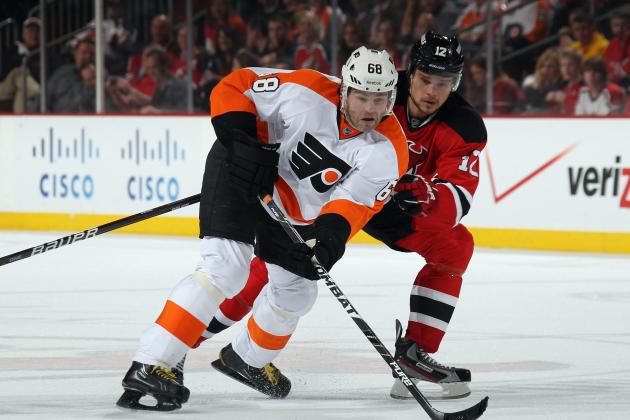 Bruce Bennett/Getty Images

Jaromir Jagr may be 40 years old, but he can still play.
Last year, playing for the Philadelphia Flyers, Jagr scored 19 goals and had 35 assists. He was lethal on the power play, with eight goals and 12 helpers.
The Dallas Stars saw his value and signed him to a one-year deal worth $4.55 million.
It's hard to get more than 50-point production for that cheap a price. But while the age is a bit of a concern, he still has enough left in the tank.
Jagr will team up nicely with Ray Whitney, Loui Eriksson and rising star Jamie Benn to create a ferocious power play in Big D.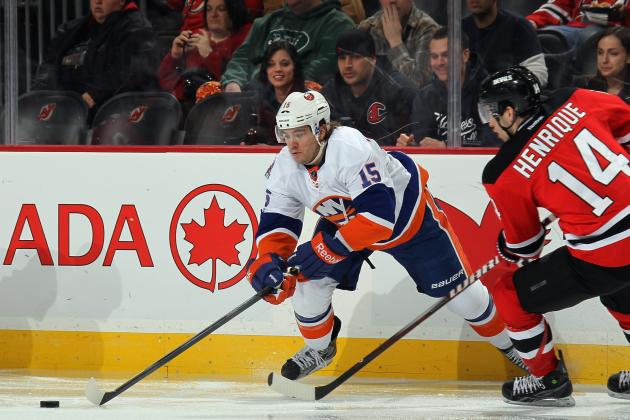 Bruce Bennett/Getty Images

P.A. Parenteau sure knows how to dish the puck.
Last season with the New York Islanders, Parenteau had 49 assists, including 13 power-play assists.
He'll take that to the Colorado Avalanche, where he signed a four-year, $16 million dollar deal.
Parenteau and John Tavares produced some pretty music last season, but will he be able to duplicate that with Matt Duchene?
Duchene, who is coming off a down year, should benefit from the excellent passing of Parenteau.
If anything, Parenteau is not just resigned to playing with a great player. He can make plays for himself too.
As Lighthouse Hockey notes, Parenteau was just as responsible for his success as Tavares was:
Parenteau was played on the second line from December 29, 2011, through February 4, 2012, for a total of 17 games. The move was made after a bad three-game losing streak that came just as the Isles seemed to be turning things around. During that period, he was lined up mainly with Nielsen and Grabner and, for a couple of games, with Brian Rolston. How did he do? He scored a total of 11 even-strength points: two goals and nine assists, which matches his per game even-strength productiveness over the course of the season.
For only $4 million per year, Colorado got a bargain. Parenteau can score, as evidenced by his 18 goals last year. He can play on the power play and help Duchene reach his potential.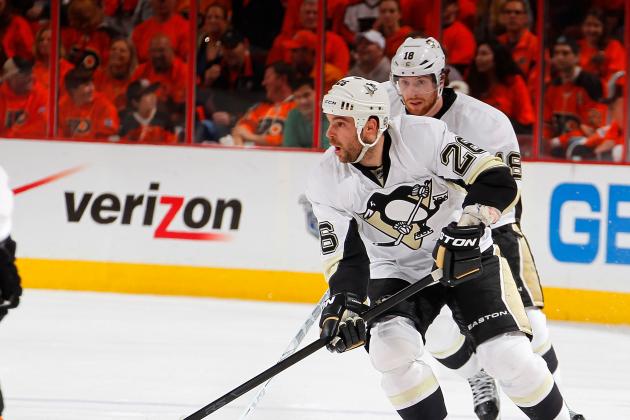 Paul Bereswill/Getty Images
Steve Sullivan
Phoenix lost Ray Whitney to Dallas, but it may have replaced him and for much a lot less money.
Steve Sullivan signed a one-year, $1.85 million deal with the Coyotes.
Playing with Pittsburgh last year, Sullivan had 17 goals and 31 assists. Five of those goals came on the power play. He also added 16 power-play helpers.
That's a lot of scoring for not a lot of dough. While Whitney did have a better year, Sullivan can still score and won't have his scoring opportunities taken away by the likes of Evgeni Malkin.
Phoenix had the 29th-ranked power play with Whitney, who had 20 power-play points. Still, Sullivan shouldn't be that much of a drop-off. If anything, he can help the Coyotes improve.
Sullivan is getting up there in age and has a history of injury. However, he played in 79 games last season and showed he can still produce.
It's a cheap signing, one that will pay dividends for the Coyotes.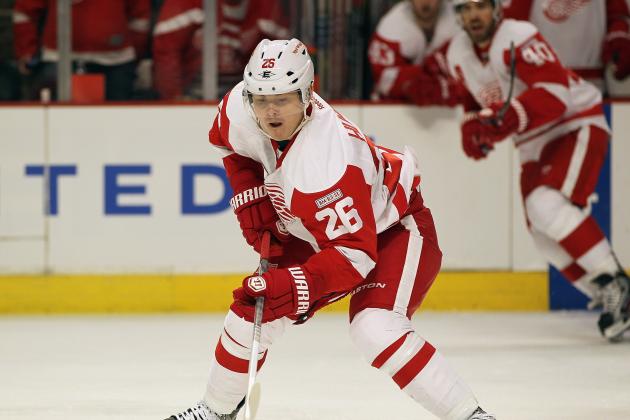 Jonathan Daniel/Getty Images

Jiri Hudler is one of the game's rising players and signed a relatively cheap free-agent deal.
Hudler signed a four-year, $16 million deal with the Calgary Flames.
Last season with the Red Wings, Hudler scored 25 goals and had 25 assists. Flames general manager Jay Feaster saide the team is excited to have him.
Jiri Hudler is a highly skilled and dynamic offensive player. He is one of the very best goal- scorers in the NHL at even strength, and he puts a very high percentage of his shots on net, generating scoring chances for himself and rebound opportunities for his teammates. He fits our need to upgrade and improve our skill.
At only 28, Hudler has a chance to shine playing with Jarome Iginla. Now that he's not playing with Pavel Datsyuk and Henrik Zetterberg, he should get more power-play time and should improve on his 10 power-play points a year ago.
A $4 million per year deal for a potential 60-70 point scorer is a pretty good bargain.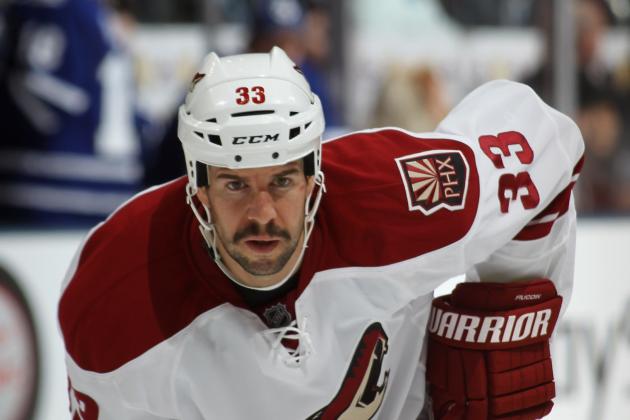 Bruce Bennett/Getty Images

Columbus had the 28th-ranked defense last season and desperately needs some upgrades.
Enter Adrian Aucoin.
While not a sexy name, Aucoin, signed for one year at $2 million, brings a steady, veteran presence to the back end.
Last season in Phoenix, Aucoin scored two goals and added seven assists. He brings plenty of leadership and has playoff experience.
He's not going to be a first-pair, shutdown defenseman, but he doesn't have to be. He's just fine for a second- or third-pair blueliner.
Now, with Jack Johnson, James Wisniewski, Fedor Tyutin and Nikita Nikitin, Aucoin should be part of a much improved Columbus back end.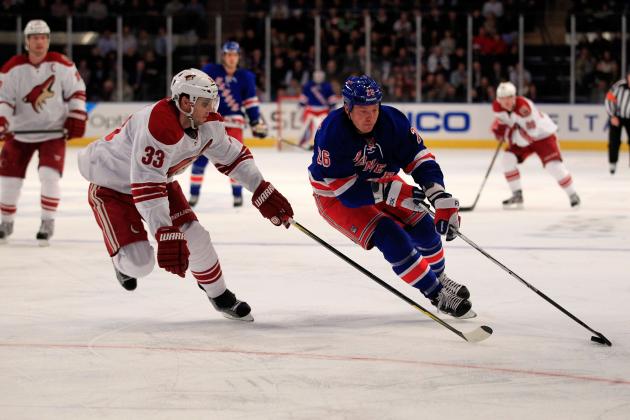 Chris Trotman/Getty Images

Ruslan Fedetenko was a huge part of the New York Rangers' run to the Eastern Conference Finals and will try to play a big role for the Philadelphia Flyers.
At one year, $1.75 million, Fedetenko is a cheap option for the third line.
For the Rangers last season, Fedetenko had nine goals and 11 assists. In the playoffs, he had two goals and five assists.
Fedetenko is an excellent penalty killer who will help improve the Flyers 17th-ranked penalty kill.
He's also a grinder who should add grit and toughness to help Philly in the postseason. He rises to the occasion when it matters most, as evidenced by his game-winning goal for the Tampa Bay Lightning in Game 7 of the 2004 Stanley Cup Finals.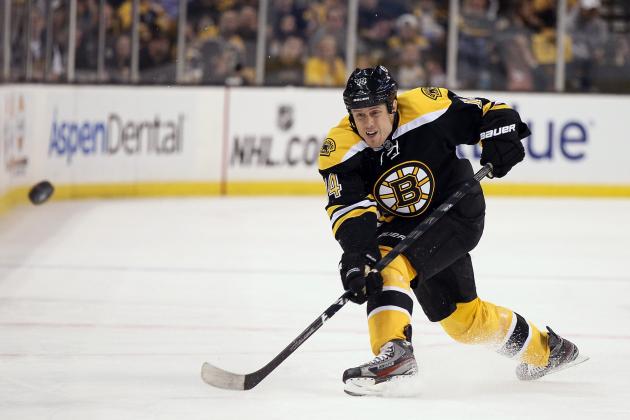 Elsa/Getty Images

Joe Corvo is a cheap option for the Carolina Hurricanes on the blue line.
Corvo, who signed with the Canes for one year at $2 million, had four goals and 21 assists. He also had eight power-play assists.
He provides offense from the blue line. Along with Jordan Staal and Alex Semin, he should help the Canes' 20th-ranked power play.
This is Corvo's third stint with the Hurricanes. In 2010-11, Corvo had 11 goals and 29 assists for Carolina.
Corvo isn't the best defensive option, but he's cheap and effective. He's a nice bargain.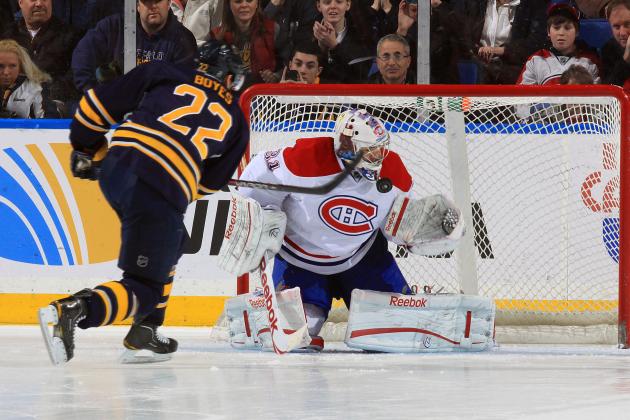 Dave Sandford/Getty Images

Brad Boyes is a bit of an enigma.
In 2008-2009, Boyes had 72 points.
Last season, however, he had only eight goals and 15 assists.
Boyes has been injured and still hasn't been the same player. The Islanders, who signed him for one year, $1 million, are hoping he can return to his pre-injury form.
If he can, and if he can stay healthy, the Islanders will have a huge bargain. He has so much skill, but just has not been able to show it.
Boyes might also find some chemistry with John Tavares, which could help the enigmatic winger rejuvenate his career.
It's a risk, but a cheap one. If it works out, the Islanders will have the biggest bargain on the market. If not, it was only $1 million.
He's a low-risk, high-reward signing for the Islanders.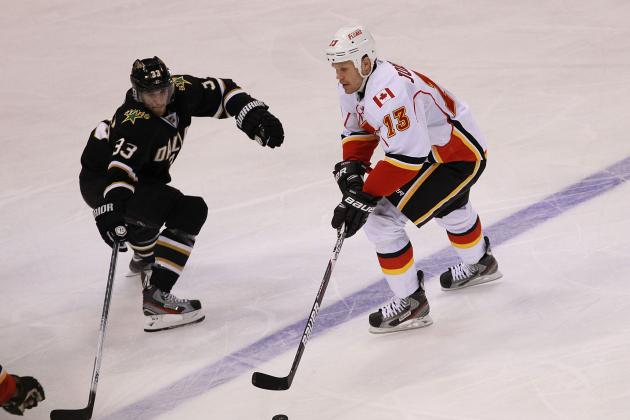 Ronald Martinez/Getty Images

Olli Jokinen quietly had a great season in Calgary. The Finnish forward scored 23 goals and had 38 assists.
Now he's signed a two-year, $9 million deal with Winnipeg.
With his nine goals and 15 assists on the power play last season, Jokinen should improve the Jets 12th- ranked power play.
Their power play will now feature Jokinen, Evander Kane, Nik Antropov, Andrew Ladd, Zach Bogosian and Dustin Byufglien, forming what could be one of the top units in the league.
In addition, Jokinen should fit nicely with Antropov and Kane on a first line.
Spending only $4.5 million per year for a potential 60-point scorer is a nice bargain and should pay dividends for the Jets.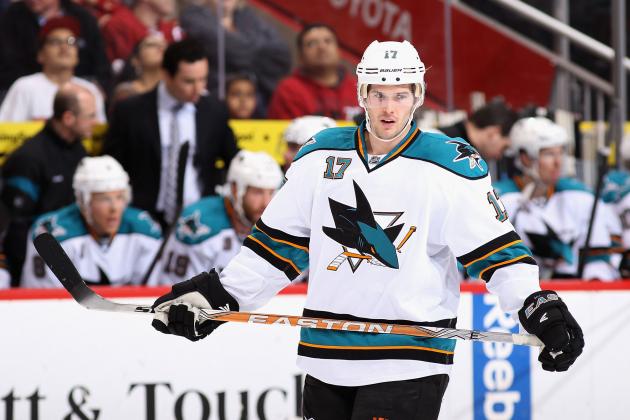 Christian Petersen/Getty Images

The Minnesota Wild signed Torrey Mitchell to a three-year, $5.7 million deal, or $1.9 million per year.
Mitchell is an excellent penalty killer who should help improve the Wild's 15th-ranked penalty kill. He's a great skater who can also score.
Last season with San Jose, he had nine goals and 10 assists. He has a career high of 10, which he reached in 2007-2008.
Mitchell provides toughness and grit to a developing Wild team.
In addition to the big signings for Ryan Suter and Zach Parise, a bargain signing like Mitchell keeps Minnesota heading in the right direction.