NHL 2012-13 Season: Top Goal Scorers of Next Year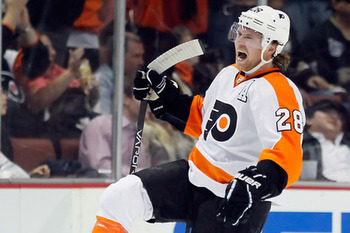 On August 7, 2011, I wrote my second article predicting the candidates for the Maurice "Rocket" Richard Trophy for top goal scorer of the 2011-12 season.
I was able to hit on three of the top five goal scorers from last season, correctly predicting Steven Stamkos, Alex Ovechkin and Marian Gaborik.
Sidney Crosby was essentially replaced with Evgeni Malkin and James Neal after having to sit out most of the season. Corey Perry showed he still had good stuff even on an underachieving team. Patrick Marleau might be running out of gas.
As we saw with last season, goal scoring is still at a premium, and the amount of players who rack up big-time numbers are dwindling off.
Stamkos was the only player in the league to score 60, similar with Malkin at his 50-goal mark. To make matters worse, only Neal and Gaborik were able to hit the 40-goal mark. However, there was plenty of close competition biting at their heels.
Time to take a look at who's going to score the most goals next season.
Toronto Maple Leafs' Phil Kessel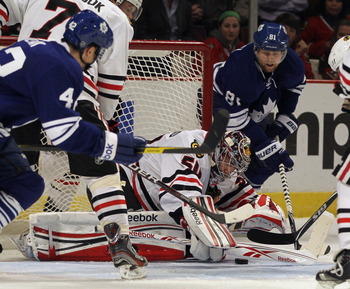 Jonathan Daniel/Getty Images
2011-12 Season Goal Total: 37
Kessel had a career year last season and scored 37 goals while playing all 82 games. On top of that, he became one of the few players in the league to finish with a point per game at 82 points total.
Kessel will be 25 next season and has scored 30 or more goals the past four seasons in a row.
With additional support, there's no reason that he can't eclipse the 40-goal mark.
The key with Kessel, as well as the entire Maple Leafs team, will be to play with the same intensity before and after the All-Star break.
2012-13 Season Projected Goal Total: 41
Pittsburgh Penguins' Evgeni Malkin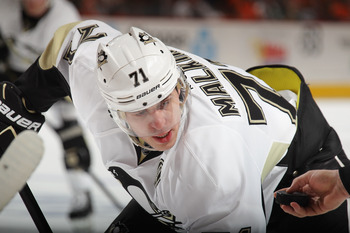 Bruce Bennett/Getty Images
2011-12 Season Goal Total: 50
The reigning MVP finished last season with 50 goals. As much as that total may be, it was still 10 behind Steven Stamkos.
Malkin always seems to elevate his regular season play when Sidney Crosby isn't around, so it will be interesting to see if the big Russian center is afforded the same opportunities as he was last season.
Despite Crosby's return, there's no logical way to rule Malkin out of the race for top goal scorer. At this point in his career, he's just plain better than everyone else.
Although it may sound strange, Malkin was the only player in the league last year to reach or surpass the 100-point mark.
2012-13 Season Projected Goal Total: 45
Philadelphia Flyers' Claude Giroux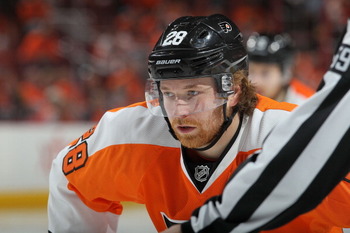 Jim McIsaac/Getty Images
2011-12 Season Goal Total: 28
One of the NHL's continually most improving players, future, if not current, superstar and cover boy of the NHL 13 video game: Claude Giroux.
If you know hockey, you know Claude Giroux. If you are a casual fan who just likes to check in during the playoffs or catch the Winter Classic, you know Claude Giroux.
Apart from Crosby, who had an injury-riddled season, Giroux's goal totals from last season might make it surprising to some that he's on this list.
2012-13 Season Projected Goal Total: 36
New York Rangers' Rick Nash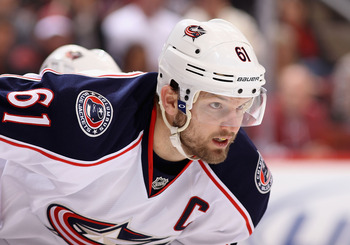 Christian Petersen/Getty Images
2011-12 Season Goal Total: 30
Surprise, another Atlantic Division player! Don't worry; there will be plenty more.
Rick Nash benefits from three things this season.
He has two legitimate centers to set him up in Brad Richards and Derek Stepan
With Marian Gaborik out for the beginning of the season, Nash will be looked at as the primary scoring threat, vastly increasing his scoring opportunities at the beginning of the season.
He is out of Columbus and doesn't have to carry the pressure of the captaincy around anymore.
Nash is going to have a huge year and enjoy a great improvement over recent seasons past.
2012-13 Season Projected Goal Total: 46
Tampa Bay Lightning's Steven Stamkos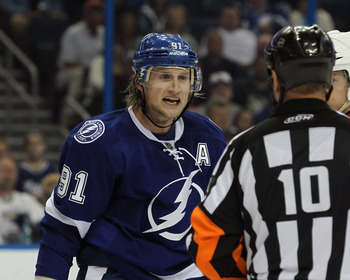 Bruce Bennett/Getty Images
2011-12 Season Goal Total: 60
The only post-lockout player besides Alexander Ovechkin to score 60 goals, Steven Stamkos had an MVP-caliber season on a very underachieving team who had previously just been to the Eastern Conference Finals.
Stamkos' season was far and away the most exciting story of the Southeast Division last year, and his 10-goal lead over MVP Evgeni Malkin was all the more special.
In doing this, Stamkos established himself as the premier goal scorer of the entire National Hockey League.
2012-13 Season Projected Goal Total: 58
New Jersey Devils' Ilya Kovalchuk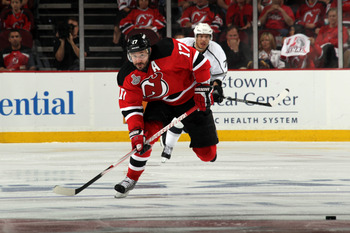 Bruce Bennett/Getty Images
2011-12 Season Goal Total: 37
This is a very Eastern Conference-heavy list; is it not? Maybe because Corey Perry was the only Western player to rank in the top 10 last year in goals, but let's go on.
With Zach Parise gone, Kovalchuk finds himself in the same position Marian Gaborik was in a year ago.
Kovalchuk is now the goal scorer for New Jersey. No more Parise means a lot less secondary scoring, and the Devils will need big contributions from centers Adam Henrique and Travis Zajac to try to keep pace with what they did last season.
Kovy was a one-dimensional player in Atlanta, where all he was expected to do was score goals. Now a relatively good two-way forward while still retaining his deadly sniping skills, Kovalchuk has become the unquestioned go-to guy in New Jersey.
2012-13 Season Projected Goal Total: 45
Pittsburgh Penguins' Sidney Crosby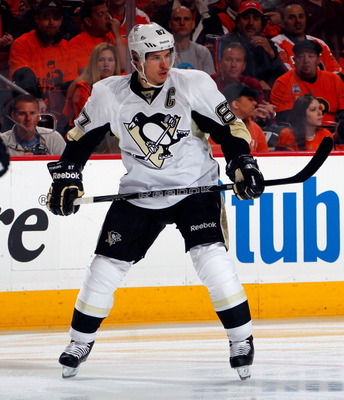 Paul Bereswill/Getty Images
2011-12 Season Goal Total: 8 (Missed 60 Games)
Last time he played a full season, he won the Rocket Richard.
Sidney Crosby looks to be completely back after dealing with concussion issues and various injuries for the past two seasons.
With Evgeni Malkin and James Neal on the same team, the likelihood of all three of these guys getting over 40 goals just isn't that great. But knowing Crosby and seeing what he brings to every game he plays, he will almost assuredly be at the top of any scoring list by season's end.
2012-13 Season Projected Goal Total: 48
Washington Capitals' Alex Ovechkin
Rob Carr/Getty Images
2011-12 Season Goal Total: 38
Ovechkin is probably the only player in the league whom fans will scoff at amassing 38 goals.
Believe it or not, there was a rather lengthy portion of the season where Washington's ultra-fast grinder Jason Chimera was the team's goal scoring leader.
Call it lack of drive or lack of effort, but Ovechkin did not turn it on until very late into the season, where the Capitals found themselves duking it out with the Ottawa Senators to try to sneak into the playoff bubble.
Without Alexander Semin, the bulk of the scoring needs to be done by Ovechkin, but unlike his counterparts in this slideshow, Ovechkin has regressed vastly over the past two seasons.
However, since it is the Great 8, we're going to have to give him the benefit of the doubt for at least one more season.
2012-13 Season Projected Goal Total: 44
Keep Reading