NHL Free Agency 2012: Rumors, Speculation and Trades on Day 1 of Free Agency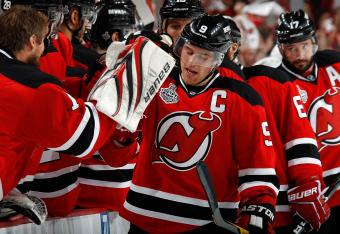 Bruce Bennett/Getty Images
NHL free agency opens at noon today. Many of the league's biggest names are set to become available and will begin to take offers from numerous suitors.
Zach Parise, Ryan Suter and Alexander Semin are only three of the biggest names up for bidding, and many franchises have planned their spending around taking a run at a one of the pending marquee free agents.
Stay tuned here for updates, analysis and running commentary on the events that unfold during the first day of the NHL's unrestricted free-agency market.
It looks like most of the action for day one has come to a close and while none of the top tier names moved today, there was still enough movement to keep things interesting.
Be sure to keep your eye on Bleacher Report NHL for further developments as they happen.
Christian Petersen/Getty Images
It looks like a lot of the defensive signings are not going to occur until tomorrow as TSN's Bob McKenzie is reporting that a lot of the bigger names are waiting on the Ryan Suter shoe to drop.
It looks like Suter is going to set the market for all the second tier free agent defensemen this year.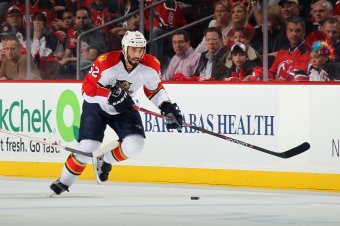 Bruce Bennett/Getty Images
Jason Garrison picked a good year to have the best season of his career. The 27 year old defensemen put up 33 points last season for the Florida Panthers, scoring 16 goals and adding 17 assists and for his efforts he was handsomely rewarded by the Vancouver Canucks.
The Canucks have inked Garrison to a six year deal worth a total of $27.6 million.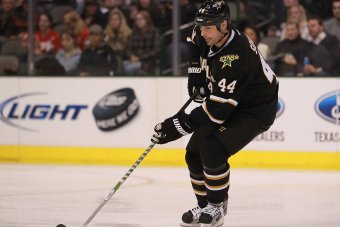 Ronald Martinez/Getty Images
The Anaheim Ducks have added some veteran presence to their bueline by picking up Sheldon Souray. Souray broke into the NHL with the New Jersey Devils during the 1998 season. Since then he has played in 714 NHL games, most recently playing with the Dallas Stars.
Souray's deal with te Ducks is for three years and $11 million.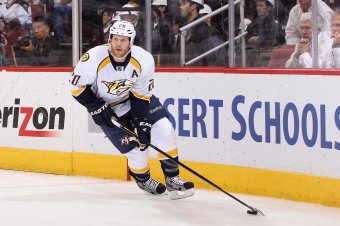 Christian Petersen/Getty Images
According to Nick Kypreos of Sportsnet.ca:
Starting to hear Suter has picked #Redwings as his destination. More to come.....
Wow. Talk about a nice consolation prize for Wings fans after the retirement of the team's longtime captain. If Suter signs with the Wings, they immediately become a favorite for the 2013 Stanley Cup.
Does the lack of news on Semin mean he's going to the KHL? If so, who is going to replace Semin on the Caps' second line?
Tampa Bay picked up another solid Scandinavian defenseman in Sami Salo, who will bring his cannon of a shot to a potent Lightning power play unit. St. Louis now has the option to set Salo up for one-timers, or find reigning Rocket Richard winner Stamkos on the back door...could be a deadly combination.
It appears as though Parise and Suter will be waiting until tomorrow to make their decisions...meaning another hard day of work for Darren Dreger and Bob McKenzie.
Samuelsson could be a nice replacement for Detroit on the power play. He demonstrated a knack for scoring big goals from the point during his time with the Panthers. A two-year $6 million deal for an aging, inconsistent scorer is a pretty expensive complimentary piece, though.
Tootoo to Detroit. This is a good complimentary signing by the Wings, as Tootoo brings the rough-and-tough style that the Wings seemed to lack in the postseason, and maybe Mike Babcock can help him keep from crossing the line on the ice.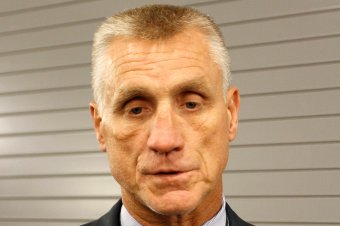 Justin K. Aller/Getty Images
According to TSN's Darren Dreger:
Flyers submitted big bids on both Parise and Suter. For the moment, Philly appears to be out on Nash. Things can change quickly.
Wow. The Flyers going for both Parise and Suter? Is Holmgren going for another makeover? If Parise didn't want to sign in New York, why would he sign in Philadelphia? All these questions should be answered soon.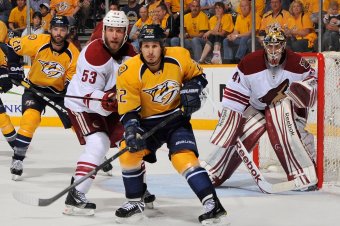 Frederick Breedon/Getty Images
The Detroit Red Wings have been active as of late, adding Jordan Tootoo and Mikael Samuelsson to their roster. The team has signed the two wingers to multiple year deals with Tootoo getting $5.7 million over three years and Samuelsson getting $6 million over two years.
One gets the feeling that the Red Wings are not done yet as they have yet to add that one huge piece that everyone expects to come.
Jay McClement signing in Toronto is a good move by the Leafs...but they haven't exactly made the splash that Brian Burke's become known for. Is that because he can't lure a high-end free agent, or does he have something in the works?
The Winnipeg Jets' signing of Ponikarovsky shows the the team's brain trust recognizes that losing Kyle Wellwood created a need for a secondary scorer. Unfortunately, this isn't the Poni who put up 60 points with the Leafs...so the Jets will still struggle to score.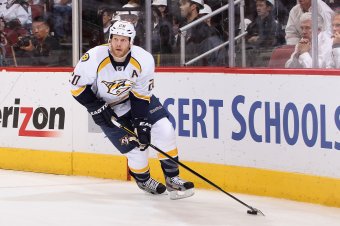 Christian Petersen/Getty Images
If you are expecting any news today on the big two of Ryan Suter or Zach Parise, it doesn't look like anything will be happening until at least Monday for Suter as Nick Kypreos reports.
He also is saying that when the two do sign they will ink deals worth in excess of $90 million with a term of 12-13 years. With that type of investment it would seem unlikely that one team would be able or willing to pursue both players, but crazier things have happened.
One of the more interesting storylines of today is the future of Jagr. The teams bidding for the services of an aging, yet still sometimes brilliant superstar should realize that he's nothing more than a quick-fix, and there's a relatively good chance that he isn't capable of breaking the 60-point barrier again. That being said, he's one of the best offensive players the game's ever seen, and he could be a valuable veteran secondary scorer on a good team.
Adrian Aucoin to Columbus...wow Scott Howson is actually making a run at keeping his job. If the acquisitions of Foligno, Bobrovsky and Aucoin pay off more handsomely than last summer's big ticket pick-ups Jeff Carter and James Wisniewski, maybe the Jackets can convince Nash to stay. On second thought, maybe not.
Four years and $16 million is a lot, but Parenteau is a good fit for the Avs. Surprised that the Isles didn't try to match an offer like that though...even if he's worth closer to $3 million a year.
Word is that Parenteau's going to Colorado. I had thought that Parenteau was one of the most over-hyped (and potentially soon-to-be overpaid) names on the market, but I really like him with the Avalanche. Depending on the cap hit, this could be a great signing for Greg Sherman. Parenteau's numbers were definitely inflated by playing with Tavares, but he's a surefire 40-point guy on a team that could really use a good secondary scorer.
So Florida re-signed Clemmensen earlier today, which doesn't add up if the team plans on bringing up Markstrom, their goalie of the future, up in 2012-13. He played reasonably well during his call-ups last season, so it'd make sense to give the kid a chance, right? It just doesn't look like he'll get that opportunity if the 'Cats are keeping both Clemmensen and Theodore in the fold.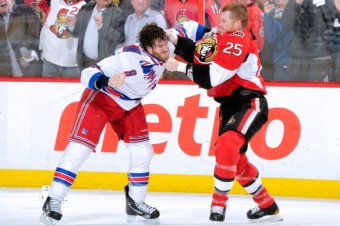 Richard Wolowicz/Getty Images
Prust to Montreal, which is a great move by the Canadiens. They obviously felt they weren't a tough enough team to play against, so the newly minted management team went out and re-signed Travis Moen, then got Armstrong and Prust. If their goal was to get grittier, they certainly accomplished that.
The Senators' moves thus far have been...interesting. Moving a young, up-and-coming forward like Foligno for Methot doesn't make a whole lot of sense to me. I though Foligno was on the verge of breaking out, but maybe that's why they signed Latendresse.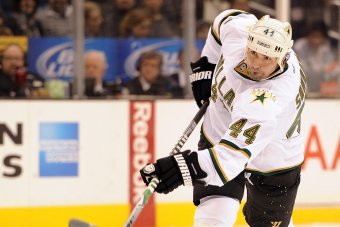 Harry How/Getty Images
Once again, according to Eklund, Souray is leaving the Stars, and cashing in on his bounce-back season by signing with the Ducks. The Ducks definitely could use his bomb from the point, not to mention a mentor for Cam Fowler.
It will be interesting to see if Suter and Parise make like Bosh, LeBron and Wade, and discuss their potential landing spots, or even coordinate their efforts to sign with the same team.
Pierre LeBrun of ESPN:
am told Penner has re-signed in LA... one year, north of $3 M.
That's a good deal for Penner, and though it may be a bit high for a guy who didn't crack 20 points during the regular season, he proved his worth during the Playoffs. Not to mention the fact that he made both Carter and Richards look more like the stars they were in Philadelphia when he lined up next to them during the postseason. Two Stanley Cup rings and a handful of big goals will net a guy $3 million a year.
This article is
What is the duplicate article?
Why is this article offensive?
Where is this article plagiarized from?
Why is this article poorly edited?