Wimbledon 2012: Rafael Nadal vs. Novak Djokovic on Grass Is Best Rivalry Test
June 20, 2012

Clive Brunskill/Getty Images
Wimbledon 2012 is new age tennis featuring superstars Novak Djokovic and Rafael Nadal. So while traditionalists may wax nostalgic over white tennis balls, wooden rackets and paper Gatorade cups it will have to remain grainy VHS memories.
Yesteryear's tennis style was as radically different as disco music, and its tennis techniques as obsolete as the 8-track.
Make way for Rafa vs. Novak in a superpower arms race for tennis supremacy, featuring power tennis as a surround sound of technical skill and energy worthy of IMAX exposure and fresh, buttered popcorn.
This is the new Wimbledon, and it promises to test the greatness of tennis's hottest rivalry.
Baseliners Killed the Serve and Volley Star
Bigger, quicker and more powerful. It's easy to forget that Nadal and Djokovic stand at 6'1" and 6' 2" respectively, and wield high-tech weapons of lighter frames and super strings. Large athletes like Jo-Wilfried Tsonga combine cat-like grace with powerful baseline strokes. It is much more difficult to rely so heavily on a powerful serve. No baseline game, no chance.
Grass courts are now slower at Wimbledon, but the pace of shots is faster, more electric and astonishing. It would be like allowing an early 80s kid to watch MTV on HD.
Nadal vs. Djokovic is a massive evolution of Lleyton Hewitt vs. David Nalbandian in their 2002 Wimbledon baseline match in which neither player would serve-and-volley.
They have boldly taken hard court reflexes, clay-court strategy and grass-court quickness to a form of defensive-offensive tennis never before seen.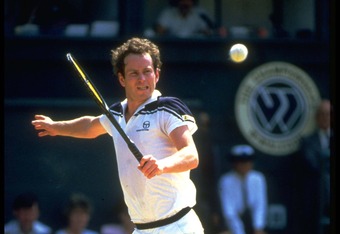 Steve Powell/Getty Images
The serve-and-volley grace and touch represented by John McEnroe and Stefan Edberg has as much relevancy as "Every Breath You Take" by The Police. It's great theater of memory but no longer able to top the charts.
Boris Becker and Pete Sampras ushered in the 90s Wimbledon necessity of power serving and cover the net. Still, its grunge-like aggression would be hard-pressed to break today's top rivalry. Even Pearl Jam has evolved into something else, long since their days when they were all the rage.
Nadal and Djokovic are a style best described as baseline crush with an occasional volley finish. They force the action with at least as much aggression as rivalries long past. Welcome to digital tennis.
I Want My ATP
The Wimbledon 2011 final was dire straits for Nadal. Djokovic had already acquired the No. 1 ranking and was at the peak of his powers.
The games were quick and the first three sets were over in less than two hours.
Djokovic won the first two sets with blistering groundstrokes and an awesome serving performance. He never faced a break point until the third set, and after this momentary lapse of concentration was able to close out the fourth set.
Nadal turned the tables during that third set and showed his own tremendous game on grass, using some of his clay-court positioning and successfully hitting his forehand up the line.
Grass is the best surface to test their rivalry. It's the most neutral compromise to their skills and a great barometer to see who will be the superior player in early July.
Julian Finney/Getty Images
Nadal will not have high-bouncing red clay and the comforts of his incessant attack to torture his opponents. However, his footwork can still slide on the soft grass and he has shown better results than on the harder surfaces at the U.S. Open and Australian Open.
Djokovic 's game has dominated the Australian Open plexicushion, and he seems capable of stringing together multiple U.S. Open titles. However, grass's less predictable and lower bounce requires subtle adjustments for footwork for each match. Djokovic is a rhythm player and variances will test him more.
Who will adapt better? Players do not have as much time to practice and prepare on grass.  It's the perfect venue that gives and takes away from both players.
It won't be a title for nothing and matches for free.
Smells Like Tennis Spirit
Djokovic and Nadal have raised the bar on tennis desire and heart. Their Aussie Open classic was a seminal statement in sheer will to win a Grand Slam title. If one player is not completely committed physically, emotionally or mentally he will have a hard time fending off challengers, let alone his chief rival.
Their rivalry has brought passion to its apex. How can fanbases not appreciate the energy and soul it has shown and promises to display on Centre Court?
Whatever generational perspectives or lamentations about today's Wimbledon tennis style, nobody can question the intensity and vigor that have always defined the greats from Connors to Djokovic. There's plenty of room on YouTube for old Led Zeppelin concerts and Jack White's new single, "Love Interruption."  Either way the intensity is transcendent.
Empire State of Tennis Mind
All eyes will be watching Wimbledon. It's the centerpiece to tradition and the tennis showcase to the rest of the sports world. It's the venue where white-clothed legends are immortalized and grass-stained moments are forever remembered (even without Rolex commercials).
Will Nadal get a third Wimbledon title and join the ranks of McEnroe and Becker? Will he get his third dose of the French Open-Wimbledon double?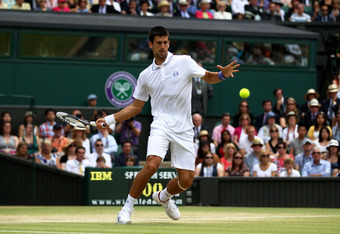 Clive Brunskill/Getty Images
It would also be Nadal's springboard for control of the rivalry and possibly taking the No. 1 ranking into the hard courts season with a chance to stamp his dominance on more titles.
Djokovic is looking to be the first tennis player not named Federer or Sampras to win back-to-back Wimbledon titles since 18-year old Boris Becker in 1986. Djokovic was not even born at that time, and so missed out on diving volleys, audio cassette tapes and green-screened Apple computers.
Djokovic can affirm his grip on the No. 1 ranking and repeat with another three Slam titles this calendar year. It's his empire to keep or lose.
Wimbledon's rivalries and methods for success have been dynamic on its living, breathing grass surface. Things change quickly and tennis reminds us that record albums may be cool collector's items, but digital downloads are the new reality.
Anyone up for a game of online Pac-Man?
CLICK HERE to read about Rafa vs Borg at Wimbledon
CLICK HERE to examine Federer's change in looking for 7th Wimbledon title