Wimbledon 2012: Roger Federer Brings Swiss Pride and Style to 7th Title Quest
June 19, 2012

Michael Regan/Getty Images
Roger Federer, fresh off his grass-court tune-up at the Gerry Weber Open in Halle, is hoping for one more great run to win Wimbledon.
It will take more than defeating the likes of Novak Djokovic, Rafael Nadal, Andy Murray and other big hitters. He must compete against the ghost of his younger years.
He is watched and protected by the most prolific fanbase tennis has ever produced. It is his Swiss Guard, defending his legacy and escorting him to Wimbledon's idyllic lawns where his fans hope he will be crowned one more time.
Federer has become more than a great champion to his fans. He is an ideal of tennis style and cultural mystique, a towering beauty of coolness like his homeland Alps.
But understanding Federer's chances to win in 2012 requires a look at his storied past. How did his former domination create unique expectations for 2012? What will actually propel him to victory?
Swiss Power to Vanquish the Dark Ages
Fans want athletes to dominate. It's the first reason they are loved. If they do not win titles, they will not attract followers. Love for an athlete is shaped around the memories of his collective successes.
The more championships Federer won, the more beloved he became. His dynasty produced a collective treasure of masterpieces that increased with interest as it were an investment protected in top-notch Swiss bank security. Federer fans can name every iota of his triumphs and painfully recall his setbacks.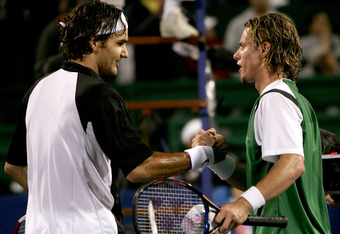 Clive Brunskill/Getty Images
When Federer officially began his reign with the 2003 Wimbledon title, few tennis fans realized he was about to obliterate the instability of the post-Sampras years. Men's tennis was a condition of warring factions and unimpressive parity.
Federer crushed the likes of Lleyton Hewitt, Marat Safin, Andy Roddick and an aging Andre Agassi. Fans marveled at his exploits and cheered for him to dominate the field. There was a sense of amazement at how thoroughly he lapped the field, and he became tennis's newest hero.
Rich Chocolate Flavor to Satisfy a More Enlightened World
Federer's Wimbledon success was quickly augmented with a similar run at the U.S. Open and, to a lesser degree, at the Australian Open.
By mid-decade, his legend was recited with accounts of beautiful grace and powerful form. He had become an original blend of savory skills, bold but light and ever so exquisite like world-famous Swiss chocolates and truffles.
The rest of the now-vanquished ATP quickly looked at the Federer blueprint. Younger players emerged, many hoping to replicate pieces of Federer's skills, but this proved impossible. Andy Murray may be the closest facsimile in terms of all-around strokes and creativity, but without the finishing touches.
Instead, it was Rafael Nadal and, later, Novak Djokovic who dealt with Federer's dominance through defensive tenacity, conditioning and fighting spirit. Their youthfulness increasingly became an asset, while Time weathered slowly at Federer's prime.
Tennis has evolved greatly to its present-day Golden Age, largely due to Federer's vision and dominance.
Why Tennis Fans Must Read The Bourne Identity
What's so interesting about 2012 Federer is that he has changed the reality of what many fans perceive. The truth is he is no longer the same player he once was, but that doesn't stop many fans from seeing him as his former self. It's an impossible act to follow, even for Federer.
Instead, Federer has formed a new identity, much like the fictional hero Jason Bourne who had to rediscover how to use his talents for new purposes. Bourne needed savvy, wit and quick action to survive. He was chased through Switzerland, and Western Europe, but improvised for life-saving victories.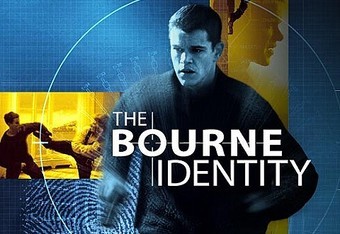 Federer is not as explosive as he used to be, but he is wiser. His work ethic has produced an improved backhand and better variety of finesse shots. He is still one of the elite players favored to win Grand Slam titles.
He has a great chance to win Wimbledon, but he will not do so by turning back the clock. That Federer does not exist in 2012, even if his graceful form and pride remind us of who he once was.
Swiss Art Looks to Dada
Centuries ago, Switzerland remained separate from the Italian and French Renaissance by nurturing their own styles of art. Eventually Swiss art culminated with peaceful expression  through Dadaism in World War I, which was a forerunner to many postmodern attitudes and sensibilities.
Likewise, Federer has honed his game as an artist, not as hard-ridden warrior. He cannot defeat his adversaries in their warlike manners, but he can paint victory with an artist's touch. He must not simply reproduce yesteryear's already immortalized masterpieces, but must brush new strokes onto the canvas.
For Federer to triumph at Wimbledon one more time, he must use risk and boldness. He must mix up his wonderful skills to combat the baseline power and strength of his younger adversaries. He cannot trade shots from beyond the court as a clay-court semifinalist. He must trust his present-day abilities.
This doesn't mean Federer will suddenly serve and volley as if he were Pete Sampras, but he does need to find ways to move his rivals around sideways, into the net and off the court. It will require the total package of his wisdom, action and execution.
He has enough greatness and game for a seventh masterpiece at Wimbledon, but will he triumph and hold up the golden trophy one more time?
He is regal, proud and Swiss with time-honored style and grace, but this is no time to be neutral.
CLICK HERE for more on the evolution to Roger Federer's game