2012 French Open: Roger Federer and Rafael Nadal Have Evolved Since 2006 Final
June 1, 2012

Clive Brunskill/Getty Images
Roger Federer and Rafael Nadal now share the French Open 2012 spotlight with No. 1 ranked Novak Djokovic, but otherwise it might seem to the tennis world that little else has changed in six years.
Since that hot morning on June 11, 2006 when the two superstars were preparing to tip off for their first clash in a Grand Slam final, they have gone on to win nine Grand Slam titles each, and to claim their respective rights as two of the greatest to ever play the game.
It's also an important match in showing how both players have changed tennis and helped it evolve. Brilliant skills and super-intensity are now required to win Grand Slam titles.
Time may have aged their bodies, but is it possible Federer and Nadal have become better players?
Like Beatlemania

At the coin toss, Nadal bounced around like a boxer, blue shirt with cut-off sleeves, white Capri pants, white Nike headband and long curly locks. His face was notably thinner, but it was the same swagger and hungry eyes.
He was barely 20-years-old, but had already defeated Federer in the 2005 French Open semifinal en route to his first title. The next year had seen him roar into the No. 2 ranking and become the one player who could legitimately push around the mighty Federer.
He was fresh off a five-set thriller in Rome, and all tennis fans knew him as the obstacle to Federer's runaway records express.
Federer stood at the net, blue shirt, black shorts and white Nike headband, regal and waiting. Grace and aura will forever be his claim and nobody his equal.
Federer, at age 24, was at the peak of his powers, looking to claim his fourth straight Major and hold all four pieces to the Grand Slam.
As he warmed up with Nadal, NBC commentator John McEnroe went out of his way to repeatedly declare Federer the greatest player of all time "if he wins this match."
When I'm 24

The first set went according to plan for Federer as he cruised 6-1. He hit solid forehands and came to the net on occasions, but still made more unforced errors than winners. Fortunately, Nadal was wounded and confused, spraying shots outside the lines and staggering a step behind.  
The troubling part for Federer was that midway through the second set, he had 18 backhand errors and only one winner. Midway through the fourth set the numbers were 30 and four. It was a clumsy struggle, like trying to drink coffee with a fork.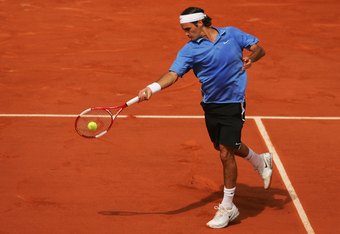 Matthew Stockman/Getty Images
Though Federer is now 30-years-old and his legs slower, his backhand is a great deal improved. He now hits with more depth and power. He mixes in slice shots more confidently and effectively, and understands his opponents better.
As the 2006 match began to sour, Federer played further behind the baseline. Nadal basically lobbed in second serves to Federer's backhand, but Federer stood deep and waited for the rising topspin. McEnroe all but screamed for Federer to attack and pick up the ball early.
Federer 2012 is better at choosing his attack moments. He is smarter, trusts his backhand, and has an attuned sense of when to seize control and when to stay patient.
As Federer broke back one last time late in the fourth set, he played a couple of excellent defensive points and forced Nadal into a miss with a dropshot. It was astonishing he hadn't used the dropshot much at all the entire match.
Though Federer's physical dominance peaked in 2006, his variety is better in 2012. He is more seasoned and skilled in a deeper, tougher ATP. Today's 30-year-old Federer could be warped back to 2006 and give young Nadal a much closer match, if not turn the result around.
I Am the Walrus

The most impressive thing about Nadal's slow start in the 2006 final was that he did not panic. He was struggling but his confidence was still strong. He dug in harder and trusted his game to find the rhythm of his strokes. There was no single breakthrough, but suddenly he was retrieving tough balls, muscling shots and defending his ground like a skilled matador.
Nadal used his backhand to attack more frequently in 2006. He used it more offensively and kept Federer at bay with more creative angles. He didn't run around his backhand quite as often, so was more balanced.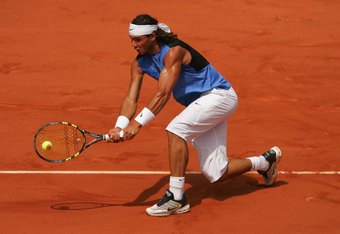 Matthew Stockman/Getty Images
But now, Nadal chooses not to use his backhand as often, and so when he does it is more from a defensive posture.
In 2012, he has learned to be more offensive with his big forehand, especially with an improved in-and-out forehand. He hits more flat winners when he chooses, and his serve has greatly improved with more bite and variety of placement.
Though Nadal was firmly in control of the 2006 match in the third set, he botched some easy vollies, and took some light scoffing from the tennis commentators who pointed out repeatedly that Nadal at the net was like a fish out of water.
Nadal is much better now with his touch at net. He can finish off his great set-up shots when needed. He can also hit his backhand up the line for a winner, something he hardly attempted in 2006.
Nadal was also a much safer hitter in 2006, with several more of his balls bouncing on the service lines during rallies. He hit shorter more often, which wasn't exploited much by Federer then, but would be exploited now by top ten players.
Nadal now hits much harder and with greater spin, some of this owing to Babolat's new polyester string technology. Some like Mary Carillo,via USAToday.com, said it won the 2010 French Open for Nadal
But the new strings have also benefited players like Novak Djokovic and Tomas Berdych who are capable of overpowering Nadal. It is more important for him to hit with greater depth and to mix in more slice and flat forehands, like he did at Rome two weeks ago. He must be smarter and better prepared, rather than rely on instinct.
While 2006 Nadal had more speed in retrieving tough balls he was a more defensive player. Nadal has to be more offensive-minded before his opponents seize control. This can often place him out of ideal defensive positions, but it's a necessary trade-off in 2012.
One other interesting commentator note during the 2006 match was McEnroe's doubt that Nadal could win Wimbledon. "It's not going to be easy," he warned. "It's easier for Roger to win here (at Roland Garros)."
Carillo countered that Nadal had the makings and potential to win on grass.
You Tell Me that it's Evolution
Players are getting better at putting away short balls. There are also more top fifty competitors who can play 20-shot rallies and test the top players. Federer and Nadal of 2006 were breaking new ground, creating higher standards and more visions for creative and winning tennis.
Novak Djokovic has evolved greatly with this school of thought to bring his game to another level. This in turn has forced Federer and Nadal to continually evolve.
Players take more time between shots to gather themselves. They place a premium on strategy, and have gained a greater sense of determination to break through the oligarchy at the top. So far, few have had success, and only Juan Martin del Potro has claimed a Grand Slam title outside of the big three.
Tennis requires more mental toughness and strength than in 2006. The most amazing part of all is that the players who have improved on this the most are filling the top three spots in the rankings.
The 2006 French Open final was the first of its kind, but changed the game forever. Tennis continues to get better.
CLICK HERE for Roger Federer's 8 Keys to Winning the French Open
CLICK HERE for Rafael Nadal vs. Pete Sampras and their dominance