Martin Brodeur and the Top 5 NHL Unrestricted Free Agents over the Age of 35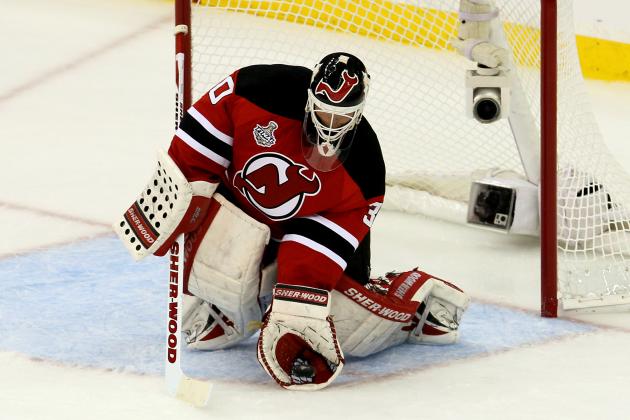 Jim McIsaac/Getty Images

With the NHL free agency signings only a month away, several players will be looking for new contracts.
According to quanthockey.com, the Colorado Avalanche had the youngest team during the 2011-12 season posting an average player age of 26.067.
Although teams are always trying to load up with youth to prepare for the future, there are still some seasoned veterans who can make a difference on the ice.
There aren't exactly any Gordie Howes out there. Howe played 80 games for the Hartford Whalers in 1979 when he was 51 years old.
However, there are some solid veterans who still have the passion to play hockey at the highest level.
Begin Slideshow

»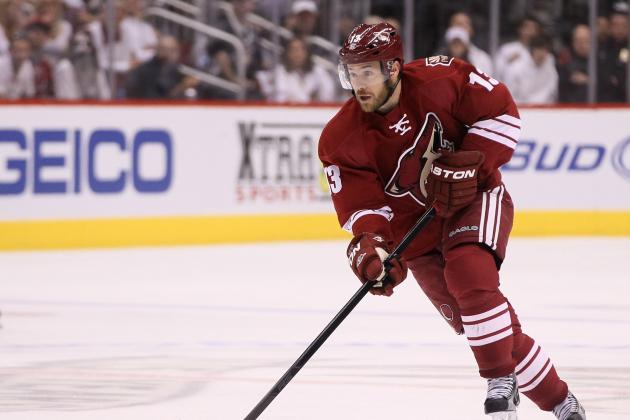 Jeff Gross/Getty Images

Age: 40
Ray Whitney had one of his best seasons during the 2011-12 campaign, scoring 24 goals and racking up 77 total points.
Whitney was a solid player for the Coyotes as they enjoyed their best season in franchise history. Phoenix won the Pacific Division for the first time and lost in the Western Conference Finals to the Los Angeles Kings.
Whitney finished the postseason with seven points and netted the game winner against Nashville in Game 1 of the Western Conference Semis.
In 2011-12, Whitney played in all 82 games for only the second time in his 17-year career and led the team in points, finishing with 15 more than second place Radim Vrbata.
Whitney's nine years of playoff experience, including his Stanley Cup-winning season in 2005-06 with the Carolina Hurricanes makes him an admirable addition to any team in pursuit of a veteran winger.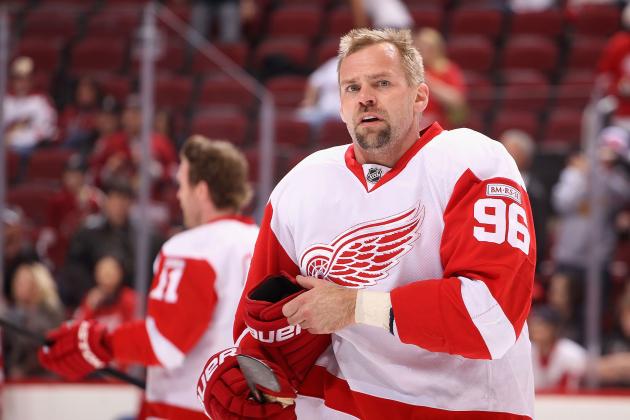 Christian Petersen/Getty Images

Age: 39
The life-long Red Wing is coming off one of the most disappointing seasons in his NHL career.
Holmstrom only managed 11 goals during the 2011-12 season, his lowest total in 10 years.
The Swedish-native won the Gold Medal for his home country during the 2006 Winter Olympics and followed up the next NHL season with 59 points in 81 games.
Since then his productivity has gone down, but he is still a valuable free agent for any team looking for a sturdy left winger.
Playing in Detroit his entire NHL career has done nothing but benefit him when it comes to playoff experience. That's always nice to have.
Christian Petersen/Getty Images

Age: 35
Shane Doan is one of the few players who defines "team commitment."
He's been part of the Phoenix Coyotes organization since day one. He was there when the Coyotes were still the old Winnipeg Jets.
Doan went six straight seasons without making the playoffs and still stuck by the team that drafted him in the first round back in 1995.
Statistically, the 2011-12 season was the one of the worst in Doan's career. He was consistent, managing 22 goals and 28 assists, but had his lowest point total in a decade.
He's never been a 40-goal scorer; only twice in his career has he even been a 30-goal scorer but his ability to stay healthy and be on the ice consistently makes him a guaranteed starter.
Since 1995, he's only had two seasons where he played less than 70 games, something a lot of veterans can't say they've done.
Back in October, Coyotes General Manager Don Maloney told the Arizona Republic that Doan was "very important" to the franchise and that Phoenix would do "everything humanly possible to keep him."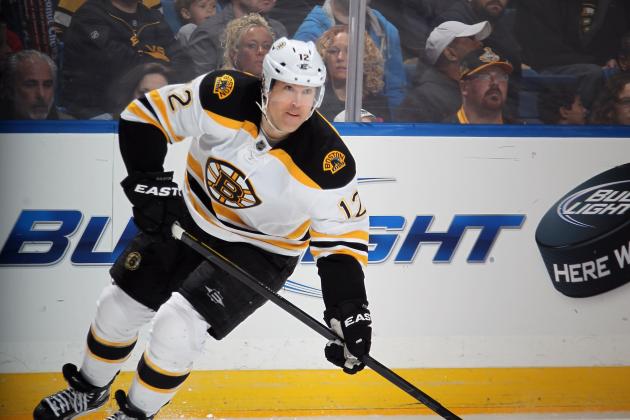 Bruce Bennett/Getty Images

Age: 39
Since his early upbringings in New Jersey during the mid-1990s, Brian Rolston has had four seasons of 30 or more goals, eight seasons of 80 or more games and a Stanley Cup.
Simply put, the man has put up consistent numbers in nearly every city he's played in.
According to capgeek.com, Rolston made $5 million during the 2011-12 season where he split time with the Islanders and the Bruins.
Rolston had his best career during the 2005-06 campaign when he racked up 79 points as a member of the Minnesota Wild.
He hasn't put up a 40-point season in four years and his expensive contract makes him tough to deal.
Make no mistake though, Rolston is still capable of making a difference on the ice.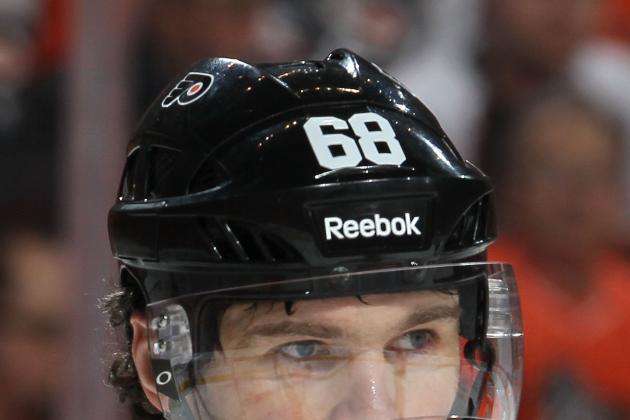 Jim McIsaac/Getty Images

Age: 40
He isn't the sharp-shooting right winger with the killer mullet anymore, but Jaromir Jagr is one of those players who possesses the skills to be able to play forever.
Jagr has five seasons where he's scored over 100 points and his 665 career NHL goals rank 11th all-time.
After spending three years away from the NHL, his return to the Philadelphia Flyers this season was anxiously awaited by hockey fans around the world.
He managed 54 points in 73 games this season and just like he's done his entire career, finished with more assists than goals.
He is a fan favorite wherever he goes (unless you're rooting for the visiting team), and will put fans in the seats for any team that signs him.
Jagr is the active leading goal scorer in the NHL and he can still kill any opposing team's momentum with one flick of the wrist.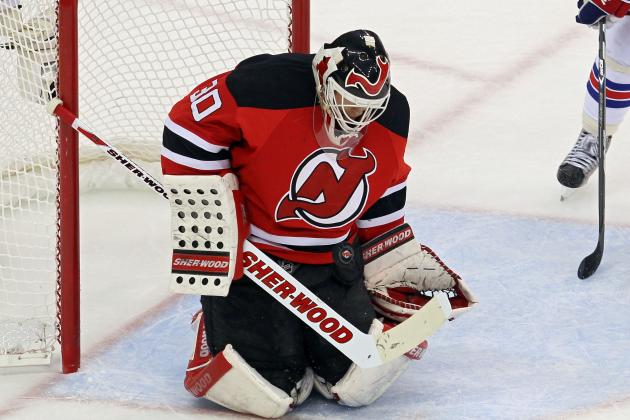 Jim McIsaac/Getty Images

Age: 40
The greatest goaltender of all time, Martin Brodeur, is playing for the Stanley Cup for the fifth time during his illustrious career.
Brodeur is the NHL record holder in wins, shutouts, saves, games played and almost every other goaltending category known to mankind.
He has been the face of the New Jersey Devils for the last 20 years and despite his age, Brodeur is still automatic between the pipes whenever he puts on the pads.
Brodeur told TSN that he is "leaning towards playing another season regardless of what happens in this series."
He isn't the same goalie he was when he broke into the league in the early 1990s, but he is still an elite goalie in the NHL and was one of the main reasons New Jersey made the Stanley Cup Finals.
Brodeur has spent 21 years with the Devils organization and it's extremely unlikely he will go anywhere else after this season.