Rafael Nadal vs Novak Djokovic: 9 Steps to Winning the 2012 French Open Title
Julian Finney/Getty Images
The 2012 BNL Internazionale Masters 1000 is an excellent opportunity for Rafael Nadal and Novak Djokovic to find their feet on genuine red clay. Their weekend performance at historic Rome could very well foreshadow their obsession to capture the 2012 French Open title.
In many ways, their skills and ambitions are similar to great boxing champions seeking a world title. It will be a pugilistic battle of physical skills, endurance and fierce desire. In boxing and tennis, it is often the styles that make the match.
Though the rest of the field will present challenges to Nadal and Djokovic, there is a very good chance that these two will collide at Rome and Paris. This is a preview of that specific likelihood and what makes their rivalry meaningful.
The opening slides will examine the physical and mental advantages that both Nadal and Djokovic possess as they enter the ring. The steps will progress in examining the greater motives and meanings for each combatant in winning the French Open title.
Round 1: Djokovic's Combinations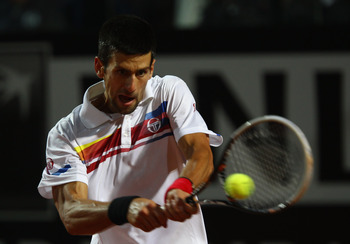 Clive Brunskill/Getty Images
He is the No. 1 ranked player in the world and has defeated Nadal seven of eight times the past year, including three consecutive Grand Slam finals.
But Djokovic is the challenger on clay, and especially at Roland Garros.
Djokovic has the best 1-2 punch in tennis when measuring the totality of his baseline power and consistency from the sum of both his forehand and backhand.
He uses his footwork to evade trouble and step into his power offense. He can dance sideways and then hit with his flurry of combinations.
Advantage: Djokovic is able to counter Nadal's forehand that produces high topspin. His backhand not only defends but attacks and puts Nadal on the defensive. He has been the most successful player in using this advantage to defeat Nadal.
Round 2: Nadal's Haymaker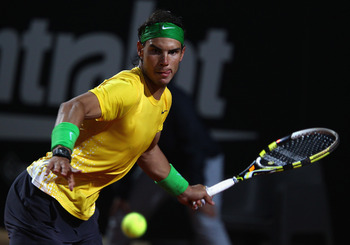 Clive Brunskill/Getty Images
Regardless of his current seeding, Nadal is the reigning French Open champion. Roland Garros has been his personal arena, and his opponents have often been pushed aside like sparring partners.
Nadal's defense is to send back his opponents' big blows while setting up and running around to hit his southpaw forehand.
He usually hits it with a great dose of topspin, so it doesn't generate the same pace as Djokovic's strokes. He can flatten it for less spin and more power as he did on some occasions with his inside-out forehand versus Djokovic at Monte Carlo.
Advantage: Nadal has greater comfort playing on clay. His footwork and game plan are well-suited for the patience it takes to set up shots. He is great at forcing his opponents into unforced errors. Sooner or later they usually crack.
Round 3: Djokovic's Toughness and Clutch Play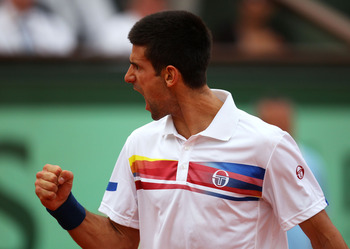 Alex Livesey/Getty Images
A great part of Djokovic's rise to No. 1 has been his toughness. He seems undaunted in tight matches and finds a way to scrape through with the kind of comebacks trademarked by Rocky Balboa.
At the 2011 U.S. Open semifinal against Roger Federer, Djokovic saved two match points en route to victory and and subsequent championship over Nadal.
The 2012 Australian Open further validated his toughness and added proof that he can go the distance in any fight.
Advantage: Djokovic is the one player who has successfully dominated Nadal. This has helped fuel his mental advantage on Nadal, and will be particularly important on his rival's home turf. Regardless, Djokovic will not fear the moment.
Round 4: Nadal's Fighting Spirit and Endurance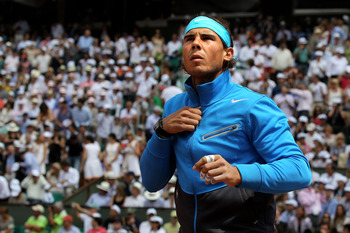 Matthew Stockman/Getty Images
Nadal was once the undisputed fighting champion, and his recent swagger at Monte Carlo and Barcelona prove he has not lost it.
The problem is more that Djokovic has matched his intensity and some would say has surpassed it.
Nadal's endurance on clay has also been legendary, which in large part was shaped by two epic five-set finals in Rome 2005 and 2006. He had to win fifth set tiebreakers over Guillermo Coria and Roger Federer in those respective clashes.
Since then, Nadal has rarely been pushed to a fifth set, though the aforementioned 2012 Australian Open showed that he and Djokovic will be preparing for war.
Advantage: Nadal has won and lost epic heart breakers, so he will be on familiar footing should another grueling battle ensue. Win or lose, he is still perhaps the greatest fighter tennis has ever seen
Round 5: Djokovic Needs the French Open Title the Most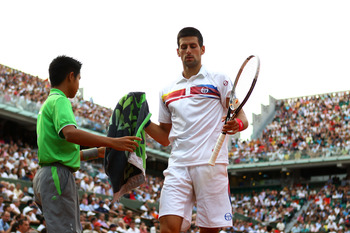 Clive Brunskill/Getty Images
Many players desire to win matches and titles, but Djokovic needs to win the French Open title. This is the only Grand Slam title he has not won and he doesn't want the agony and pressure to mount in upcoming years the way it weighed on Roger Federer.
Djokovic is also trying to hold all four Grand Slam titles to complete his Nole Slam. This might turn out to be his best or only chance.
It could also establish dominance on clay if he is to be the next evolution of a clay-court dominator, something most observers and fans question.
Advantage: Djokovic has already suffered setbacks at Monte Carlo and Madrid, so he will be focused, energized and ready to bring his aggressive strokes to Rome and France. He is not looking to back-peddle and settle for a decision.
Round 6: Nadal Needs the French Open Title the Most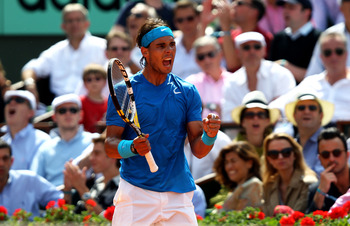 Clive Brunskill/Getty Images
No champion likes to lose, especially after once dominating his sport and creating his own unique era. For Nadal, losing is tough, but to lose on French Open clay would be a loss of his soul.
He is chasing history of his own in trying to win a seventh French Open title. This would place him above Bjorn Borg as the master of clay.
It would further keep him in the competitive pool for Grand Slam wins at Wimbledon and the U.S. Open. The French Open may be necessary to displace pressure for confidence in attacking the summer's top features.
Advantage: The recent Monte Carlo win versus Djokovic is a major boon to Nadal's belief and physical confidence. Cassius Clay may have been the king, but Nadal is the king of clay, until proven otherwise.
Round 7: Djokovic Will One Day Have the Greater Legacy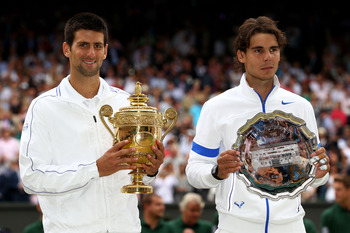 Clive Brunskill/Getty Images
Every Grand Slam opportunity is important to a champion. Many times he will rue the one he did not win rather than the ones he has.
But not all Grand Slams are equal.
The 2012 French Open is a heavyweight bout the likes of which has rarely been seen. It's Ali vs. Frazier and Leondard vs. Hagler in a tennis super fight of the ages. Not even the hype can live up to its importance and legacy
Could a French Open win for Djokovic propel him into even greater dominance over the next few years?
A win over Nadal during this time would be one of the great boasts for tennis immortality, similar to the degree of John McEnroe's 1981 Wimbledon victory versus Bjorn Borg that enshrined McEnroe and signaled the premature end to Borg's career.
The 2012 French Open has this kind of career-defining potential.
Advantage: Djokovic accepts his accomplishments and is aware of its importance. In late March on 60 Minutes, he said of his great 2011 season, "It was incredible, it was historical, it will be in the history books, but I will remember it as the best six months that I ever had."
Round 8: Nadal Will One Day Have the Greater Legacy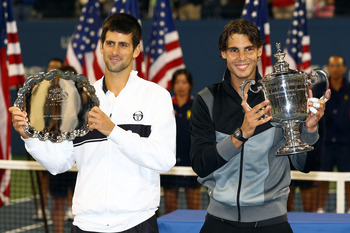 Clive Brunskill/Getty Images
Nadal and Djokovic are only separated by one year of birth and are in the primes of their careers, but Nadal's early career breakout has pushed him to a 10-5 Grand Slam advantage. The odds still favor Nadal in maintaining an edge in total Grand Slam wins.
If you were a 25-year-old tennis player at the peak of your career, would you rather have Nadal's accomplished past and possibly more difficult future, or would you choose the momentum of Djokovic's past year and bet that you will soon roll past Nadal's legacy?
The 2012 French Open might be an era-defining slam that reverberates into future glory for one fighter and cruel fate for the other. It might be the match that will one day define their legacies.
Advantage: Nadal has often deflected praise and pressure. He publicly states that he is not Federer's equal and is content to be one of the greatest ever. There's no reason for him to think past this mindset, so he will likely focus on the task to win as usual.
Round 9: Knockout or Decision?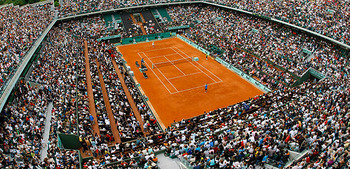 photo courtesy of: http://blog.purentonline.com
With all respect to Roger Federer and the rest of the ATP tour, Nadal and Djokovic have the most at stake.
They are on a collision course that could occur this weekend or in a few weeks at the French Open. This fight could come down to a split-decision like the Australian Open final.
The winner will most likely need to score a Knockout over the other.
There will be great triumph for one and bitter disappointment for the other. It's the way sports are set up when the stakes are so high.
Rome could feature an enticing preview for a main event at Roland Garros that promises to shape their legacies.
Who will win?
CLICK HERE for Rafa's story to refocus in Rome
Keep Reading