Rafael Nadal: Will Rome Help Him Refocus His Quest for 2012 French Open Title?
May 15, 2012

Clive Brunskill/Getty Images
Rafael Nadal marches into Rome for the 2012 Internazionali BNL d'Italia. It couldn't come fast enough after the debacle in Madrid.
For Nadal, the clay-court season has traditionally been the mustering of power. He puts on his defensive armor, wields his offensive forearm and seizes titles.
While April chronicled Nadal's successful conquests in Monte Carlo and Barcelona, May saw his momentum crash like a cinquecento into a stone palazzo.
Will Rome provide the healing solace to his designs on Paris, or will it reflect a loss of focus?
Julius Caesar
Rafael Nadal must feel that he was undone by those in power in his native Spain. His red-clay preference was stripped away in favor of slick blue clay that played more like wet concrete.
Though the blue clay was a promotional gimmick not aimed specifically at Nadal, there are oppositional fans and others who delighted in a weakening of Nadal's power.
Some Federer fans are no doubt ebullient with the twists of fate that helped abet a likely No. 2 seed for their hero at the French Open. (Note: This was no fault of Federer's, who adjusted, played the best tennis and was fully deserving of the Madrid title.)
In the final days of the Roman Republic, fears of an all-powerful ruler bred jealousies, suspicions and plots for power. The mighty Julius Caesar was betrayed and stabbed by those who would prevent an Empire, but then prepared the way for it anyway.
Ironically, Nadal must feel relieved to flee his home country in order to reestablish his power on the soils of foreign Rome and Paris—the de facto home of this proud gladiator.
The Forum
Nadal is no foreigner to controversy. Many fans and observers feel he is overly finicky about personal issues ranging from the degree of his injuries to the conditions on the tennis court.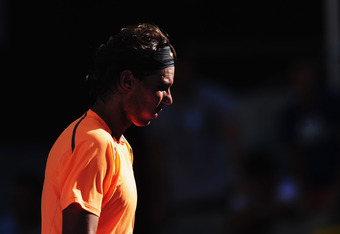 Mike Hewitt/Getty Images
In late March, Nadal withdrew from the semifinals of the Sony Ericsson Open in Miami because his left knee was bothering him. He then went on to win titles at Monte Carlo and Barcelona, prompting some to suggest he was picking and choosing his priorities.
Nadal was also upset about the blue-clay conditions at Madrid, and made disparaging comments both before the tournament and immediately following his early elimination. He vowed not to return to Madrid unless the red clay is restored.
There's no escaping politics, even for the gladiators, and there are consequences for those who put their heads into the lion's mouth. Nadal and world No. 1 Novak Djokovic found more defensiveness in their words than with their tennis. In hindsight, this may have been a slip-up.
Federer was more diplomatic, saying only that Nadal shouldn't have to fight for conditions in his own country. Federer's smoothness also translated better on the court.
It merely illustrates that a gladiator's mental attitude is inextricably tied to his subsequent performance. This is a good lesson for Nadal, who will need his complete focus for Rome and Paris. Politics and tennis are not a good mix in trying to win a Grand Slam title.
The Colosseum
Nadal has arrived in Rome to fight upon red clay. He brings in his two-fisted backhand and a forehand that whips past his head as if he was driving a chariot.
He is ready for the dance of death, and hopes to get a thumbs-up from the spectators.
Nobody will question his gladiatorial fighting skill and talents. They've seen him slay the best champions of the past seven years.
But is Nadal ready to focus on tennis? Will he set aside his self-inflicted distractions and unleash his deadly game?
Nadal is not a Caesar. He is a gladiator, and the greatest to ever journey through Rome's many roads for conquests in France.
Will he taste more victory?
CLICK HERE for mid-week Madrid struggles with blue clay (Rafa, Fed, Nole).