Roger Federer, Rafael Nadal, Novak Djokovic: Blue Clay Surprises for 3rd Round
May 10, 2012

Jasper Juinen/Getty Images
One blue clay match apiece for Roger Federer, Rafael Nadal and Novak Djokovic has produced surprising effects at the Mutua Madrid Open.
It's not hard to despise the gimmickry at Madrid, tennis's version of Coors Field, Colorado. It's not even the stadium's indoor feel with its corporate, high-rise seating that surrounds the big blue pool in the middle, as if spectators were watching trials for Olympic swimming.
It's the substance of the matter, and it could prove to be very costly.
Novak Djokovic: Bambi on Ice
Djokovic has every right to criticize the blue clay's slippery conditions. During his three-set second round win versus Daniel Gimeno-Traver 6-2 2-6 6-3, he slipped several times, most often when he tried to extend his legs and reach out for a ball at the corners.
In the fourth game of the second set, Gimeno-Traver controlled the opening rally. There were three instances that Djokovic tried to slide into a tough return and each time he slipped in horrifying fashion.
It was like watching your son play competitive hockey for the first time. You feared an injury was waiting to happen
Madrid, the ATP and Ion Tiriac can spew their rhetoric any direction they like, but there is a clear distinction between sliding on red clay and slipping on blue clay.
Djokovic tried to compensate by moving slower and taking smaller steps when he could, but there was trepidation in his form and strokes, and breakdowns in his defense.
The No. 1 player in the world should not have to be penalized with disgraceful conditions more apt for a 1970s roller-derby competition.
BBC Sport Tennis reported Djokovic's frustration in strategy:  "I hit five balls throughout the whole match. With everything else, I was just trying to keep the ball in the court."
If he is to survive and win this tournament, Djokovic will have to reverse this conservative tactic by relying more on his offensive acumen. He will have to hit sooner, quicker, and control the points in order to stabilize his footing.
Rafael Nadal: 2010 U.S. Open Flashback
Many observers thought Nadal could have an even more difficult experience on blue clay, far from the comforts of the red clay he has long dominated. He made several comments last week to voice his displeasure about playing on blue clay.
But Nadal crushed Nikolay Davydenko 6-2, 6-2, making it appear as if it was business as usual on clay.
It was similar to a powerful basketball team voicing concern to play in a decrepit Hoosiers gym but then coming into the crackerbox arena and blowing out the home team.
Watching the match unfold was a curious kind of flashback, as if Nadal were playing in the 2010 U.S. Open. He served hard, hit flatter, played up on the baseline, and rarely put himself in a defensive sliding posture.
In the first set, trailing 0-1, Nadal served at deuce and his forward momentum carried him too far past his normal landing spot. Davydenko returned a deep shot in the middle of the ad court, but Nadal ripped a back-pedaling half-flat forehand up the line for an outright winner.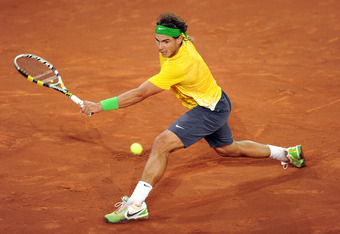 Jasper Juinen/Getty Images
At 3-1, Nadal hit the exact same shot for a winner, also with a more upright posture. Typically Nadal would have played a cross-court shot with heavy topspin, but instead chose to end the point in a more unorthodox but aggressive shot.
Madal closed out the fifth game with a backhand shot from the deuce court that bisected the court, and with the kind of pace normally seen from Djokovic for another outright winner.
For anyone that questions Nadal's tactics as being inflexible, this match was a clear contradiction. But it took the worst of conditions to bring out his more liberal approach. And for one day, it worked beautifully.
If there was one thing from the match Nadal needs to clean up, it was getting away with some short balls that Davydenko did not put away. The word may be out for the remaining field to hit early and take no prisoners.
Roger Federer: Preparing for Wimbledon
The best match was Federer's thrilling 4-6, 7-5, 7-6 win over young power-serving Milos Raonic. It was as if Federer were preparing for the next two Grand Slam surfaces at the same time. Not even Wal-Mart can offer up an equally enticing two-for-one special.
Observers had to admire Federer's willingness to serve and volley. It was his inaudible way of stating "I know this isn't red clay, so I'm going to initiate the action."
At times Federer was rusty. In the long opening game of the second set, he left himself open with some mediocre volleys.
He also couldn't put away a couple short overhead smashes, and Raonic made him pay with passing shots. Federer couldn't quite get the plant and spring he needed, possibly because of the clay's slickness.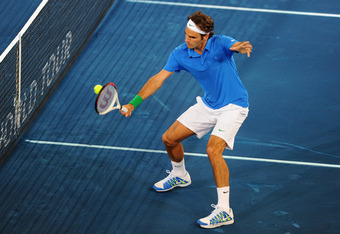 Mike Hewitt/Getty Images
That opening game also featured a double-fault with Federer coming in on the second serve.
The serve and volley requires greater concentration and body preparation, just as it takes more coordination for a quarterback to throw on the run than from the pocket.
It was good for Federer to get opportunities to play a live match and to fine tune this part of his game for upcoming matches. It remains to be seen how much Federer will continue to come in, or if he will retreat more to the baseline and look for his usual confident strokes.
This was a tough match with an unusually dangerous opponent who was nearly untouchable with his first serve and who scorched about twice as many winners as unforced errors. Federer will be glad to move on.
The Future of Madrid
Spain is a wonderful country with passionate people and rich tennis heritage. They have long conceived and nurtured impressive tennis matadors who exhibit grace and patience in sliding on idyllic red clay. It's as traditional as bull-fighting.
But after four days of the blues, it's clear that tradition, player safety, and genuine tennis would be better upheld with a return to red clay.
Leave the blue pool and slippery madness to SeaWorld.
CLICK HERE to compare with pre-tournament concerns about blue clay