Novak Djokovic: Is the World No. 1 Beginning to Lose His Mental Edge?
May 2, 2012

Julian Finney/Getty Images
Novak Djokovic was so dominant in 2011 that his No.1 ranking and 2012 Australian Open title are somewhat overlooked when tennis fans evaluate his most recent performances. His 2012 successes seem to be a shadow of his unparalleled 2011 standard.
Many fans and supporters are wondering what is wrong with his game. Are opponents figuring him out? Is he exhausted? Is he losing his mental edge over the ATP?
While Djokovic's matches and statistics show he has come back closer to the pack, he is still the king of tennis, which is a very demanding and exhausting task that knows no rest or reprieve.
The choice to be great has a terrible and obligating price, one that only a champion can pay.
The Matrix
Though all ATP players aspire to win Grand Slams and become the world's best, it is basically an alternate reality for all but a chosen few. Djokovic, like Roger Federer and Rafael Nadal, has entered a championship realm that carries incredible pressures and expectations.
Djokovic is a tennis player, but his role is similar to the hero "Neo" in the popular science fiction film The Matrix. Neo had lived a more comfortable life but chose to enter a painful reality, one that required much greater mental and physical strength.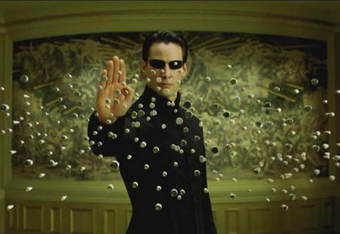 After an air of invincibility, Djokovic has now been besieged by personal pressure to build on his successes. Fan expectations continue to rise. Other players are more determined to eliminate his dominance.
The past two weeks have been a series of adversity for Djokovic:
His grandfather died.
He was blown out in the Monte Carlo Masters final by Nadal.
Three days after Monte Carlo, the AP via ESPN said Djokovic "felt emotionally drained and unable to summon the mental strength."
Then he pulled out of the Serbian Open, his hometown tournament, to cope with his grandfather's passing and to recharge his tennis game.
The scrutiny of a No. 1 player is magnified with incessant attacks, like how The Matrix's relentless Agent Smith and all his clones never stop trying to bring Neo down.
Is there any escape? How can Djokovic keep his mental edge?
Reloaded
There are really only two possibilities for Djokovic. The first choice, presented as a blue pill in The Matrix, is the choice to go back to a comfortable existence and quit fighting. This is something Djokovic and great champions refuse to do.
The second choice, presented as the red pill, is to accept the burden of No. 1 and all its adversity. There will be lows as well as highs, but the only way to maximize his destiny is to fight harder. It means working more on his game, adapting to opponents and improving his tennis.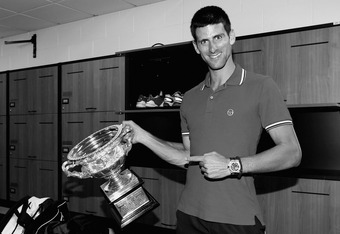 Clive Brunskill/Getty Images
Djokovic can keep his mental edge by improving his serve, finding ways to finish off points easier and looking to add more versatility to his game. Perhaps he will come to net more often after some of his powerful groundstrokes. He must continue to establish new tennis goals.
Neo could not continue with his same methods of combat against Agent Smith and his enemies. He had to adapt his skills and improve so that he could fly and dodge bullets.
It takes greater mental strength to evolve than to keep playing with the past's winning formula.
If Djokovic is losing his mental edge, it is because his matches have become tighter, and other players are less fearful to challenge him. Nadal in particular was able to shake off his past seven defeats to Djokovic with his 6-3, 6-1 win at Monte Carlo, including five breaks of serve. This doesn't mean Nadal has solved his matchup difficulties with Djokovic, but it has released him from the mental prison of doubts that had confined him the past year.
Revolution
Tennis fans will soon watch Djokovic play at the Mutua Madrid Open. He will find some of the critical examination towards Nadal now shifted in his direction. If he plays poorly or is eliminated early, the agents will be closing in to take him out.
Winning is the answer to mental strength. It takes great mental strength to win, but even more to keep winning. Though Djokovic has had three losses in the past few months, he can reassert his dominance by winning.
If he wins impressively, and especially defeats his rivals Nadal and Federer, he will likely feel less pressure and greater mental resolve for Rome and Paris.
The French Open will crown a winner next month. It may become the biggest factor in Djokovic's intermediate tennis career.
A loss could neutralize his super tennis powers and open the floodgates to other strong contenders.
A win would give him exclusive control of all four Grand Slam titles and certainly establish his boot print over the face of the ATP.
It could even destroy The Matrix.