10 Reasons Chicago Bears Will Dominate NFC North in 2012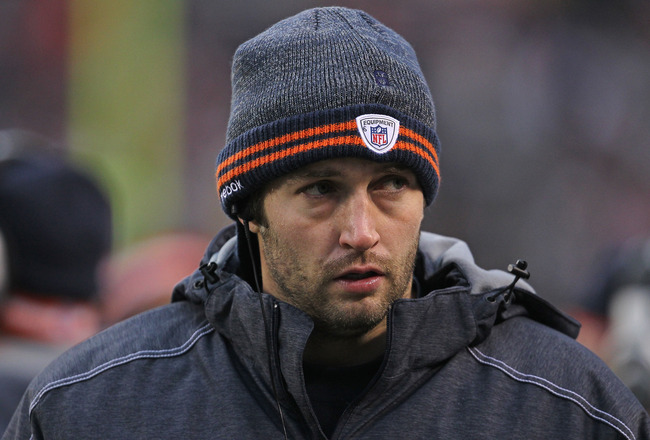 Jonathan Daniel/Getty Images
Fresh off the NFL draft and an offseason during which many key players were able to get healthy, the Chicago Bears look into the 2012-2013 season with much to be excited about. They are reloaded and ready to go.
With the moves they made in the offseason, in addition to key players regaining health over the offseason, it looks as if they Bears are going to dominate the NFC North this year.
Here are 10 reasons why the Bears will reign supreme in the NFC North, dominating their division like the Packers did last season.
Sexy Jay Is Back and Healthy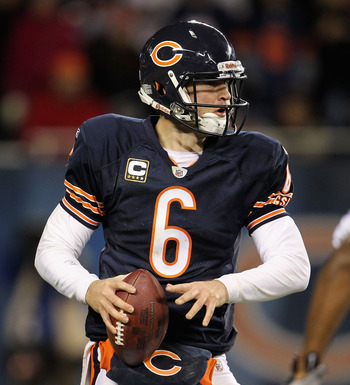 Jonathan Daniel/Getty Images
Jay Cutler had a phenomenal season last year, until an unfortunate injury halted his campaign. Cutler was receiving decent blocking, which in turn allowed him to make throws that he was not able to make a season previous.
Cutler has a helluva an arm, in addition to underrated mobility. It will help that he has more weapons to throw to this year, as the Bears bolstered their receiving game.
Cutler proved that his first season with the Bears was a fluke, or more of just a clobber-fest at the hands of defenders getting past the crummy offensive line. He will put up solid numbers this year, possibly in a Pro Bowl-caliber year.
O-Line Finally Getting Healthy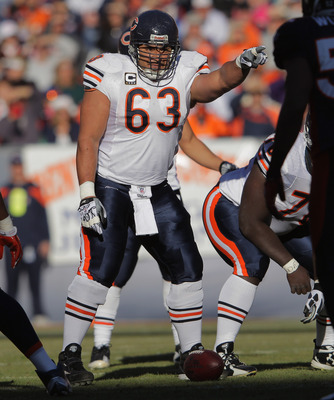 Doug Pensinger/Getty Images
Say what you will about the offensive line, but until injuries took their toll last year, they were playing above average under Mike Tice's guidance. With an offseason to heal, they will be back healthy and ready to protect Jay Cutler.
Roberto Garza looks as if he will return to play center, a position in which he played solid last year. He looked comfortable running the offensive line, a duty he picked up from the departed Olin Kreutz.
J'Marcus Webb showed problems last year at left tackle, but with some help from the regained health, he could surge at the position this year. His right tackle, Gabe Carimi, had most of last season and the offseason to work out his knee issues. He should be back and ready to roll after a solid start last season.
The guard position looks pretty good right now. Lance Louis is an underrated worker, while Chris Williams has begun to live up to his potential as of last season.
If they stay healthy, good things will come.
New Life in Receiving Corps
Kent Nishimura/Getty Images
The Bears went from having one of the least talented receiving corps in the league to having one of the most stacked.
The Bears traded for Pro Bowler and former Cutler teammate Brandon Marshall, who will be the No. 1 receiver on the team. His chemistry with Cutler when they were on the Denver Broncos will be an immediate threat to any team.
The drafting of Alshon Jeffery was another great move by the Bears. Jeffery's stock fell into the second round and the Bears traded up to grab him. He should open up some eyes this year.
Then, look at the rest of the crew. Returning are Earl Bennett, Devin Hester, Johnny Knox and Dane Sanzenbacher, as well as the addition of Eric Weems.
Bennett and Sanzenbacher will be good situational receivers. Bennett is familiar with Cutler from their days at Vanderbilt, while Sanzenbacher proved to be a valuable first down threat last year.
Hester and Weems are better special teams players, but will find reps at receiver. Both are speedsters that can get behind the secondary and show how good Cutler's arm strength is.
All of that considered, I am confident the Bears will be a threat in the pass game.
Running Game Healthy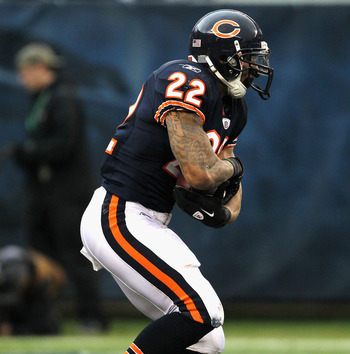 Jonathan Daniel/Getty Images
The Bears may have upset Matt Forte this offseason, but he is still on the team and will be looking for a contract extension. He was another guy whose season was cut short.
Competing with Forte will be recently signed Michael Bush. He had a great year in Oakland last year, earning him a very solid contract to most likely be a backup. He will push Forte to be better, while at the same time grabbing some highlights of his own.
Rounding out at third string will most likely be Kahlil Bell, who has the ability to be a backup. Bell is a hard runner who has his moments where he breaks out for big yards.
The running game is the heart of the Chicago offense, and it will continue to be essential to their offensive output.
Defense, Defense, Defense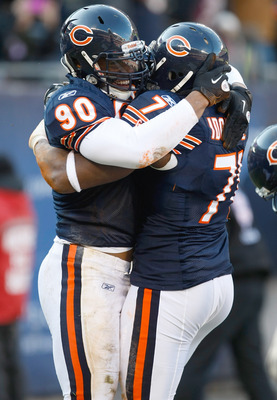 Scott Boehm/Getty Images
The Bears are consistently one of the best defenses in the league, and this year will be no different. Soon, their age will catch up to them, but for now, they will still be an elite corps in the league.
Their defensive line is likely to be one of the better ones in the league. Julius Peppers has been joined by another solid pass-rusher in Shea McClellin, the Bears' first pick in the draft.
The defensive tackles are extremely underrated. Henry Melton is possibly the most underrated defensive tackle in the NFL, while guys like Matt Toeaina and Stephen Paea are solid contributors in the run stoppage department.
The linebackers are elite in their own right. Two of the best in the NFL, Brian Urlacher and Lance Briggs, are the anchor of the defense to begin with. It appears Nick Roach will be the third guy, a solid contributor with good range.
The secondary has been bolstered and looks to be revamped for a competitive run this season. Charles Tillman and Tim Jennings have been joined by Kelvin Hayden, a former teammate of Jennings in Indianapolis. Major Wright finds himself in a competitive battle with rookie Brandon Hardin, which will emerge a legitimate strong safety.
All in all, the Bears defense looks as good as it has in years.
Special Teams Unit Is Still Special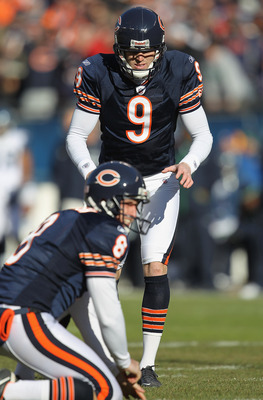 Jonathan Daniel/Getty Images
Just having Devin Hester in the return game is enough to make your special teams great. Add Eric Weems to that scheme, and you have yourself an elite crew returning punts and kicks.
Patrick Mannelly returns from injury to snap the ball, as he is the best long snapper in the business. This may not seem like a big deal, but his snaps are flawless, especially in a city as weather-crazy as Chicago.
Robbie Gould is the best in the business at kicking, maybe except for Sebastian Janikowski. Gould is a great cold-weather kicker, nailing tough field goals and pinning teams back on the kickoff.
Adam Podlesh is not as good as he used to be, but the defense is so good that punting should not be a huge issue.
Minnesota Still in Recovery Mode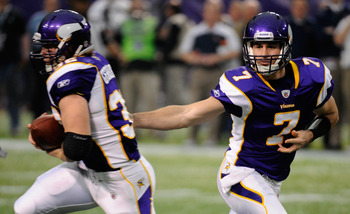 Hannah Foslien/Getty Images
The Minnesota Vikings made moves this offseason to improve, but will likely again finish last in the division.
Adrian Peterson cannot carry the team, especially with the number of injuries he has faced in his career.
The receiving corps has improved, but Christian Ponder is still developing. Expect spots of great plays, but still a struggle in the passing game.
The Vikings defense is depleted, despite still having names like Jared Allen, Chad Greenway and Antoine Winfield. They will struggle to keep opponents' scores down, especially against powerful offenses like Green Bay, Detroit and Chicago.
Detroit Will Not Bring What They Had Last Year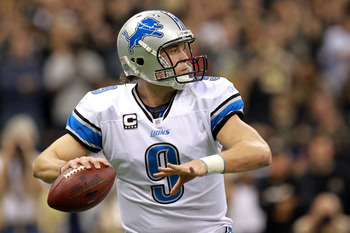 Ronald Martinez/Getty Images
The Lions had a great year last year, riding the arm of Matthew Stafford and the brilliant receiving of Calvin Johnson.
They have an improved offensive line, but their run game will still struggle. Jahvid Best doesn't strike me as a starting running back in the NFL.
Their defensive line is superb, but their secondary is weak, which will expose them on more than a few plays. Home run passes will come back to haunt Detroit this season.
Jay Cutler and Aaron Rodgers will exploit the Lions secondary when they play them.
All-Around Better Than Green Bay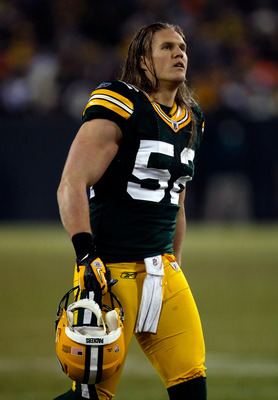 Scott Boehm/Getty Images
This is a bold statement, but I think the additions that the Bears made this offseason have made them an all-around better team than the Packers.
Aaron Rodgers has great receivers, but the Packers will still struggle in the run game. More than that, their offensive line has taken a hit in the offseason, losing Chad Clifton and Scott Wells (gained an aged Jeff Saturday).
The draft definitely helped their needy defense, but they will not be near the top half of the best defenses in the league. They will rely on the offense to win them games, which definitely is possible.
Their secondary is a big concern. Their linebackers will be solid as usual. The defensive line is definitely somewhat improved, but Ryan Pickett and Anthony Hargrove (currently suspended) will have to prove something to show that they are a formidable front three.
They will have some epic clashes with the Bears.
Mike Martz Is Gone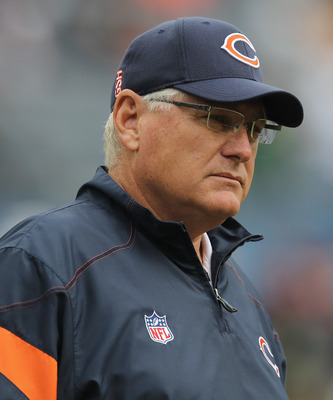 Jonathan Daniel/Getty Images
Mike Martz is gone, and many of Chicago's fans are happy about it. It's not because he isn't a great offensive mind, but his scheme was far too complicated for the players that the Bears had.
Mike Tice will take over, and in my opinion, make the offense into a force. The work he put in with the offensive line last year was marvelous, turning them into a halfway decent crew.
With Martz gone, Cutler can finally work in a system that will benefit all of his offensive weapons, including himself.
Keep Reading

Chicago Bears: Like this team?