Wimbledon 2012 Final Preview: Slim Differences in Roger Federer vs. Andy Murray
July 6, 2012

Julian Finney/Getty Images
Roger Federer and Andy Murray are a tale of two supremely talented superstars vying for the 2012 Wimbledon title. Both players are the envy of the ATP, possessing a variety of skills that are among the elite of the past decade.
But their Grand Slam results gap has a wide-ranging disparity found in the lopsided annals of sports history, such as Yankees vs. Red Sox or Michael Jordan vs. the Cleveland Cavaliers.
It's important to analyze parts to their skill sets because the comparisons are surprisingly close, but it's only a partial answer.
Why has it been so difficult for Murray to break through and what does he need on Sunday?

Similar but Different
Federer and Murray are excellent defensive players, and many would argue Murray is better. Their footwork often allows them to retrieve difficult shots, and more importantly positions them to counter-attack.
Both are adept at hitting winners from a defensive posture, largely because of their keen instincts and sense of anticipation, traits also mastered by Rafael Nadal and Novak Djokovic.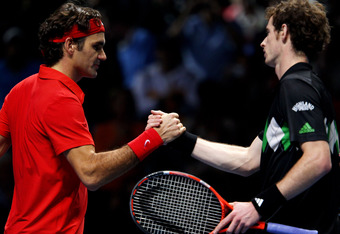 Clive Brunskill/Getty Images
Offensively, Murray has a more consistent backhand than Federer. He can slice cross-court or attack up-the-line with a flatter backhand. It can also set up his forehand with options to change paces and directions of his shots.
Murray has a rare touch, at times volleying or placing drop shots with a dizzying kind of genius when he is on a roll.
Federer's offensive genius is also an artist's blend of creative shot-making, but with the all-important forehand weapon. He is a much greater server than Murray, especially when comparing second chances.
Jordan vs. Pippen
Tennis is a sport that will reward the aggressor, the player with the bigger weapons. While there are several examples of successful well-rounded players, it is imperative a player have one or two unique point-producing weapons to augment a sound defense.
NBA basketball legends Kareem Abdul-Jabbar and Michael Jordan were challenged by other great players, but they each had killer offensive moves that were the difference between greatness and legend.
Abdul-Jabbar's sky hook shot may have been the most reliable weapon in basketball history, and Michael Jordan's explosiveness had several angles and options, all of which overwhelmed opponent's defenses.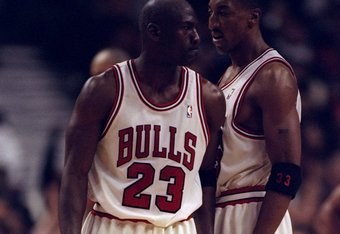 Jonathan Daniel/Getty Images
Federer has the difference-maker, a go-to move in his forehand. He is the tennis equivalent of Michael Jordan.
Murray is like the talented 6' 8" basketball player that plays defense and hits a wide-open jump shot but can't create offensive pressure to overcome his opponents. He is the tennis equivalent to Scottie Pippen.
Scottie Pippen was a champion in the NBA, but his skills might not translate to comparative tennis success (though this is admittedly an analogy of something that cannot be measured). Tennis Pippen might have been labeled in all sorts of manners with critics wondering why he couldn't win the big one.
More Value for More Players in Team Sports
Tennis is an oligarchy. The top few players dominate much more thoroughly than athletes in team sports. The difference between the top three tennis players and the number 7-10 players is cavernous at least, and impassable at worst.
Last year, Naim Kalaji of B/R ranked the top ten NBA players as follows: 1. LeBron James, 2. Kobe Bryant, 3. Dwayne Wade, 4. Dwight Howard, 5. Kevin Durant, 6. Chris Paul, 7. Carmelo Anthony, 8. Derrick Rose, 9. Dirk Nowitzki, 10. Amar'e Stoudemire.
What is striking about this list is Dirk Nowitzki at No. 9. He and his team were the big winners last year. He had the go-to moves and skill set to lead a championship team.
The top ten athletes in team sports can be centerpieces to franchises, and they will also reap excellent benefits and opportunities with salary, endorsements and fame.
In tennis, almost all of the spoils go to only the absolute elite. Oftentimes, millions of dollars and multiple Grand Slam titles can be from one or two advantages in a star's game.
Does One or Two Percent Matter that Much?
Jamaican sprint champion Usain Bolt established world records that were Federer-like in track and field. At the IAAF World Championships in Athletics in August 2009, Bolt set history's best mark in the 100 meter dash with 9.58 seconds. Second place Tyson Gay finished at a distant 9.71 seconds, the largest distance between first and second in the decade.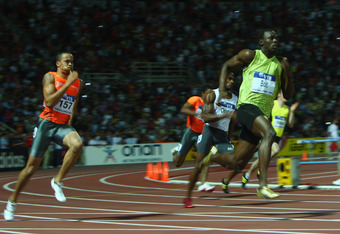 Michael Steele/Getty Images
The difference between Bolt and Gay was a meager 1.3%. In other words, Gay had completed 98.7% of his race as Bolt crossed the finish line. Yet the difference was everything in separating their greatness.
Tennis can similarly separate the great from the immortal. A champion only has to be slightly better than his opponent to win. Sometimes it's the ability to gain a few more break point opportunities, having the muscle to hit just a little harder or being able to improvise better in the middle of a fierce rally.
Can Murray Break Through at Wimbledon?
Murray's game is great. He has proven his success against all of the players on tour, even at times against tennis' big three.
Yet, at this point in his career, Murray would be hard-pressed to suddenly develop a forehand weapon. Instead, he has persisted with dogged determination to keep on fighting despite the empty results in winning a Grand Slam title. His tough mentality puts him in a position to strike paydirt.
Gene Garber of ESPN reported the opinions of Paul Annacone and Larry Stefanki, both of whom felt Murray played too far behind the baseline and has not looked to develop an offensive aggressiveness.
Perhaps no player in tennis history has been scrutinized or given more advice on what he needs to do to win a Grand Slam title. Though many generally believe Murray come into the baseline more and develop his attack, Murray could look at other past models that more suit his game.
He could build on his masterful control, similar in how 80s tennis legend Mats Wilander could set up his strokes and force players into mistakes.
Though Wilander was also labeled as a tennis pusher, his offensive control and strokes were a series of designs, a type of old-school artistry that can still work for Murray and talented baseliners.
Murray has the fire and heart to be a winner, and knows how to play to his strengths. He still has a few years to try and win at Grand Slam Lotto, so the Wimbledon final does not have to be a career breaker.
It might take a single adjustment in his offensive attack, but it is clear he will need to find more opportunities to put away points and put pressure on Federer.
Federer and Murray are perhaps the most beautiful players in observing all-court skills.
But the difference between greatness and immortality can be a fine line. Murray needs a more perfect game than Federer to finally win a Grand Slam in his dream scenario at Wimbledon.
Sunday is the greatest chance of his career, but does he have enough?
CLICK HERE to read about Federer, Swiss Culture and his pursuit of a 7th Wimbledon
CLICK HERE to read about what Murray must do to win Wimbledon