Rafael Nadal and Novak Djokovic Advance to Monte Carlo Masters Final: Who Wins?
April 21, 2012

Julian Finney/Getty Images
Rafael Nadal and Novak Djokovic each found radically different ways to advance to the finals at the Monte-Carlo Rolex Masters for their highly anticipated reunion on clay.
While Nadal steadied his 6-3, 6-4 win with a workmanlike performance over Simon Gilles, Djokovic slogged through a 4-6, 6-3, 6-2 victory over Tomas Berdych with erratic play.
The semifinals also displayed a glimpse of their levels of comfort and states of minds for tomorrow's matchup.
The Grapes of Wrath
In the first semifinal, Djokovic sought to find his way in spite of blustery winds that produced the kind of conditions found in the classic movie, The Grapes of Wrath.
Dust swirled around the dessicated clay surface, lifting up topsoil, inciting both players whose emotions fumed just as hotly. It looked like the dog days of August being blown about by an unwelcome gale. Nobody was happy.
Neither player could keep his momentum for too long, and there were occasions that made tennis hackers smile.
Berdych, who was on a roll late in the first set and powered some hard baseline shots was suddenly muted for the duration of the match. It became more common to see him looking around the dirty wind in frustration. More than once he tried in vain to rub dust out of this eyes.
Djokovic was never at peace, even after staking himself to an early 4-2 first set lead. He seemed to struggle with his conditioning and labor in getting his feet set. Too often, he was forced into stab returns.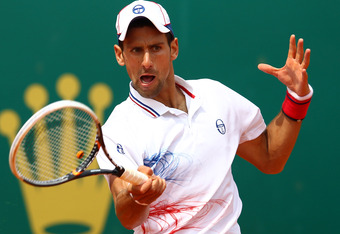 Julian Finney/Getty Images
Following his early lead, he was broken at love. He promptly bounced his racket onto the clay, twice, as if he were being paid for the intensity he could flick into a yo-yo.
He fought himself as much as Berdych, even after improved play midway through the match. At one point he paced around as if working on his Andy Murray impersonations. In a word, he was petulant.
But Djokovic countered his frustrations with his will and his humor. After struggling to hold his first serve of the second set, he raised his arms in mock victory salute.
Late in the third set, after a failed drop-shot attempt into the implacable wind, he stood and gave a knowing smile as if to acknowledge his ill-fated decision.
But despite the conditions, Djokovic slowly found more depth and confidence in his groundstrokes by hitting through the ball better. He increased his percentage on second serve points won, winning only 46 percent in the first set, but 54 percent in the second set and nearly 80 percent in the third set.
There were only rare examples of great shots, but late in the third set he hit a cross-court backhand slice that floated, hit the line and tied up Berdych, who may have had to deal with a bad bounce to boot.
You Can Go Home Again
Nadal is simply conditioned to play on clay. At the Indian Wells hard courts, he looked like a disgruntled party guest, but Monte-Carlo clay is home with all the comforts and amenities that have furnished his unique skills.
Nadal looked to be at his clay-court best, running around to set up several impressive forehands. He usually hit his heavy topspin to Simon's backhand, but also picked on his forehand with several opportune in-and-out forehands that were harder, flatter and effective.
It wasn't that Simon played poorly. Midway in the first set, he hit well and was a part of several rallies that totaled at least twenty hits. He also had an impressive series of points in the first set by taking Nadal's topspin on the rise and streaming hard shots along the sidelines. He just couldn't break through.
Nadal immediately took charge by winning 13 of 17 points to seize the first set, finishing at a crisp 75 percent in points won for both first and second serves.
It's an illustration of how difficult it is for another player to keep up his brilliance over the course of a clay match against Nadal, and especially a best-of-five sets match at the French Open. The barrage of Nadal's attack has proved its incessant durability time and again.
The Return of the King
Sunday's final will be Nadal's attempt to win an unprecedented eighth straight title at Monte Carlo. There is a lot at stake for both players, in the least determining who will take the pole position for Madrid, Rome and Paris.
Nadal will look to attack Djokovic with a similar forehand mix to keep Djokovic off balance. His staple will always be the heavy forehand, but more in-and-out crushes could force Djokovic into stabbing at the ball with his forehand, and breaking up his own usually predicable pattern.
He can augment this with some backhands up the line to Djokovic's backhand, something he didn't need today. This time against Djokovic, it will be interesting to see if the slice can be more of an offensive strategy rather than a defensive necessity.
Djokovic will bring more energy to the finals. He is undoubtedly dealing with his emotions following his grandfather's passing, but this could also inspire his tenacity. And nobody brings out the best in Djokovic better than Nadal.
It's a little tough to judge Djokovic's lackluster win because of the conditions, but he knows how to struggle through his difficulties and win. It's like Tiger Woods saving an errant tee shot. Nobody seems to recover better than Djokovic. He will he a tough out tomorrow.
Djokovic has great balance on both his forehand and backhand, but will need to make Nadal pay if he runs too far to the side of the court to hit an in-and-out forehand. Djokovic can counter with a down-the-line forehand that will need to be accurate and powerful.
Who will be the king of Monte Carlo? Will it be a triumphant return for Nadal, or a regal addition for Djokovic?
Only one will be crowned.