Novak Djokovic at Monte Carlo: Why He's the Future of Clay-Court Tennis
April 19, 2012
Jasper Juinen/Getty Images
Novak Djokovic is set on winning Monte Carlo and sweeping through the clay-court season. He desires adding the French Open cup to his otherwise complete collection of Grand Slam trophies.
Djokovic has tracked down rival Rafael Nadal, defeated him several times in the past year and is eager to end the Spaniard's stranglehold on red clay.
In many ways, this mission to rule the clay-court universe has been in motion behind years of honing elite tennis skills that may change the laws of physics and combat for future tennis warfare.
Djokovic is confident, talented and focused, much like the awesome reptilian Sith Lord Darth Maul, the coolest and deadliest character in the Star Wars saga.
A new era of clay-court tennis may now be replacing old paradigms.
Your Skills Are Nearly Complete
Djokovic's game was built for the red clay. He possesses one of the greatest defensive games ever seen in tennis, deriving from quick footwork and athleticism in retrieving difficult shots.
He can parry and thrust with a kind of vengeance that is breaking the mold of a clay-court specialist's traditional methods.
His ground-strokes are perfectly suited for clay. He can swat and destroy high topspin from either side in a manner that thwarts moon-ball schemes.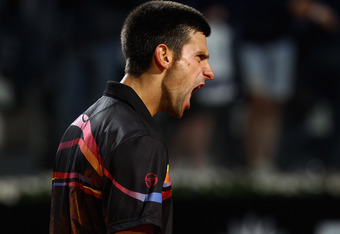 Clive Brunskill/Getty Images
There are those frequent moments when he can slide to the nethermost corner of the court, flick a double backhand, and inexplicably send it back to his bewildered opponent with a strategic advantage of his own.
Djokovic's sense of anticipation is intelligent. He reads his opponent's delivery and shot, storing this millisecond data in his motions with the speed and efficiency of a computer.
Nadal supporters are optimistic their hero will rejuvenate his game on his favorite surface, but the same advantages also work for Djokovic—he will get more time to brandish his defense in setting his feet or sliding into tough shots.
The difference is Djokovic's willingness to employ greater offensive power and pressure.
He brings a hardcourt mentality to the red clay, not content to merely outlast but to overwhelm his opponent. He can serve bigger than clay-court specialists and will not buckle under the weakness of a second serve.
He can smash harder, flatter strokes if an opponent's ball dares to flutter just short of acceptable depth. Even the opponent's margin of depth is rapidly shrinking. Djokovic can attack from almost any spot on the clay.
Above all, his Sith mentality enjoys the battle and looks forward to the attack. If the adversary hits hard, he will hit harder. It's a killer instinct of clay combat, rarely envisioned or executed.
In Star Wars: The Phantom Menace, Darth Maul's awesome skills threatened the Jedi existence and their older combat methods. Djokovic has the entire ATP on alert.
His opponents are upgrading their skills, resting from tournaments and changing their strategies. His three closest rivals are being forced into career changes just to keep pace.
The Djokovic era has been unleashed on clay.
At Last I Will Reveal Myself
In 2011, Djokovic realized the fulfillment of his impressive potential, winning three Grand Slams and becoming the nearly invincible standard of the ATP. He had completed this transformation to superstardom through rising confidence and internal fortitude.
Djokovic knows he is the best player in tennis and no longer fears big matches. He often obliterates his opponents, but he also thrives under pressure and is winning close contests.
He fought back and won against Roger Federer in last year's U.S. Open semifinal.
He outlasted Andy Murray and Nadal to win his dramatic 2012 Australian Open title.
He has even established himself in recent matches, winning tiebreakers against hard-charging challengers.
Djokovic clearly has the mentality to dominate on clay. He has the endurance of mind and body. Even the prospects of long, grinding five-hour French Open matches seems to play into his strengths.
Proof? How about battling six hours to defeat Nadal at the Aussie Open in perhaps the most physical big match in history. Winning on red clay may now feel easier to Djokovic.
At pressure moments, Djokovic's eyes are more alert, his concentration enlarges and he wills himself forward, prepared to hit bigger, grunt louder and battle harder. It's this extra gear that pushes him to play better tennis, and to deliver shots that have been perfected thousands of times before.
The tennis world is either chasing Djokovic or watching his awesome exploits. And now he is ready to rule over clay. He is no longer the shadow hunter, but the indomitable warrior. 
Duel of the Fates
Many tennis fans hope Monte Carlo's opening days will be a mere formality to the ultimate clay-court war—Rafa vs. Djoker. Whether or not they meet this weekend, it is the destiny for these two warriors and their conflicting ideologies.
On one side, Nadal looks to extend his clay-court dynasty with techniques that bridge the prior generation to the next. Is the old clay-court order teetering on the edge of extinction?
On the other side, Djokovic seeks to impose his new order of clay-court shot-making and power. Nothing would give him greater control of clay than vanquishing Nadal. It's his single-minded objective at this moment.
Tennis will keep evolving. Emerging ATP players grew up watching Federer and have trained with greater vision.
Nadal's tenacity on clay will continue to permeate the ATP. Even Djokovic has evolved through the Nadal template of endurance and fight.
Somewhere now, there are teenagers watching Djokovic crush shots on Europe's red clay. They see him hustle, slide and scorch winning shots with regularity. They see the effort and endurance necessary to develop every point. They are witnessing the evolution of tennis.
Djokovic is a new kind of warrior with a special brand of skills. He is creating his own destiny.
But nobody is unbeatable, not even Darth Maul.
Click here to read about the competing empires of Djokovic and Nadal