NHL Playoffs 2012: Matchups; the Good, the Bad, and the Ugly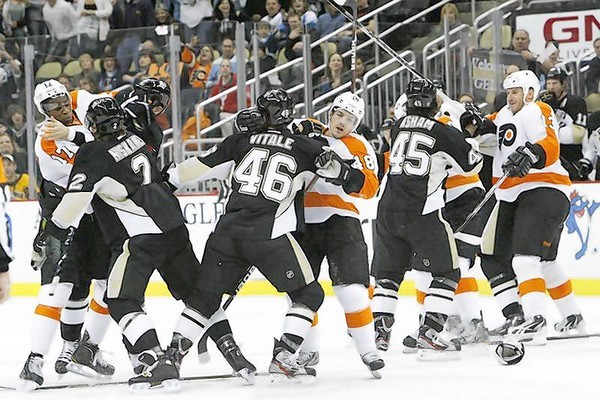 The playoff schedule is set.
Here is a look at the first games for each teams' playoff kickoff:
Wednesday's Action
Philadelphia Flyers (5) @ Pittsburgh Penguins (4); 7:30 PM EST
Detroit Red Wings (5) @ Nashville Predators (4); 8:00 PM EST
Los Angeles Kings (8) @ Vancouver Canucks (1); 10:30 PM EST
Thursday's Action
Ottawa Senators (8) @ New York Rangers (1); 7:00 PM EST
Washington Capitals (7) @ Boston Bruins (2); 7:30 PM EST
San Jose Sharks (7) @ St. Louis Blues (2); 7:30 PM EST
Chicago Blackhawks (6) @ Phoenix Coyotes (3); 10:00 PM EST
Friday's Action
New Jersey Devils (6) @ Florida Panthers (3); 7:00 PM EST
The good, the bad and the ugly is a great way to gauge the series we want to see, the series we didn't, and the series we could care less about.
Here's a look at the good, bad and ugly in the race for the Stanley Cup.
Begin Slideshow

»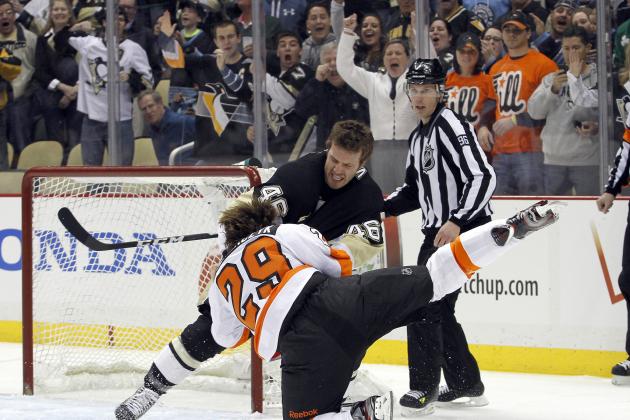 Justin K. Aller/Getty Images

The Penguins-Flyers series is going to be the most entertaining first round for hockey fans who had no particular interest in the teams before.
If your team has been eliminated from playoff contention or have the day off, you should be watching this.
Eventual Hart Memorial Trophy winner, Evgeni Malkin, and previous Hart winner, Sidney Crosby, will "welcome" the Flyers to Pittsburgh, where the Flyers have dominated for most of the season.
After three long years in Russia, we finally get to see all-time great Jaromir Jagr back in the playoffs, against the team that made him famous.
This is a series that promises to have tons of hard hits, trash talking and fist fights to boot.
If you like hockey, you are going to watch this one.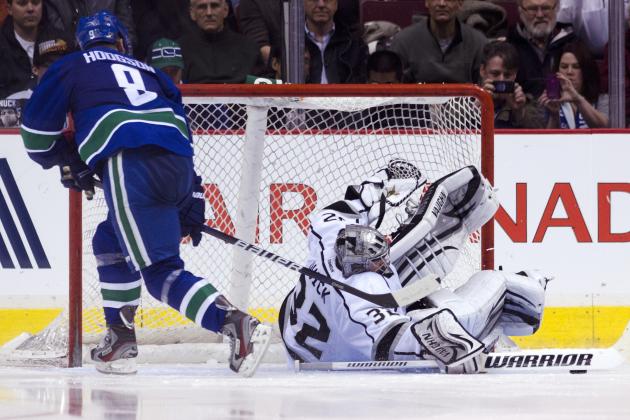 Rich Lam/Getty Images

Does any other first round matchup have sweep written all over it more than the Canucks against the Kings?
The Kings, who have had major issues scoring all season, rode hot goaltender Jonathan Quick into the playoffs.
On the flip side, the Canucks have two No. 1 goalies in Roberto Luongo and Cory Schneider and have players up and down the ranks that can score goals in bunches.
This is an absolutely horrible matchup for the Kings.
If LA would have won on Friday night against the San Jose Sharks they would have captured the seventh seed and a first round date with the St. Louis Blues. The Blues are another defensively minded team who LA would have matched up against much, much better.
There is no chance of a first round upset here against the Canucks, the winners of the Presidents Trophy.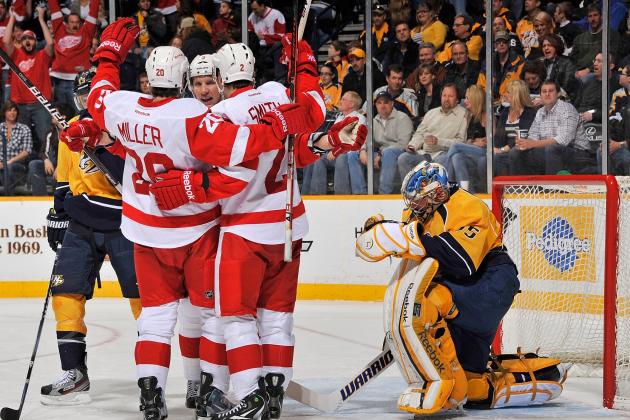 Frederick Breedon/Getty Images

Nobody really wanted to see either one of these teams play the other.
Why, you ask?
Both teams were projected to go deep in the playoffs, but now only one may advance to the second round.
The upstart Nashville Predators are hungry for more playoff wins, after defeating the Anaheim Ducks last year for their first ever postseason series victory.
Nashville has the goaltending, the best defensive pairing in the NHL in Shea Weber and Ryan Suter, an elite goal scoring winger in Alex Radulov and great depth.
The Red Wings have the usual suspects for the most part led by Pavel Datsyuk, Henrik Zetterberg and the ageless Nicklas Lidstrom.
The Predators have a young to middle-aged squad that should be able to compete for years to come if they are somehow able to sign Suter long-term.
The Red Wings on the other hand might feel like their window closing, if Lidstrom decides to retire. Lidstrom, who is in his 40s but plays like he's in his 20s, might call it quits after the playoffs.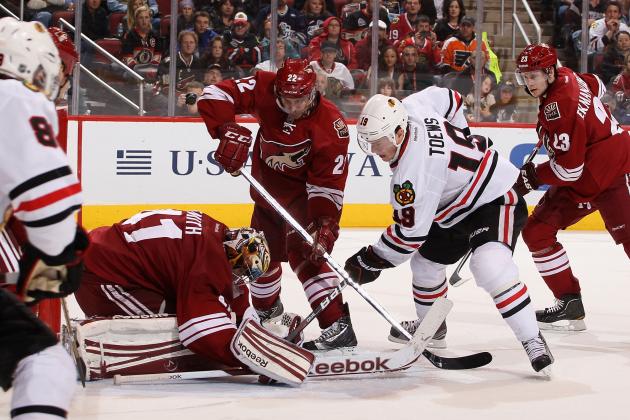 Christian Petersen/Getty Images

Congratulations to the Phoenix Coyotes, who captured their first-ever division title.
In an effort to keep their team in Phoenix and from an inevitable move to Quebec City or Hamilton, the Coyotes answered the bell and had an amazing last-minute run to the top of the Pacific Division.
Chicago, always a huge television ratings draw, will face a team of virtual unknowns to the casual hockey viewer.
People are going to see just how good Coyotes' net minder Mike Smith is and will have the pleasure of viewing the quietest thirty-five goal scorer in the entire NHL in Radim Vrbata.
The Blackhawks are chalked full of star talent already exposed to the public from their Stanley Cup win two years ago.
Patrick Kane, Patrick Sharp, Marian Hossa, Duncan Keith and Brent Seabrook will lead their star-studded cast into the desert in hopes to pull a first-round upset.
Although captain and first line center Jonathan Toews' health is still questionable, we all hope that he can come back soon to square off against lifetime Jets-Coyotes captain Shane Doan.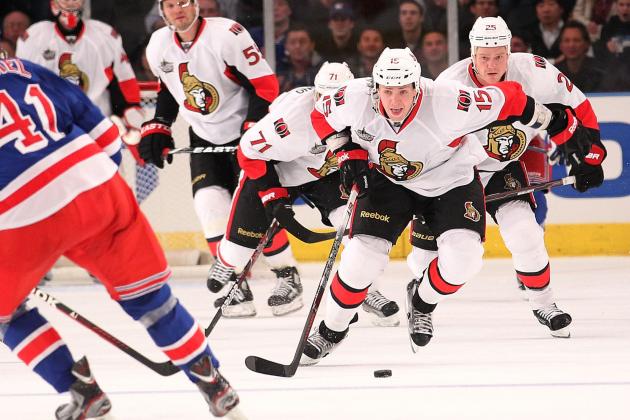 Nick Laham/Getty Images

Everyone was expecting a New York-Washington rematch, and everyone was disappointed with the results revealed after Friday's final game.
The Senators and the Rangers had extremely poor outings against the New Jersey Devils and Washington Capitals, respectively.
If there was a chance for a conference's first seed to fall in the first round, this is it for 2012.
There are plenty of holdovers in Ottawa from the 2006 Eastern Conference Champs, including Jason Spezza, Daniel Alfredsson and Chris Phillips who are hungry for one more shot at the Cup.
Stud offensive defenseman Erik Karlsson will create match-up problems for the Rangers, and the young Swede is a threat to score every time he steps on the ice.
If the Rangers were hoping to face with the Washington Capitals, they should have put forth more of an effort than they did on Friday.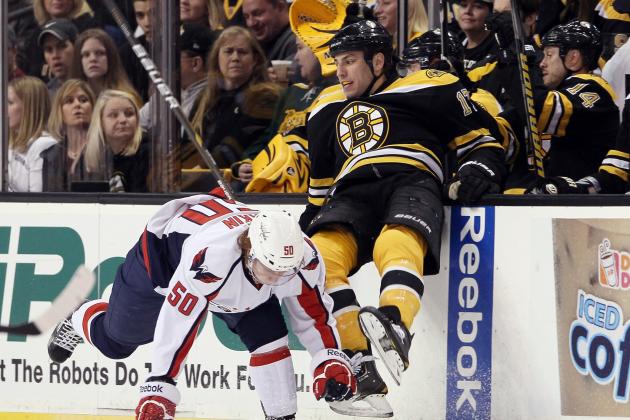 Elsa/Getty Images

In a series nobody really expected or wanted to happen, the Bruins face an unexpected foe, loaded with star power in the Washington Capitals.
The defending Stanley Cup champs have everything going for them, minus the loss of right winger Nathan Horton. It's not a big concern for Boston, however, because everybody remembers what happened after Horton was lost for the playoffs.
Even though the Capitals struggled throughout most of the year, they still have the player personnel to pull off an upset.
Alexander Ovechkin, Alexander Semin, Mike Green and Nicklas Backstrom can all assume direct control over games with their will power and skill.
The only thing that needs to happen for these Caps, which hasn't happened since these four started playing together, is they all need to gel at the same time.
For more predictions and what we can expect to see from this series, check out this recent article on the Boston-Washington series.
Thearon W. Henderson/Getty Images

The Sharks, Blues, Canucks and Kings will be intertwined this post season.
It just feels like things didn't go the way they were suppose to when San Jose had a come-from-behind, overtime victory against the Kings.
In what would have been a fun and ultra-competitive showdown between the Sharks, losers of two straight Western Conference Finals, and the Canucks, the team that beat those same Sharks to go on to the Stanley Cup Finals, hockey fans were robbed on Friday.
Big names like Joe Thornton, Patrick Marleau and Dan Boyle squaring off against the Sedin twins, Kevin Bieksa and Alex Edler and the over-criticized goaltender Roberto Luongo would have been legendary.
Since there was no way for the Blackhawks to meet up with the Canucks, we all would have settled for this close second place.
Instead we are going to get the high flying Sharks against the defensively stalwart Blues, who are sure to give no quarter and provide even less scoring opportunities.
If you like things like blocked shots and 2-1 final scores, this series is for you
Christopher Pasatieri/Getty Images

If you're not a Devils or Panthers fan, you're probably not going to watch even a period of this one.
The Devils are, in what might become a new word, underdog favorites.
Finishing the season with 102 points and 48 wins, the Devils will be on the road to face the Southeast Division champs the Florida Panthers.
The Panthers may have home ice advantage, but they are favored by no one going into this series.
With a plethora of post season experience, the Panthers have a mix-and-match squad of been-there-done-that players, led by defenseman Brian Campbell.
Florida barely won a weak Southeast Division and has extremely suspect goaltending going into the playoffs.
Do the Cats go with Jose Theodore who has never won a second-round series in his career, or do they go with longtime backup and former Devil Scott Clemmensen who has no postseason experience?
The Panthers simply do not match up well against the Devils who can hurt other teams with every line and have two superstars in the top six to include Ilya Kovalchuk and Zach Parise.
Kovalchuk has only won one playoff game in his entire career and is going to play like a man possessed against a weaker opponent.
This series might have some entertaining moments, but it is last on the NHL's list of television priorities, as evidenced by the fact that not one game will be played on a weekend night.