Should NHL's Old, Injured Players Retire or Come Back for Another Season?
Jonathan Daniel/Getty Images
For a professional athlete, it is easy to enjoy the initial years at the beginning of their career. However, players age, they suffer wear and tear and eventually get to the point where they contemplate retirement.
In the NHL today, there is a slew of old but still talented players. There are also so injury-prone players who should consider hanging up their skates professionally.
However, what should top players like Nicklas Lidstrom, Teemu Selanne, Jaromir Jagr and various others do for next season?
Ray Whitney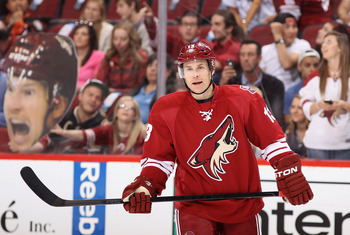 Christian Petersen/Getty Images
What Should He Do?
Hit the open market and sign a two-year deal with bona fide contender
Ray Whitney is an elder statesmen, but don't let his age fool you, because this old desert dog can still hunt.
Whitney is having a true renaissance year and has shown he still has the tools to be an effective player.
Last season, Whitney put up a respectable 57 points, but this year, he has 75 points and eight power-play goals. That puts Whitney 14th in the league overall for points at age 39.
With Whitney's "wizardry," clutch shot, finesse and experience, he would be the perfect pickup for a team looking to add some experience and skill. Whitney was a vital component to the Carolina Hurricanes' cup win in 2006, so there will likely be a list of teams lining up to talk with him.
Ian Laperriere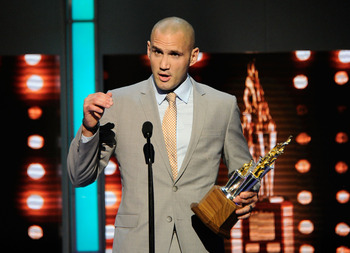 Ethan Miller/Getty Images
What Should He Do?
Retire
Although Ian Laperriere has been unofficially retired, he can officially retire this offseason.
Laperriere was one of the toughest players in NHL history and had his career ended after experiencing post-concussion symptoms as a result of taking two shots to the face the year prior.
Laperriere was a warrior who spent the past two seasons on LTIR in order to keep the Flyers out of a tough cap situation.
Now that his deal will be expiring, the 2010-11 Bill Masterson Trophy winner can focus on his personal well being moving forward.
Dwayne Roloson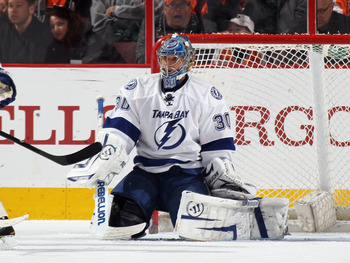 Bruce Bennett/Getty Images
What Should He Do?
Retire
Dwayne Roloson was stellar for the Tampa Bay Lightning during the 2010-11 playoffs, but the 2011-12 regular season didn't treat him too well.
With the Lightning looking to get serious in net, there is no chance the Lightning attempt to retain him.
At age 42, there are not many teams willing to take a flyer for a backup goaltender.
Teemu Selanne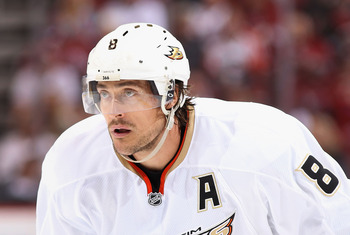 Christian Petersen/Getty Images
What Should He Do?
Re-sign for one more year under the California sun
The Finnish Flash hasn't lost a step, and he should come back for one more year.
Selanne will turn 42 this summer, but that hasn't stopped him from putting up 66 points and 12 power-play goals for the Anaheim Ducks.
Selanne could always decide to walk away, but he likely has another good year in him. He scored 80 points last year, so for a good price, the Ducks would welcome a 70-point player who is adored by the fans of Anaheim.
Rick DiPietro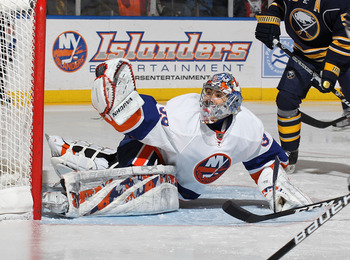 Bruce Bennett/Getty Images
What Should He Do?
Take off the 2012-13 season
Rick DiPietro is a sad story.
He was a top-touted prospect, and the Islanders planned to build around DiPietro in the crease.
Rick DiPietro was once a very young and promising goaltending prospect who even went No. 1 overall in the NHL Entry Draft.
However, signing DiPietro to this contract was not very wise. After appearing in 63 and 62 games in the 06-07 and 07-08 seasons, DiPietro has appeared in only 51 games when you combine seasons 08-09 to the present.
Injuries have marred his career, and he can never stay healthy. By taking off the 2012-13 season, DiPietro can give himself enough time to heal and strengthen his body.
If after that time period, DiPietro re-injured himself, he really should hang up the skates for good.
Nicklas Lidstrom
Christian Petersen/Getty Images
What Should He Do?
Re-sign for one more year at a discount
Nicklas Lidstrom is a future first ballot Hall of Fame defenseman.
His resume has impressive credentials that feature multiple cup rings, Norris trophies and other impressive statistics.
Lidstrom showed this year that despite minor injuries and age, he can still play 20-25 minutes a night and put up at least 30 points.
With Detroit having tons of cap space, retaining Lidstrom at a hometown discount would allow the Red Wings to keep their captain and load up on free agents for another cup run.
What better way for Lidstrom to go out in a blaze of glory then by winning another Stanley Cup? Lidstrom is one of the league's best defenders, and he likely has one good year left.
Martin Broduer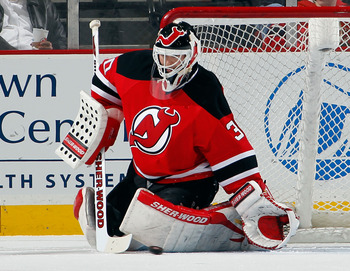 Paul Bereswill/Getty Images
What Should He Do?
Re-sign for one more year at a severe discount
The New Jersey Devils have no clear plan to replace Martin Brodeur. It is an area they will likely explore at this year's draft.
Brodeur is a big reason why the Devils are in the playoffs this season. He is a veteran and a future Hall of Famer.
In order to help the team's finances, Brodeur should sign a very cheap deal to stay with the only professional team he has played for.
Brian Rolston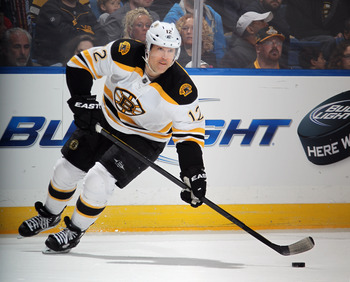 Bruce Bennett/Getty Images
What Should He Do?
Retire
Brian Rolston has won a Stanley Cup and an Olympic medal, and he's been a successful forward for many teams.
Rolston was waived earlier this year and then was traded to the Islanders before being traded to the Boston Bruins.
Now he is going to try to enjoy one more playoff run. At the end of this season, Rolston should go out on a good note considering how his season started.
Jaromir Jagr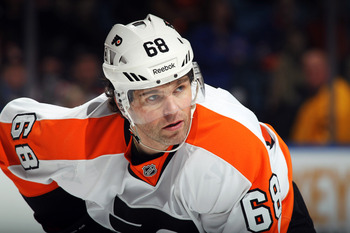 Bruce Bennett/Getty Images
What Should He Do?
Retire or sign one-year deal at a discount
I may be in the minority, and I realize that Jagr has stated he would like to return for another season, but the injuries are starting to catch up with him.
Jagr's injuries include his hip, groin and lower body. These are injuries that don't go away over the course of time. He will likely carry these with him for the rest of his career.
At his age, groin pulls and hip issues will constantly flare up from time to time. If Jagr does return, he should sign a cheaper contract.
If he is going to have injuries constantly flaring up, he should provide his team with salary-cap flexibility.
Chris Pronger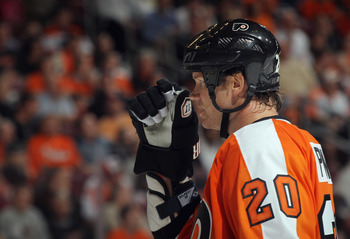 Bruce Bennett/Getty Images
What Should He Do?
Stay on LTIR
Chris Pronger's career is likely over, but he can't retire—officially.
Due to the fact that Pronger signed a 35-plus contract, in the event he retired, Pronger's salary would count against the cap until it was completely paid off.
By staying unofficially retired, Pronger can work on getting better and the Flyers can stay out of salary-cap hell.
Sean O'Donnell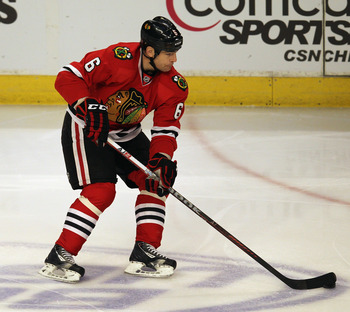 Jonathan Daniel/Getty Images
What Should He Do?
Retire
Sean O'Donnell has signed one-year contracts for the past few seasons because he is on a 35-plus contract.
He is now 40 years old, and the Blackhawks will likely try to improve on defense this offseason.
O'Donnell was a solid defender in his prime, but at age 40 he is not the player he once was.
There are not many teams that will be willing to offer an older defenseman not named Lidstrom a contract.
Tomas Holmstrom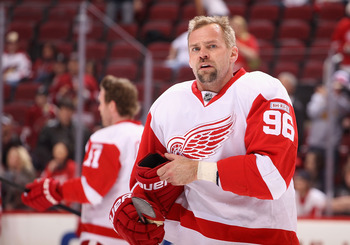 Christian Petersen/Getty Images
What Should He Do?
Retire
Tomas Holmstrom has won four Stanley Cups, is one of the toughest grinders today and has a knack for scoring tons of garbage goals.
Holmstrom's production has dropped over the last few years, and with tons of free agents on the market this season, Detroit will scoop up as much cap space as possible.
Holmstrom has spent his entire NHL career with the Red Wings and has had a great career.
Because of this, Holmstrom likely will want to retire on a good note with the club.
Mike Knuble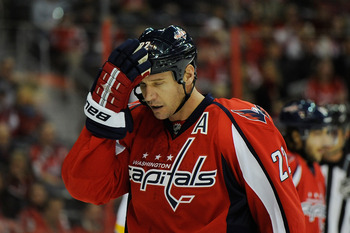 Patrick McDermott/Getty Images
What Should He Do?
Try to find a new team
Mike Knuble has had a long career and has been an effective role player.
With the Washington Capitals likely to retool this offseason, Knuble will be left looking for a job.
He is not getting any younger but can still serve a role killing penalties and playing on the fourth line.
How Knuble performs in the playoffs could determine whether or not he decides to retire after this season.
Daniel Alfredsson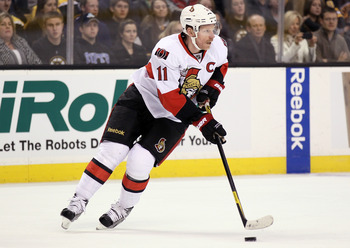 Elsa/Getty Images
What Should He Do?
Finish out his contract
Daniel Alfredsson was once thought of as a potential trade target at this year's deadline.
However, Alfredsson and the Senators stepped up their play, and he was taken off the market.
It has been speculated that Alfredsson may retire at the end of this season even though he has one year left on his deal. Right now there is a 50-percent chance he will be back next season. The other 50 percent is up to his wife!
Tom Urtz Jr is a NHL Featured Columnist.
For more NHL and Rangers news, updates and alerts about players:
Keep Reading