Brendan Smith: Big-Name Prospect Returns to the Detroit Red Wings
February 28, 2012

Bruce Bennett/Getty Images
In a series of unfortunate (and some rather fortunate) events, Ken Holland has called up highly touted defensive prospect Brendan Smith from Grand Rapids to play Tuesday night against the Columbus Blue Jackets.
This will be Smith's second official call-up to the Red Wings after playing three games back in November after teammate Ian White broke his cheek bone.
Smith was called up to Detroit various times before he filled in for White, but only to serve out a suspension he received in the preseason for a hit delivered on Chicago Blackhawks prospect Ben Smith.
Brendan Smith might not be the only one called up from Grand Rapids, as Doug Janik may be called up as well, after a chain of events in the last week has led to their services being required in Detroit.
First, Jonathan Ericsson suffered a small fracture in his wrist during Detroit's game against the Colorado Avalanche on Saturday. Ericsson will miss at least a month to recover from the injury.
Then during the trade deadline, Red Wings general manager Ken Holland traded away Detroit's extra defender, Mike Commodore, to Tampa Bay for a conditional seventh-round draft pick.
Shortly after Commodore was traded, news broke that new (sort of) Red Wing defender Kyle Quincey was day-to-day, and that Nicklas Lidstrom was the same.
A local Detroit website is currently reporting that Quincey will not play in Tuesday's game, and that Lidstrom's status is questionable.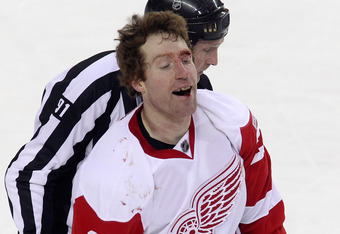 Mike Ridewood/Getty Images
If Lidstrom doesn't play, Janik will likely be called up. Smith was already confirmed to be starting tonight's game by Ken Holland in a live interview on TSN Monday afternoon.
Smith currently has 32 points in 47 games with the Grand Rapids Griffins and posts a plus-seven rating with the team.
In the three games that he has played with the Red Wings this season, Brendan has two points, which is an impressive number for only having played limited minutes on the third pairing.
In an interview this morning, Red Wings coach Mike Babcock was quoted saying:
We felt the minutes in the minors were important. We felt he'd be on the team by the end. We think he's an NHL player. He could've probably played all year, probably could've played last year.
In addition to Babcock's generous compliments, teammate Niklas Kronwall said:
He's great coming out of his own zone, he's got tremendous speed and is good defensively. It worked well the few games we played together. Hopefully we can keep building on that.
Kronwall also said:
He's got a lot of confidence and tremendous upside. He's good on the power play, he sees the ice well.'
It will be interesting to see how Brendan Smith performs in tonight's game. If Lidstrom sits out tonight, there will be a spot opening on either the second pairing or first pairing that Smith could take.
In addition, with Ericsson being out for at least a month, Smith could find himself in a more permanent position with Detroit.
Jordan Matthews is a Featured Columnist for the Detroit Red Wings and the NHL. For more coverage, you can read recent articles by Jordan here:
Where Do the Red Wings Land in the Western Conference Playoffs Seeding?
Eight Reasons Red Wings Fans Can Count on a Deep Playoff Run