How Jeremy Lin, Giants and Rangers Reshaped New York Sports in One Week
February 13, 2012

Al Bello/Getty Images
The city, teams and fans of New York have had one hell of a week.
If you haven't been paying attention, the Giants won their fourth Super Bowl, the Rangers pushed their lead in the Eastern Conference to seven points and the Knicks went Lin-sane.
While the Rangers and Knicks' accomplishments seem to pale in comparison to that of the Giants' Super Bowl XLVI win, to New York fans everywhere it brings on something they haven't had in a while: hope.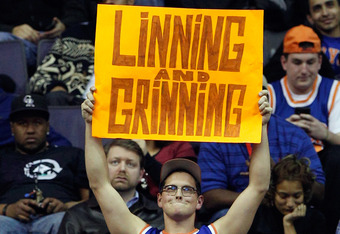 Rob Carr/Getty Images
The Giants' run is only the beginning for this team and quarterback Eli Manning. At only 31 years of age, he's just entering the prime of his career.
This past week everyone in the world saw that.
They also saw an unknown afterthought by the name of Jeremy Lin re-energize a flailing Knickerbockers basketball team.
He's not only put the Knicks back on the map and in the hunt for a potential playoff spot, but he's rapidly affecting the business end of things as well.
The Rangers, winners of five of their last six including three straight, have seen their stock rise in more ways than one with their winning ways.
Mason Levinson and Eben Novy-Williams of Bloomberg write:
Shares in Madison Square Garden, which also owns the National Hockey League's New York Rangers, have climbed 6.2 percent to $31.15, a record closing price, since Feb. 3, the day before the team's winning run began.
The success Lin is having is a rarity as Levinson and Novy-Williams point out, "No other player in NBA history has scored at least 20 points and collected seven assists in his first four starts, according to the Elias Sports Bureau."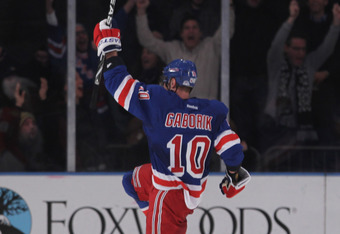 Bruce Bennett/Getty Images
But more than that, Lin and the Rangers have given a city yearning for success on both the ice and hardwood alike, a chance for success in their respective leagues once again.
The Rangers haven't won the Stanley Cup since 1994 and the Knicks haven't won an NBA title since 1973. The Rangers haven't been back to the Cup finals since and the Knicks have made it to the postseason only twice since 2001.
These two proud franchises and fan bases want nothing more than the type of joy and elation the New York Giants and their fan base experienced just last week.
For once, both Rangers and Knicks fans have reason to hope.
In one short week, New York City felt the thrill of a championship in one sport and the saw the glimmer of hope in two others.
In that week the Giants, Knicks and Rangers were untouchable. It hasn't been like that in quite some time.