Projected U.S. 2014 Olympic Hockey Roster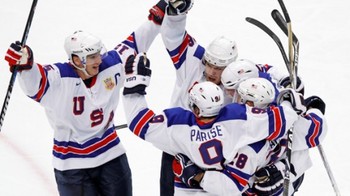 Two years ago today, a young United States hockey team began its quest for a gold medal at the Vancouver Olympics, a journey that didn't end until finally falling to hometown favorite Canada in the finals.
Although much of the roster will most likely remain the same at the 2014 Olympics in Sochi, we are sure to see some new faces.
Team USA already has lost high-scoring defenseman Brian Rafalski to retirement. Chris Drury, who also retired due to injury, was deemed not good enough to be added to the 2010 roster. However, he scored big-time and was a huge part of America's path to the gold-medal game.
Tim Thomas, the NHL's most dominant goalie of late, will be 39 in 2014, and although he may be up for some international action, many speculate that this year or next may be his last as a professional.
Some who have made the team in the past may be replaced in favor of youngsters who have established themselves recently at the NHL level, or will do so in the coming years.
Former captain Jamie Langenbruner is not expected to be back due to age and a decline in his game. It will be up to the coaching staff and players to name a new U.S. captain. Who will it be?
While it is unlikely that we will see any NCAA or Major Juniors' players on the roster, there is always room for someone to take center stage and make a case for himself.
Who can raise their stock enough before Sochi?
Goaltender No. 1: Jimmy Howard
Gregory Shamus/Getty Images
Detroit's Jimmy Howard has molded himself into the most recognizable American goalie since Ryan Miller. Leading the NHL in wins, Howard is putting up tremendous numbers in his second season in the NHL, taking on a workload that would make Martin Brodeur proud.
Although Howard's numbers aren't as flashy as Los Angeles' Jonathan Quick, Howard has proved that he can be the horse that a well-rounded team can ride all the way home. With two more years of development under Detroit's superb coaching staff, it would not surprise anyone if Howard got a Vezina nomination before 2014.
Resume: Calder Trophy Finalist
Goaltender No. 2: Ryan Miller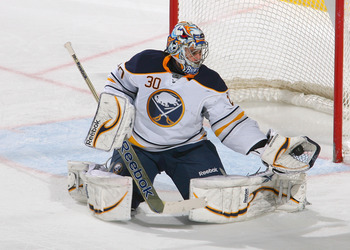 Rick Stewart/Getty Images
What needs to be said about the 2010 MVP? The only reason I have Miller at No. 2 is that his game has slipped a bit since the Olympics. Miller is still an elite goaltender and will make the team no matter what. Even if we see a massive decline, Miller's reputation alone and what he did for the team in 2010 will earn him a roster spot.
Resume: 2010 Olympic Silver Medal, 2010 Olympic MVP, 2010 Vezina winner
Goaltender No. 3: Jonathan Quick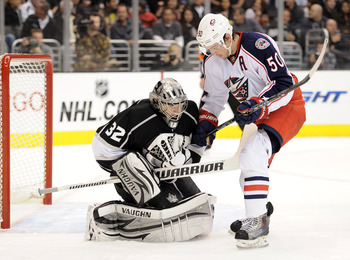 Harry How/Getty Images
Second only to Henrik Lundqvist, Jonathan Quick is the best statistical goalie in the NHL. Quick has a knack for shutting down opponents and coming up big when it matters.
Quick was once thought to be a stop-gap for the Los Angeles Kings until top prospect Jonathan Bernier developed into a true No. 1 goalie. The Kings now will have to rethink their plans. Quick will be one of the NHL's top goalies for years to come.
1st Line LW: Zach Parise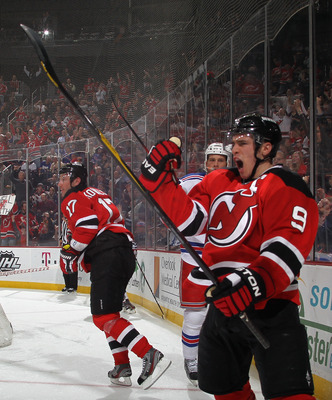 Bruce Bennett/Getty Images
Pictured above is the most likely candidate to captain Team USA.
Zach Parise is a do-it-all type of player who can score, hit, play defense and lead his team in clutch situations. A phenomenal talent with natural leadership abilities, Parise is remembered as the player who tied the game with Canada during the dying minutes of the gold-medal game with Canada in 2010.
Parise is the definition of a "lock" as far as making the Olympic squad.
Resume: 2010 Olympic Silver Medal
1st Line Center: Ryan Kesler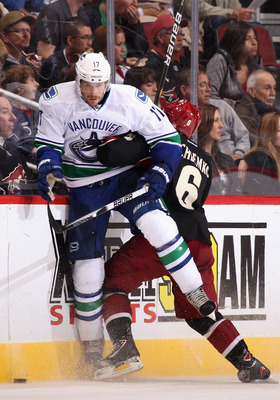 Christian Petersen/Getty Images
He is the prototype of a modern-day, two-way center in the NHL.
Kesler is one of those rare players, much like Evgeni Malkin, who would be a No. 1 center and a minutes-eater if their respective teams didn't have Henrik Sedin and Sidney Crosby.
Kesler is already extremely respected in the American hockey-knowledgeable crowd and very much feared as a shutdown scoring threat in the NHL.
Resume: 2010-11 Selke Trophy Winner, 2010 Olympic Silver Medal
1st Line RW: Patrick Kane
Bruce Bennett/Getty Images
Arguably the best stick-handler and dangler in the league not named Pavel Datsyuk, Patrick Kane gets better and better every year.
As mentioned with Zach Parise, Kane is clutch. Already having scored the Stanley Cup-winning goal in his career, Kane knows what it takes to be a winner.
Resume: 2008 Calder Trophy winner, 2010 Stanley Cup champion, 2010 Olympic Silver Medal
2nd Line LW: Bobby Ryan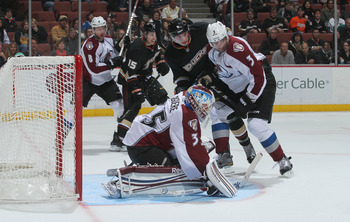 Victor Decolongon/Getty Images
The recent subject of numerous trade rumors, former second overall pick Bobby Ryan is a great power forward whose career is just taking off. Playing on one of most dominate lines of last year with Canadians Corey Perry and Ryan Getzlaf, Ryan is an important scoring piece to add to Team USA. The versatile Ryan would be effective on any line.
Resume: 2010 Olympic Silver Medal
2nd Line Center: T.J. Oshie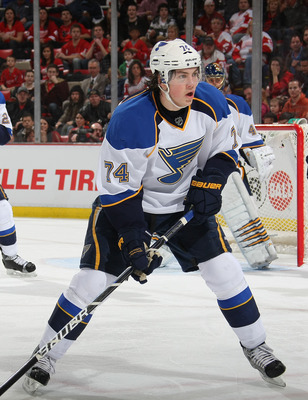 Dave Sandford/Getty Images
Like seemingly every other member of the St. Louis Blues, T.J. Oshie has been transformed by Coach Ken Hitchcock into a superb two-way center who can keep points off the board as well as put them on.
Of all the centers Ameri has to offer, Oshie may well have the most potential to grow between now and 2014.
2nd Line RW: Phil Kessel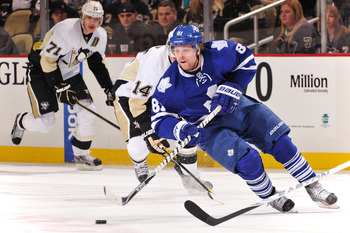 Jamie Sabau/Getty Images
What can change in a year?
In 2010-11, the Boston Bruins' trade of Phil Kessel to the Toronto Maple Leafs was deemed poor by almost everyone in the hockey community. Now that more time has passed, that opinion has changed, as Kessel has dominated the NHL with his elite scoring ability.
The second-line right wing is a perfect spot for Kessel to showcase his nasty wrist shot and put up good numbers against the world's best.
Resume: 2010 Olympic Silver Medal
3rd Line LW: Joe Pavelski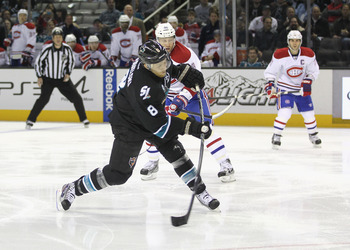 Ezra Shaw/Getty Images
Joe Pavelski is a great player who has seen his stock drop a bit in the past year or so after posting a stunning 2010-11 playoffs.
The Big Pavelski, as he is known in San Jose, is a very good two-way center who still has plenty of room for development. The big question with Pavelski will be how his production is affected without either Patrick Marleau or Joe Thornton on his line.
Resume: 2010 Olympic Silver Medal
3rd Line Center: Derek Stepan
Al Bello/Getty Images
The New York Rangers' Derek Stepan is turning into one of the NHL's bright young stars. Under the guidance of Coach John Tortorella, one can expect Stepan to play an above-average defensive game at the most critical forward position.
Stepan will be one of the youngest members of Team USA, but he could also turn out to be one of the best.
3rd Line RW: Jason Pominville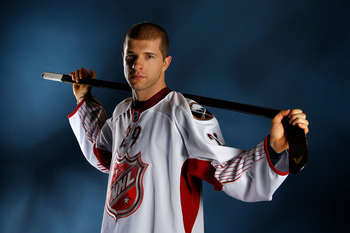 Gregory Shamus/Getty Images
Jason Pominville, now the captain of the Buffalo Sabres, is an easy pick for Team USA.
Pominville brings a scoring touch, leadership and a good two-way game to the ice.
He is one of those players who has always been pretty good, but has really established himself in 2012 as a cut above the rest. Although the Sabres aren't doing terribly well, Pominville is leading by example, and that's something Team USA can't get enough of.
4th Line LW: Dustin Brown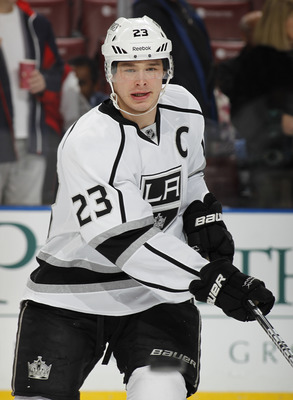 Joel Auerbach/Getty Images
As the captain of the Los Angeles Kings, Dustin Brown is a nasty forward who loves to hit people as hard as he can and as often as he can. When you think of a gritty fourth line for Team USA, Brown simply must be there.
In 2010, Brown was thought enough of by his teammates to don an "A" on his chest. That goes to show that despite his lack of scoring, he is deeply respected by his teammates and feared by opponents.
Resume: 2010 Olympic Silver Medal
4th Line Center: David Backes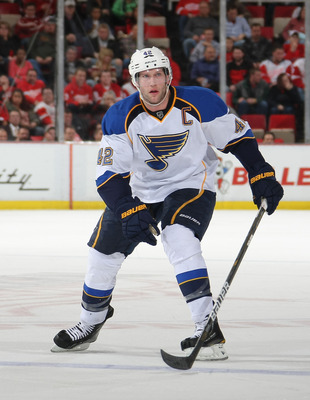 Dave Sandford/Getty Images
David Backes is yet another NHL captain and the second St. Louis Blues center to make this roster.
Backes is all kinds of nasty when it comes to his checking game, and has a rocket of a shot to boot. He adds yet another experienced leader to this group of men in their late 20s and early 30s.
Resume: 2010 Olympic Silver Medal
4th Line RW: Ryan Callahan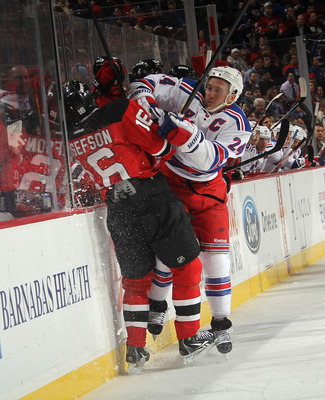 Bruce Bennett/Getty Images
Leadership, grit and a scoring touch is what Ryan Callahan brings to the table for Team USA.
Can you think of anybody better to lead the "energy" line?
Callahan is a hard-nosed player who is not afraid to get dirty. Under the tutorship of John Tortorella, Callahan is quickly becoming one of the best scoring grinders in the NHL.
1st Defensive Pairing LD: Jack Johnson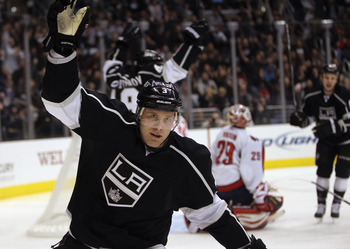 Bruce Bennett/Getty Images
Jack Johnson is a stud in the other team's zone. To make the top pairing, Johnson will have to improve in his own.
Making the 2010 Team-USA roster is definitely a plus for JJ's candidacy to be top dog among the American blue-liners. With Brian Rafalski done leading the defense from the rear, Johnson must answer the call and fill the huge gap the veteran left behind.
Resume: 2010 Olympic Silver Medal
1st Defensive Pairing RD: Ryan Suter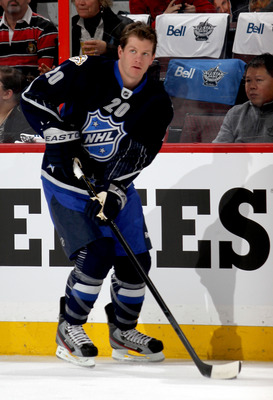 Bruce Bennett/Getty Images
Ryan Suter of the Nashville Predators is the most dominant American defenseman in hockey, bar none.
Suter is nearly flawless in his defensive game and can put up good numbers on offense. It is believed that if he was not paired with offensive dynamo Shea Weber, his points totals would be even greater.
A virtual lock for the first defensive pairing and perhaps the entire roster's main minutes-eater, Ryan will be a leading member of Team USA.
Resume: 2010 Olympic Silver Medal
2nd Defensive Pairing LD: Keith Yandle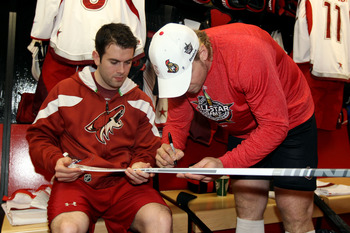 Christian Petersen/Getty Images
Keith Yandle is the No.1 defenseman in the desert and an up-and-coming star in his own right. On top of all this, Yandle showed a commitment to himself and the team when he recently signed a new contract with the Coyotes, something most guys in Phoenix wouldn't dream of doing.
Instead of jumping off the sinking ship, Yandle showed some real character and re-upped for a few years on a team where he will be top dog for quite some time.
2nd Defensive Pairing RD: Matt Carle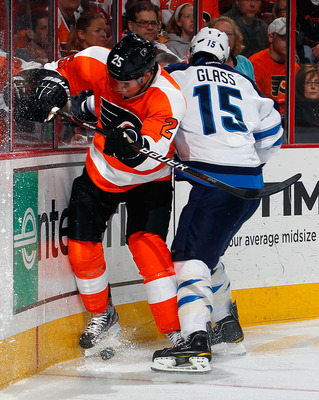 Paul Bereswill/Getty Images
Matt Carle has had the good fortune of being paired with Chris Pronger and sometimes Kimmo Timmonen during his time with the Flyers. It will be interesting to see how Carle fares when he is not given a future Hall-of-Fame defensive partner.
Carle racks up points for the Flyers and figures to be one of most surprising choices for Team USA in 2014. Nobody should be surprised, however, if this young man develops into a steady middle-pairing defenseman with lots of special team's time, no matter who he plays for.
3rd Defensive Pairing LD: Brooks Orpik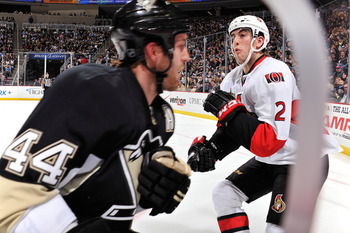 Jamie Sabau/Getty Images
It's hard to believe that Brooks Orpik of the Pittsburgh Penguins will be one of America's elder statesmen in 2014. But after Brian Rafalski hung up the skates last season, Orpik figures to be Team USA's oldest blue-liner.
Orpik brings a punishing physical game and a great intimidation factor to the ice.
Resume: 2008-09 Stanley Cup champion, 2010 Olympic Silver Medal
3rd Defenensive Pairing RD: John Carlson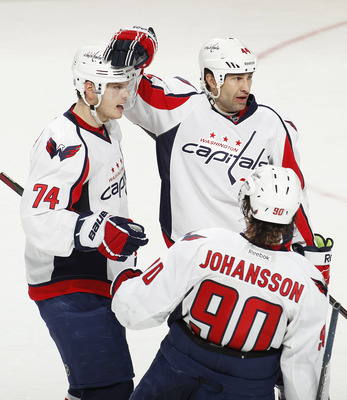 Joel Auerbach/Getty Images
Another young member and soon to be rookie Olympian is John Carlson of the Washington Capitals. He has it all.
In his young career, Carlson has two AHL championships and a goal medal in World Junior Hockey, earned when he scored the game-winning goal. Carlson performs at the highest level and will develop into one of the NHL's top young defensemen by 2014.
Coaching Staff: John Tortorella, Peter Laviolette and Ron Wilson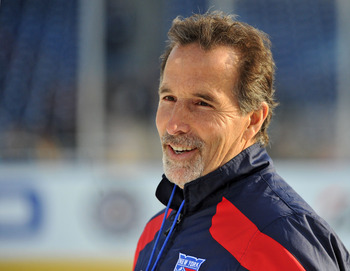 Christopher Pasatieri/Getty Images
Torts and Laviolette are the only American coaches to have won Stanley Cups. Ron Wilson is a shoe-in if Brian Burke is the general manager once again.
Tortorella has reinvented himself and turned the Rangers into a hard- working, blue-collar team that never says quit. Torts is the perfect coach to lead Team USA . Nobody fits the bill better than he.
Resume: 2004 (Tortorella) & 2006 (Laviolette) Stanley Cup Champions, 2010 Olympic Silver Medal
Roster Recap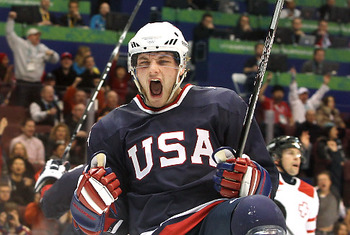 First Line
Zach Parise (C); Ryan Kesler (A); Patrick Kane.
Second Line
Bobby Ryan; TJ Oshie; Phil Kessel.
Third Line
Joe Pavelski; Derek Stepan; Jason Pominville.
Fourth Line
Dustin Brown; David Backes; Ryan Callahan (A).
1st Defensive Pairing
Jack Johnson; Ryan Suter (A).
2nd Defensive Pairing
Keith Yandle; Matt Carle
Brooks Orpik (A); John Carlson
Goalies
Jimmy Howard
Ryan Miller
Jonathan Quick
Coaching Staff
John Tortorella
Peter Laviolette
Ron Wilson
Keep Reading