The Biggest Clue the Jets' LaDainian Tomlinson Is Retiring: Television
January 24, 2012

Christian Petersen/Getty Images
Immediately following the New York Jets' embarrassing 19-17 loss to division rival Miami Dolphins and their subsequent elimination from post-season play, the national media got journalistic insight from an embedded reporter looking to make his mark in his new career.
The country got a peek into the huddle, in the fourth quarter of their make-or-break game. 
The access was pure gold. It was bona fide, verifiable; first-person accounts of the tension, strife, and dysfunction that beset Rex Ryan's team in the waning moments of a disappointing season.  And it all came from embedded journalist LaDainian Tomlinson.
LT is widely considered one of the classiest men in all of sports. The shoo-in Hall of Famer has had an illustrious football career—rushing for 13,684 yards and scoring 145 touchdowns.
Then San Diego Head Coach Marty Schottenheimer said of Tomlinson: "I believe he's the finest running back I've ever seen in professional football."
As good as LT's reputation is on the field, it's overshadowed by his reputation off the field. 
"For all the skills he has as a player, they pale by comparison to the person," Coach Schottenheimer said.
So why would LT, who has rarely spoken ill of anyone, talk openly and repeatedly to media about the inner-sanctum of his current team's huddle?
The only reason is he's looking for a new career as a football analyst.
SHOWTIME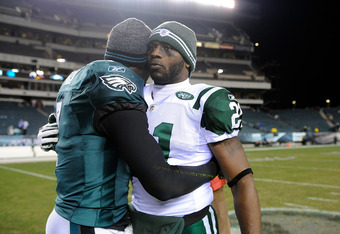 Patrick McDermott/Getty Images
Beyond the initial reactions in the moments following the loss, Tomlinson has continued to be vocal on television and radio.
Sure, he might want to clear the air about his frustrations. But the bigger reason he's articulating his thoughts so clearly and succinctly, is to gather footage for his on-air reels to pass on to future employers.
On Showtime's Inside the NFL, he shared about the Jets: "This is as bad as I've ever been around, honestly." 
Tomlinson continued to Cris Collinsworth, James Brown and Warren Sapp: "It was at the point I think the players could no longer do anything about it."  
The dynamics of the exchanges between the NFL panel and the former Chargers' running back were less hosts-to-guest and more dialogue between peers.  
"When it gets to that point there's certain changes that need to happen." Tomlinson spoke, referring to the Jets dysfunctional chemistry.
The words could have just as easily applied to Tomlinson's choice of vocation. He spoke of the Jets in the wrong tense and without possession.
With his explicit naming of the Jets head coach as a contributing factor of the dysfunction, Tomlinson seems to have burnt his bridge back to Rex and Co.
There are few other teams he could join, so the move feels like a steady march towards the comfort and excitement of the television studio.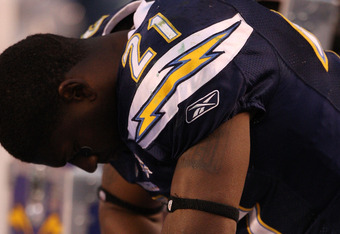 Donald Miralle/Getty Images
And why not?
New York is the largest media market in the country. He carries a stellar reputation and a body of work few other analysts can boast. His newly outspoken tendencies suggest a deft move for the runner trying to find a seat in an ever more crowded field of jock-pundits.
We're witnessing him trade his coveted huddle access for coveted camera access. There's precedent for the move, of course, in the scores of ex-players sitting at a desk at ESPN or FOX on Sundays.
Former Steelers running back Jerome Bettis is a prime example of a player-turned prognosticator. In his inaugural appearance as an NBC Sports analyst, the "Bus" got his first scoop in outing Coach Bill Cowher as retiring.
According to a conversation the two had after the Steelers had won the Super Bowl the previous season, Cowher intimated he would retire after the 2006 season. Cowher responded that he was "very disappointed" in what his former running back shared.
The switch over is a dangerous one though. Bettis doesn't enjoy regular interaction with his former coach any more, and ex-pros like Tiki Barber and Bettis himself are now looking for steady gigs at new homes. 
A week after the Jets' New Year's Day loss, Tomlinson mentioned on the Scott & BR Show on 1090 AM that he's considering saying goodbye to the NFL after his illustrious 11-year career.
Should he follow through with this desire, he looks to have given himself a boost heading into a new career. Should he decide to give it one more shot, it looks like he'll be flying high in other colors.