Australian Open: Roger Federer to Meet Rafael Nadal—Preview of the Men's Draw
January 13, 2012

Michael Regan/Getty Images
The draw for the Australian Open is finally out and some will feel luckier than others. First the shocker: Rafael Nadal and Roger Federer are in the same half of the draw and could meet in the semifinals of a slam for the first time since French Open 2005. 
Fans have been speculating that the draws are rigged as Novak Djokovic and Federer always  end up in the same half (something like 13 or 14 times out of the last 16) and Rafa and Andy Murray in the other.
This Australian Open is the exception to that rule. 
And now to each quarter. 

Novak Djokovic's quarter
Djokovic has a very manageable schedule for the first three rounds with Pablo Lorenzi in the first, Santiago Giraldo or a qualifier in the second and most likely 29th-seeded Radek Stepanek in the third. 
Things get more interesting in the fourth, where he will most likely get to prove why he's the best returner on tour. He could meet either upcoming Milos Raonic, crowd favourite and veteran Lleyton Hewitt (not likely), big-serving Robin Haase or another big server, veteran Andy Roddick. 
My guess is we see the Djokovic-Raonic in the fourth and that Raonic will push him and take a set, but not beat him. 
In the other half of the draw, fellow Serbian Janko Tipsarevic, ever-talented Richard Gasquet and Spanish marathon-runner and 5th-seeded David Ferrer will be the favourites to meet the Djoker in the semis.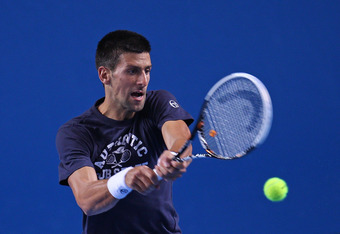 Scott Barbour/Getty Images
Ferrer has a semifinal spot from last year to defend, but Tipsarevic is not a man who goes down easily. 
Pick: Novak Djokovic
Dark horses: Milos Raonic, Janko Tipsarevic and David Ferrer. 
Andy Murray's quarter
Murray will have to be ready for the get-go, when he meets talented teenager Ryan Harrison in the first and always tricky Xaxier Malisse in the second. 
In the third, he could either meet Ernesto Gulbis, Michael Llodra or the most improved ATP player in 2011, Alex Bogomolov Jr. Not impossible, but also not the easiest first three rounds. 
The fourth doesn't get much better as in-form Gael Monfils, who just got the better of Nadal in Doha, could be waiting. 
And if that wasn't enough for Murray, who's trying to win the first British slam in 150.000 years—or just since Fred Perry—he's drawn the consensus dark horse outside the Big Four in the quarters in the form of Jo-Wilfried Tsonga.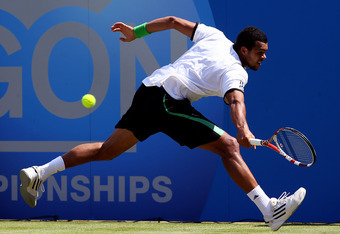 Clive Brunskill/Getty Images
Tsonga's powerful forehand, imposing net game and supersonic serves can beat any player in the draw if he's in the zone. Murray will have to return well and keep his focus while serving if he is to negotiate his way to the semis. 
Murray has a 5-1 head-to-head lead to rely on though. 
If Tsonga doesn't make it that far, a weaker version of Murray, alias Gilles Simon, or Kei Nishikori could be waiting.   
Pick: Andy Murray
Dark horses: Primarily Tsonga who's got a more than decent chance followed by Monfils and Simon. 
Roger Federer's quarter
Federer can't be too unhappy with his draw in the early matches, but could have wished for better luck at the business end of his quarter.
He gets a qualifier to begin with, followed by either Andreas Beck or Eric Prodon, both ranked just inside top-100. Next up is either big-serving Ivo Karlovic, who Federer leads 9-1, or dangerous floater Jurgen Melzer. 
In the fourth round, it gets really interesting as Federer may face the future of men's tennis either in the form of Bernard Tomic (my pick) or Alexandr Dolgopolov. Both are dangerous, but the veteran should have enough tools in his arsenal to stave the young generation for now.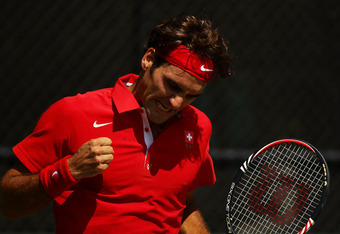 Matt King/Getty Images
Don't underestimate Tomic, though, who pushed Djokovic in four close sets at Wimbledon and took Federer to four sets in the Davis Cup a few months later. 
If that wasn't enough, he's beaten both Monfils and seventh-seeded Tomas Berdych this week in Kooyong. Tomic is looking more and more ready and not afraid of the big stage. 
If he wins, it could be a symbolic passing of the torch just like when Federer beat an aging Pete Sampras at Wimbledon in 2001. 
Should Federer keep his quarterfinal streak going, he will probably face either eighth-seeded Mardy Fish or 11th-seeded Tandil tower Juan Martin del Potro. 
There are still some questions surrounding Delpo's game and stamina, but if he's playing well, he's every bit as dangerous as Tsonga and can upset any player in the draw, including Federer. 
Fish played Federer close at the World Tour Finals, but Federer had nothing to play for and usually gets the better of Fish, who probably would be his preferred quarterfinal opponent if it comes down to Delpo or Fish. 
Pick: Roger Federer
Dark Horses: Primarily Delpo, but Tomic could do some serious damage.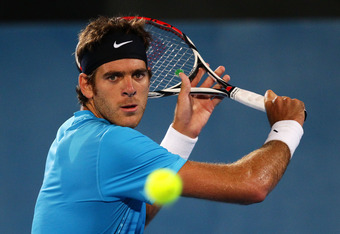 Matt King/Getty Images
Rafael Nadal's quarter
Nadal also has an easy start to the tournament as he faces a qualifier, followed by a qualifier or former world No. 2 Tommy Haas (now 190th). Third up is American hope Donald Young or veteran Ivan Ljubicic, who can trouble Rafa but probably not in best of five at this stage in his career. 
In the fourth, we could see a repeat of the first round of the French Open last year, when Rafa is paired up with the man with the serve, John Isner, who had a great finish to the 2011 season. 
Other possible fourth-round opponents include David Nalbandian, Nikolay Davydenko or Feliciano Lopez. While the two former both have everything it takes to trouble Rafa and has done so in the past, it is more than questionable whether they still have what it takes to compete with and beat Rafa at this level. 
Still, if any of them get to the fourth round, it means they are playing well and Rafa should watch out then. As for Lopez? Rafa leads him 8-1. All in all, Isner or a Davydenko in form are probably the biggest upstacles to Rafa's trip to the quarters.
Here, it is very open who he meets. Tomas Berdych is the highest seed, but Marcus Baghdatis and Grigor Dimitrov have both been showing good form the last few weeks.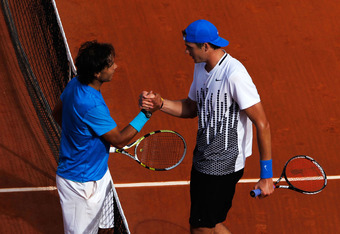 Matthew Stockman/Getty Images
Also in contention are Kevin Andersson, Stanislas Wawrinka and Nicolas Almagro, none of whom should scare Rafa too much.
Berdych and Isner are the dangerous floaters, but it could have been worse as Rafa has solid head to head over both of them despite not liking to play a type like Isner Perhaps the most dangerous for Rafa would be if either Nalby or Davy returns to greatness for a week or so.
Pick: Rafael Nadal
Dark horses:  Tomas Berdych and John Isner
All in all, I would say Murray has the worst draw followed by Federer in a fairly close race with Nadal and world No. 1 gets the 'easiest' draw. Then again, Raonic wouldn't be as "easy" for some of the other Big Four players. 
Blockbuster Semis: 
Novak Djokovic versus Andy Murray. 
Roger Federer versus Rafael Nadal. 
More on those if they all make it there. Personally, I could see one of them being knocked out before the semis, but it's not clear to me, where the damage will come from, hence the safe picks. 
Novak is, surprise, surprise, the safest pick to the semis and my clear-cut favourite to the title. 
Then again, Isner, Roddick or Fish may suddenly run with it.