Who Are the Australian Open Favourites Among the Men?
January 9, 2012
Clive Brunskill/Getty Images
There's a lot of talk about odds and who's rated and overrated on the site. This article is my two cents on the matter and an attempt to add some common sense. 
For starters, the Australian Open has got one clear favourite, and his name is Novak Djokovic. 
While we haven't seen him play competitive tennis since the World Tour Finals, where he failed—as he generally did during the fall season—there can be no doubt that he's the clear favourite. 
Why? Because a) it's his best surface and b) from what we've seen of him in Abu Dhabi—i.e. beating Roger Federer in 44 minutes—he's physically healthy, and in that state, Djokovic is the clear favourite for any tournament in this day and age, especially on a slow, hard court like the Australian Open. 
Who's the second favourite? That's more debatable. 
One could argue that Rafael Nadal, Roger Federer and Andy Murray all have more or less equal chances. I don't think this is too far from the truth. There's a case for each of them to be made. 
What speaks for Rafa is that, theoretically, this is his best hard court surface. He's made six of the last eight slam finals and clearly know how to peak for these things. 
What speaks against him is a beaten mental state, possible minor injuries and a guy name Novak Djokovic that he could very well meet in the final. 
Still, you have to favour Rafa's chances of getting there if he's healthy, and if it's anybody but Djokovic, you would have to like his chances.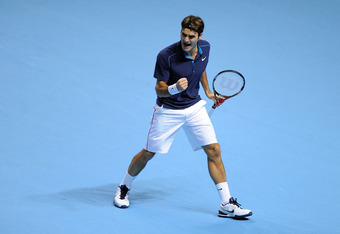 Michael Regan/Getty Images
As for Federer, there's the 20-match winning streak and his record Down Under—he's won it four times, made the final once and lost in three semis in the last eight years. 
What speaks against him is the minor back spasm that made him retire mid-tournament in Doha, his age and resulting recent troubles in closing out best of five matches against younger opponents.
Still, many would agree that Roger has the best chance of any of actually beating Djokovic. That could happen in the semis or the final, depending on the draw.
If healthy, expect Federer to continue his quarterfinal streak at a bare minimum.  
Then, there's Andy Murray. I'm always a bit reluctant to include a non-slam winner into the mix of clear-cut favourites, so for that reason alone, I think he's a tad below Rafa and Roger. 
Still, what he has going for him is a new super-tough coach in the form of Ivan Lendl, who knows what it takes, a game that can take down Djokovic on his day and a recent impressive win in Brisbane and no injuries that we know of. 
What counts against him is the usual: questionable mental state, a defensive mindset that can get him to the semis and even finals, but not consistently beat fellow top players, as they don't miss enough to make Murray's game work and a feable second serve. 
I've been awaiting Murray's time for a while, and while I could see it happening, I expect his performance Down Under to be another"'almost but not quite."
But for Murray' and tennis' sake, I hope I'm wrong.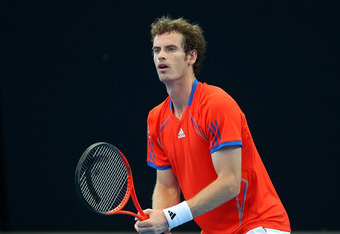 Chris Hyde/Getty Images
The Dark Horses
Next, we have a line of dark horses first and foremost in the form of Jo-Wilfried Tsonga, but also including Juan Martin del Potro and Tomas Berdych.
All of them have enough big weapons to go all the way, and Tsonga seems to have put his mental state more and more together to an extent where he's developed into a big match player. Delpo has always had that ability, and Berdych has, well, remained Berdych.
The problem for all of them is that they'll most likely have to go through two or even three of the Big Four to win this thing, which is incredibly hard.
I haven't got much faith in Berdych, but I could see Tsonga make it to the semis or better if things go his way. And if Delpo is healthy and back to his old form, the same goes for him, but for now, he's more of a question mark.
The second tier of dark horses include David Ferrer, Bernard Tomic, Milos Raonic (see my separate piece on him here), John Isner, Mardy Fish and Janko Tipsarevic. 
The reason why I put Ferrer in this bracket is that, unlike the first-tier dark horses, I don't believe Ferrer has the weapons to win a slam. 
None of them have more than a shooter's chance of winning the thing, but all of them have the capability of making it to the quarters and perhaps even a surprise semifinalist. And some of them have the capability to take down a Big Four member on their day. 
In conclusion, Djokovic is the clear-cut favourite for this slam.
Next up, you have Rafa, Roger and Murray in whatever rank you want to put them, and finally, you have Tsonga and Delpo as the two main dark horses.