Roger Federer Will Win Calendar Slam; John Isner Will Win Australian Open 2012
January 12, 2012

Scott Barbour/Getty Images
(Humor) Take One: John Isner Will Definitely Win the Australian Open
Why, you ask, my dear reader? 
Because I say so. 
And because he hasn't won anything big yet, so it is his time.  And he faces little pressure because nobody expects anything from him.
And, oh yes, he can serve. 
Take Two: Why Nadal Has No Chance of Getting Past the Fourth Round
You might argue that Nadal has been past the fourth round of the Australian Open for the past five years or so.  You might also point out that he has not lost before the quarters in a slam since the 2009 French Open.
But this year, it's different.
Novak Djokovic has shattered Rafa's confidence to a new low. 
Nadal's got a new racquet, with which he has no idea how to hit the ball.  He is already not going to play in February to rest his troubled shoulder.  And finally, he just lost to, of all people, Gael Monfils in straights.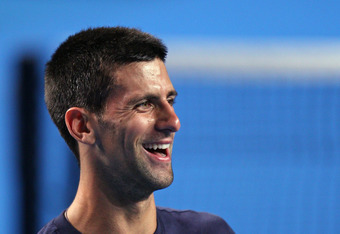 Scott Barbour/Getty Images
If this isn't enough to convince you that Rafa will lose before the quarters, I don't know what is. 
Take Three: Why Federer Will Win a Calendar Slam in 2012
Novak Djokovic may have been the big name in 2011, but he will have no such luck in 2012.  He over-performed in 2011, and 2012 will see him crashing down.
Nobody but Roger Federer can repeat seasons like Novak just had. 
And as a matter of fact, Federer will be the one cleaning the tables this year. 
Why?  Isn't he too old for that?
Well, there's one clear sign that he will win the Calendar Slam this year and it is this: He turns 31 this year. 
The only man to seriously rival Federer for GOAT status is Rod Laver. 
Laver's also the only man to win a Calendar Slam in the Open Era, and he did it...you guessed it, the year he turned 31.
Furthermore, Laver was born on the 9th of August and Federer on the 8th (additional info: Pete Sampras was born on August 12th).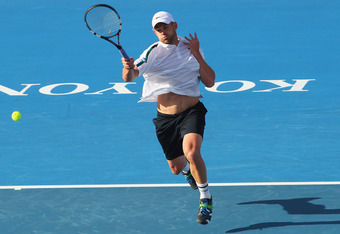 Lucas Dawson/Getty Images
If that is not sign enough for you people, I don't know what is. 
Finally, Federer will be motivated to prove that he's still the man to beat and will most definitely win what he couldn't win in his so-called prime. 
Take Four: Why Mardy Fish and Andy Roddick Are the Hottest Bets for the 2012 Australian Open

I know, I stated above that John Isner will win the Australian Open.  But I wrote that more than 10 minutes ago. 
Mardy and Andy are really the hot picks. 
For one thing, both of them are flying under the radar and haven't done much in a while.  This will make their opponents grossly underestimate them and self-destruct as they learn that both Mardy and Andy can still hit the ball.
For another, this is an American website and we should be supportive of our countrymen. 
Additionally, Mardy, though he just lost 6-2, 6-1 to Grigor Dimitrov, is in marvelous form, and he has never won a really big title and therefore deserves to do so—as does Andy, who hasn't won a slam since his lone Wimbledon victory in 2003. 
Finally, oddsmakers haven't listed them as favorites (which, in reality, they are), so it's a perfect time to bet on them.