Tim Tebow Reportedly Selected to 2012 Pro Bowl as Alternate
December 27, 2011
Marc Piscotty/Getty Images
The official announcement as yet to be made, but it looks like Tim Tebow better book his trip to Hawaii.
The Denver Broncos quarterback was named as an alternate to the Pro Bowl according to CBS 4 in Denver sports anchor Vic Lombardi: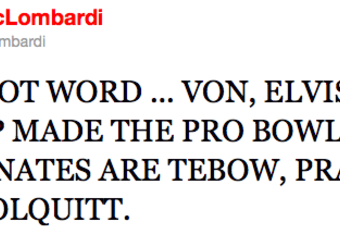 With Tom Brady and Ben Roethlisberger both expected to be named to the team, Tebow is all but guaranteed a spot on the AFC roster. Brady has always historically declined the invitation and Big Ben is currently dealing with an incredibly painful ankle injury that kept him out of action in Week 16.
Both could also be in the Super Bowl and will have much more important things on their mind at the time of the glorified exhibition game.
Tebow may not have the stats of his peers in the conference (1,669 passing yards with 48 percent completion rate, 12 TDs, six INTs), but he sports a unique blend of talents that has vaulted him into this position.
His 644 rushing yards are second in the NFL for a QB, behind only Cam Newton, despite sitting on the bench for the majority of his team's first five games. He has six rushing TDs and is averaging 5.6 yards per carry.
His incredible leadership has infused his teammates with the confidence that has resulted in his 7-3 record as a starter. He lifted the Broncos from the dead and has placed his team in a situation where a win in the final week of the regular season clinches an AFC West division title.
While Tebow time has cooled off in the past two weeks, he has pulled off enough magic to still be a deserving member of the 2012 Pro Bowl roster. 
How many times has a player who started the season third on the depth chart ended up going to the Pro Bowl a mere four months later?
Tebow's rise through the Broncos depth chart and his run as a starter is truly something we've never seen before. Say what you will about his ability to consistently be an accurate passer, but you can't dispute the results, regardless of how dramatic they may be.
With five fourth-quarter comebacks, he has turned into the ultimate closer in the NFL.
Today is just further proof that Tebow is in the middle of one of the more incredible runs in the history of the NFL. 
Update: Tebow may not be a lock to Hawaii after all. As expected Tom Brady and Ben Roethlisberger were the top two starters, with Phillip Rivers coming in third. The minor upset is that Bengals rookie QB Andy Dalton is the first alternative over Tebow.
That means two of the above names have to skip out on a trip to Hawaii in order for Tebow to make the cut. That scenario is still very much in play considering Brady's distaste for the game and Big Ben's ankle.