Cotto vs. Margarito 2: Antonio Margarito Is Facing an Uneven Playing Field
December 2, 2011
Miguel Cotto will be allowed to get beaten up on Saturday.  Antonio Margarito will not be allowed to get beaten up. You can expect Saturday night to be different. Of that, there is no doubt.
In a boxing match—any boxing match—both contestants go into the ring with a level playing field. On Saturday night, in front of a capacity crowd and millions more watching on television, all will not be equal for the main event at Madison Square Garden. The playing field will not be level.
What I mean by a level playing field is that everything is equal. In physicality, their body weights are the same or very close to being the same, at least at the weigh-in. With their equipment, the gloves they are wearing are the same in size and weight.
With the officials, three judges will watch each round and score it honestly and fairly, not taking into consideration the personality of each contestant. Punches count. Personality, charm, charisma and reputation do not.
The referee will uphold the rules. What's good for one fighter is good for the other. In a perfect world, on a perfect night, on a perfect boxing card, all should be equal. But on Saturday, it will not be a perfect world, night or card at Madison Square Garden.
In the "World's Most Famous Arena" on Saturday, all will be level and even for Top Rank's excellent undercard. Then, the main event fighters will enter the ring. The national anthems of Puerto Rico and Mexico will be played.
The ring will be cleared, except for Miguel Cotto, Antonio Margarito and referee Steve Smoger. Ring announcer Michael Buffer will give his signature "Let's Get Ready to Rumble," and then referee Smoger will bring the fighters together.
He'll give them the "Gentlemen, we've gone over the rules in the dressing room" speech, then ask them, "Do you have any questions?" When they don't (do fighters ever have any questions for the ref?) he'll say, "Let's have a good, clean fight, touch gloves, go back to your corners and wait for the bell."
Moments later, it'll ring, and the 12-round bout for Cotto's WBA Super World Light Middleweight Title will be under way. That's when things will become unequal. That's when the playing field will become uneven.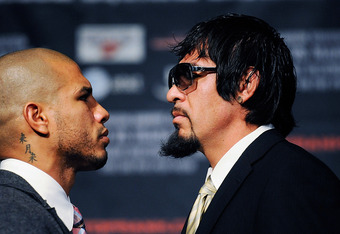 Patrick McDermott/Getty Images
That's because of Margarito's surgically-repaired right eye and right eye socket. Remember, only last week, this fight was in jeopardy of being tossed out of New York because of the concerns the New York State Athletic Commission had regarding the eye.
The three-member panel of the NYSAC demanded Margarito leave his training camp in Mexico and fly into New York City to be examined by NYSAC-approved eye specialists. When those specialists finally approved Margarito on November 21, the Athletic Commission followed with a press conference announcing the fight was indeed on for December 3 in Madison Square Garden.
Everyone seemed to breathe a sigh of relief at the news. However, the fact remains: Margarito's right eye is a major concern and of major interest to all.
First, and foremost, is Margarito himself. He remembers the night the injury happened. It happened while he was at work in Las Vegas, on November 13, 2010.
In his fulltime job as a professional prizefighter that night, Margarito had his right eye punched and pounded repeatedly by the fists of opponent Manny Pacquiao. The swelling beneath Margarito's right eye was grotesquely swollen, red, raw and bloody long before the bell rung at the end of the 12t and final round.
Margaritos's injuries to the eye were extensive. To go along with his broken orbital bone was a severely torn retina. Surgery was performed to repair the eye. A silicone buckle was placed around the retina. A lens was implanted in his eye. All that was less than 13 months ago.
Saturday night will be Margarito's first time back at work full time since the night against Pacquiao.
Sure, he's been to work in the gym, but gym work is very regulated and controlled. Headguards are worn. Big gloves are used. Sparring partners don't zero in on their boss' surgically-repaired right eye, unless they are looking to become unemployed.
On Saturday, no headguards will be worn. The gloves will be smaller. And on Saturday, the man across from Margarito will not be an easy-going sparring partner, but an opponent—an opponent hell-bent on exacting a pound of revenge from him.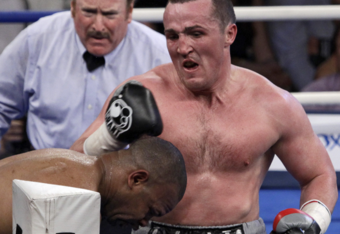 This is a big factor is the uneven playing field there will be at MSG on Saturday. You see, nearly three-and-a-half years earlier, Cotto was hammered into an 11th-round TKO at the fists—probably the doctored fists—by the same Margarito.
Doctored fists, you ask?
Perhaps. In fact, probably. That's because in his next bout, against Shane Mosley, Margarito's handwraps were found to be loaded with something other than gauze and tape prior to their bout, and he was subsequently suspended for one year by the California State Athletic Commission after the bout (which he then lost by a ninth-round TKO to Mosley).
Under normal circumstances, Cotto wouldn't be zeroing in on the eye. But these are not normal circumstances. This is an angry, bitter, revenge-seeking Miguel Cotto. This is a surgically-repaired and more-than-likely less-than-100 percent Antonio Margarito. Don't think for a second that Cotto will ignore that still-possibly-injured orb.
In fact, Cotto has stated that he intends to target the eye. Margarito, never a defensive wizard, will be powerless to stop the shots—especially Cotto's left hook—which will be constantly slamming into and around his right eye. Should Margarito keep his right hand glued to his face to protect the eye, Cotto will tenderize his ribs with the left hook.
The NYSAC, the state agency which approves, licenses and oversees all aspects of the entire card, will be under tremendous scrutiny in the main event. Remember, it approved Margarito's license after much deliberation and apparent political arm-twisting.
Any fighter can be injured in any round by any punch, but can you imagine the hell they'll have to pay, especially if Margarito's right eye gives out during the bout?
That's why Steve Smoger, who was chosen by NYSAC to referee the bout, will be privately spoken to by Commission members. They'll have a pre-fight chat with him, reminding him of the importance of this bout, not just for boxing in New York, but for the entire sport. They may have already had that chat.
"Watch that right eye," he'll be told. They'll do it again shortly before the bout. I know. I've had those same chats with referees before.
When the bell rings, the entire NYSAC staff will be sweating buckets.
Smoger is not just a veteran referee. He is one of the most active referees in the world. But remember that in a perfect world thing we mentioned earlier? Smoger is not perfect. Back in May, he refereed a fight in Russia.
The localite, Denis Lebedev, was cleaning up on his tired, exhausted opponent.  In a corner, the opponent took a hard shot and then bent forward at the waist. He was out on his feet. Smoger could have stopped it there.
He should have stopped it there. He didn't. He hesitated.
Lebedev drilled a solid right to the stricken opponent's head. It was then Smoger stepped in to put an end to Roy Jones' night. If he has that same, hesitant reaction should Margarito need him—and a final Cotto left hook explodes on Margarito's face and injures him—only the heavenly Lord of Lords will be able to bail he and the New York State Athletic Commission out.
And what if both fighters have facial swelling. It'll be the swelling around Margarito's right eye which will attract most of the attention.
From the moment the opening bell rings, close to 20,000 fans at The Garden—and millions more watching on HBO PPV—will be studying Margarito's reaction the first time he gets hit on the eye...and the second...and the third. Chances are, those fans won't see Margarito's landed punches the same way, even if they are every bit as crisp and hard.
They'll collectively go "ohh!" whenever Margarito lands a hard punch. They'll collectively go "OHH!" whenever Cotto lands a hard punch. As good as judges Julie Lederman, Steve Weisfeld and John Poteraj are, they are only human.
A round filled by "ohhs" and OHHS" will be scored for the fighter creating the "OHHS." A fight filled by those "ohhs" and "OHHS" will be scored—and won—by the fighter creating the "OHHS."
It's too bad the right eye of Antonio Margarito has created what will be such an uneven playing field for this fight. This is a rematch of epic proportions. If anything, Margarito shouldn't be fighting at all, and it's not because of the eye.
It's because of the criminal act and attempted assault he was caught and suspended for. One year wasn't enough. One lifetime was more like it. But he is fighting, and he's fighting a man he pulverized before with quite possibly the same explosive hands he attempted to use six months later on Shane Mosley.
Antonio Margarito deserves to take the same beating in return. Certainly, if the opportunity presents itself, he will punish Cotto. But with an uneven playing field, he will probably not be allowed to take that same punishment in return. He will not be able to take what is truly coming to him. For he and Miguel Cotto, that's too bad.
Antonio Margarito deserves the leather that's coming to him, not the protective, quick stoppage which, in reality, we'll probably see.
                                                                                ###