Kyle Orton Waived: Denver Broncos Cut Ties with Veteran QB
November 22, 2011
Ezra Shaw/Getty Images
It appears the Denver Broncos feel pretty safe with Tim Tebow under center.
As you may recall, the Broncos started the season with Kyle Orton as their starting quarterback, only to send him to the bench in Week 5. According to ESPN's Adam Schefter, Orton won't even finish the season with the team: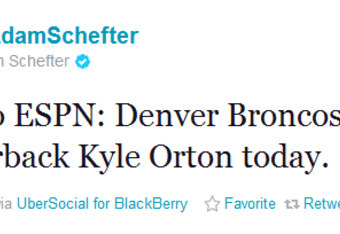 So just like that, the Broncos have rid themselves of the guy they traded Jay Cutler for back in 2009. 
To be perfectly honest, the move doesn't come as much of a surprise. Orton was highly ineffective in his time under center this season, completing just 58.7 percent of his passes and compiling a 75.7 quarterback rating. He also threw seven interceptions.
No doubt the Broncos would have preferred to trade Orton, but the NFL's trade deadline passed several weeks ago. Since Tebow has established himself as, at the very least, a good short-term option, the Broncos really didn't have any reason to hang on to Orton.
The intriguing part now is where Orton will catch on. Several teams around the NFL could use a veteran quarterback, some of which are in the thick of the postseason chase.
The Houston Texans come to mind, and so do the Chicago Bears, Orton's former team. They have lost Jay Cutler for a couple of weeks with a broken right thumb, and they are about to turn to Caleb Hanie to guide them towards the playoffs until Cutler comes back. They may want to take a look at Orton instead.
Orton definitely has options. Far more options than he had sitting on Denver's bench, make no mistake about that.