Penn State Football: What to Root for This Weekend
November 3, 2011
Eric Francis/Getty Images
Penn State controls its own fate as far as the path to the Big Ten Championship Game is concerned, but with a couple key games going its way that path could become a little easier this weekend.
The Nittany Lions are on the bye this week and resting up for the three-game stretch of brutality to close out the regular season. Penn State will clinch a spot in the Big Ten Championship Game with two wins out of the next three games. It does not matter which two games they win, but they will only need to win one more game if Ohio State and Wisconsin happen to lose this weekend.
Penn State currently is the lone undefeated team in Big Ten play and it owns a two-game lead in the loss column against Ohio State, Wisconsin and Purdue (also own a head-to-head win against the Boilermakers). A loss for the Buckeyes and Badgers would create a three-game lead in the loss column with just three games remaining. That would mean Penn State only needs one game to advance to Indianapolis.
Unfortunately for Penn State fans, Ohio State and Wisconsin have favorable matchups this weekend. Ohio State hosts Indiana and Wisconsin hosts Purdue. The Buckeyes have dominated the Hoosiers, losing just three of the last 52 meetings, and Wisconsin will be itching to play at home after two tough road losses in conference play. From top to bottom, Ohio State and Wisconsin are clearly better teams than Indiana and Purdue, respectively.
Do not count on seeing those upsets take place, but keep them in mind as you watch the games this weekend.
As for the Legends Division, Penn State fans should root for Nebraska against Northwestern to set up a big matchup next weekend in Happy Valley. Nebraska enters the week in the Top 10 of the BCS standings and would make for a big home win for Penn State next week if it can pull it off. Penn State should also be pulling for Michigan to win out to wrap up the season, which would allow it to continue climbing the BCS standings (Michigan has key games against Nebraska and Ohio State to play).
A Penn State-Michigan Big Ten Championship Game has some true appeal to the national media, and if both teams happen to enter the game with identical 11-1 records, imagine the impact that could have on the BCS championship picture. Maybe this is a tad far-fetched, but few would argue that as far as brand names are concerned, Michigan-Penn State would not be intriguing to watch.
Michigan State can still play its way to the championship game as well, but it has two losses and less national respect than programs like Michigan and Penn State. Regardless, pull for the Michigan schools this weekend and to win out to set up the best possible Big Ten Championship Game matchup, should Penn State be fortunate to reach that game.
Penn State can clinch a spot in the BCS with a win in the Big Ten championship game, but it can also make a surprise run in to the BCS title game with a bunch of help from around the nation. Here are some games to keep an eye on for the most optimistic of Penn State fans.
No. 1 LSU vs. No. 2 Alabama
Penn State fans will pull for the Crimson Tide in this one as it will mean Penn State's only loss would be to the best team in the country. An Alabama-Penn State BCS championship game? Odds are both of these teams reach the BCS, anyway, with one as SEC champion and another as an at-large.
No. 3 Oklahoma State vs. No. 14 Kansas State
Penn State is probably better off if Oklahoma State takes a hit before meeting Oklahoma because the Sooners are likely to hand Oklahoma State a loss anyway. However, a loss to Kansas State would knock the Cowboys out of the BCS picture all together. Go with Oklahoma State to put the nail in the coffin for the Wildcats.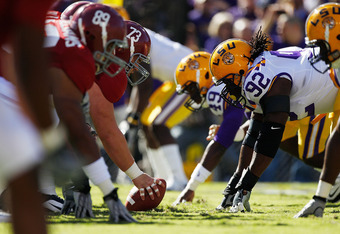 Chris Graythen/Getty Images
No. 4 Stanford vs. Oregon State
You want to root for Oregon State for a couple of reasons. First, a loss would throw Stanford out of the BCS picture. Second, a loss by Stanford would significantly increase the chances that ESPN's College GameDay would come to Penn State for next weekend's game against Nebraska (Stanford has never hosted GameDay and Oregon comes to town next week).
No. 5 Boise State vs. UNLV
No questions here. A loss drops Boise State out of the BCS picture. Likely won't happen this week, but any time the Broncos lose will be good for other teams looking for an at-large berth. Pull for UNLV to pull off the shocker of all shockers this weekend, but don't hold your breath.
No. 6 Oklahoma vs. Texas A&M
It's been rough counting on the Aggies to do anything worth noting in a positive light this season, but if they are ever to come through with a big win this year, this has to be it. An Aggies win drops Oklahoma behind Penn State in the BCS standings, and the Sooners can help out later on by knocking off Oklahoma State.
No. 7 Arkansas vs. No. 9 South Carolina
This game likely does not play a significant role in the BCS picture because it is expected that LSU and Alabama will each reach the BCS games, which would make both of these teams ineligible. For rooting interests for Penn State fans, this is considered a non-issue.
No. 8 Oregon at Washington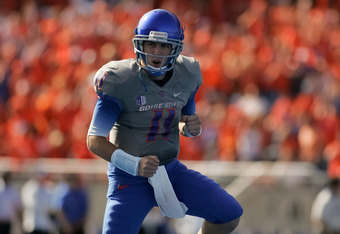 Otto Kitsinger III/Getty Images
The Ducks have won every game since losing to LSU in the season opener. Though the Ducks may be on a bit of an upset alert on the road against the Huskies, there is little to stand in the way of the Ducks and a Pac-12 Championship Game appearance, and that includes Stanford. If Oregon loses this weekend that could help rule it out as a BCS at-large candidate, but Penn State likely would not reach at-large status if it loses another game anyway. If we are talking BCS championship game picture, though, it is best for Oregon to lose this weekend if you are Penn State, so the Ducks can fall behind in the BCS standings with two losses.
No. 13 Houston vs. UAB
Like Boise State, one loss will drop Houston off the BCS map, and in this case might drop them from the Top 25 polls all at once. Not likely this week, and Houston should have an easy path to an undefeated season. For Penn State, a one-loss season with a Big Ten title would probably be more than enough to pass an undefeated Houston team, fair or not. Let's make it easy, though. Root for a monster upset.
Kevin McGuire is a featured columnist for Bleacher Report. Unless otherwise noted, all quotes were obtained first-hand or via official interview materials from Penn State University. 
McGuire is the national college football writer for Examiner.com. Follow his college football discussion on Google+ and Twitter. Become a fan of him on Facebook.