WWE WrestleMania 28: Another Top Match Being Advertised?
October 8, 2011
As everyone is well-aware of by now, the WrestleMania 28 hype train has been charging at an unprecedented rate since The Rock vs. John Cena was announced.
It's the mecca of marquee matches, privileged with the power to bend time and close a generation gap that has been widening further in the last six to seven years.
And now a new "main event" match has potentially been added to that night's festivities. According to two early ticket holders of WrestleMania 28, the Sun Life Stadium in Miami (the site and host of the event) recently sent out an e-mail advertising not only Rock vs. Cena but Randy Orton vs. Daniel Bryan.
However, while both agree Rock-Cena is highlighted, this is where the two recipients of the e-mail differ in relaying the contents of the message: one says that Bryan vs. Orton in a match was written out in plain letters, whereas the other is adamant it reads, "Daniel Bryan and Randy Orton will (also) both be in action."
Quite frankly, it's possible that both individuals are being truthful about what they read. It could be that Sun Life Stadium realized its blunder in the first wave of e-mails that were sent out, prematurely letting the cat out of the bag, upon which the mishap was quickly rectified in the next batch of e-mails.
This would explain the slight discrepancy between Orton and Bryan facing off or "both being in action."
A noteworthy deduction to take from all of this is why were only Daniel Bryan and Randy Orton's names mentioned in conjunction with The Rock and John Cena?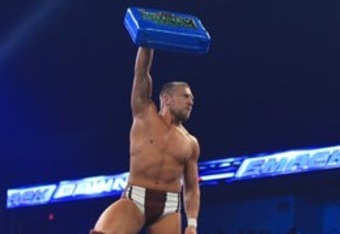 Certainly, it would be reasonable to assume a match between the submission wrestling specialist and the "viper" is more than feasible.
After all, Daniel Bryan has already vowed to cash in his "Money in the Bank" contract on WWE's grandest stage and Randy Orton is due to eventually overcome the seemingly insurmountable Mark Henry, en route to regaining the World Heavyweight Championship.
The only drawback if this match were to come together is the inevitable downfall of Mark Henry, who has convincingly rebuilt himself in recent months. The "world's strongest man" has bulldozed so many challengers in his wake that the one to eventually fell the giant oak would see his status jump into the WWE's upper echelon.
Unfortunately, Randy Orton of all people has nothing to gain by ending Henry's path of destruction, but knowing WWE's "even-steven" booking, redemption is never too far out of reach for the "babyface," often capping off most feuds.
Nonetheless, it will be interesting to see how things unfold in the coming months...